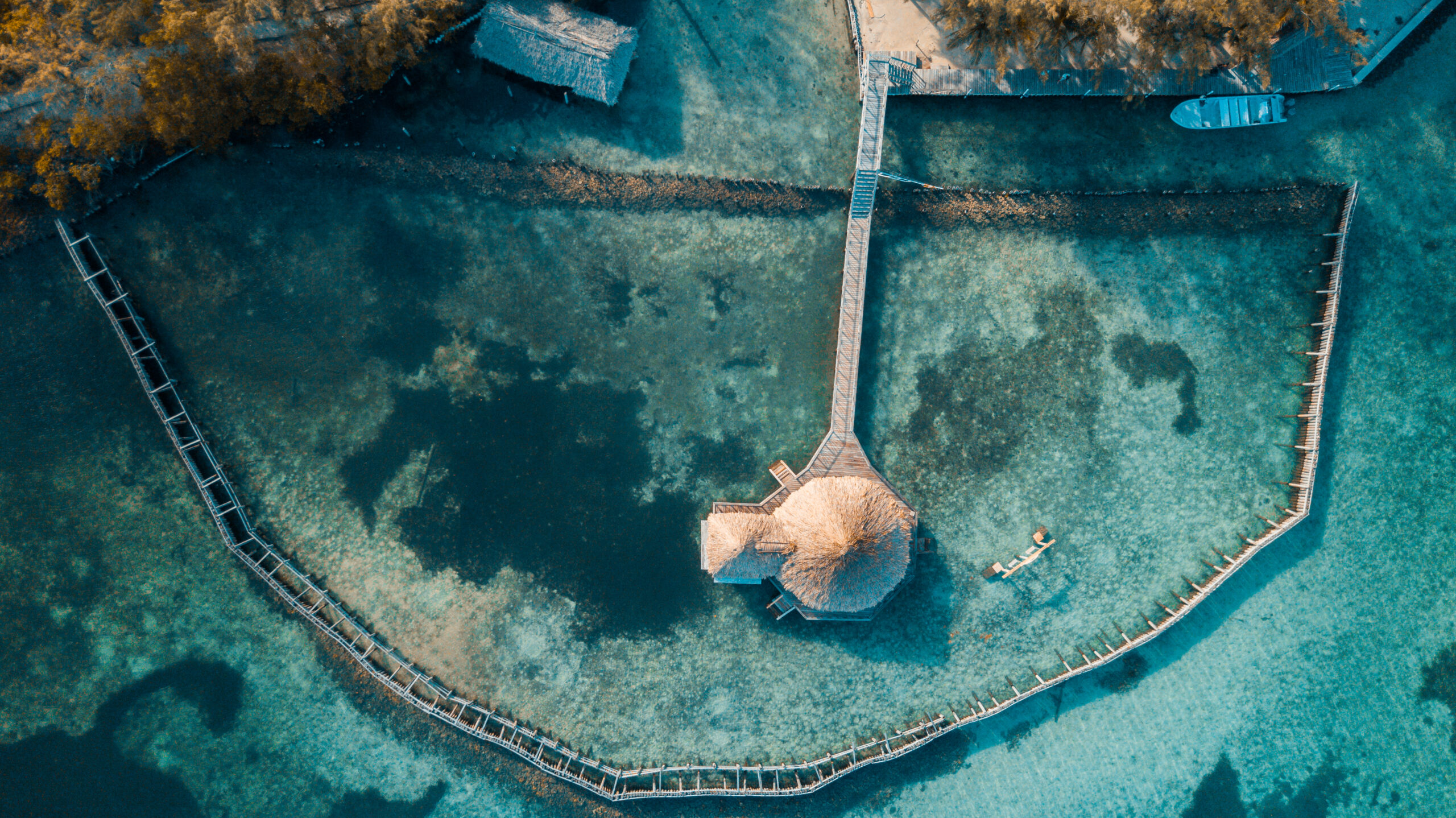 Thatch Caye is a great Belize destination for fishing, relaxing and adventures above and below the water!
Sept, 2021: Thatch Caye's relaxed vibe made it an excellent choice for our girl's retreat with palm trees, crystal clear blue water and sand between our toes. Thatch Caye is a casual, eco-friendly, sustainable private island resort less than 10 acres long nestled in the Barrier Reef Reserve.
From the Belize Airport, we enjoyed a scenic 30-minute commuter flight to the coastal town of Dangriga, followed by a short 25-minute boat ride to the island. Upon arrival, we were greeted with a chilled eucalyptus-scented cloth, a refreshing glass of watermelon juice, and an optional alcoholic drop shot. And of course, the lodge pups Pepper and Ginger!
Thatch Caye island resort has just 15 bungalows decorated in rustic Native Belizean style. The Premier Over Water Bungalows are a romantic accommodation option and a favorite for honeymoon couples.  With so much to offer, the resort is a perfect place for couples or a honeymoon destination with a mix of activities to suit multiple interests, including great flats and reef fishing.
At the resort we had full access to bicycles, kayaks, paddle boards, and snorkeling gear on the island.  Although the island is less than a quarter mile long, it was fun to peddle down to Serenity Point to relax in the hammock swings.  You can also paddle from the Beach Dock to Serenity Point – be sure to look for the starfish who are hanging out in the turtle grass!  Serenity Point is also where you can enjoy an open-air message under the palapa.  We each booked a deep tissue massage with Alba who was amazing!   The lodge also hosts yoga and fitness retreats – a perfect environment to restore your mind, body, and soul.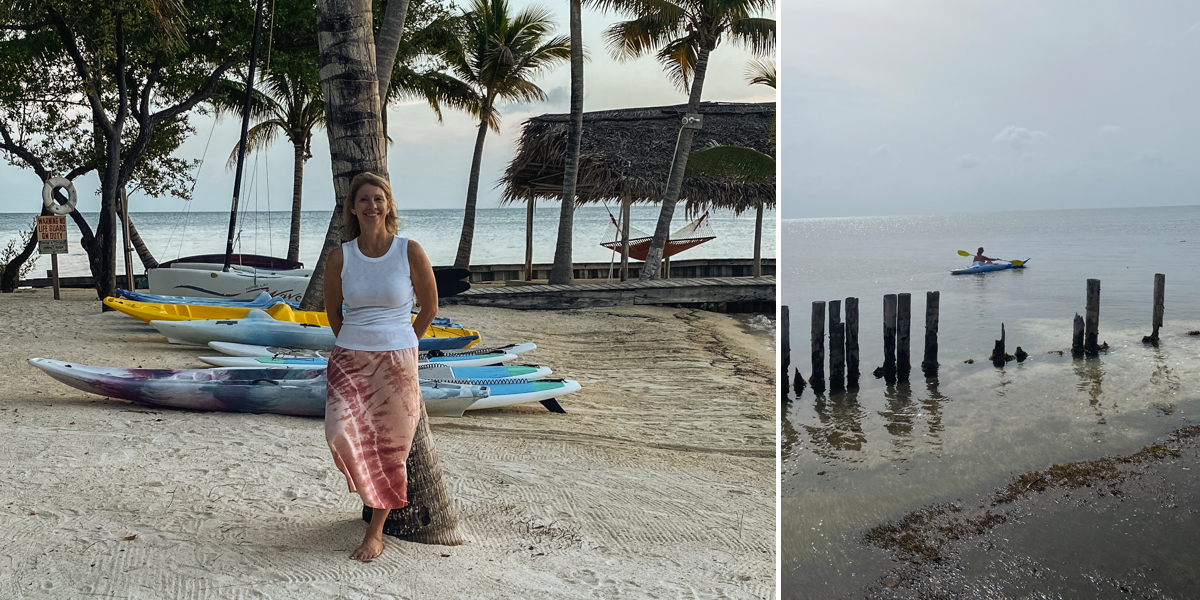 Another unique feature at the resort is their natural saltwater swimming pool and Starfish Bar. The Starfish Bar is where evening cocktails and nibbles are served prior to dinner. Andy, the bartender, was always ready to mix up something fruity and refreshing or a cold Belikin.  He certainly brings the happy to Happy Hour with drinks served with a smile and moving to the island beat!
With only four days on the island, we contacted Damien at Blue Horizon Belize to schedule a half day reef fishing trip for the three of us.  Thatch Caye is great for fly fishing anglers, but being the only fly angler in the group, this was the best option for all of us to spend a day together in the boat.  It was a blast and we were able to take a snapper back to the lodge for Chef Eliza to prepare for dinner that evening.  It was delicious served under the stars by Jerome.  The meals and service were exceptional.
Blue Horizon Belize works exclusively with Thatch Caye Island Resort.  Blue Horizon can book customized fly fishing packages – You decide how many days you want to book a guide and if you want to add any other activities like SCUBA diving.  The guides at Blue Horizon are also happy to take you for a combo day of snorkeling and fly fishing.  Located in the South Water Caye Marine Reserve, this area is known as "permit alley" due to the vast number of flats with tailing permit. Besides permit, the saltwater flats are teeming with bonefish and tarpon.  We ended our reef fishing day at a snorkel location and it was a great way to cool off after a morning of fishing and was our first opportunity to check out the marine life.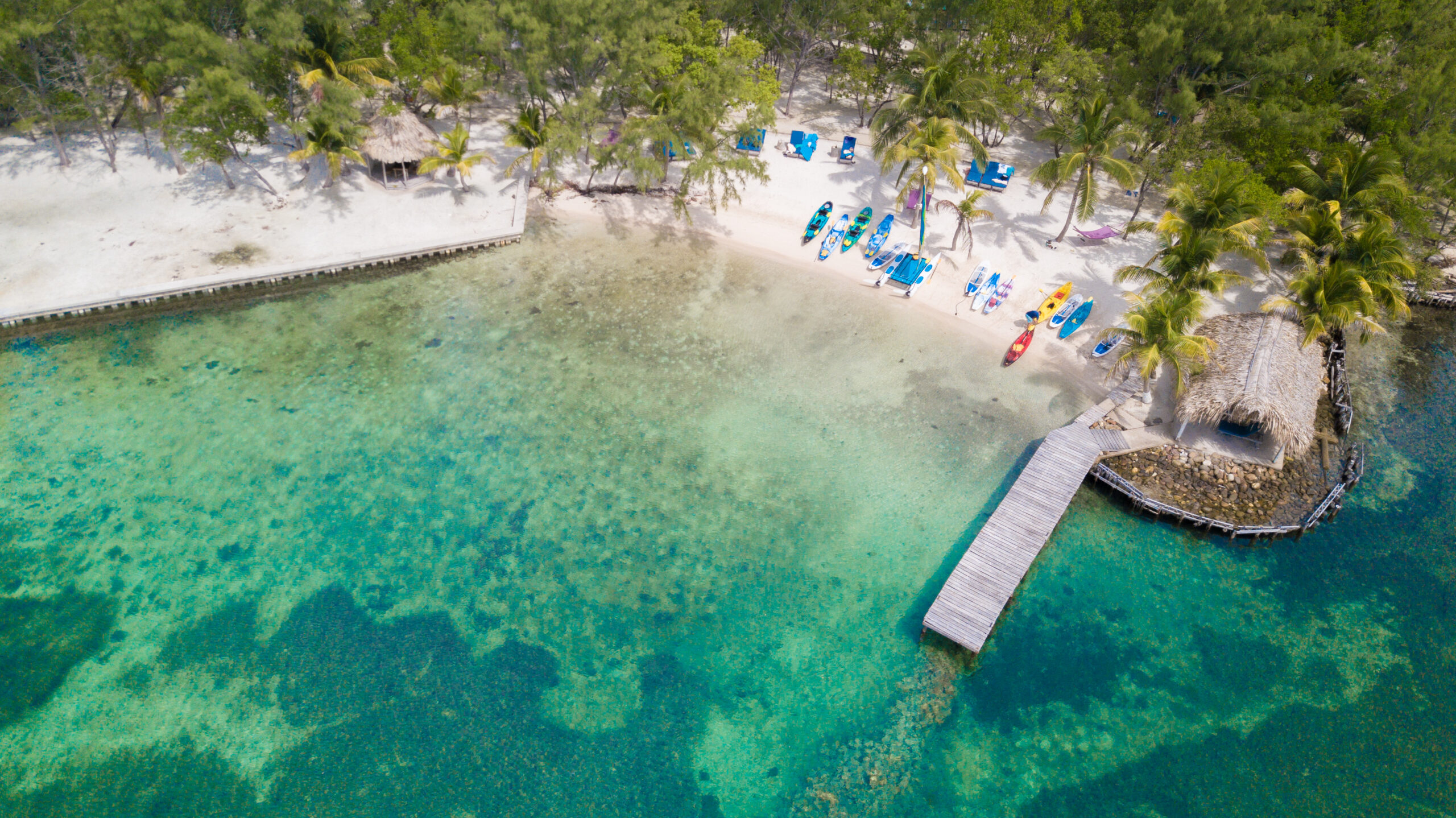 Our other water adventure was a combined snorkel and SCUBA trip with Belize Underwater. The Belize Barrier Reef is the second largest reef in the world and is a must do for anyone visiting the area.  Not far from the lodge are several dive locations.  This was a half-day excursion with a two-tank dive.  We explored Tobacco Reef and Shark Pit and saw lots of marine life, including white spotted eagle rays, which were a highlight for me.  With the crystal-clear water, visibility was outstanding even at 60 feet.
Belize is known for its rich culture and warm hospitality and the lodge organized a cultural evening one of the days.   We were treated to traditional drumming of the Garifuna accompanied by costumed dancers wear leggings with bands of hundreds of small seashells.  The dance is fast paced, and the shells shake with the beat.  Eliza prepared a small feast for us of authentic local cuisine.  Eliza describes the Belizean food as umami – food of flavor, food of the land, sustainable eating.
During our stay, there were two other couples who had booked the "Rock to Reef" package, which combines Thatch Caye Resort with a stay Copal Tree Lodge, which is located to the south in Punta Gorda. This is a great option to get the jungle land-based adventure at Copal Tree Lodge combined with the island getaway at Thatch Caye all in one trip.
The lodge participates in a program called "Pack for a Purpose," which supports a local children's home that provides residential care for orphaned children.  They need general school supplies, age-appropriate text and reading books, clothing and shoes, and personal care items.  If you have room in your bag, I encourage you to consider bringing along some of these much-needed supplies.
I really enjoyed Thatch Caye.  It's great value and I loved the fact that there are so many activities for everyone in the family – including diehard anglers.  I look forward to returning with my family.
~ Kristene Fitzgerald
 A note about travel – Effective August 9, all travelers, both vaccinated and unvaccinated, entering Belize through the Philip Goldson International Airport (BZE), will be required to present a negative COVID-19 test.   When we checked in for our international flight, our vaccine cards were checked and entered into our airline record.  This had to be done for each passenger so anticipate a long wait time checking in.  International tourists must also declare where they are staying in the country and it must be an approved "Gold Standard" hotel.  The entire Team at the resort has been fully vaccinated, which also was comforting.  Before returning to the States, travelers must be tested a maximum of 1 day prior to boarding your return flight.  Thatch Caye Resort offers on-site testing which made the entire process seamless.  In the unlikely case that a guest tests positive for COVID-19, they offer complimentary recovery stays up to 14 days to international guests.