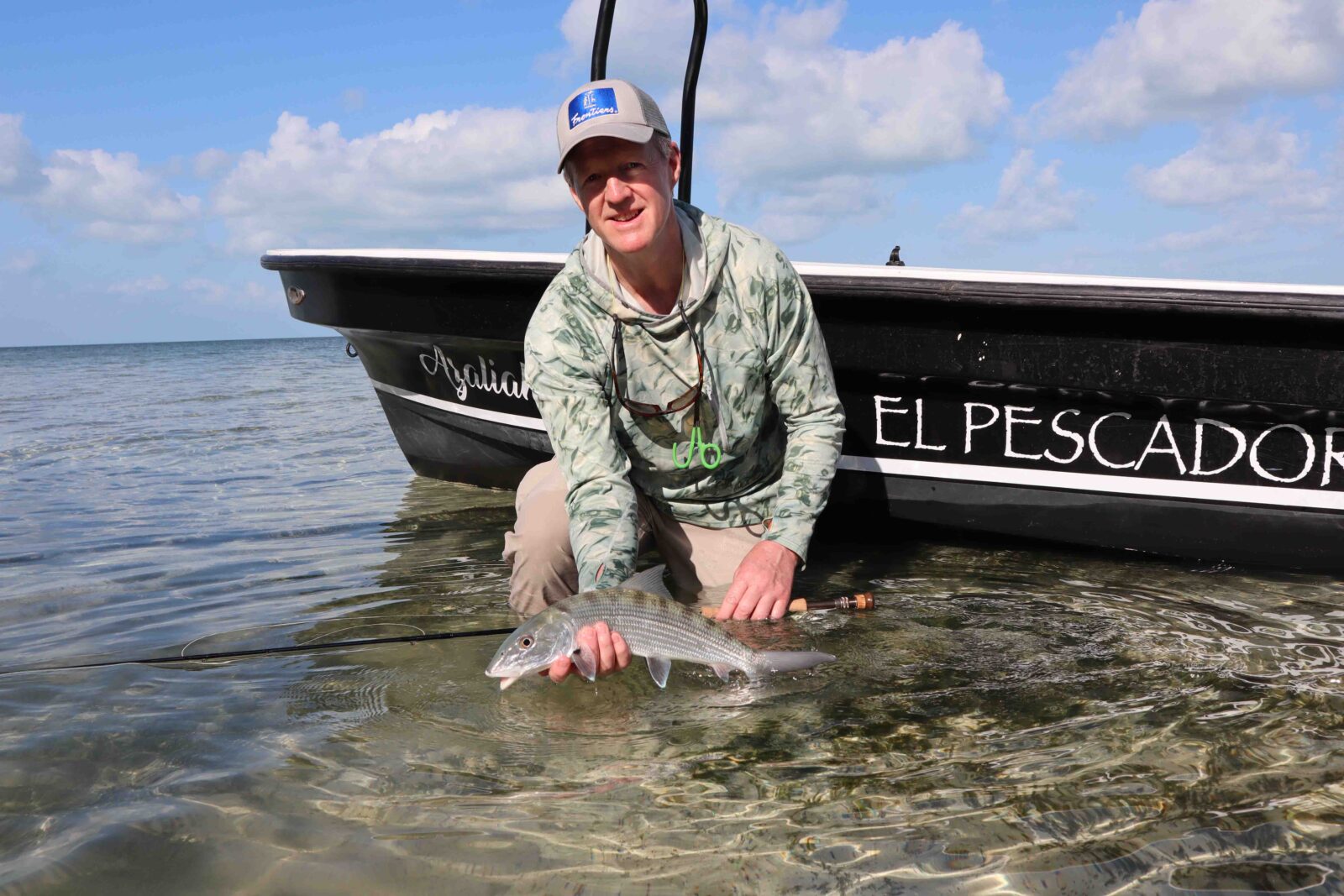 Recently my colleague Bob Artzberger and I traveled to Belize to familiarize ourselves with the properties Frontiers works with in the country. We made stops at Belize River Lodge, Long Caye Island Resort, Turneffe Flats Lodge, El Pescador Resort, Copal Tree Lodge and lastly, Thatch Caye Resort.
This blog will highlight my experience and top reasons why you might want to consider a vacation at El Pescador Resort, Ambergris Caye, Belize.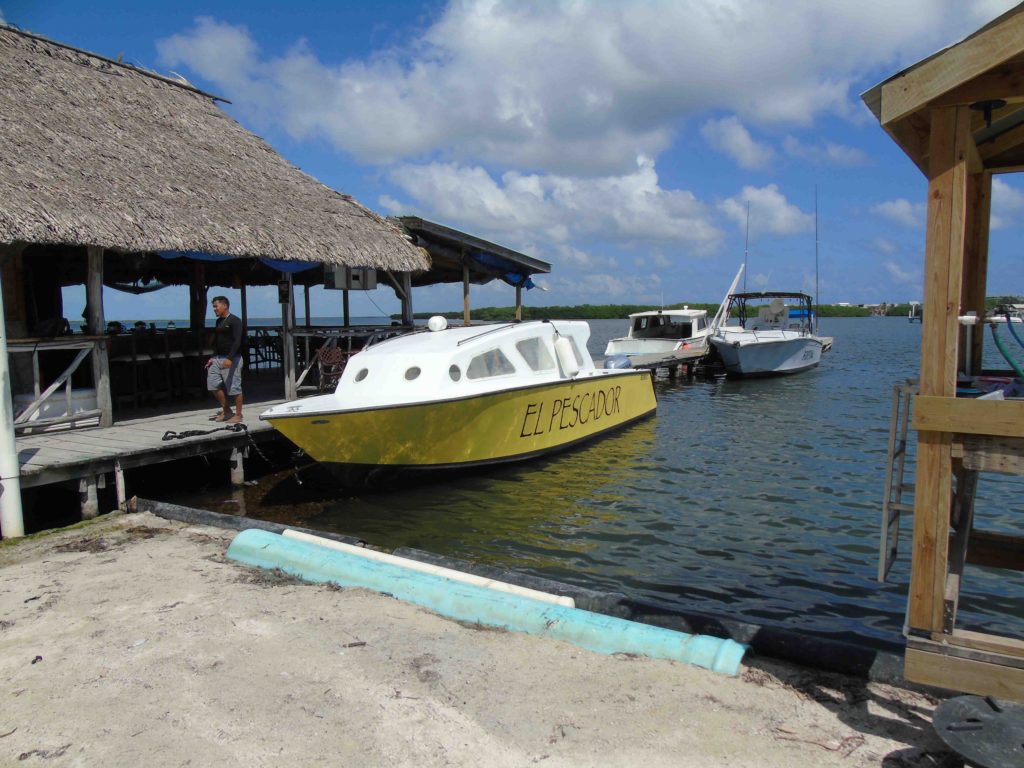 Ease of Travel
Accessing El Pescador is pretty straight forward. Most all of the major US Airlines fly to Belize City and from gateways such as Atlanta, Houston, Dallas and Miami, the flight is only about 2.5 hours in duration. We flew on Delta through Atlanta, and the flight was what we hoped for…uneventful. Upon arrival into Belize, we cleared customs and immigration in short order and proceeded to Tropic Air for our short 20-minute flight over to San Pedro, Ambergris Cay. We used Tropic Air several times during our visit (they are the "Airline of Belize"), and each flight was on time, the staff friendly and professional, and the transits pleasurable. An El Pescador representative was there to meet us in the baggage claim area and assist us with our belongings, and in about five minutes we were at the dock awaiting a short 10-minute water transfer to the resort. The dock is conveniently attached to the "Office Bar and Grill" where El Pescador guests receive a complimentary refreshing beverage of their choice. Nice touch I must say.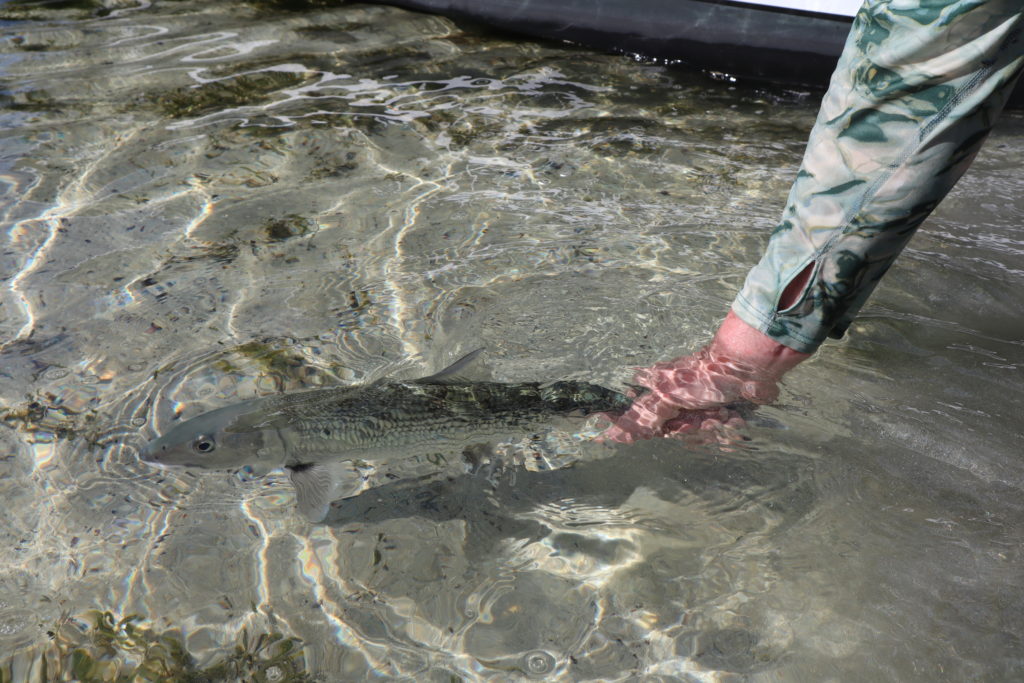 Great Fishing
El Pescador has more of a resort feel to it than a hardcore fishing lodge vibe, however, it's apparent from the time that one-off boards the water taxi that fishing is a major emphasis here. A fleet of 23' panga watercraft, all meticulously cared for, was moored to the extended lit dock; some even retrofitted with the durable and shock-resistant Seadek™ marine flooring material. These boats are ideally suited for running long distances over open water, yet can navigate the shallow waters where bonefish like to reside.
The main attraction for fishing at El Pescador is the variety of species in the region. One needs to only take a gander at several plaques located near the appropriately named Grand Slam Bar to see that catching a grand slam (bonefish, permit, and tarpon) or even a Super Slam (grand slam + snook) on the same day is a distinct possibility. There are a few hundred anglers achieving this very challenging feat.
Our visit took place the first week of February, and it was a bit early for any migratory tarpon angling, however, Ambergris Caye has resident fish over 100 lbs. year-round. It's an expansive fishing area in which the guides can explore with nearly 250 square miles of prime sight fishing flats. We only had one day of guided fishing at El Pescador, and we spent it looking for and finding bones to start the day and the remainder of it chasing permit. Bob and I had a handful of shots at permit, but per their reputation, they weren't interested in our offering – wishing we had more days with our guide, Joe in which to chase them. Joe was a joy to fish with; he has great eyes spotting fish, personality, knowledge of techniques, and familiarity with the surrounding waters. All attributes you hope for in a guided day of flats fishing.
El Pescador is an Orvis endorsed lodge and is proud to offer a fully stocked fly shop featuring a complete selection of saltwater flies, lines, leaders, tippets, etc. Demo fly and spin fishing equipment are available free of charge on a first come first serve basis; please coordinate with Frontiers regarding your equipment needs. Please bring the gear that you own and allow the lodge to supplement with their demo gear. But, do not feel compelled to purchase new rods and reels for the trip.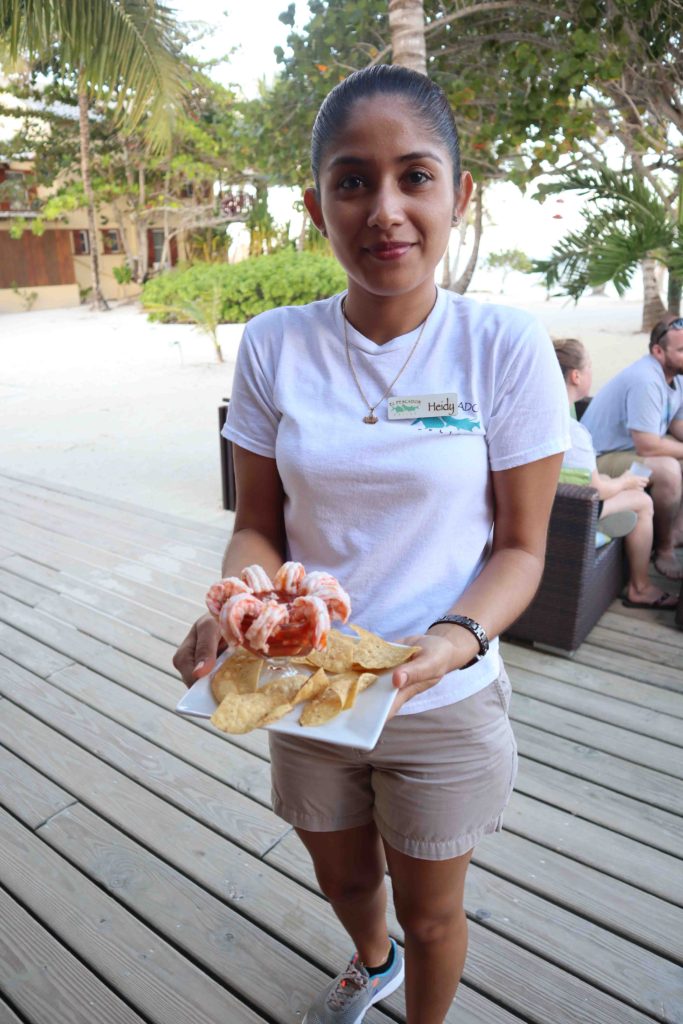 Management and Staff
We're so fortunate to have working relationships with the finest fishing lodges worldwide. One common denominator of all these properties, in addition to great fishing, is a professional, courteous, and helpful staff. This starts from the top, and El Pescador general managers, Rob and Jenny Woodruff set a fine example (Jenny wasn't as available as she normally would be as a recent flu bug was keeping her down). After being shown to our rooms and settling in, Rob gave us a thorough tour and overview of El Pescador, it's a fishing program and non-fishing options, and what we should expect during our stay. Rob is simply the answer man. On the offhand chance he may not have an immediate answer to your question, rest assured he'll get one to you in no time. There are countless moving parts to the El Pescador program – with a maximum of 17 boats pushing off the dock any given day, no set arrival or departure days, and a staff of 50+ employees, Rob and Jenny are the perfect hosts to handle these challenges. They exude confidence! Their staff is easily one of the lodge's finest attributes. Without exception, all of them greet you with a smile, ask for, and then address you by your name throughout your stay, and genuinely seek to assist you any way they can. They were such a joy to be around. They are available but non-intrusive.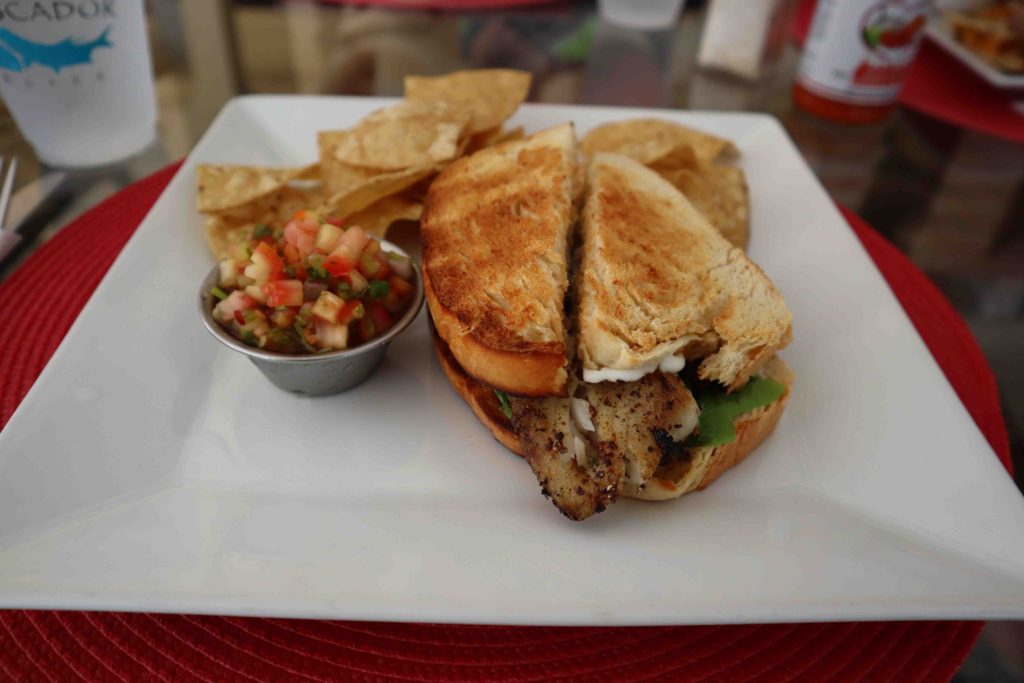 Cuisine
The El Pescador restaurant specializes in fresh, local Caribbean cuisine, and meals are served in their outdoor dining pavilion. It's an ideal seaside area in which to enjoy the seasonal farm to table dining experience. The fish and seafood offerings are from the local waters and the meats and produce come from family-owned and local farms on mainland Belize. All of the bread and desserts are homemade. The meals were all delicious. A standout for me was Mexican Taco night where we ate an authentic Mexican buffet. I guess it shouldn't have come as a surprise as the border of that country sits nearby.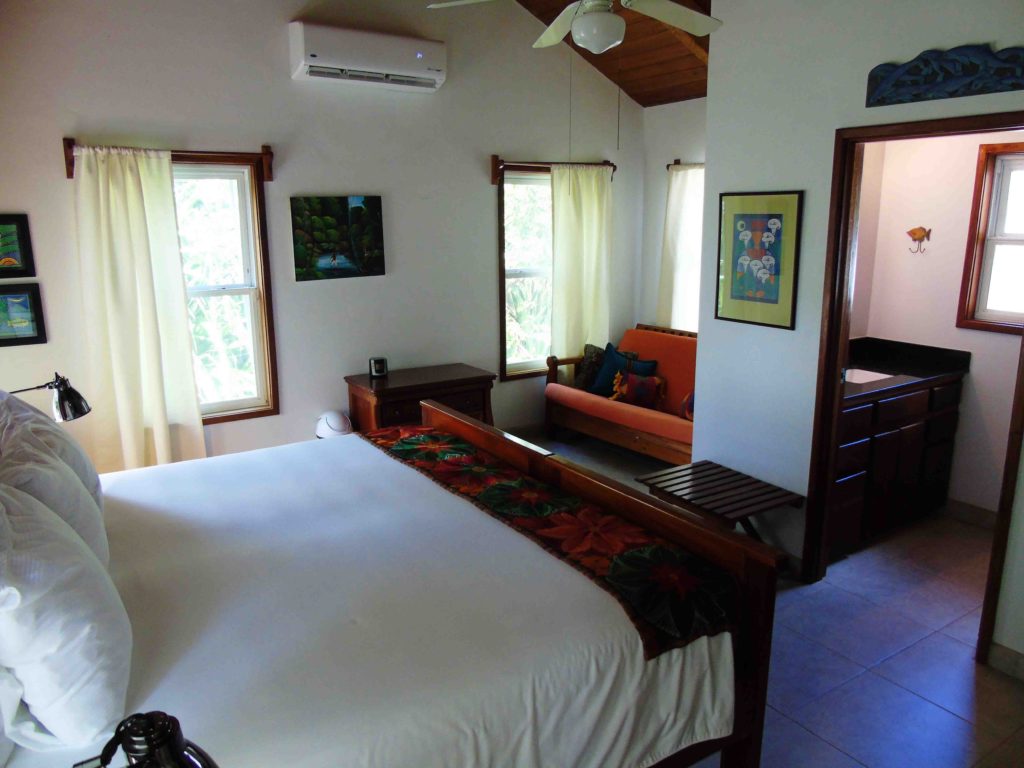 Accommodations
I was very impressed with the villa that Bob and I shared and also the main lodge guest rooms. The villas are two-story, three-bedroom, three-bath homes, designed in a lock-off configuration, which enables you to rent a one, two, or three-bedroom villa to perfectly match your individual needs and while ensuring your complete privacy. They are near the dining pavilion and Grand Slam Bar and the activities dock. They sit beachside and overlook the Belize Barrier Reef.
Each of the 14 main lodge guest rooms lookout to the sea and just steps away from a swimming pool adjacent to the beach. All rooms have private baths, overhead fans, air-conditioning, double sinks, interior rod racks, a room safe, and there's even an overhead clothesline in the shower in which to dry any wet gear. These rooms are very well thought out. They seemed to be designed by anglers for anglers.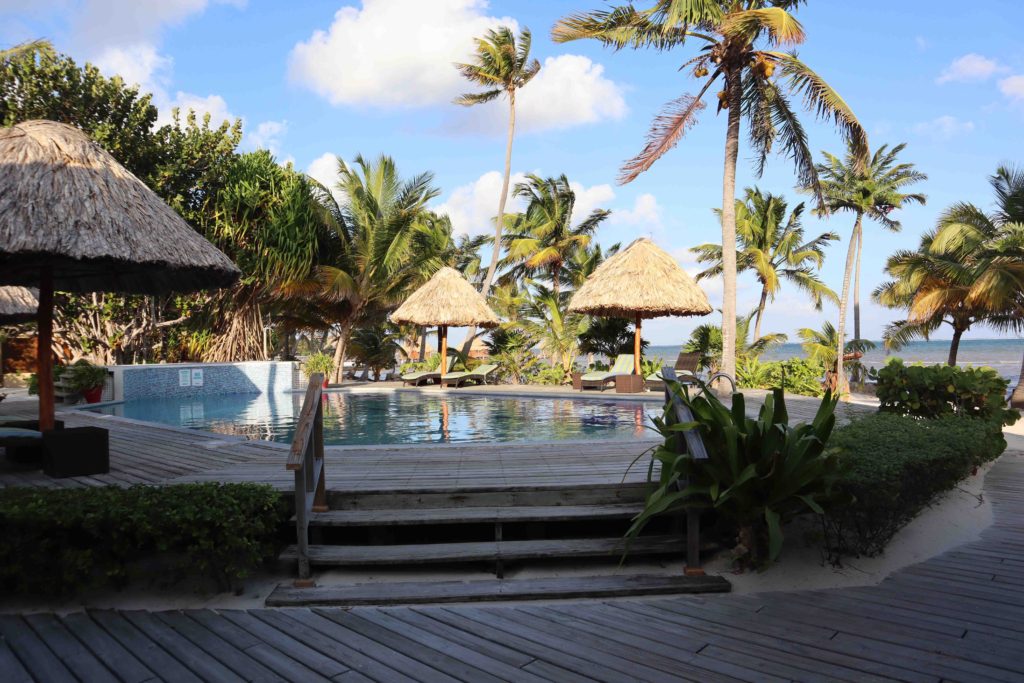 Non-Fishing Activities
Our short visit was only two nights with one day of fishing, so we weren't able to partake in any of the numerous non-fishing activities available. That list is extensive and a big reason El Pescador is equally popular with non-anglers alike. Here's an example of some water-based excursions non-anglers can partake in to enjoy themselves:
Scuba diving courses and trips
Snorkeling and manatee watch
Catamaran snorkeling trip to Caye Caulker
Catamaran sunset sailing
Kayaking
Parasailing
Great blue hole and barrier reef flight and snorkel
For land-based activities, there are spa services, eco-tours, cave explorations, zip-lining through the rainforest, a visit to the Belize Zoo, or exploring the Maya ruin of Xunantunich to name a few. There is something for everyone.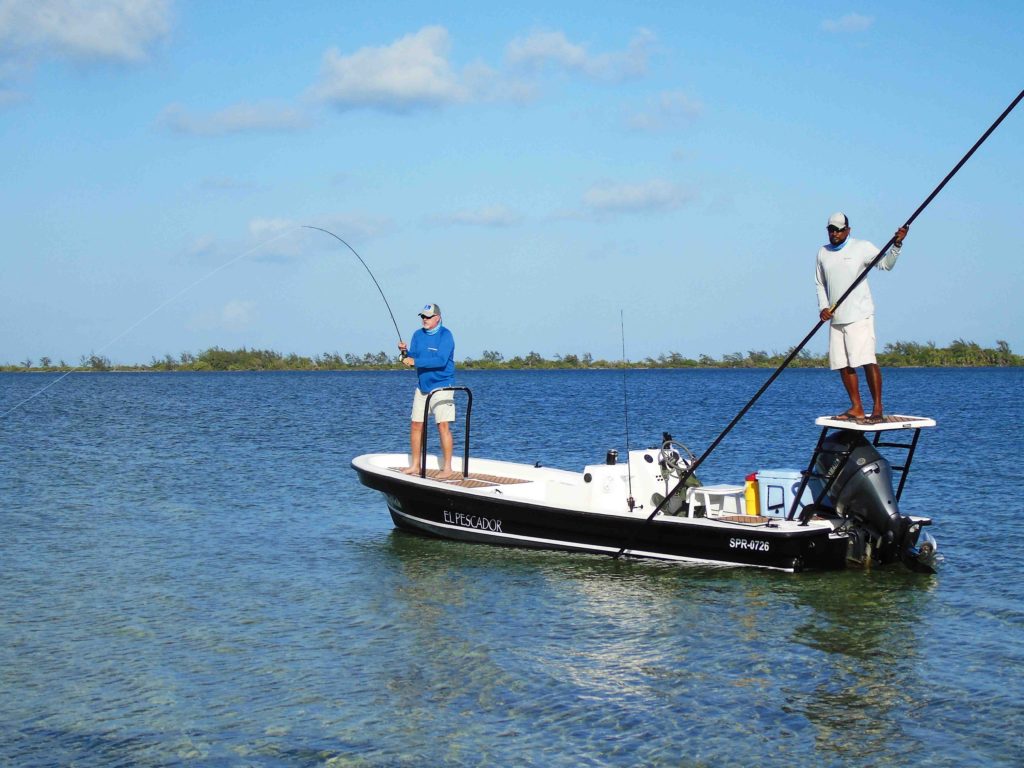 Currency
El Pescador guests will not need cash during their stay as they will run a tab for you. It's nice knowing you don't need your wallet with you at all times or having cash on hand either. The local currency is the Belize Dollar which currently is worth half the US dollar. Your money goes twice as far, and USD is accepted everywhere! They accept Visa and MasterCard credit cards at the lodge.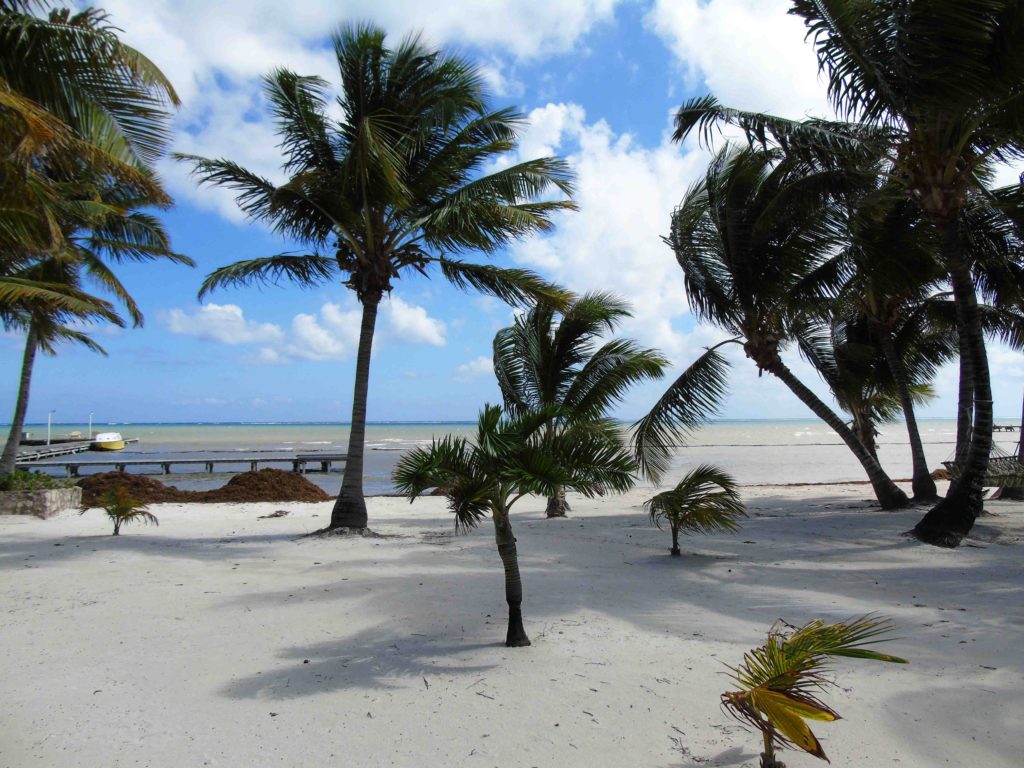 Two for One Special
Arrivals between the dates of June 15 and December 14, 2019, are subject to a terrific two for one promotion. Purchase a single occupancy/solo guide fishing package, and your fellow angler or non-fishing companion goes for free (shared room and guide).
If you've been entertaining a trip to El Pescador previously and for whatever reason, it hasn't materialized, here's a great opportunity to fish the fertile waters of Ambergris Caye and experience all that this premier Belizean lodge has to offer.