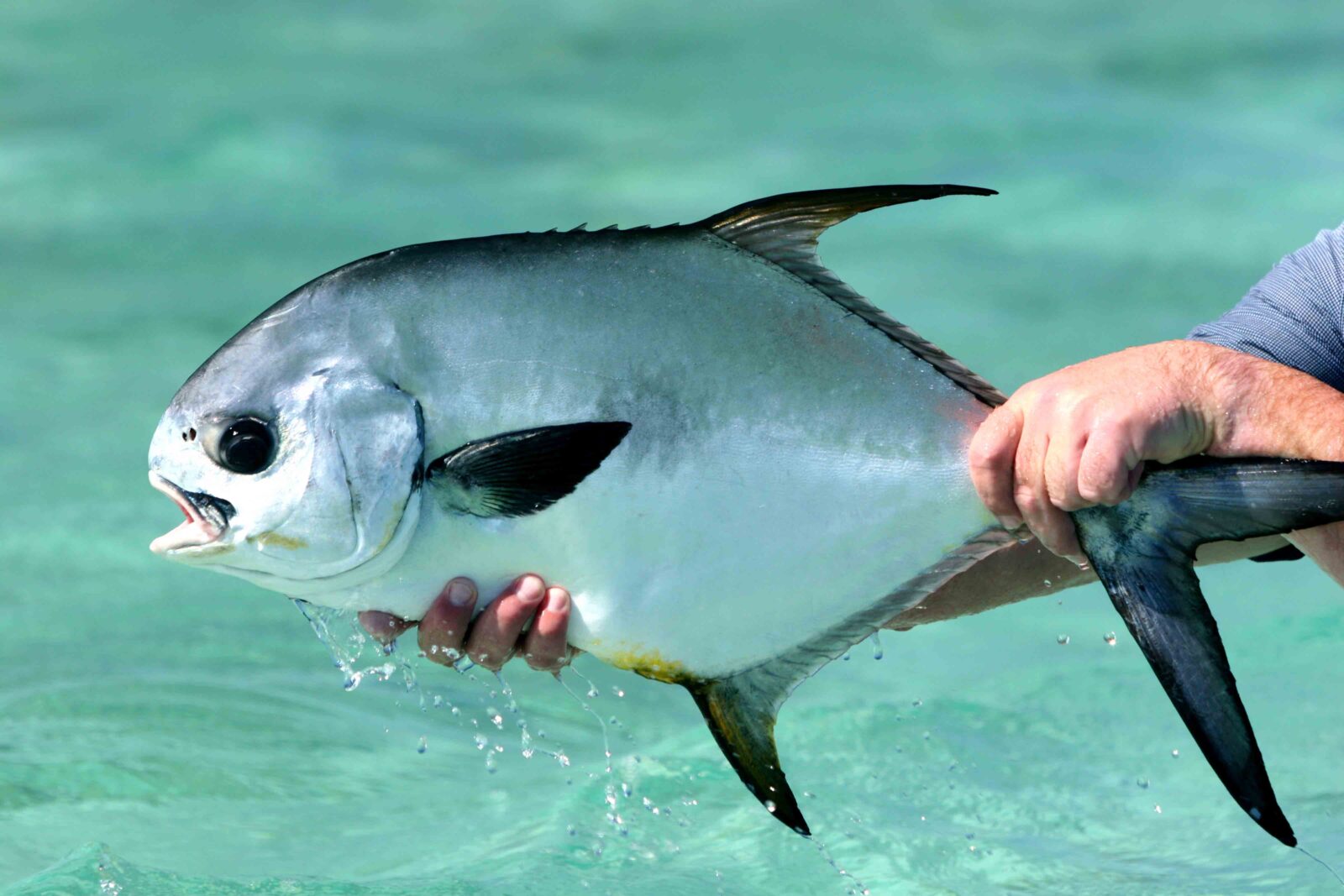 On day three of our Belize trip, Tori and I awoke to clear blue skies and a flat calm ocean, an absolutely perfect day for the flats. Only we weren't fishing today. We were transferring to the mainland at Dangriga, then off to Belize City to meet up with the Turneffe Flats dive boat at the City Marina and onwards to the atoll. It seemed like Mother Nature was messing with us. Two pretty difficult days of weather conditions hindered our fishing, and then when the weather finally breaks you've got other plans. This is why, when clients ask me "when is the best time to go to X?" I typically say that traveling during our winter months is a crapshoot, nothing more. You could hit a stretch of good weather in January and February, but the odds are that it won't last too long. No one wants to hear it.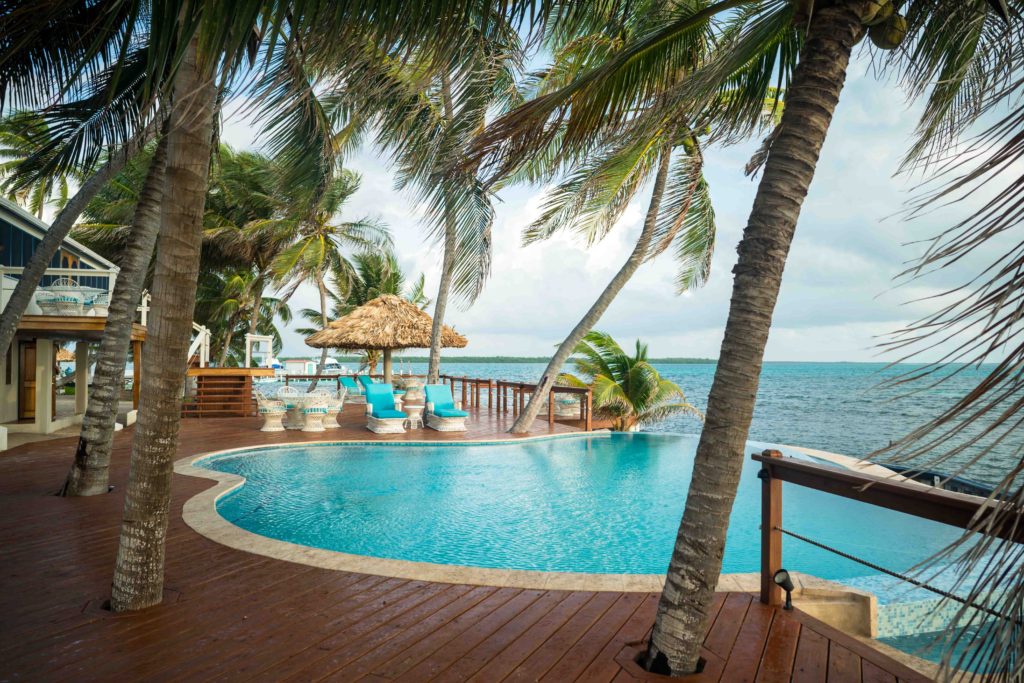 The good news is that it's almost always warm in Belize, and trips there in the winter provide a very welcome respite from the cold of the northeast and Midwestern states. So you go and pray you to get a little bit lucky on getting good fishing weather, and you enjoy the warmth that is Belize. It's not half bad. We proceeded on our journey to make a long-overdue visit to the Turneffe Atoll to visit our friends Karen and Craig Hayes, at Turneffe Flats Lodge.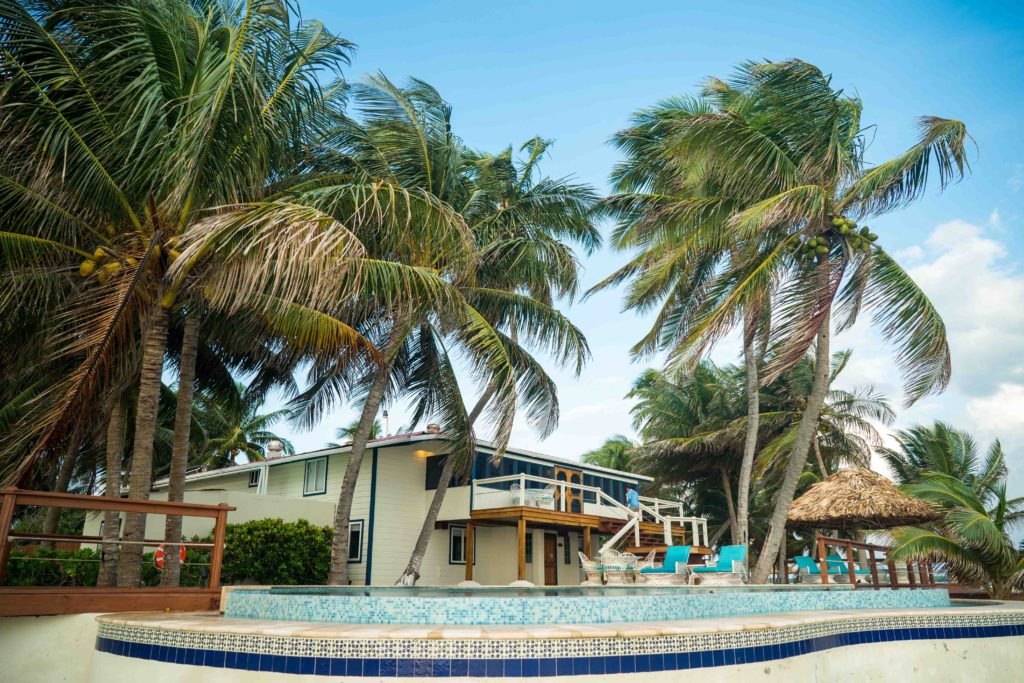 We arrived at the Lodge after the 90-minute ride aboard their Pro 42' dive boat from Belize City. It was smooth sailing all the way. After a welcome cocktail, we settled into one of their Waterfront Cabanas, a duplex unit situated at the far end of the picturesque waterfront beach. Bonefish were tailing away on the "home flat" within sight of our front porch and I knew we'd be seeing each other at day's end tomorrow. After meeting the rest of the guests over cocktails, we sat down to a fantastic dinner of freshly caught snapper. The Lodge serves meals family-style, which gave us a chance to meet and get to know some really fun and well-traveled people over the course of our four-night stay. Everyone got on quite well making those social hours at day's end enjoyable.
Before I get on to the fishing portion of the trip, I wanted to mention that the grounds and infrastructure that Craig and Karen have created on their little piece of atoll paradise is nothing short of amazing. The landscaping kept the island looking immaculate. The rooms, outfitted with A/C were spotless and very well-thought-out as far as storage of gear and clothing goes. The bathrooms are very spacious with huge walk-in showers. Great front porches to hang out and enjoy a cocktail at day's end and watch the bonefish taunt you from within casting distance; it's very cool.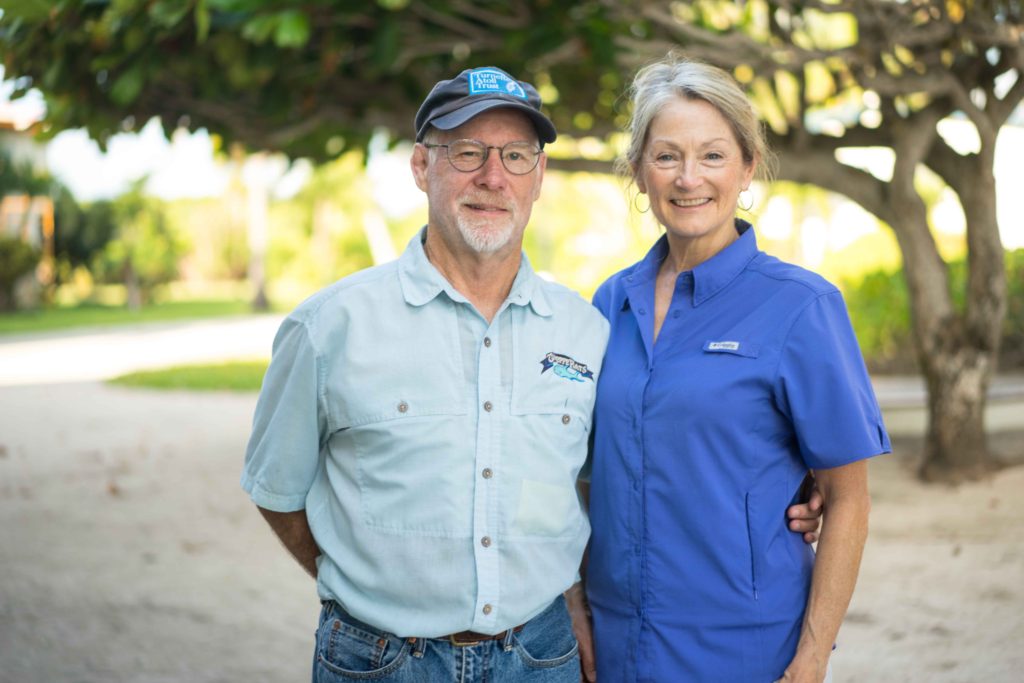 Day one of fishing brought pretty promising conditions as we left the dock. As we motored through the inside of the lagoon and out to the reef flats, I was optimistic that the weather was going to favor us, and as we made our first stop and I got up on the platform, things looked promising. I had stripped out about half the line I needed and the first fish of the day was pushing in hard about 45' off of my two o'clock. I dropped a cast about four feet in front of the fish and he followed for two strips and split town. Fast as that. I continued to dump more lines on the deck and Mark, my guide called out "fish, 12 o'clock and tailing 60 feet." Perfect cast, long follows, he splits town. It was the same deal. I asked Mark if we should change flies and he replied, "Maybe one more try." Then he smiled and said, "Man the fish are in trouble today, great casting." We took about three or four more good shots at fish over the next hour and a half, all with similar results, the only change being that the wind and clouds started to make an appearance. Still fishable but more challenging, leading to tougher sighting conditions and casting that required either more power or more finesse, depending on conditions at that exact moment. We came off the water feeling positive that we made a lot of good presentations to a good number of fish, and sometimes when you're permit fishing that's how you measure the quality of your day.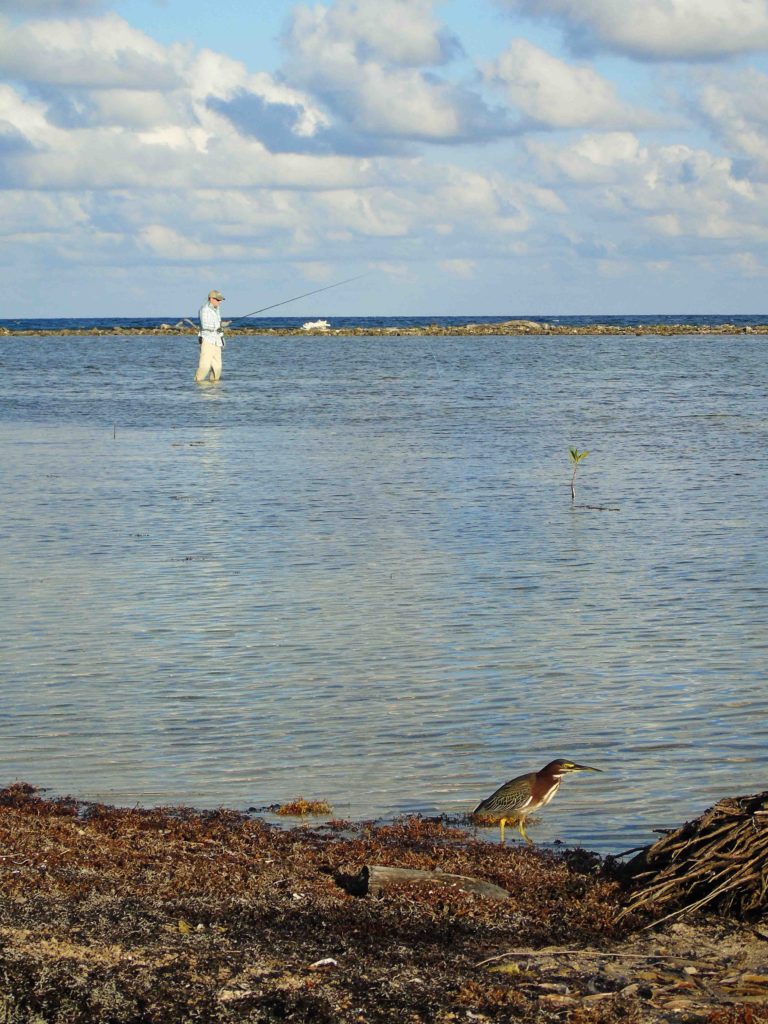 Day two I was solo in the boat, with Tori staying back to enjoy the Atoll Adventure outing with a few of the other ladies at the Lodge. The wind was up and the clouds were stacking up in all directions. The one thing that didn't change was the amount of fish we were seeing. With winds constantly huffing between 15 and 25 mph, the casting was becoming a lesson in humility. While throwing 60 or 70 feet in moderate breezes isn't usually too much for me to handle, I was, as they say, getting my ass handed to me with 40-foot shots, and my crippled-up right shoulder was feeling every back cast and double haul I was making, no matter which direction I was casting. "It only takes one" Mark would say every time I came up short or overshot the fish. I have to say, he is a really good guide, upbeat at every turn, and man could he handle a boat. If casting in those conditions was tough, I was sure glad that I wasn't poling a boat. Incidentally on my very first flats fishing trip back in 1989 Mark's dad, Eddie was my guide out at Turneffe. It is small world stuff and it's cool to make those connections through the years.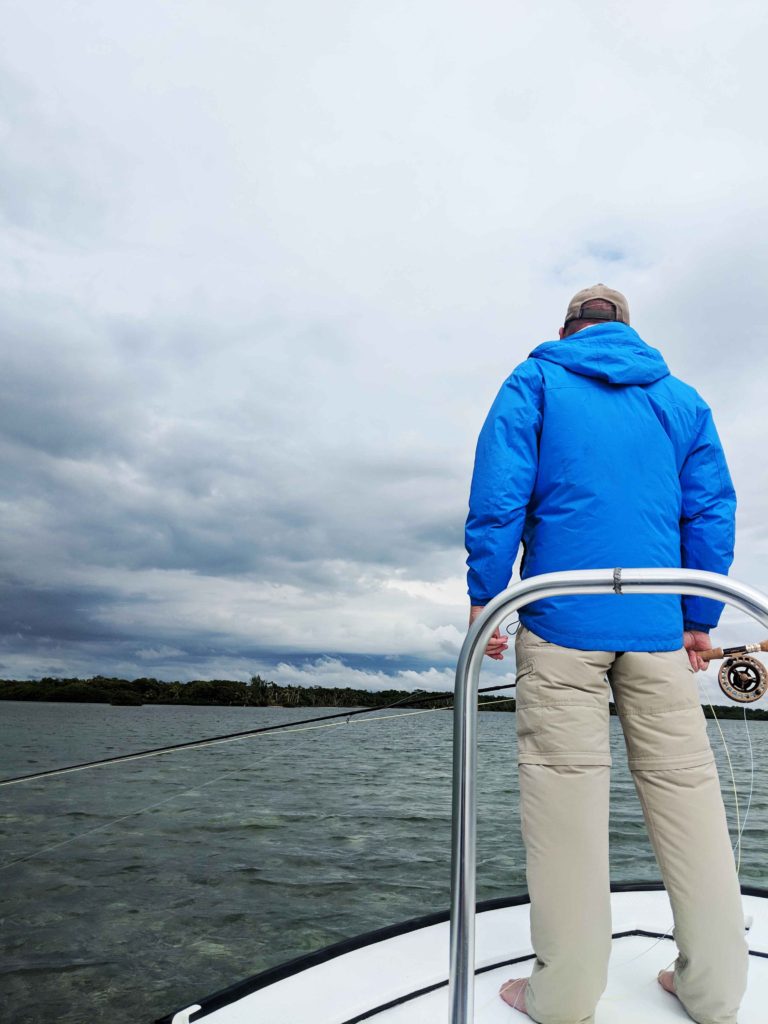 With day two in the books, we were fishless once again, but we had one more day of permit fishing coming, and hey, it only takes one, right? I'd be remiss if I didn't mention how nice it was to come back to the Lodge to find Tori beaming about her day of snorkeling with the rest of the Atoll Adventure crew. We headed down to the cocktail hour and out came the cameras, iPads, and similar devices for all to share. Amazing is the first word that comes to mind. The images that Abel the tour leader shot with his Fuji point and shoot were nothing short of spectacular, and there's no way you could have convinced me that the photos weren't from a deeper dive expedition. All the underwater wildlife was found in less than 12 feet of water, most much shallower than that. This tour is a highlight adventure and I won't return to Turneffe again without experiencing it firsthand.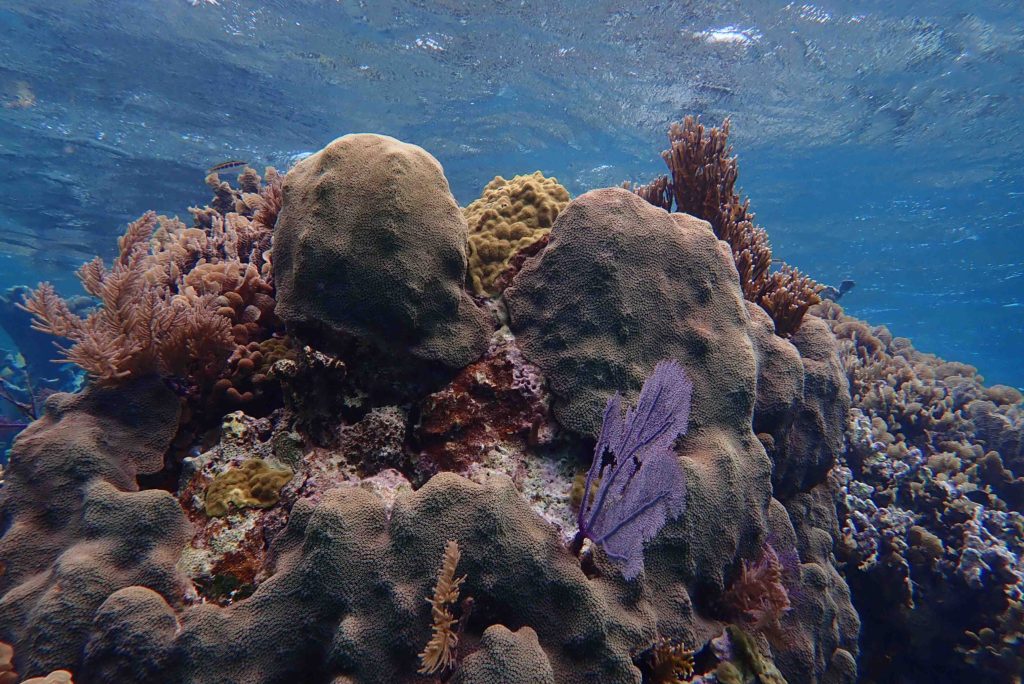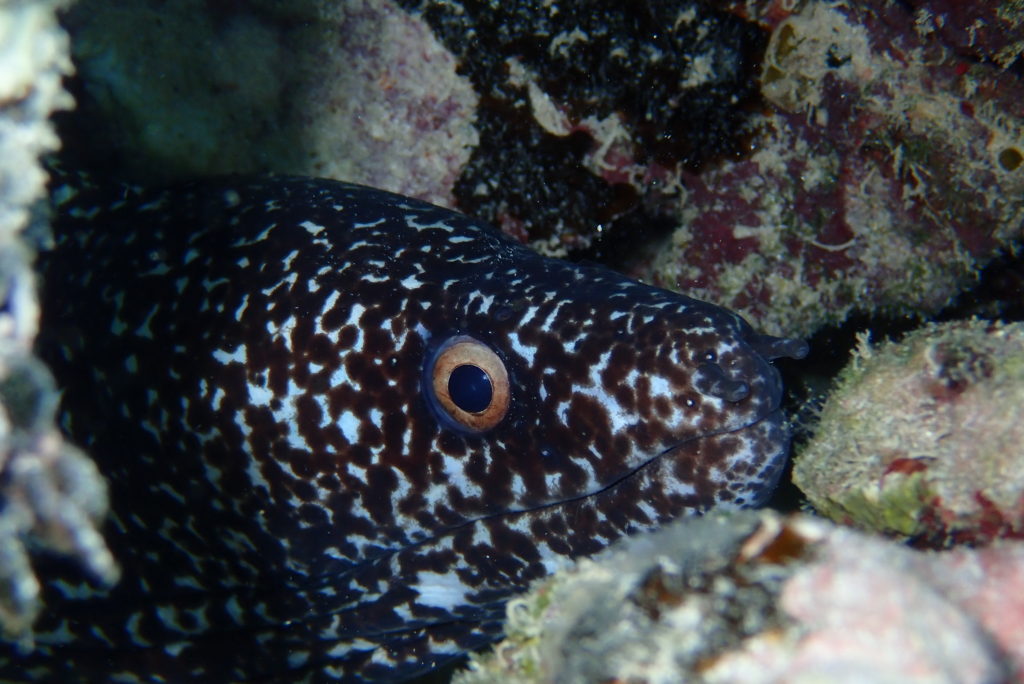 With another fantastic evening at the main Lodge in the rearview, we gathered up our gear and headed to the dock for our third and final day at Turneffe Flats. Everyone had been catching fish, concentrating primarily on the vast numbers of bonefish available, but my quest was pretty singular and masochistic in nature. I didn't deter into giving in to the temptation of just catching fish damn it, though the thought did cross my mind… a bunch of times. We hit the water by 7:15 a.m. and headed into a pretty gray horizon with unabated winds and a pattern of broken rain clouds along the outside flats. To make a long story short, two rain showers and not many more fish crossed our path until we finally called it a day at 1 p.m. as a 10-mile-long black wall of water headed in our direction. We were beaten once again by the fickle permit. Between Thatch Caye on the front part of the trip and the three days we spent at Turneffe Flats, I am a firm believer that Belize is one of the best places for fishermen of all experience levels to seek out bonefish and permit. From May onwards into the early fall months they also have excellent tarpon fishing for the larger silver kings. Hopefully, I'll be returning soon for another crack at the elusive sickle-finned permit of Belize… because it only takes one.
By: Joe Codd