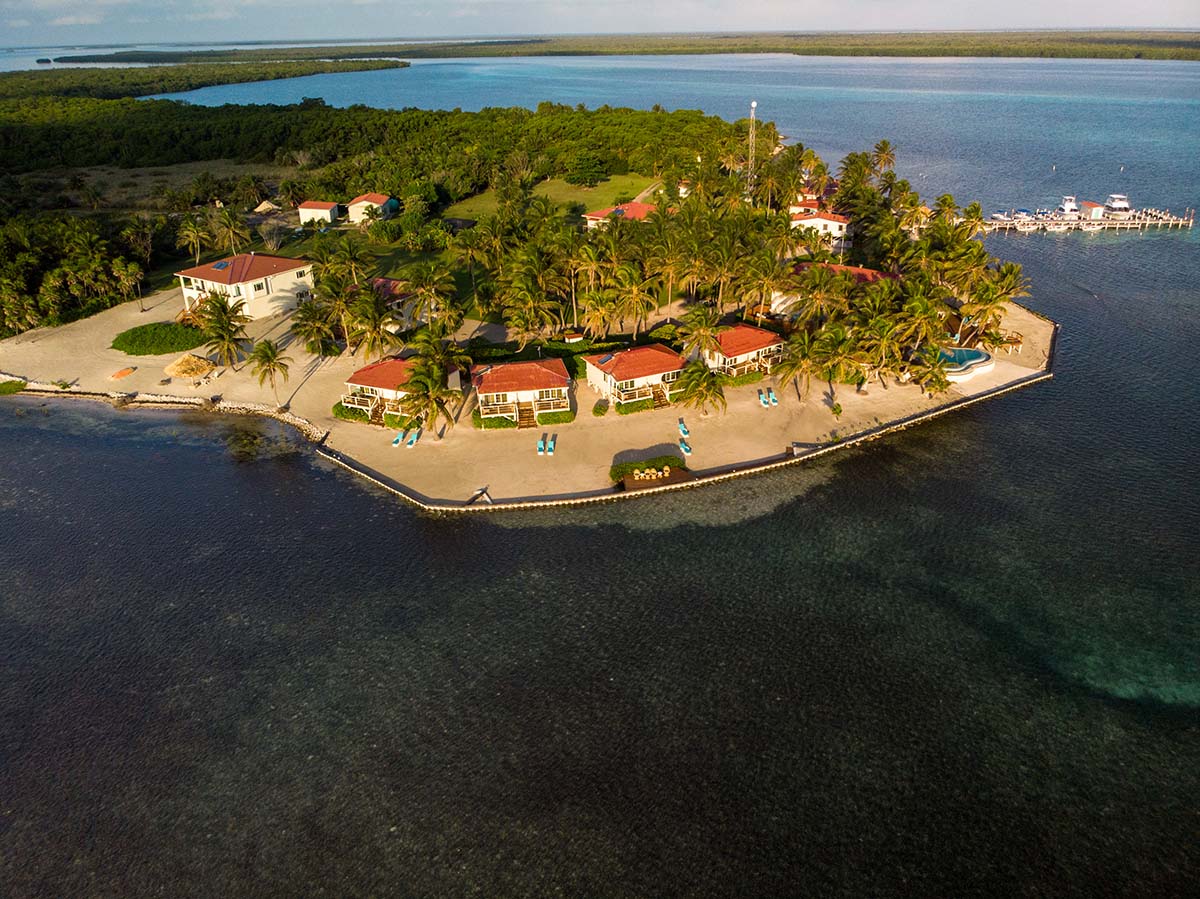 One of the Caribbean's Greatest Saltwater Escapes!
Jan, 2023: With the temperatures below zero degrees in western Pennsylvania over the Holiday Season, Kristene and I could not wait to head down to Turneffe Flats Lodge in Belize in mid-January.  I made my first trip there well over 30 years ago and we have been to Belize multiple times since then.  We had a world-class experience a few weeks ago and continue to feel that Turneffe Flats is a "must visit" lodge for our saltwater flats fishers, and it's a great place to bring a non-fishing companion.
Why Turneffe Flats?
It is the premier location on Turneffe Atoll – Belize's largest marine reserve with unmatched access to the best fishing, diving, and snorkeling in Belize
Deluxe air-conditioned accommodations with a wide variety of other amenities
A well-deserved reputation for superior service and attention to detail
The top fishing, diving and marine ecotour guides in Belize
Superb dining featuring a mixture of international and Belizean dishes
Miles of pristine wadable flats and 300 square miles to fish
More than 65 logged dive sites and a multitude of marine ecotourism opportunities
Family owned and operated for 35 years
Turneffe Flats has been the conservation leader at Turneffe Atoll for more than three decades.
Located south of Mexico's Yucatan Peninsula and bordering Guatemala, Belize is a country nestled against the western Caribbean with a pledge to conservation and ecotourism.  Formerly British Honduras, this country is English speaking and has multiple daily nonstop flights from many US gateways on several different carriers.
The Belize Barrier Reef sits just miles off the coast and is part of the larger Mesoamerican Barrier Reef, second in size only to the Great Barrier Reef in Australia. Home to hundreds of species of coral and fish, it is a hot spot for fly fishers, divers, snorkelers, and biologists from all over the world.
Turneffe Flats is located on the Turneffe Atoll, the largest coral atoll in Belize along the reef.  It's about 20 miles east of Belize City.  Since 2012, it's been declared a Marine Reserve and is home to many species above and below the water.  The land and seascape consists of a network of highly productive flats, creeks, and lagoons dotted by more than 150 mangrove islands.
This amazing resource offers some of the very best and most consistent wade fishing for bonefish in the Atlantic and Caribbean. Combined with permit, tarpon, snook and other flats and reef species, it's a special place for fishers and the atoll has some of the world's very best snorkeling and diving.
Turneffe Flats' first guests date back to 1985.  Since then, the lodge has gone through lots of renovations and improvements under the watchful eyes of Craig and Karen Hayes who have been at it since the beginning.  They also have an unbelievably firm commitment to conservation and have been very involved in the establishment of the Tunreffe Atoll Trust to protect the reef environment and the precious species that live there.
The lodge is Green Globe Certified and it's worth spending an hour or two having a behind the scenes tour with Craig.  The water and solar systems are amazing feats of engineering; and when you look at their avoidance of plastic, how they hand garbage and every other possible pollutant, you can easily see why they are one of the "greenest" lodges in the world, with absolutely no compromise in comfort.
Through the work of Craig, Karen and other lodge owners, Belize enacted landmark Catch & Release Legislation in 2009 becoming the first country in the world to mandate that all bonefish, tarpon, and permit be released.  In addition, all gillnets were banned in 2020.
The best news is that the fishing is getting better and better.  I was most impressed with the number of fish we spotted – despite a few curveballs from Mother Nature, and a lot of the bones we landed were bigger on average compared to many earlier trips to Belize through the 90's and early in the 2000s.
We had several shots at really big bones.  At one point, I grabbed my 10-weight rod thinking that it was a school of baby tarpon, then switched immediately to my snook 9-weight setup – only to then figure out that they were trophy bones, which I hit on the head with my Gotcha…  The buck fever was intense!
We spent a lot of time hunting permit and had multiple shots from the skiff and on foot daily.  I had several follows and a great take on a Beck crab, but failed to seal the deal!  There were triggers and other guests had encounters with snook and tarpon.  Despite wind and frequent cloud cover, we had an amazing fishing week!
The lodge is wonderful with a beautiful pool, comfortable accommodations, great food and a really awesome wadable bonefish flat out your front door if you want to extend the fishing day.  The staff bends over backwards to provide a great experience.  They can accommodate up to 18 anglers with some additional rooms for divers and non-fishers.
The typical itinerary is 7-nights/6-days with an arrival on Saturday.  You are transferred from the International Airport to a marina in Belize City (about 25 minutes) and then you take their large dive boat to the lodge, which is about 90 minutes. You are returned the following Saturday in time to catch the international flights home.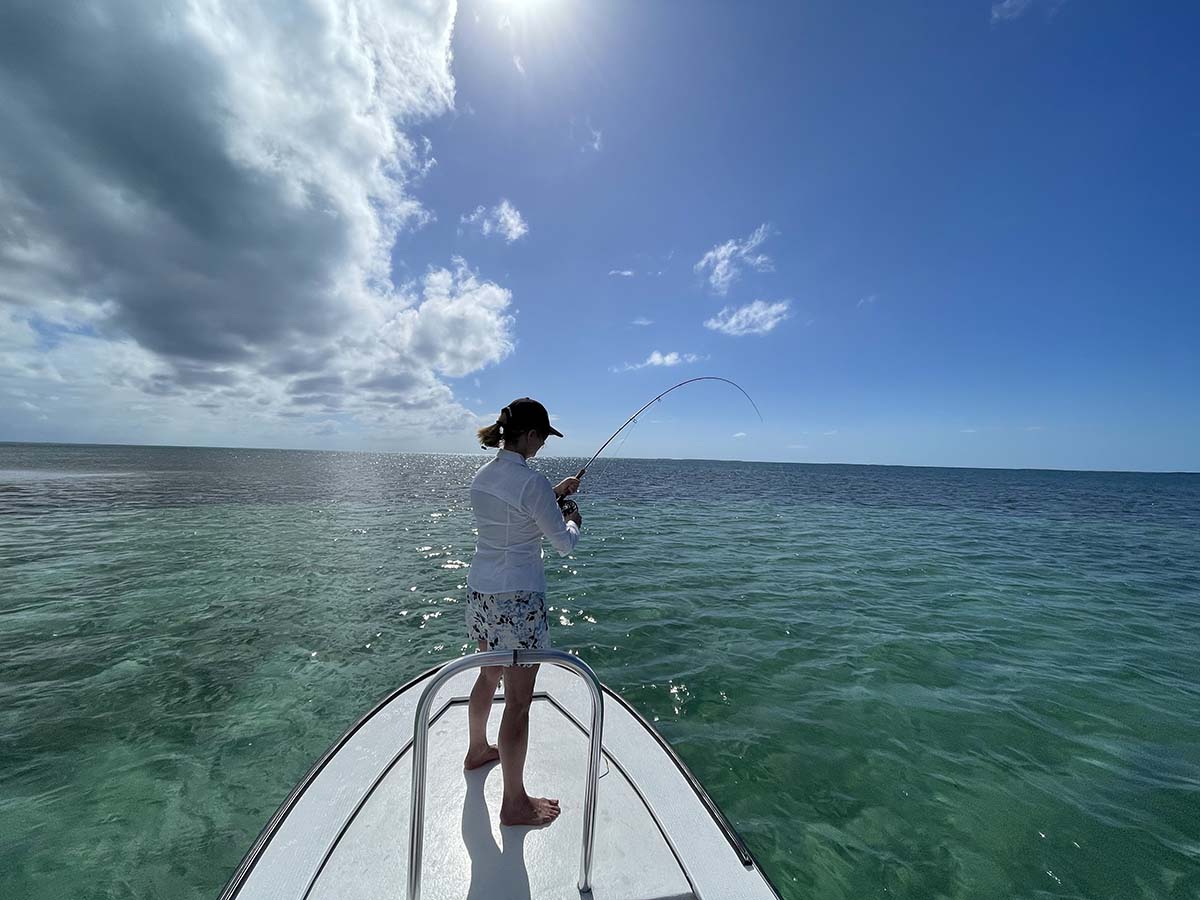 If you enjoy diving, snorkeling, and wildlife, Turneffe Flats is an incredible destination for non-fishing companions.  The Belizean Reef is widely recognized as one of the top diving regions of the world and this lodge is ideally located to take advantage of the country's very best scuba diving.  Their dive program offers 18 dives each week, including a day of diving at Lighthouse Reef and the Blue Hole, weather permitting.  Kristene enjoyed a day of diving and was most impressed with the location and the Dive Master.
The Atoll Adventure is also a wonderful experience and it's the second most popular program at the lodge.  The Head Guide, Abel knows the waters and the atoll like the back of his hand.  Kristene and I took a day off from fishing and spent the day with Abel.  It was hands down the very best snorkeling trip of our lives.  Abel is so incredibly knowledgeable of everything living on the reef.  Above water from the manatees to reptiles to birding, he is a delight and truly enjoys sharing his country's flora and fauna.
Put Turneffe Flats Lodge on your travel list.  In terms of quality and value, it's one of the greatest lodges in the Caribbean and Atlantic.  It's also close to home!  Availability is always limited.  Please plan far in advance!
~Mike & Kristene Fitzgerald