Trip Report: Summer on the Flats of Permit Alley [Blue Horizon Lodge, Belize]
For permit-focused anglers that want long fishing days and a laidback lodge experience, this is your lodge!
Sept, 2022: Many saltwater anglers know of Lincoln Westby and the "Permit Alley" area near Placencia, Belize. And yet, Blue Horizon Lodge can fly under the radar for some compared to more popular lodges in Northern Belize and Mexico. As we made the boat ride from Placencia to the 7-acre island where the lodge resides, I will admit to having a bit of healthy skepticism. 80% of shots to tailing fish? Reliable tarpon fishing in deeper channels? Guides and staff willing to shift schedules or elongate time on the water to provide tide-optimized fishing? We have all experienced advertised features that turn out to be more hype than reality. After a week of far-from-ideal weather and tides in early August, I am happy to report Blue Horizon is as-advertised. For permit-focused anglers that want long fishing days and a laidback lodge experience, this is your lodge.
Permit
This is a permit fishery for anglers that want to hunt permit. The tailing possibilities are real here, not just a marketing gimmick. This means you're often throwing at feeding fish. It also provides some "weather-proofing", meaning you can get shots in overcast, cloudy, stormy conditions. Not many other fisheries can offer this. The permit average 3-8 lbs here, but we had multiple shots each day at 12-15 lbs (and some larger) fish. There are some light-colored flats to spot cruisers. Schools and big singles push a wake when depth and wind allow for it. Often fish tail over turtle grass and darker-bottomed shoals during high tides. It is advantageous if anglers are healthy and willing to wade fish. While there are shots from the panga, higher quantity, and quality shots, especially to the tailing permit, tend to occur after hopping out of the panga and wading. On some large flats, anglers can wade for miles, throwing at tailing fish along the way.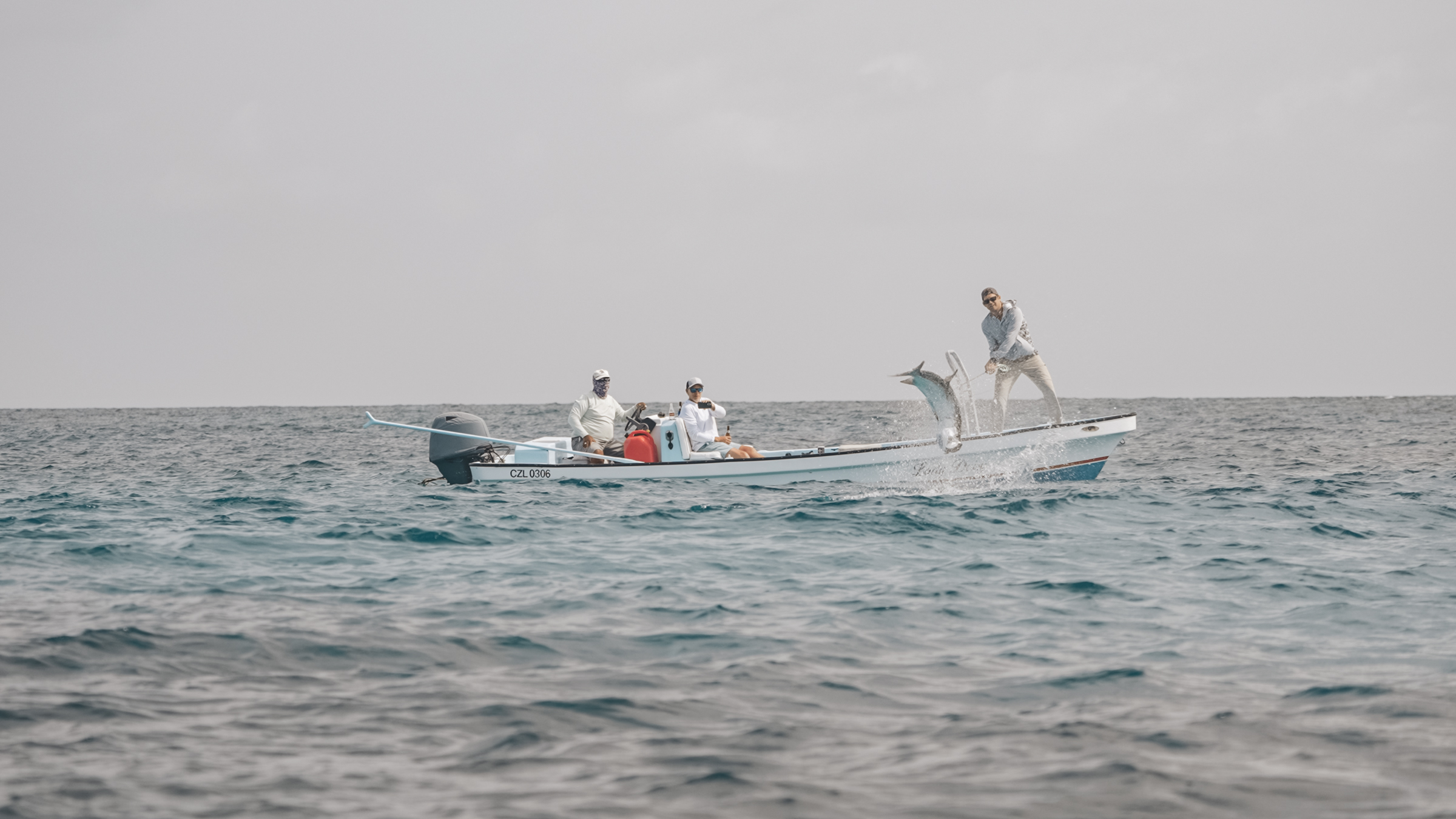 Tarpon
When the tarpon are around (depending on season + tide), the fishing in the channels is relatively reliable. Newer and experienced anglers alike can experience success with 450-550 grain sink tip lines. We jumped two, landing one, on our 3rd session. I attribute the success to better weather and a moving tide. Once the tide hit dead-low, the bite was off. In terms of tide for tarpon, a moving tide to create a stronger current seems to be more important than the specific stage of the tide. Incoming or outgoing could work. Sight fishing is more limited, but possible. There are a couple of flats that occasionally get tarpon coming in shallow conducive to sight-fishing. Flats along the reef can also offer tarpon in shallower water. These shallow tarpon tend to be single fish. They are known to be great eaters, only requiring a fly to get in front of their face. The trick is having a rod rigged and ready in-hand for these brief encounters. Unlike the more predictable channel fishing, set your expectations for tarpon on the flats to be an opportunistic scenario rather than a reliable target.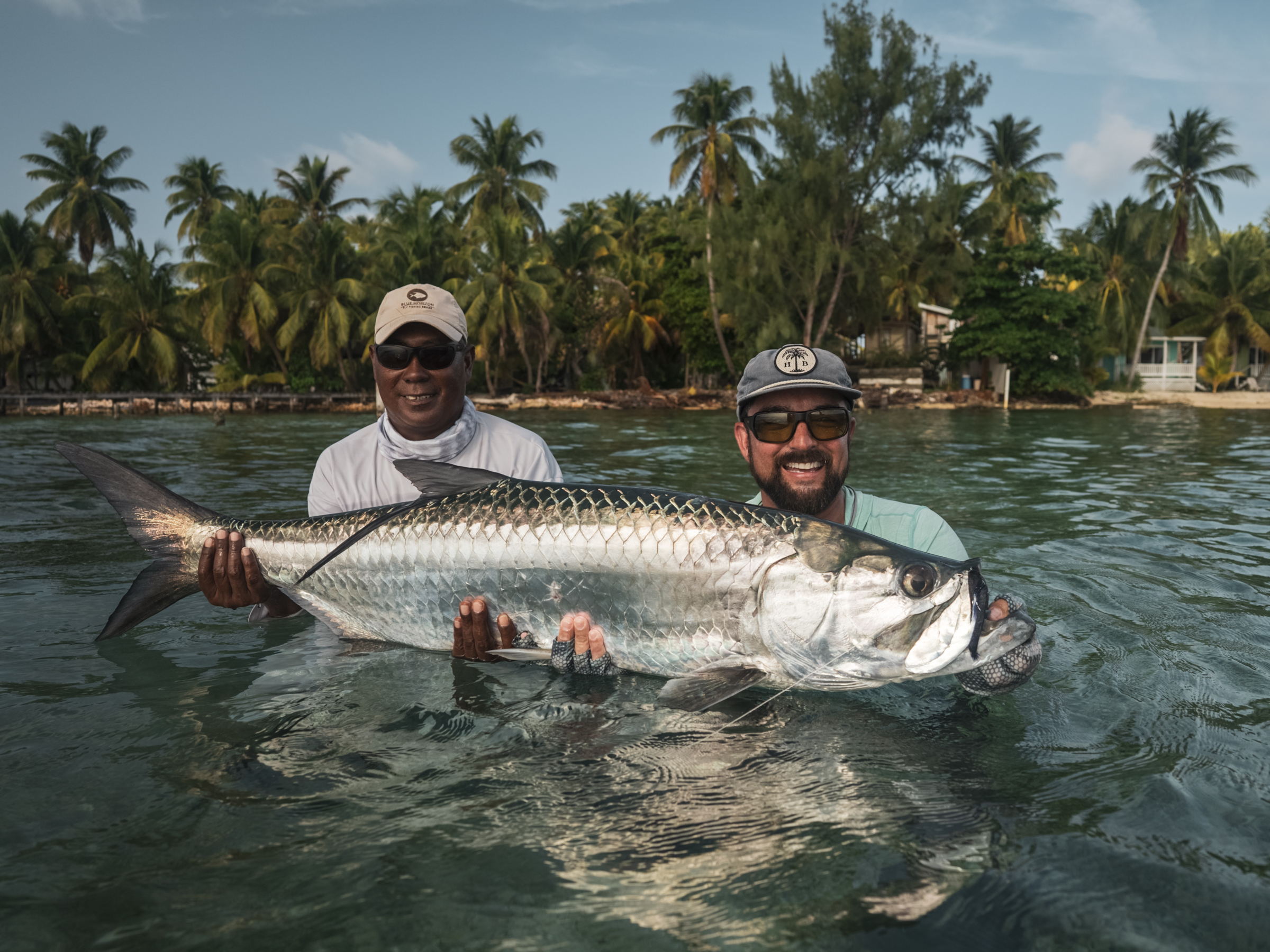 Bonefish
Bonefish are on the rebound in this fishery, having overcome a severe hurricane and gillnetting in the past. When conditions allow for a longer boat run, guides can access large schools of bonefish. We encountered a couple of schools not far from the lodge while looking for tailing permit. We also had two separate scenarios of large tailing bonefish in skinny water near a low tide. All that to say, bonefish are certainly a possibility, but should not be the primary target for a trip here.
Lodge
The recent lodge renovations have created clean, comfortable spaces. Rooms are relatively spacious with A/C. The open-air lounge and dinner space is welcoming with repurposed wood from the original structure creating nice touches. The staff is helpful and friendly. The vibe around the lodge is laidback. Think beer and throwing bags (cornhole). With space for up to ten guests (double occupancy), Blue Horizon is a great place for mid-sized parties that want an entire lodge or for singles, doubles, or smaller parties that want to meet and mingle with anglers from all over the world.
Guides
We fished with two different guides during our week. Based on our experience and discussion with other guests during our stay, the guide staff seems strong from top-to-bottom. There is a mix of seasoned pros with over 30 years of experience as well as younger, up-and-coming guides with family history and strong, fishy drive. Blue Horizon does not typically rotate guides. However, larger parties can talk with the lodge about possibly rotating the guides within their group.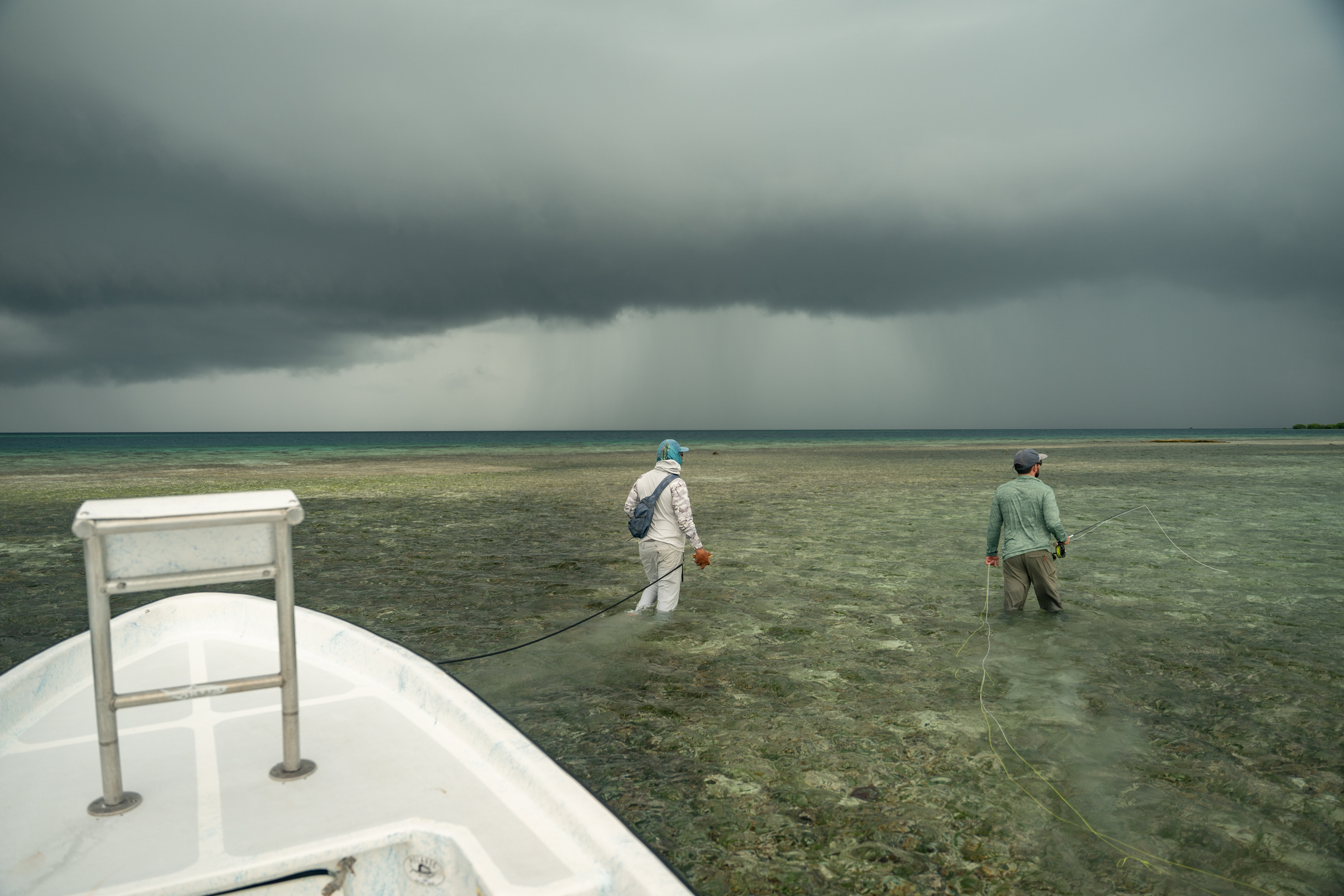 Flies and Gear
All bonefish and permit flies should have a weed-guard. The guides tend to favor flies with a guard. And with good reason – there is a lot of grass around the flats.
Be sure to bring wading boots. There are a variety of scenarios, including pancake flats and long reef-like flats, that offer superb wade-fishing opportunities.
Permit: Size 8 Bauer crabs (olive or tan with dark legs) are the go-to fly at Blue Horizon. During our stay, guests landed four permit on a size 8 Bauer crab. If I were constructing a permit box for Blue Horizon, I'd take mostly dime-sized and a few nickel-sized crabs with weed-guards in tans and olives (and a few white crabs), sizes 4-8. Make sure the hooks are strong in small sizes. I would focus on Bauers, some custom tied small Ragheads and Strong Arm Merkins, and any other confidence pattern you have in that size range.
Bonefish: Bonefish flies should be size 8-10. Mostly unweighted and lightly weighted patterns for fish in skinny water; anglers should take a couple of flies with bead-chain or small lead eyes (and a few size 6's) for schools in deeper pockets.
Tarpon: black/purple with a bunny strip or marabou tail in size 2/0 or 3/0 was all that was needed during our trip. Specifically, our tarpon ate SS Flies' Fox Fur fly in black/purple. However, be sure to bring a sink tip line (450-550 grains) down with you if possible. The lodge has 12 weight rods to rent if you need one.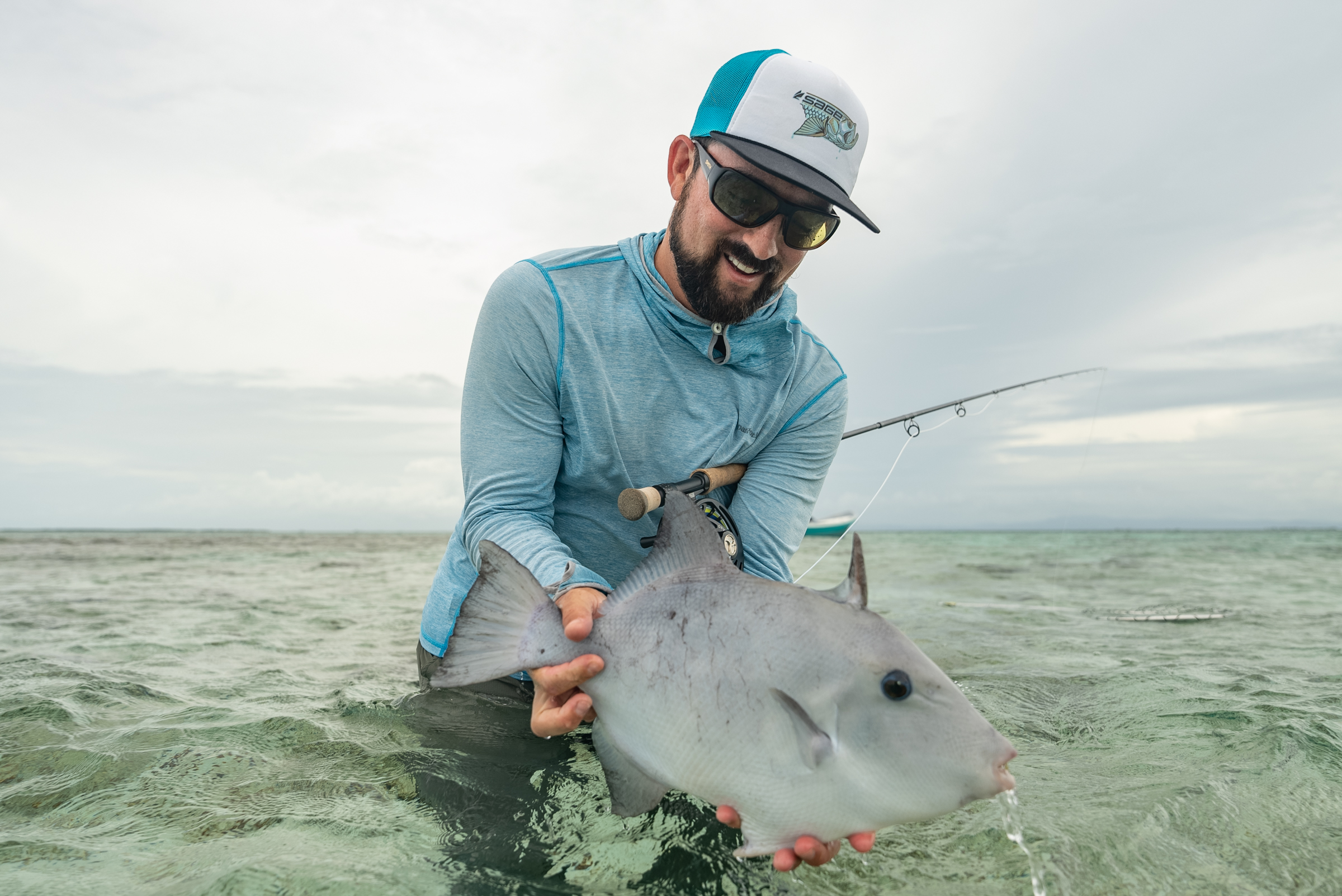 There is a purity to hunting tails at Blue Horizon. You know that permit is feeding. The cast and presentation are up to you.  Many encounters will not result in a fish to hand. Such is the nature of permit fishing. The style of fishing, however, brings a visual element and another level of excitement that will keep you in the hunt. I know I am ready to go back. If you want to experience this unique and productive fishery, contact Joe Linscott at Frontiers International Travel.
~ Nick Swingle, Frontiers Marketing Director