Fin Chaser's Mothership: An Unusually Convenient Remote Fishing Experience
Jan, 2021: December in the northeast United States can bring early snow and freezing temperatures. While in the middle of a particularly cold snap, I got a call from my friend, Captain Miguel Encalada, inviting me to come to the Yucatan to explore a new flats fishery. I jumped at the chance to shed my sweater for some sunscreen and the opportunity to catch some fish.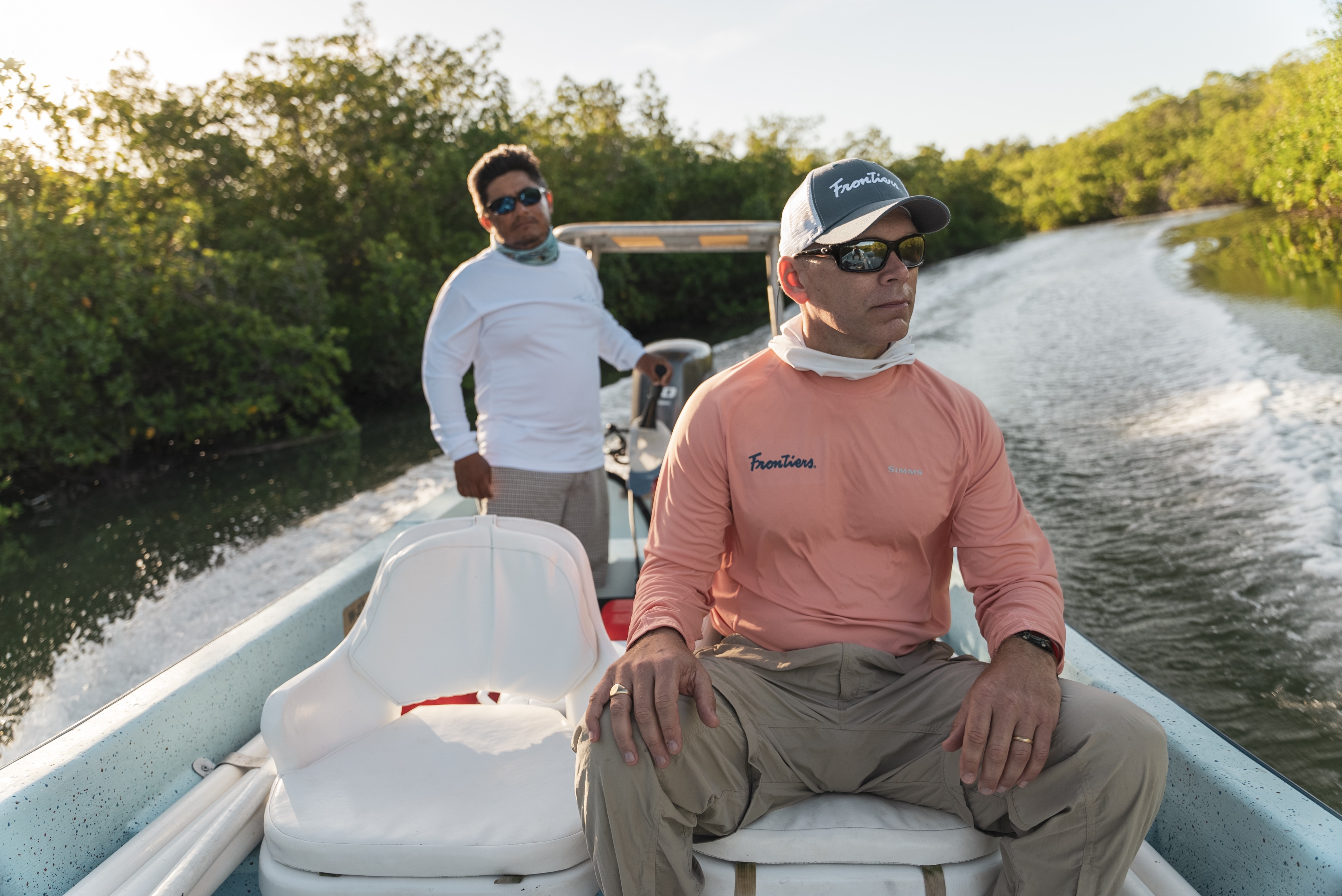 I have known Miguel Encalada for 15 years. Still, he has worked with Frontiers for well over a couple of decades managing Yucatan fishing lodges and operating his Tarpon Bay program from the town on Campeche on Mexico's Gulf Coast. He is perpetually positive in nature, so even when he told me that fishing would be challenging due to recent unseasonable cold fronts in Cancun, he assured me that I would catch fish. Regardless I was happy to trade my cold front for his.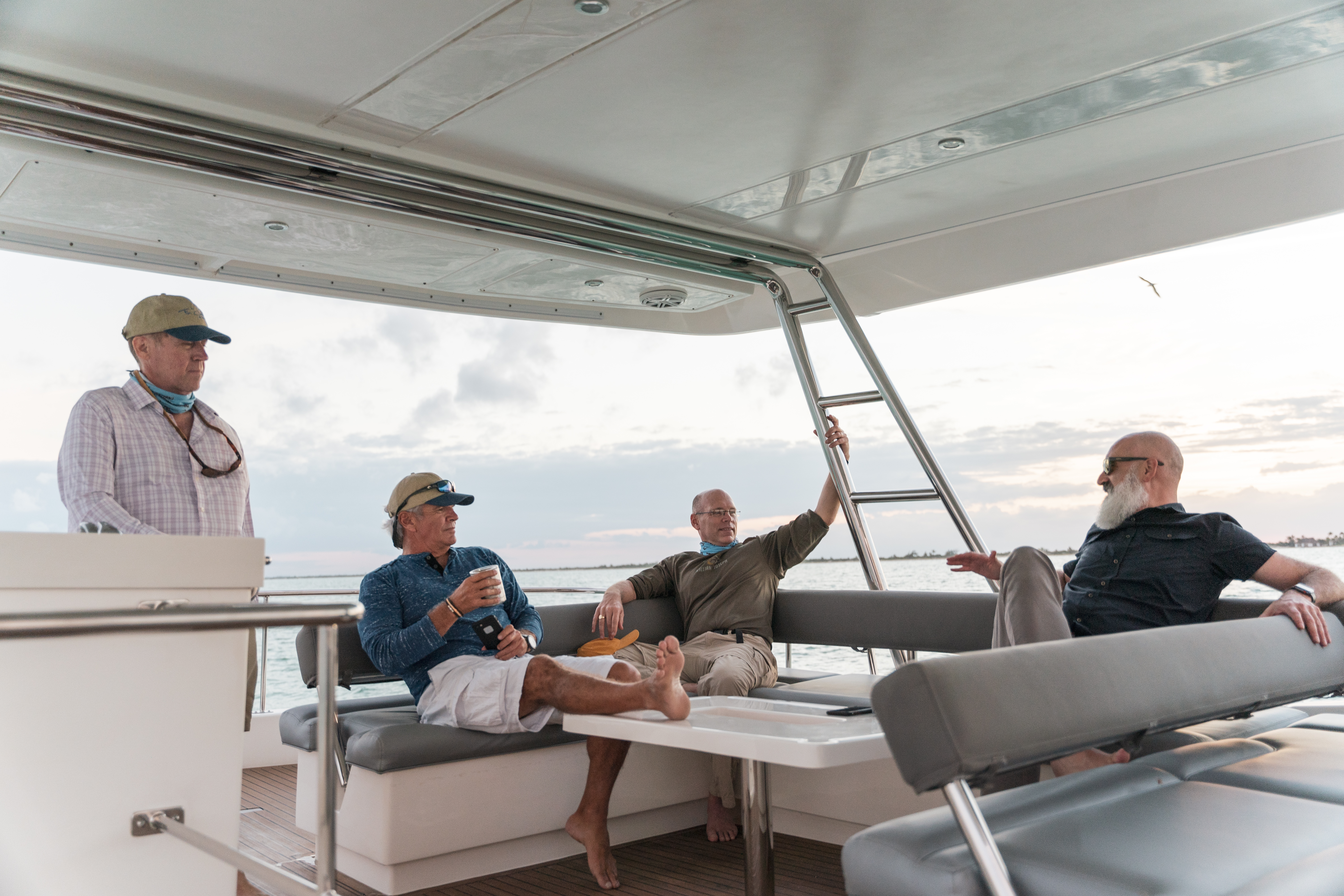 Mexico is open and is welcoming travelers from the United States. A negative COVID test is not required for entry into the country. On this trip, I was heading down with Frontiers President Mike Fitzgerald, Nick Swingle of Two Fisted Heart Productions. and his friend and fellow photographer, Aaron Forrester, to visit Miguel's new fishing program located north of Cancun, called Fin Chasers. The plan was to fish and film the experience
The Fin Chasers fishing program is located in the Mar Caribe Biosphere, extending from just north of Cancun's city to the tip of the Yucatan just before it turns toward its gulf side. The area that Miguel is fishing is roughly 50 miles of shoreline and accompanying creeks, bays, and backwater lagoons. There is only one other sportfishing outfitter in this area, so the resource's pressure is low.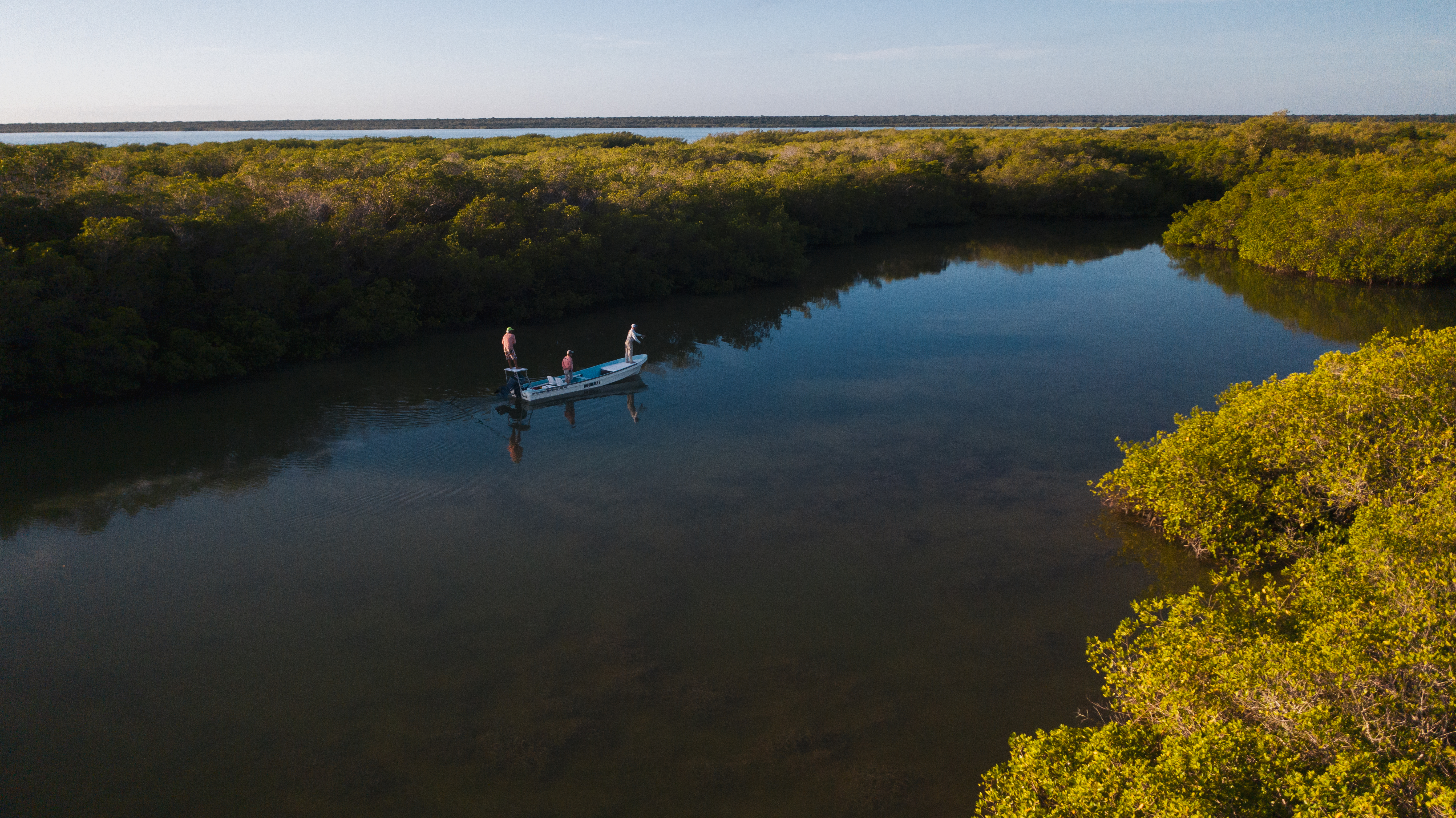 After meeting Nick and Aaron at the Cancun Airport, we were transferred by van about 35 minutes north to the marina where the 51′ catamaran motor yacht – named the Kattu – was moored. Mike and Miguel's crew were already aboard. After leisurely motoring some nine nautical miles north of the marina to Isla Blanca, we anchored up off a small spit of white sand beach. We watched the first of several incredible Mexican sunsets.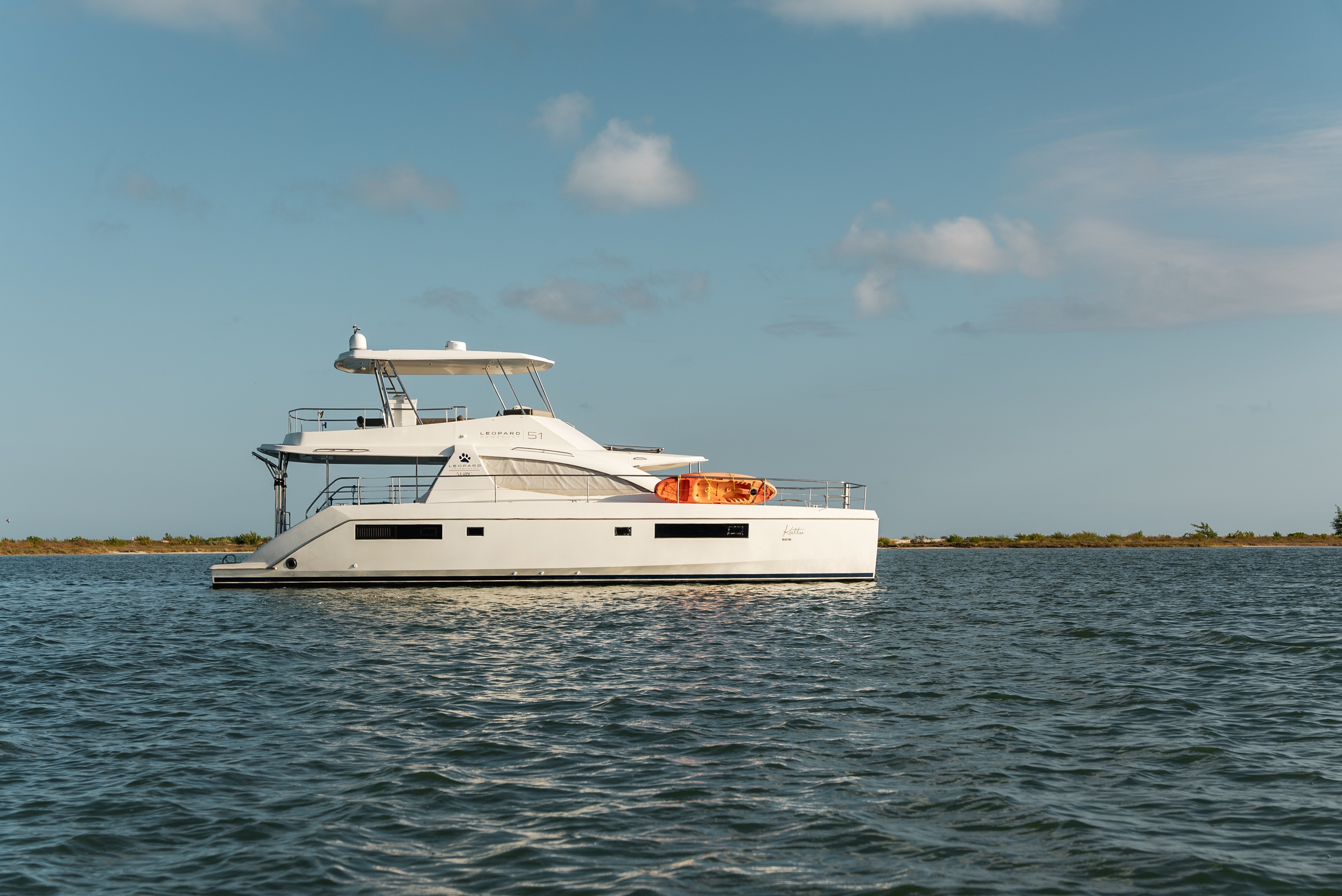 The next morning Aaron and I paired up with Miguel as our guide, and we set off in one of the new panga boats that Miguel bought for the Fin Chasers program. The anticipation that I felt was increasing by the minute as we raced across the water to fish a small hole in the mangroves where Miguel had seen tarpon regularly. Aaron was on the bow first, and it did not take long to find rolling tarpon. Aaron is new to saltwater fly fishing, and coming from a trout background (like so many of us), he had some trout fishing tendencies that he had to shake. But Aaron casts well and put the fly where it needed to be for the tarpon.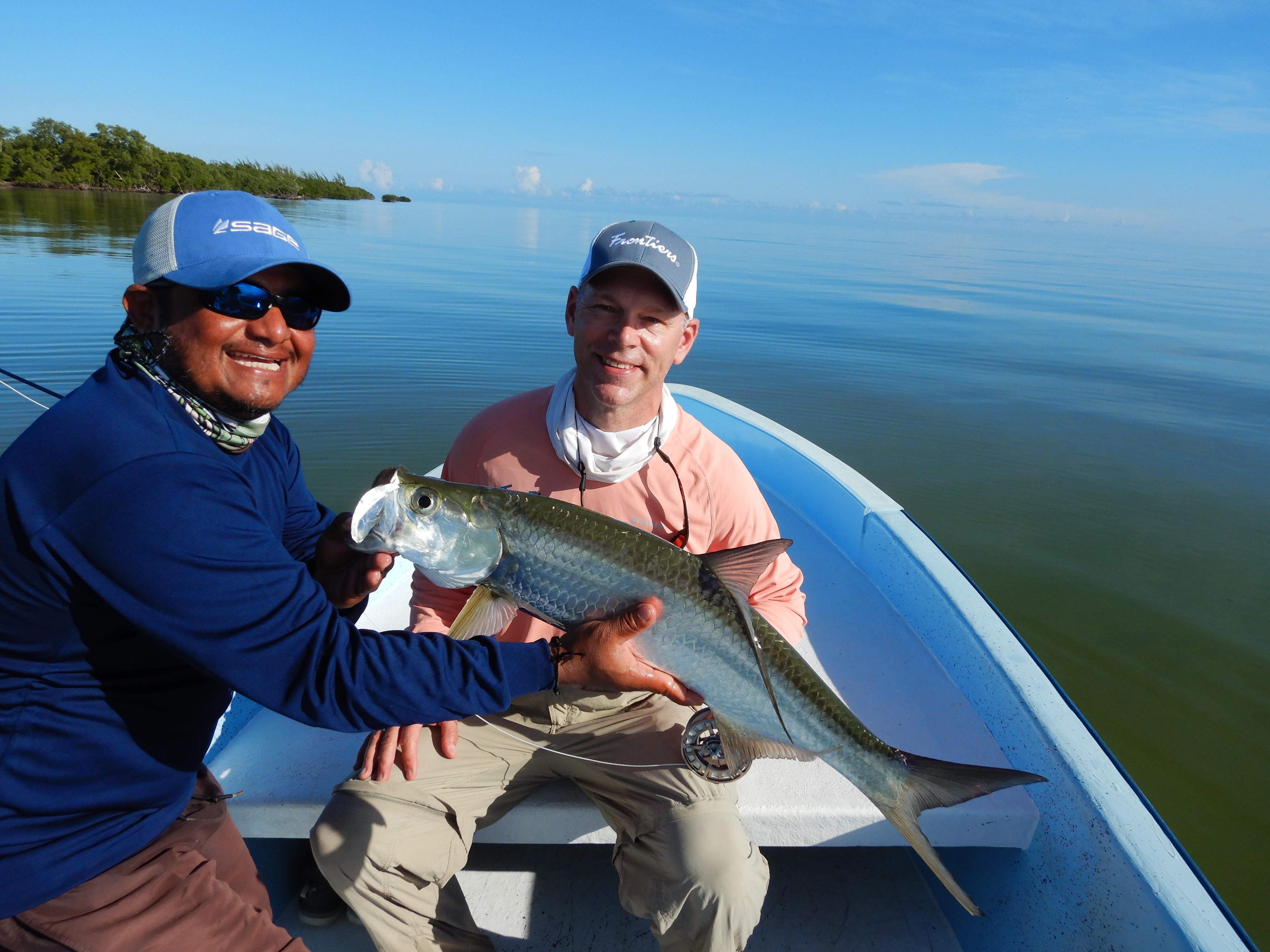 Later, when I was on the bow, I saw some permit following a ray, which is super cool to see on the flats! Miguel put me in the right spot, and I made the perfect cast. The permit ate, but I could not get it hooked well. The rod bender left my knees shaking! We spent the rest of the day casting to rolling tarpon, but like Miguel had warned, the cold water made the fish sluggish and not willing to bite. Back aboard the Kattu, I learned that Mike and Nick fared better, having several shots and eats from more aggressive tarpon.
Over the next couple of days, with full sun and temperatures in the 80's the water temperature warmed. The tarpon became more aggressive, especially in the morning. My best day was fishing with Mike and Miguel's Head Guide, Edwin. Miguel's son Rafael with us too as a boat assistant. It was a flat calm morning on the water when Edwin and Raffa found a nice sized school of tarpon rolling in front of some mangroves. Mike and I each landed two of these silver acrobats and jumped several others before moving on.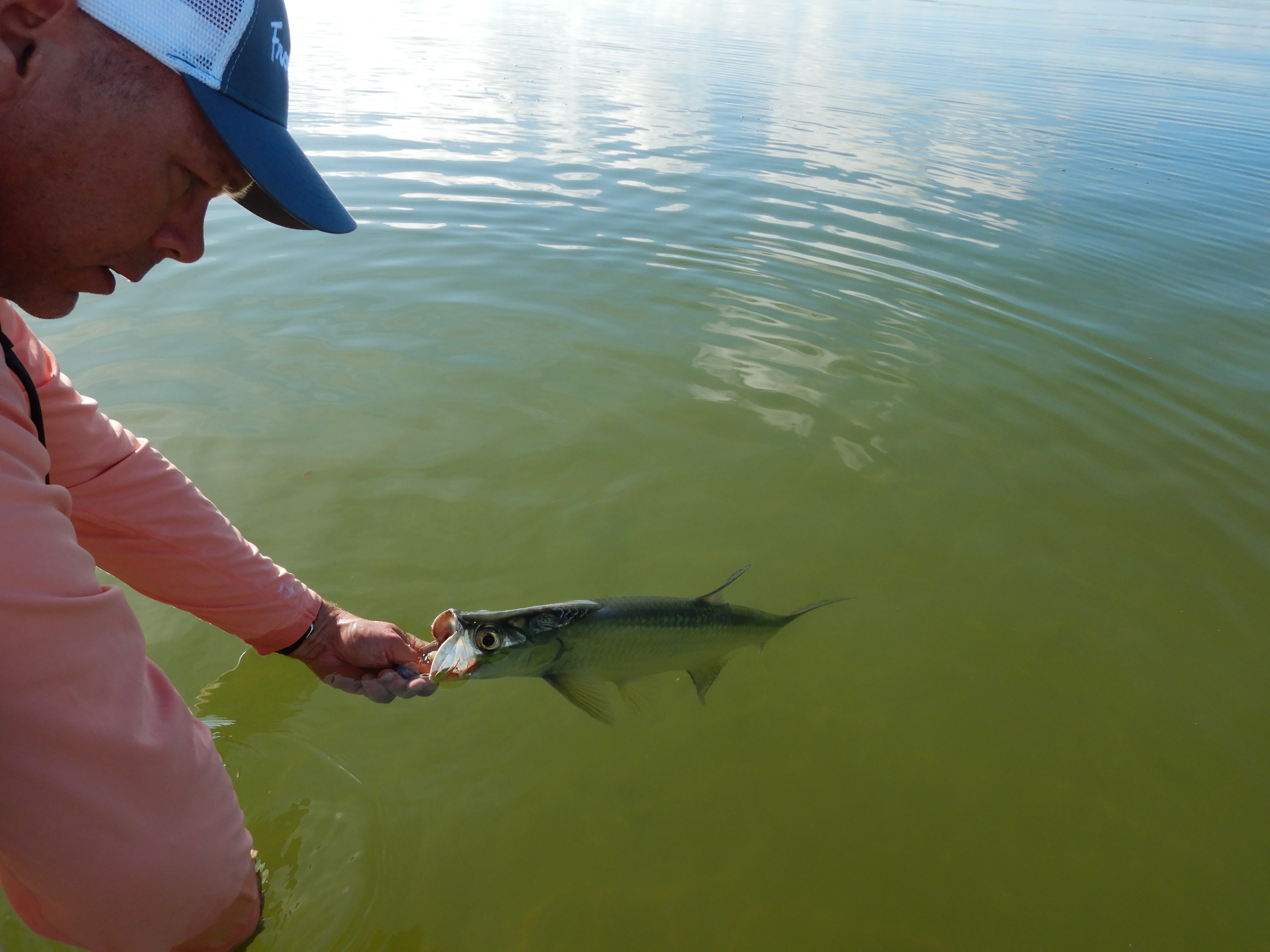 Edwin, who has been guiding in this area for 17 years, then took us through what appeared to be a tiny hole in the mangroves that turned into a tunnel opening to a secluded lagoon. We were looking for the tarpon and snook that lived in this undisturbed area and had shots at both – including the biggest tarpon we saw on the trip – over 40 pounds. Edwin is "super fishy" and knows the mangroves like the back of his hand, and it turns out that he knows many more little tunnels that lead to his backwater honey holes. This guy can simply find fish.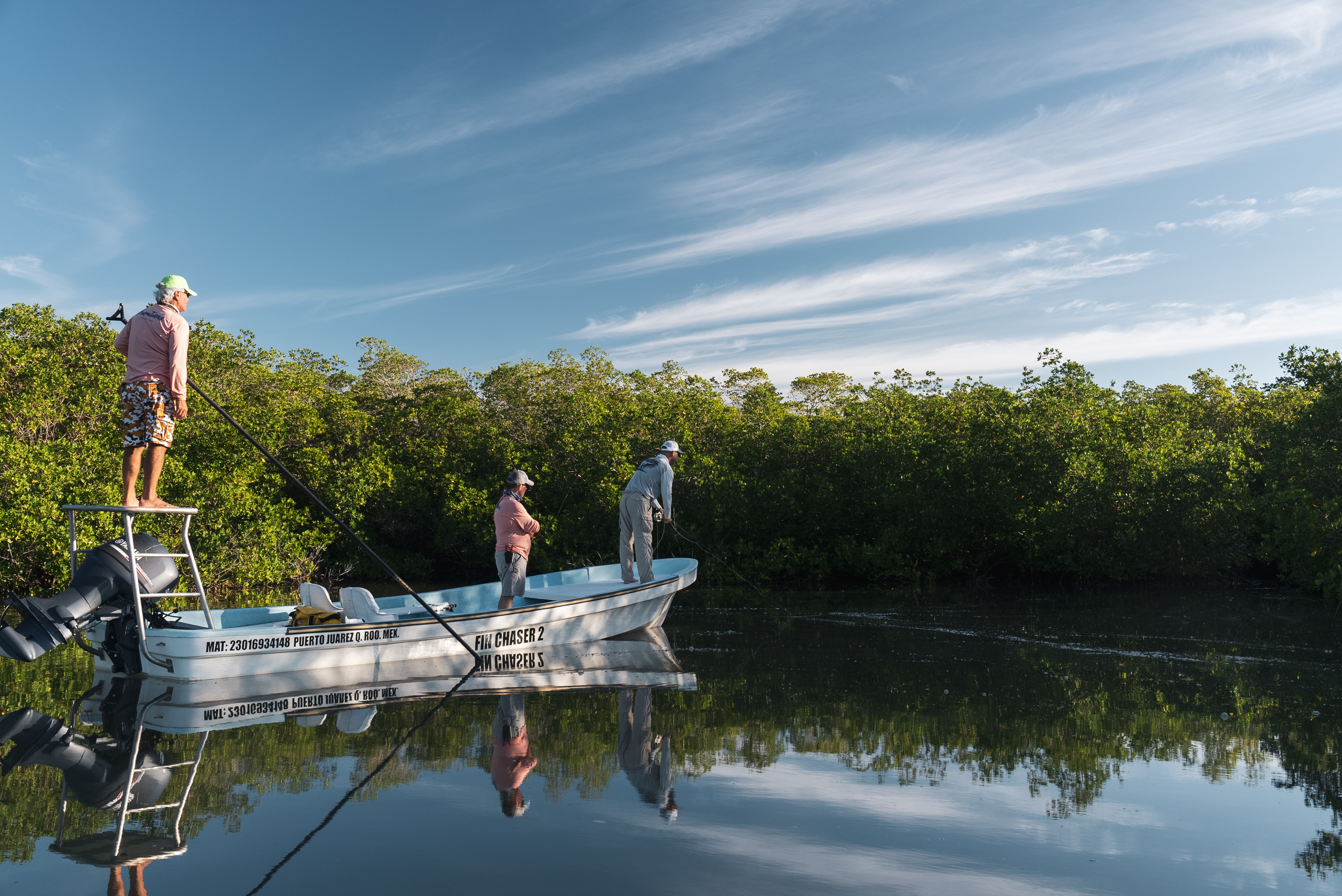 Although you can find all the saltwater Super Grand Slam species here, juvenile resident tarpon are the most prevalent, with larger migratory tarpon coming through the northernmost parts of the biosphere from April to mid-October. Nice sized snook can be found around the mangroves or even off the beach, and permit, typically somewhat smaller than found in Ascension Bay, are around, but their peak months are April to October. Bonefish seem not as plentiful here, but we did see a few, though none were hooked. We even ran into some jacks, and Nick caught one accidentally while casting into a school of permit. While it was not the species he was targeting, it did provide some heart-pumping action. At Fin Chasers, fishing is done with 7-9 weight fly rods with floating lines, and Miguel is happy to supply the tackle and flies you need for the trip should you not want to bring your gear with you.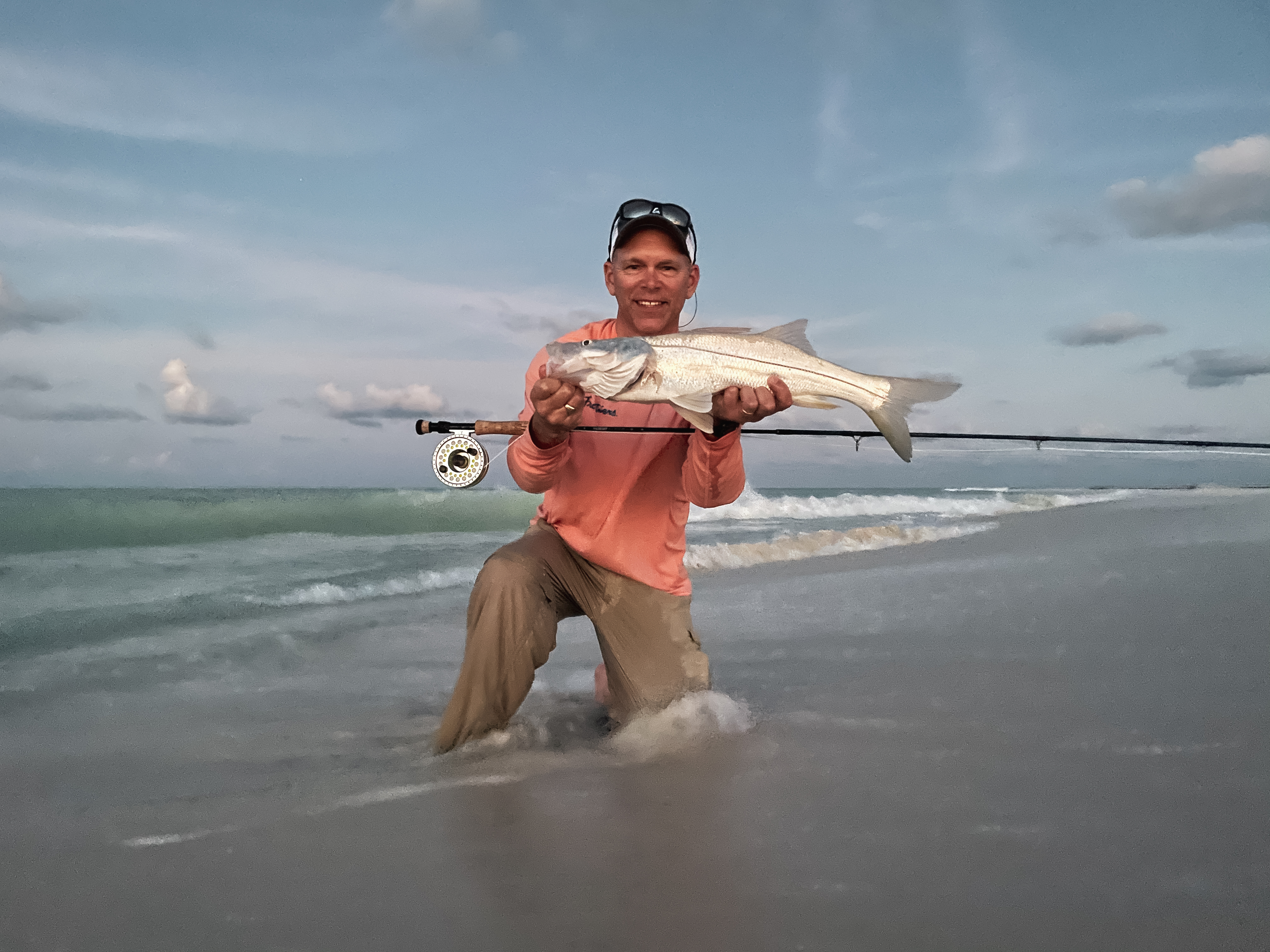 Life aboard the Mothership is comfortable and casual, making it perfect for private intact groups. We had ample space to relax and share stories of the day on the stern boat or upon the upper flying bridge deck. Each of the four staterooms has a private bathroom, but one should remember to pack lite as cabin room space is limited. Chef Neito, who previously worked with Miguel at Grand Slam Lodge in Ascension Bay, created incredible food from a small galley, which was on par with anything a land-based lodge would serve. We were always amazed at his meals that were created. I think that we all gained weight from his marvelous cooking.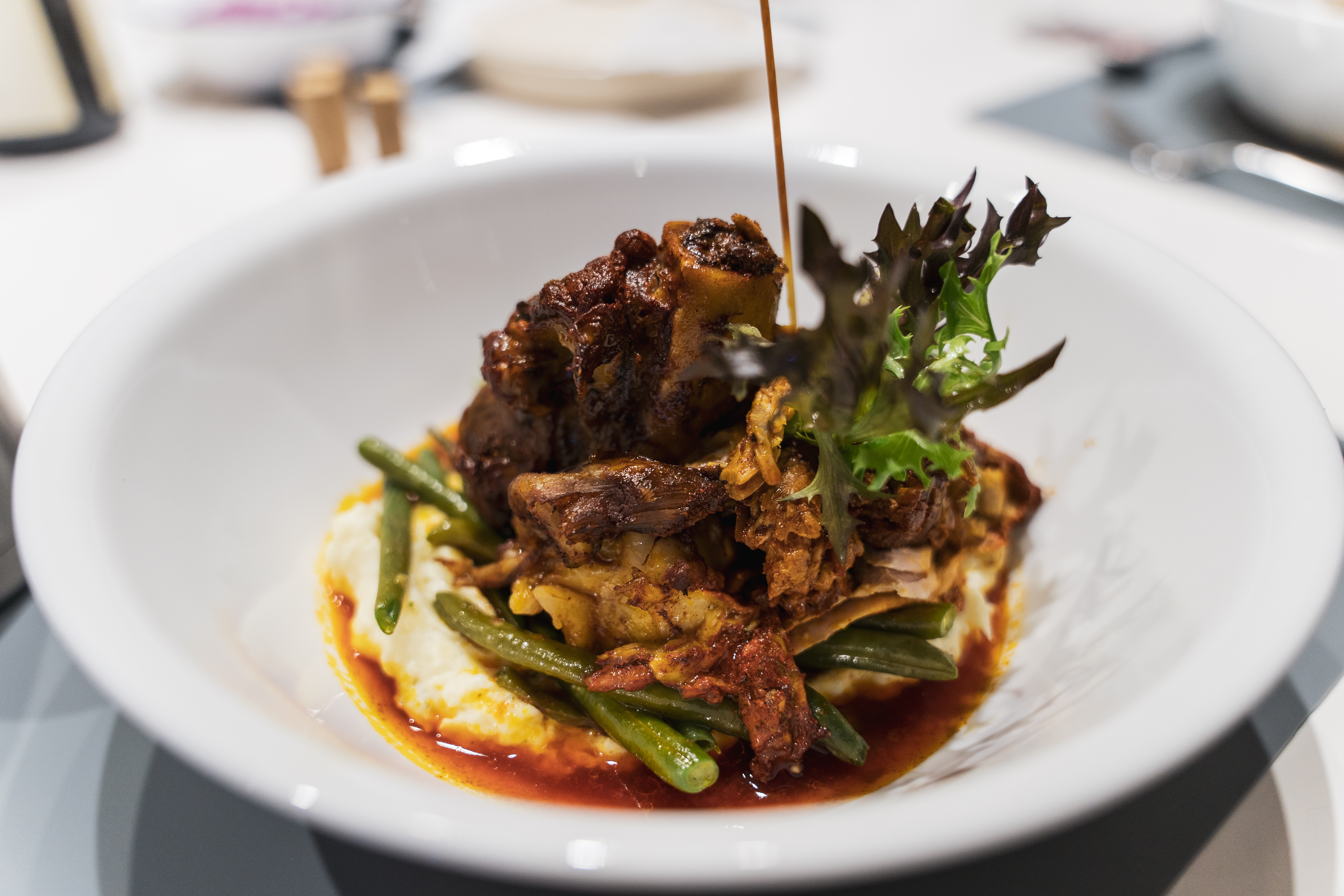 If the Mothership is not your style, Fin Chasers has two land-based hotel options that you can choose from. The main difference between the Mothership and the hotel options is the time it takes to transfer from the accommodations to the marina and then the run times to the fishing spots. You also do not get the feeling of being "in nature" if you stay in a hotel or resort instead of the Mothership. Personally, I loved viewing the incredible sunrises and sunsets on the Kattu and the calming effect of being off the grid. The hotel options, however, are great if you have a non-fishing companion with you. The Palladium is an incredible resort with multiple restaurants, a spa, beach, pools, and a Greg Norman designed golf course.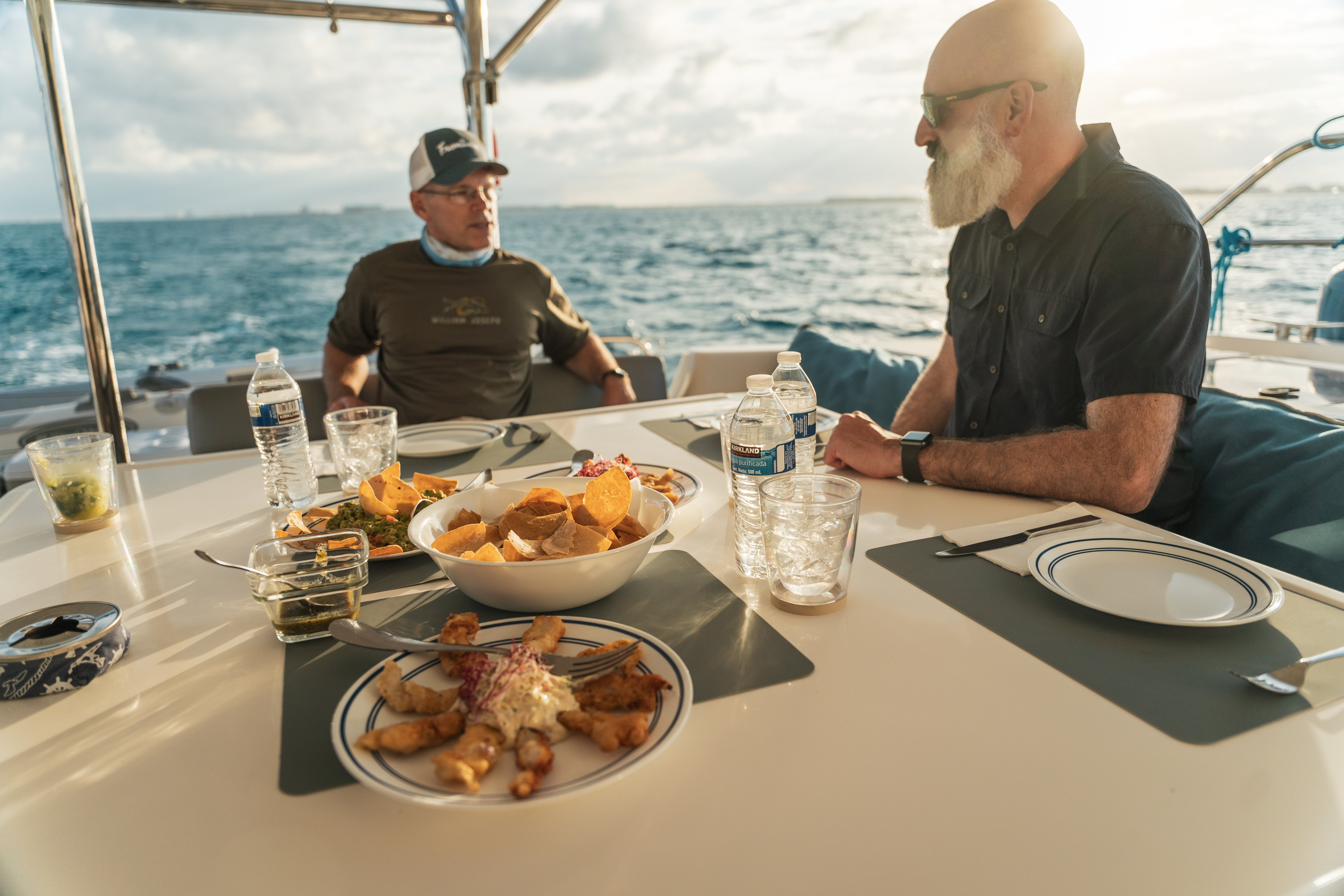 If you would like more information on Fin Chasers, please contact me!