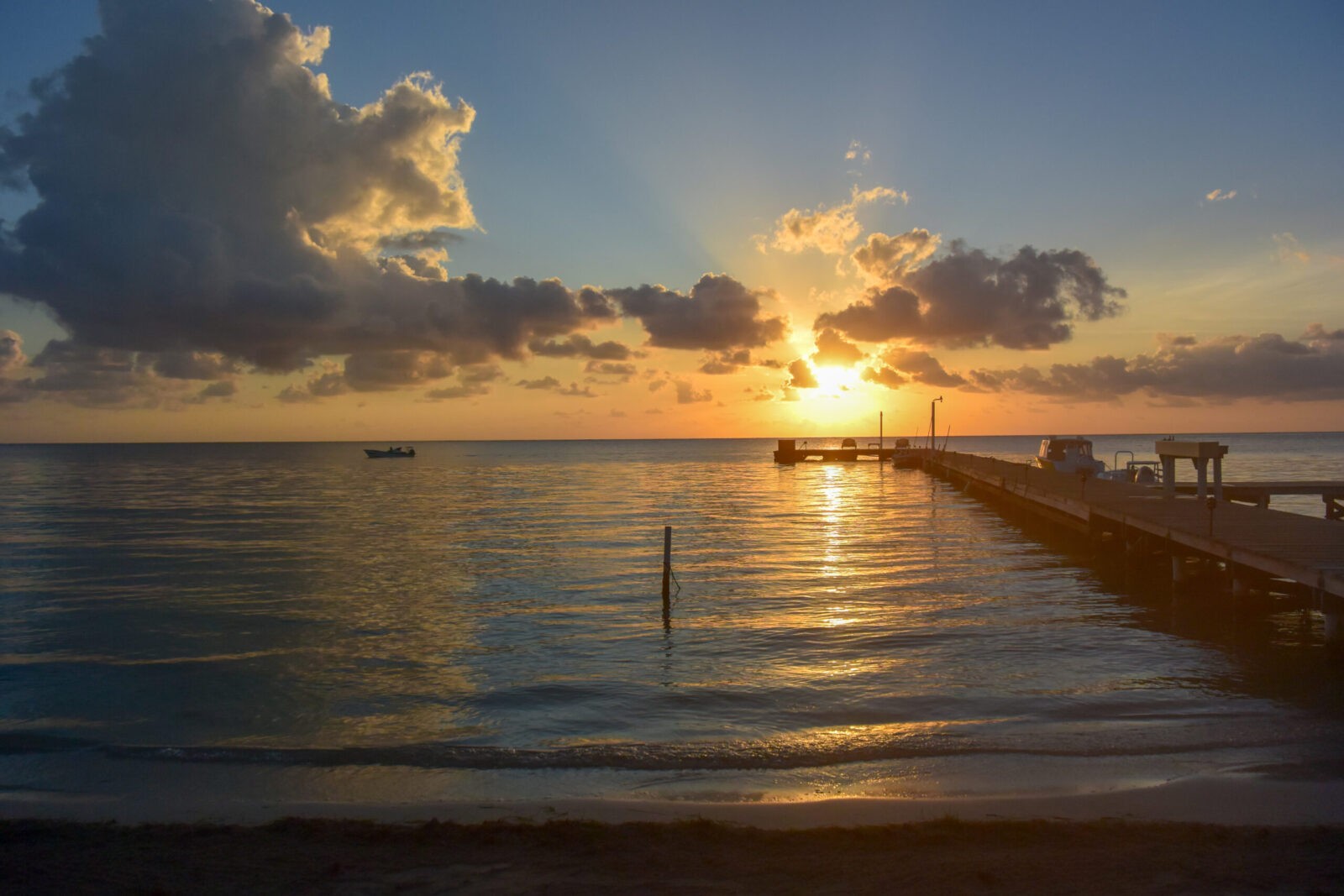 Thanksgiving is my favorite holiday of the year. There are no gifts or decorating. It is a time to be with family and friends to give thanks, to celebrate the harvest, and to share and appreciate the blessings we have all had over the past year. For the first time in many years, Kristene and I decided to take our two children and their significant others on a warm-weather getaway over Thanksgiving weekend. The climate we experience in Western Pennsylvania in late November is usually quite nasty and the family welcomed a tropical retreat.
I will be honest—there certainly is some selfishness when planning our family travels. Let's face it—Kristene and I are in the fishing travel business, and I frankly have an unhealthy addiction to hunting saltwater flats species. With three non-anglers in our party, we needed to find a location that provided a number of other outdoor activities, yet was still a solid option for the fly fishing enthusiasts in our family. Belize was clearly the first choice. The country is easy to access, with a number of nonstop direct access flights from several airports in the United States. Travel time is not significant from the Midwest and the East Coast, and it's far enough south to provide wonderfully warm weather.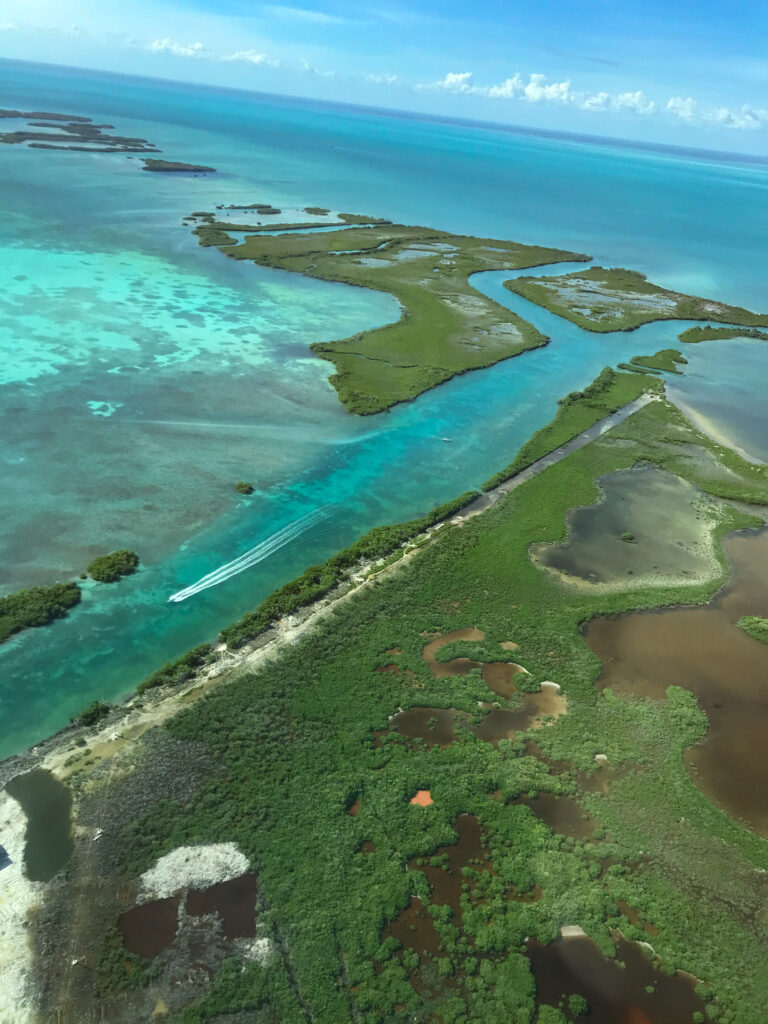 Formerly British Honduras, Belize is on the northeastern coast of Central America and protected by the second-largest barrier reef in the world. Mexico borders the country on the northwest, the Caribbean Sea is to the east, and Guatemala is on the south and west. It's a small country that can fit inside Western Pennsylvania. Initially, a Mayan civilization, today, Belize has a very diverse society that is composed of many cultures, but English is the official language of Belize. Virtually everyone in the tourism business speaks it well.
Frontiers have operated in Belize for over four decades. We took some early exploratory trips in the late 1970s to visit Keller Caribbean Sports, which today is Belize River Lodge. I took my first trip in the mid-1980s and visited all of the best fishing lodges in Belize, including El Pescador Lodge on Ambergris Caye. Belize's focus is always on ecotourism. There are wonderful inland sightseeing opportunities, and with the coral reef, there are water sports galore, including some of the best diving and snorkeling in the world. The reef also provides terrific flats fishing and reef fishing, and the deeper drops to blue water are only minutes from the dock.
We chose to return to El Pescador Lodge and Villas since it was the perfect fit for our family's travel, timing, fishing, sightseeing interests, and budget. In terms of quality, value, location, and the ability to accommodate a wide range of travel interests—from hard-core fly fishing to snorkeling and relaxing—El Pescador is very hard to beat anywhere in the Atlantic and Caribbean.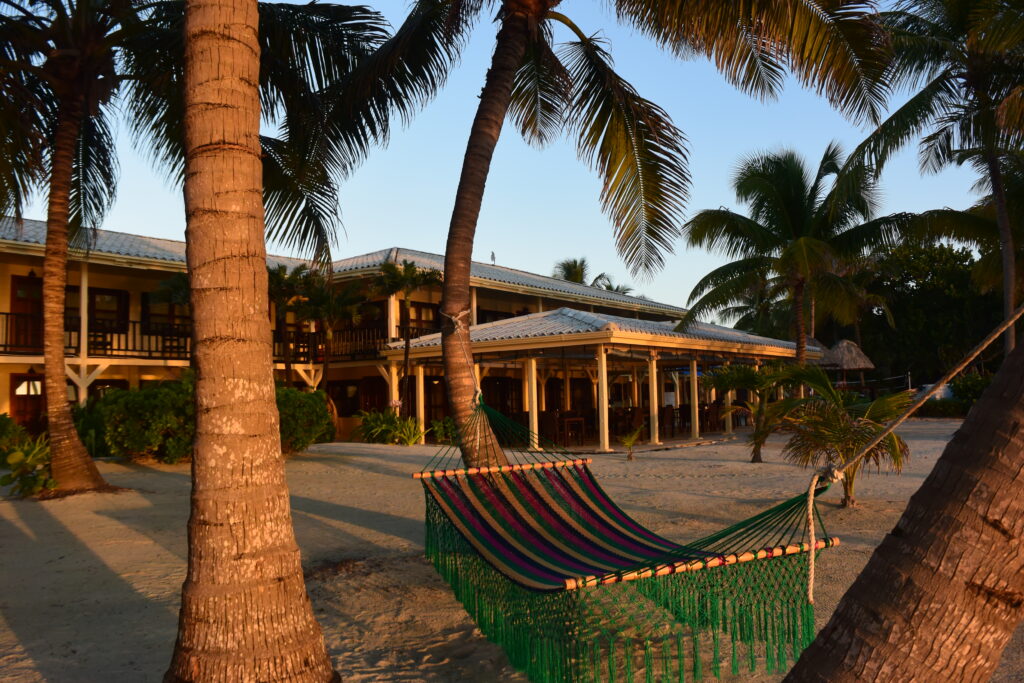 After a wonderful time with extended family over Thanksgiving Eve and Day, we departed early on Friday morning with a one-stop service to Belize City from Pittsburgh. Despite the media talking about how busy the travel weekend was going to be, we had no delays and smooth sailing right to Central America. Getting through the Belize City airport was a breeze (I have stood in the passport line in Cancun for well over an hour multiple times). From the time we got off our Delta flight from Atlanta, we cleared Passport Control, had our bags and were on the Tropic Air flight to Ambergris Caye in about 30 minutes.
Tropic Air is our preferred carrier within Belize. It's a wonderful airline that provides reliable flight service to a number of different Belizean locations. They typically fly Cessna Caravans, which is my favorite SUV in the sky! Ambergris Caye is less than 40 miles from the Belize City airport, which is about a 15-minute flight. Upon arrival at the San Pedro Airport, the El Pescador team met us. After a two-minute taxi ride to the dock, we enjoyed the 10-minute boat ride and our first Belikin beers of the trip en route to the Lodge, which is a few miles north of town. We left Pittsburgh's 28-degree gusty winds and light snow flurries at 6 a.m. and were having lunch at El Pescador with fresh fish, abundant sunshine, and temperatures well into the 80s by 1:30 p.m. Now that's an easy travel day!
Ali Gentry and her brother, Logan, purchased El Pescador from the original owners in 1997. The family has significantly reinvested into the property, and the lodge is absolutely lovely with a beautifully raked beach, three pools, outdoor dining, and a variety of accommodation options. There are eight 3-bedroom villas, ideal for an intact family or a group of couples. Each of the rooms can also be locked off and booked individually. The suites in the main lodge have been renovated and are very spacious and comfortable. After some pool and relaxing time, it was time to get the tackle sorted and set up for the next four days on the water.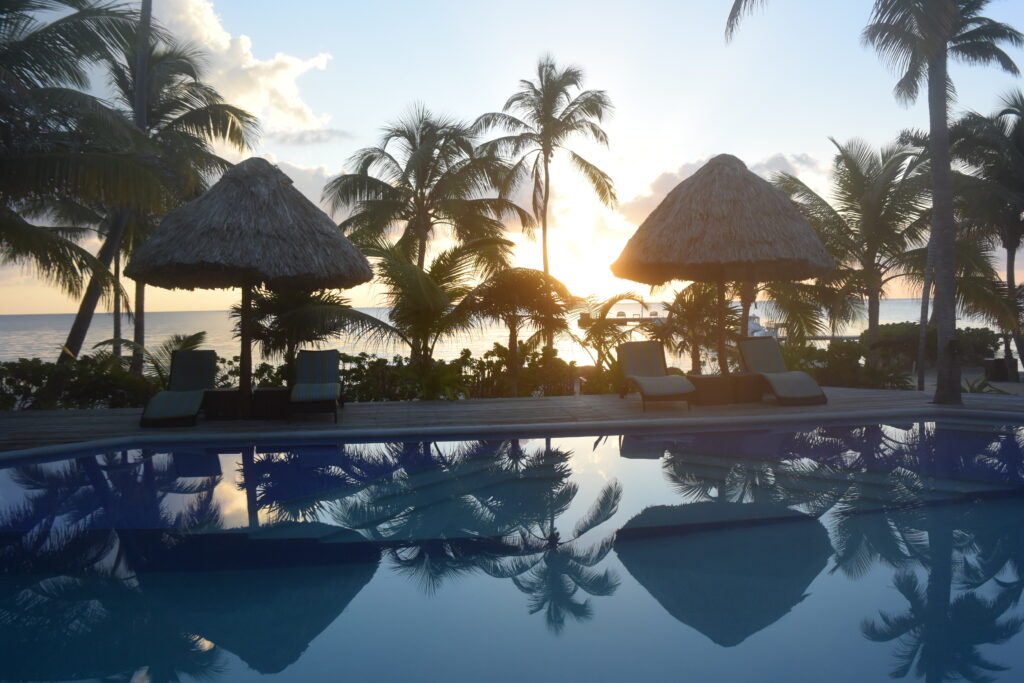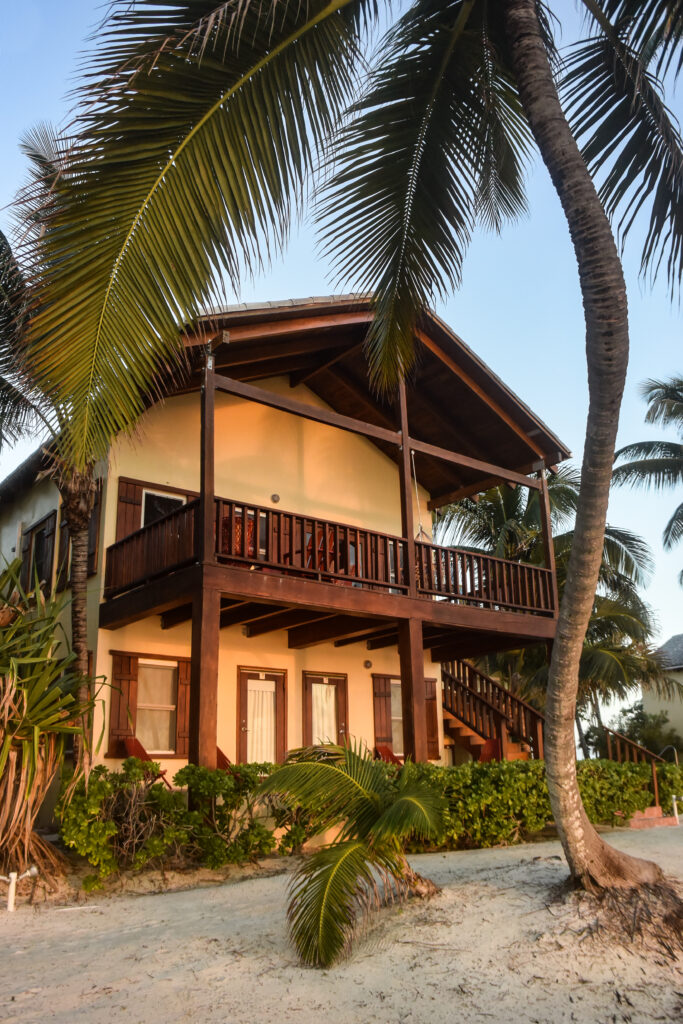 On the fishing front, El Pescador really has their ducks in a row. The Fishing Director, Isa Rodriquez, gives casting lessons every day on the dock from 3–5 p.m. All guests should take advantage of his instruction. I have been a fly fisher for well over 45 years, and I consider myself extremely competent. Having said that, I have had some difficulty casting heavier line weights backhanded (which is where the big tarpon always seems to be!). Isa gave me some pointers that helped dramatically. Kristene worked with him as well, and he was able to increase her casting distance significantly after a 20-minute lesson. At 5 p.m. each evening, Isa gives all new fishing client arrivals a thorough introduction to El Pescador, the fishing areas, the guides, and communication. They are all about having open and honest communication with the guides each day based on what you want to pursue. Obviously Mother Nature, tides, moon, etc. can impact the plan, but everyone likes to leave the dock with a game plan in mind. I thought the guides were very communicative and willing to do whatever we asked.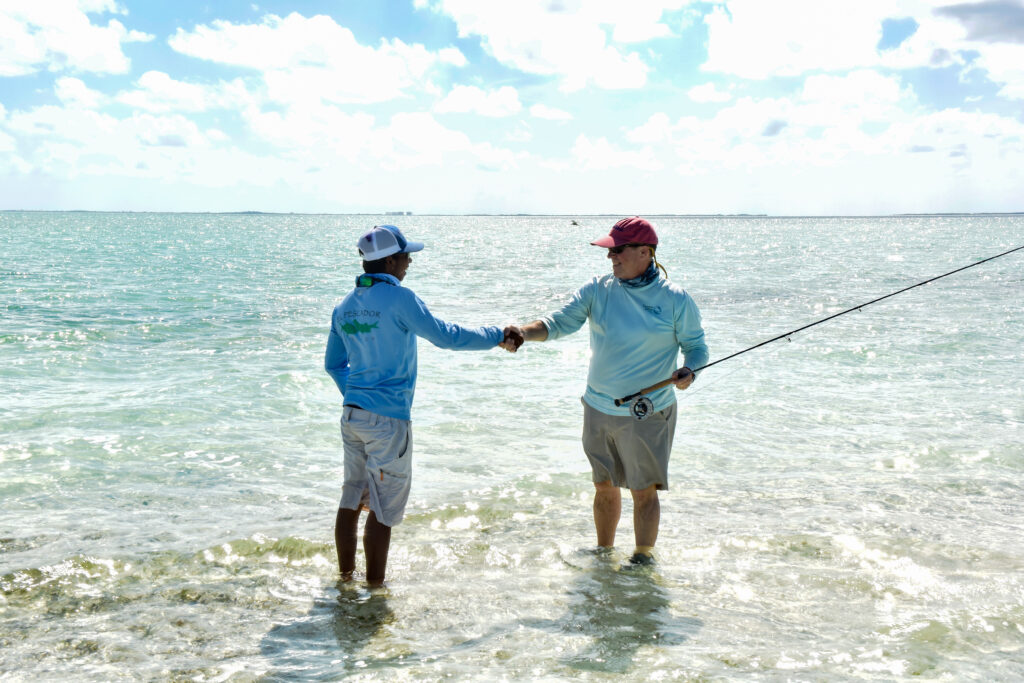 I have fished from many of the world's finest, fully decked out fly fishing skiffs all the way down to very basic, locally made boats with old two-stroke motors and push poles cut out of the mangroves. El Pescador's guides all use traditional pangas, which are a modest-sized open fishing boat commonly used throughout Central American. While it perhaps may not be as nimble as a smaller skiff and certainly more difficult to pole, I find them to be very stable, comfortable, and dry while crossing open water. They are quickly becoming my favorite flats fishing boats!
On our first full day, Kristene and I met our guide early in the morning. We went through the fly box, leaders, tippet, and other gear to make sure that we were well equipped for the day. El Pescador maintains a great fly shop with apparel and everything that you need to catch fish. As an Orvis-Endorsed Lodge, they have lots of loaner equipment available if you choose not to bring your gear.
Kristene and I wanted to keep our eyes open for a variety of flats species from bonefish to permit and tarpon, as well as snook, jacks, and barracuda. We traveled to the south end of the island and fished around the Hol Chan Marine Reserve, Boca Chica, and Crab Caye. It was a really fun day on the flats. We landed a handful of nice bonefish and a barracuda, I lost a big jack that broke my fly in half, and we had several shots at tarpon and permit. At one point in the afternoon, we cast to three big tarpons on a remote flat that also had a very large permit in the pod. To me, that's the definition of a dilemma… Do I cast the crab or the baitfish rod?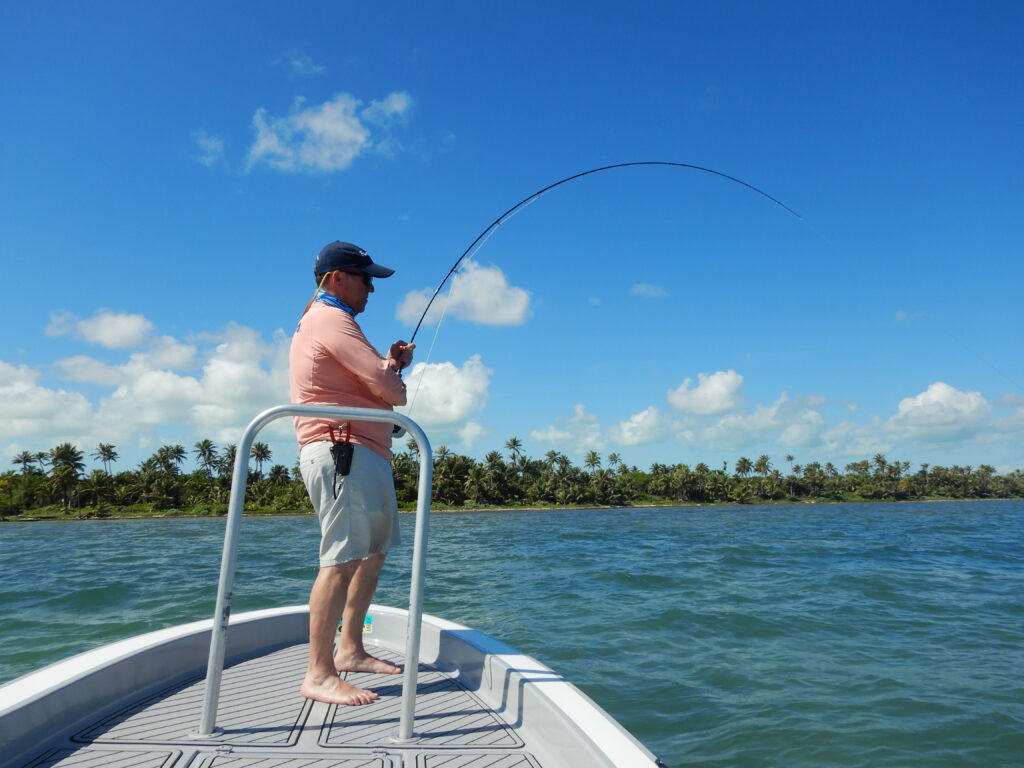 Any time you're fishing in the Western Caribbean, Belize, or on Mexico's Yucatan Peninsula, you need to be well rigged with a number of different rods. I generally take a 7 wt. or 8 wt. for bonefish using small shrimp and crab patterns with a 10' leader with 10-pound breaking strength. For permit, I usually use a 9 wt.—again with at least a 10' leader—but generally with 14-pound or 16-pound tippet. I do find the permit to be very leader shy. I would rather increase my chances of a hookup by going slightly lighter on tippet strength. I then always have another rod rigged with a larger baitfish fly and shock tippet of at least 40-pound. This is generally a 10 wt. or an 11 wt. rod ideal for big tarpon, dragging snook out of the mangroves, and/or if a school of fast-moving jacks passes through.
Although I am first and foremost a fly fishing enthusiast, I always have a spin fishing rod rigged in the boat as well. It can be great for the other angler sharing the skiff with you in the event that they are not quite as competent with wind or heavier line weights. I usually have a short steel leader on and a long shallow diving plug of some sort, like a big Rapala. I like to toss them at barracuda, troll a few channels, or try a tarpon if we cannot get a fly in front of them. El Pescador Lodge and Villas welcomes conventional gear enthusiasts. With the reef and even blue water options, there are many, many different types of fishing that you can do with spinning or casting gear and have an absolutely wonderful trip.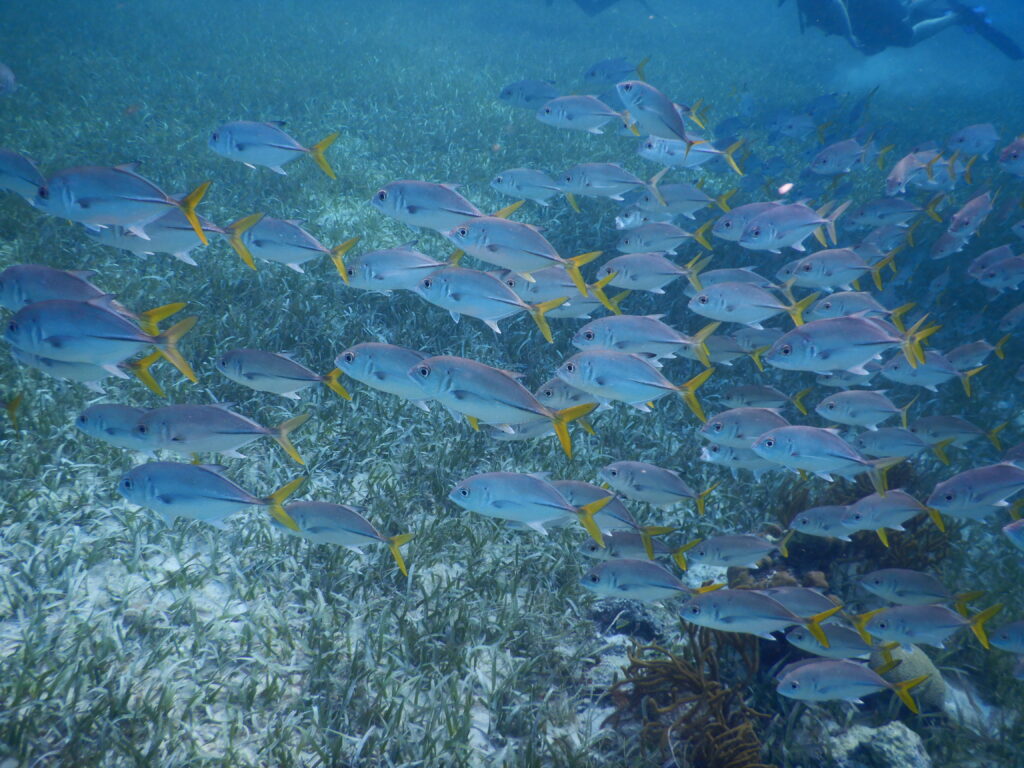 While we were fishing, Emily, Jeremy, Kristi, and Bobby headed out on a half-day snorkeling adventure to Mexico Rocks. The coral formations are amazing, and there are many many different types of tropical reef fish that you will encounter while snorkeling. They typically move you two or three times, and you are back at the lodge in time for lunch. In the afternoon, they headed into San Pedro to walk around the village and to do a little shopping. We settled into the evening and enjoyed one of the largest bowls of stone crab I have ever seen in my life. It is one of my favorite types of shellfish, and we treat ourselves occasionally when some of the restaurants fly them in fresh to Pittsburgh. At over $25 per claw locally in Pennsylvania, it can be an expensive evening. El Pescador delivered on the culinary front. We were most impressed with all of the meals at the resort!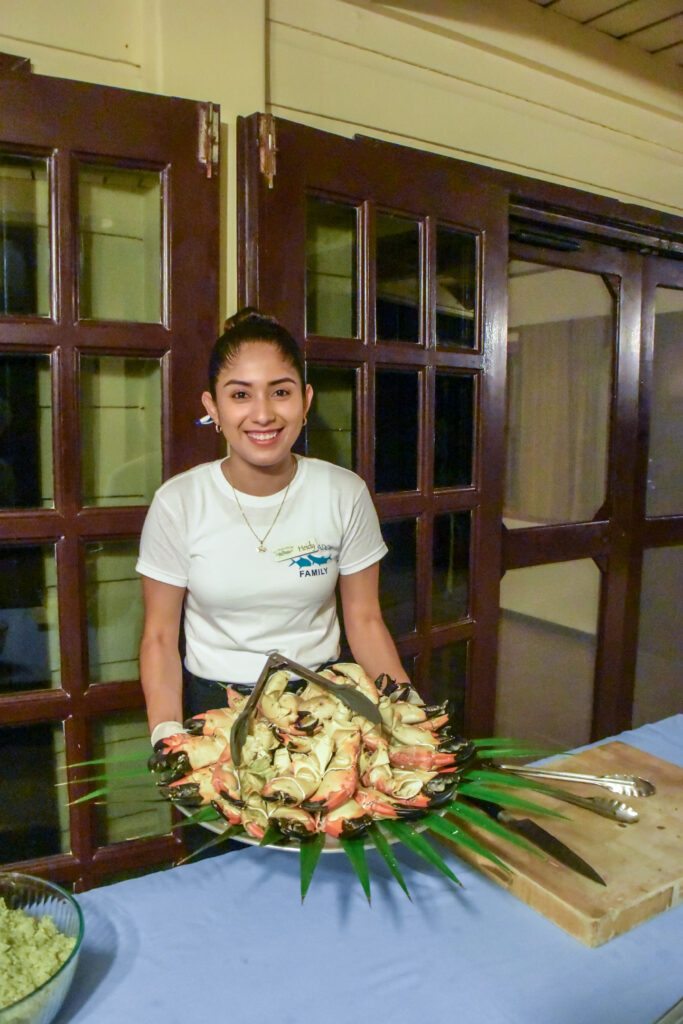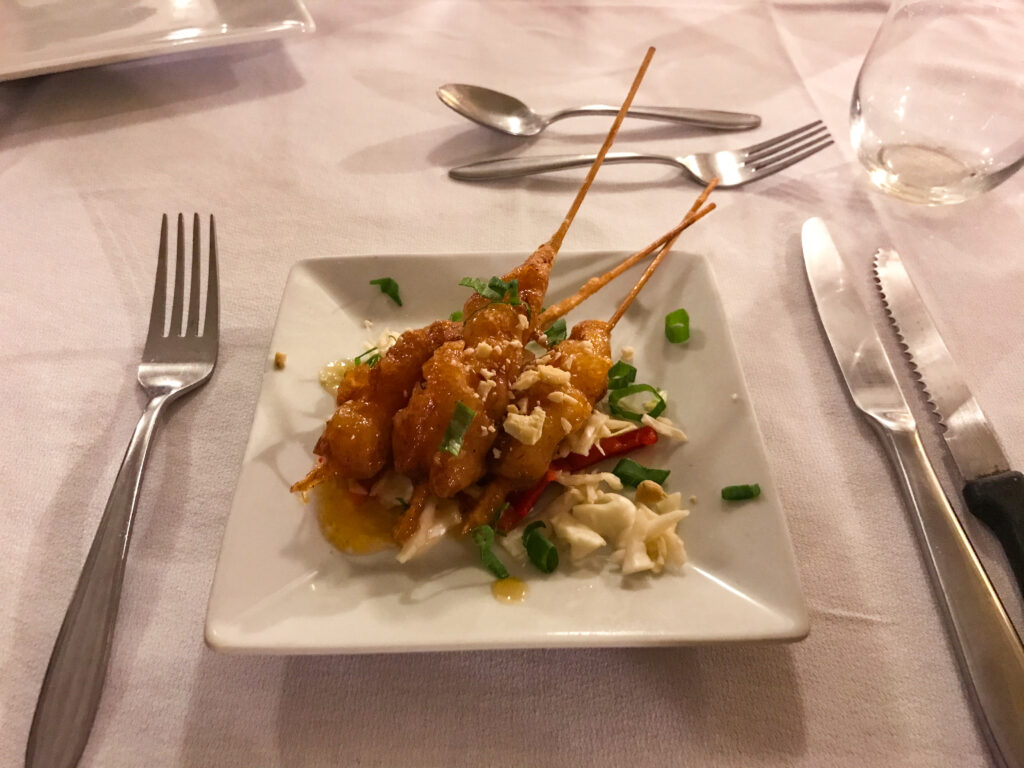 On the second day, Jeremy joined me in the boat. The non-anglers walked down the beach to enjoy a morning yoga class in a palapa at the end of the dock. They returned, and each had a full body massage by one of the El Pescador therapists, had lunch, and then headed out onto the water on the sea kayaks provided by the lodge. Jeremy and I talked to our guide and decided to head north up to the Mexican border to fish the Bacalar Chico Marine Reserve and National Park. This was a great day. We picked up a number of bonefish early in the morning, including a really nice one by Western Caribbean standards.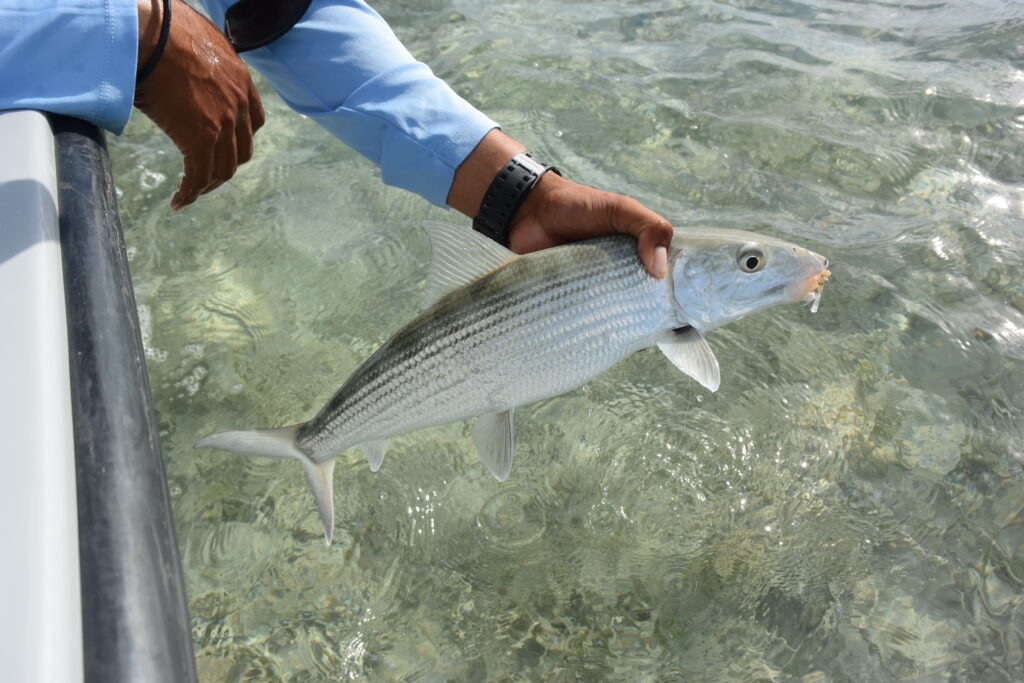 We then moved to the outside of the island and fished along the beaches. We came upon a school of the permit, and Jeremy was able to sight cast to a decent fish, hook it, and land it—his first fly-caught permit. There were a number of schools, and I wanted a shot or two before we went on the tarpon hunt to round out Jeremy's Grand Slam. Although I had a couple of follows, I could not entice any more to bite the fly. Therefore, we headed back into the lagoon to look for tarpon. To the guide's credit, he put Jeremy on a number of fish. Jeremy was able to jump a decent specimen at the very end of the day, but the fly pulled after the first leap. The Slam was SOOOO close! We enjoyed a couple of cold Belikins on the way back to the lodge as we toasted Jeremy's permit!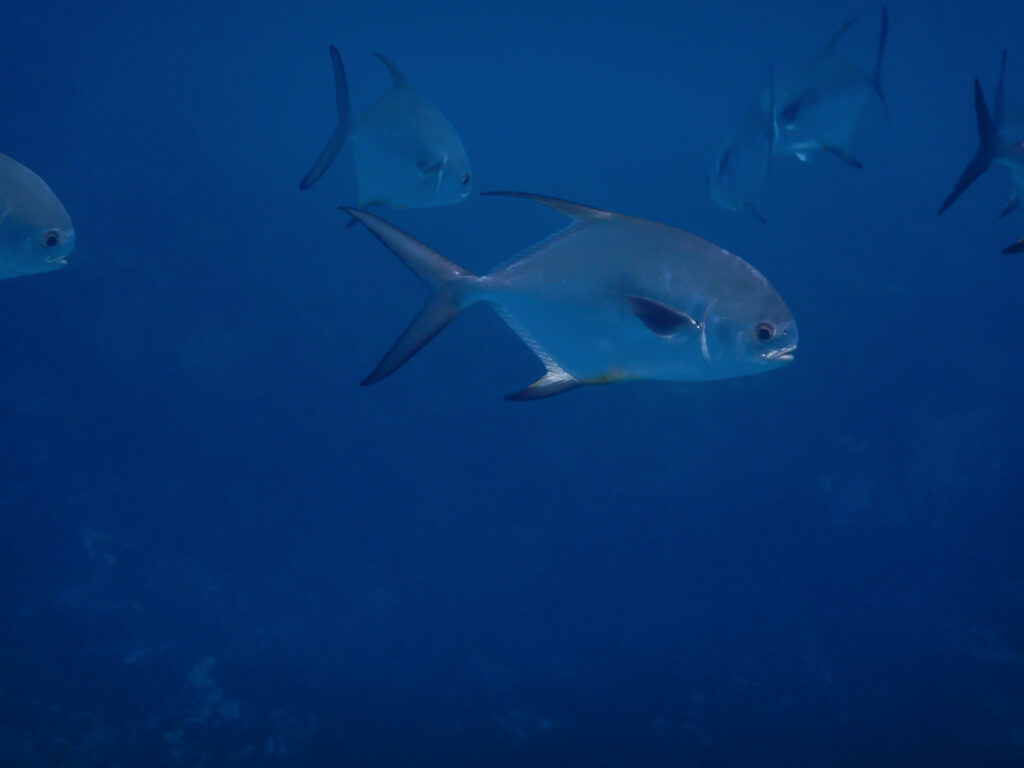 The next day, we hired a captain to take the whole family reef fishing with conventional gear. El Pescador has a really neat trip where you leave in the morning, fish the reef, and come back to the beach for a great picnic with freshly grilled seafood, conch ceviche, and freshly caught lobsters. It was a delightful day. We enjoyed great food and had a lot of laughs. On the way back to the lodge, we also stopped and had great snorkeling. We strongly recommend this full-day activity to families traveling to El Pescador.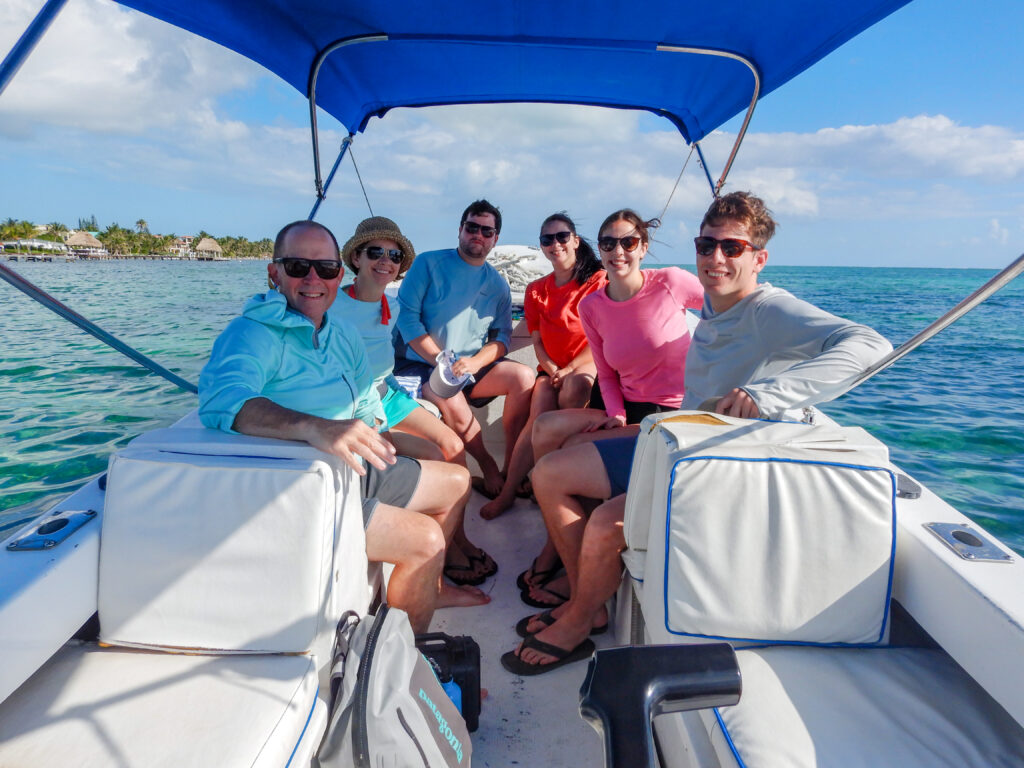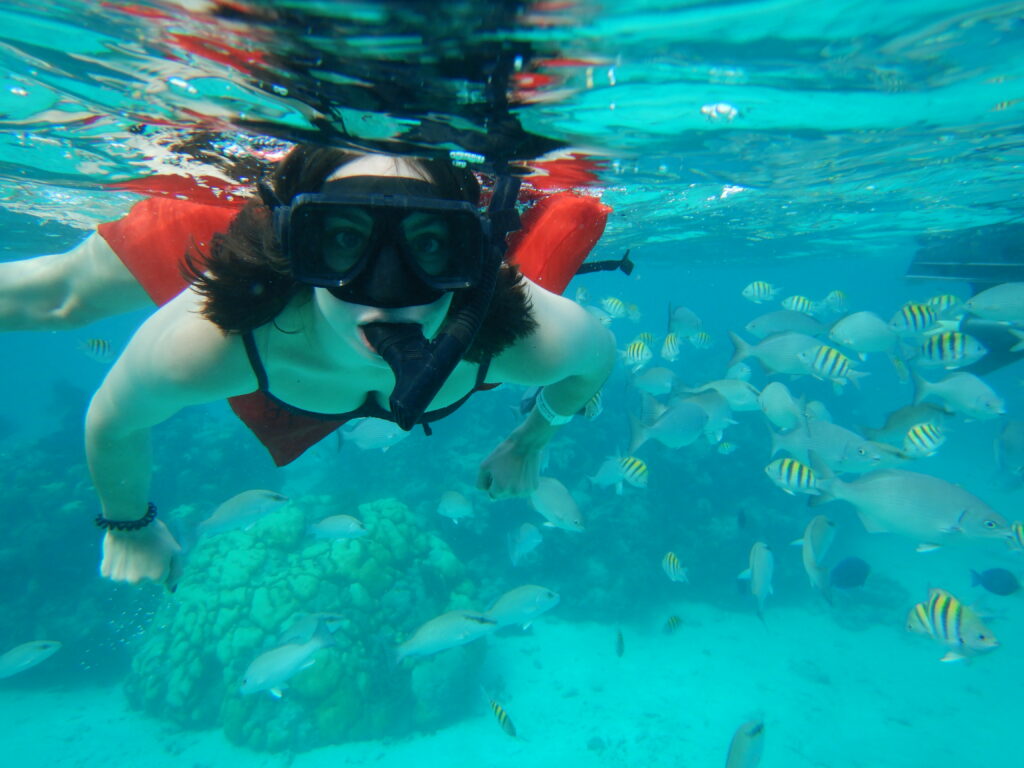 On our last full day of fishing, Mother Nature threw a tiny bit of a curveball. The winds were pretty strong, and it was fairly cloudy. Therefore, we decided to look for tarpon and permit that might be pushing water. Kristene and I headed south with our new guide, Alex. About an hour into the morning, we pulled around a medium-sized mangrove island and found a huge school of feeding tarpon crashing tiny baitfish on the backside of the island. There were over 100 fish—mostly between 15 and 40 pounds. It was, perhaps, the best 45 minutes of tarpon fishing I have ever experienced! Like matching the hatch when trout fishing, we, unfortunately, did not have the right-sized baitfish fly in the boat. I changed flies three or four times and had a number of follows. After our tarpon excitement, we did have shots at bonefish and permit in the cloudy conditions. We turned the corner on the southern end of the island and actually found two tarpons and at least two snooks hiding up under a mangrove. With the white sand, we had excellent visibility. Again, we had a flurry of excitement. Both tarpons followed the fly on two separate casts. We also had a lot of interest from the snook. After a couple of fly changes, we were able to land a nice snook. After a delicious packed lunch on the boat, we decided to call it an early day to spend the afternoon with our family back at the lodge. The kids enjoyed a morning snorkel trip to Hol Chan and Shark Ray Alley, which is a cut through the reef where there are lots of large fish, including a giant school of nurse sharks. They had a great day—ending with a sunset cruise on a large catamaran.
To me, a 5-night/4-day stay over a weekend is an ideal winter escape. For fly fishing, conventional tackle, terrific snorkeling, and lots of other activities while staying in a comfortable lodge with great food and a staff committed to outstanding customer service, we feel that El Pescador Lodge and Villas on Ambergris Caye is the perfect fit. Come and experience Belize with Frontiers. Six members of our staff have extensive travel experience in this wonderful Central American country. With flights from Houston, Dallas, Atlanta, Charlotte, Miami, and New York, it's one of the most accessible great saltwater locales available.