Traveling During the Pandemic: A Recent Trip to The Yucatan Via Cancun
Jan, 2021: Like the majority of our clients, our staff and my family have done very little traveling since early March 2020. Other than a few quick domestic flights, we have been hunkered down at home and in the office working hard rescheduling postponed trips for our customers and designing itineraries for post-pandemic travel.
Travel is an addiction for us at Frontiers. I have had an unwavering yearning to get away someplace warm… to a place that will reduce my stress, a place to relax outside to improve my health physically, mentally, and emotionally. Per the Harvard Business Review, "Several studies indicate that performance nose-dives when we work for extended periods without a break. In addition, the benefits of taking a vacation are clear: It results in improved productivity, lower stress, and better overall mental health."
In recent months, the skies have started to open up, and many airlines are beginning to reinstate international flights to countries that are open and welcoming American travelers. Frontiers Destination Specialist, Ben Hoffman and I were invited by Capt. Miguel Encalada to experience his new Fin Chasers Program in a marine reserve north of Cancun. With Mexico open, we jumped at the opportunity to escape a snowy start to the winter season in western Pennsylvania to enjoy some flats fishing and sunshine South of the Border in mid-December. We had a phenomenal trip. Look for more details on Fin Chasers in the coming weeks.
Some states in Mexico were among the first regions to reopen for foreign tourism during COVID-19. Travelers are allowed to enter Mexico by air. The Mexican-US land border has some restrictions and is only open for essential travel only. Travelers are not required to provide proof of a negative COVID-19 test result before traveling into the country. There is, however, a mandatory health declaration form that is required on the day of your flight. Travelers must either print the form or have the QR code present at immigration on arrival in Mexico. It is an easy form to complete—simply asking a handful of health questions. The same form is also completed on your departure. The regular Mexican immigration form also still needs to be completed and presented at Passport Control. They will return the bottom portion to you, which you need to keep for your entire stay in Mexico, and present it back as you depart.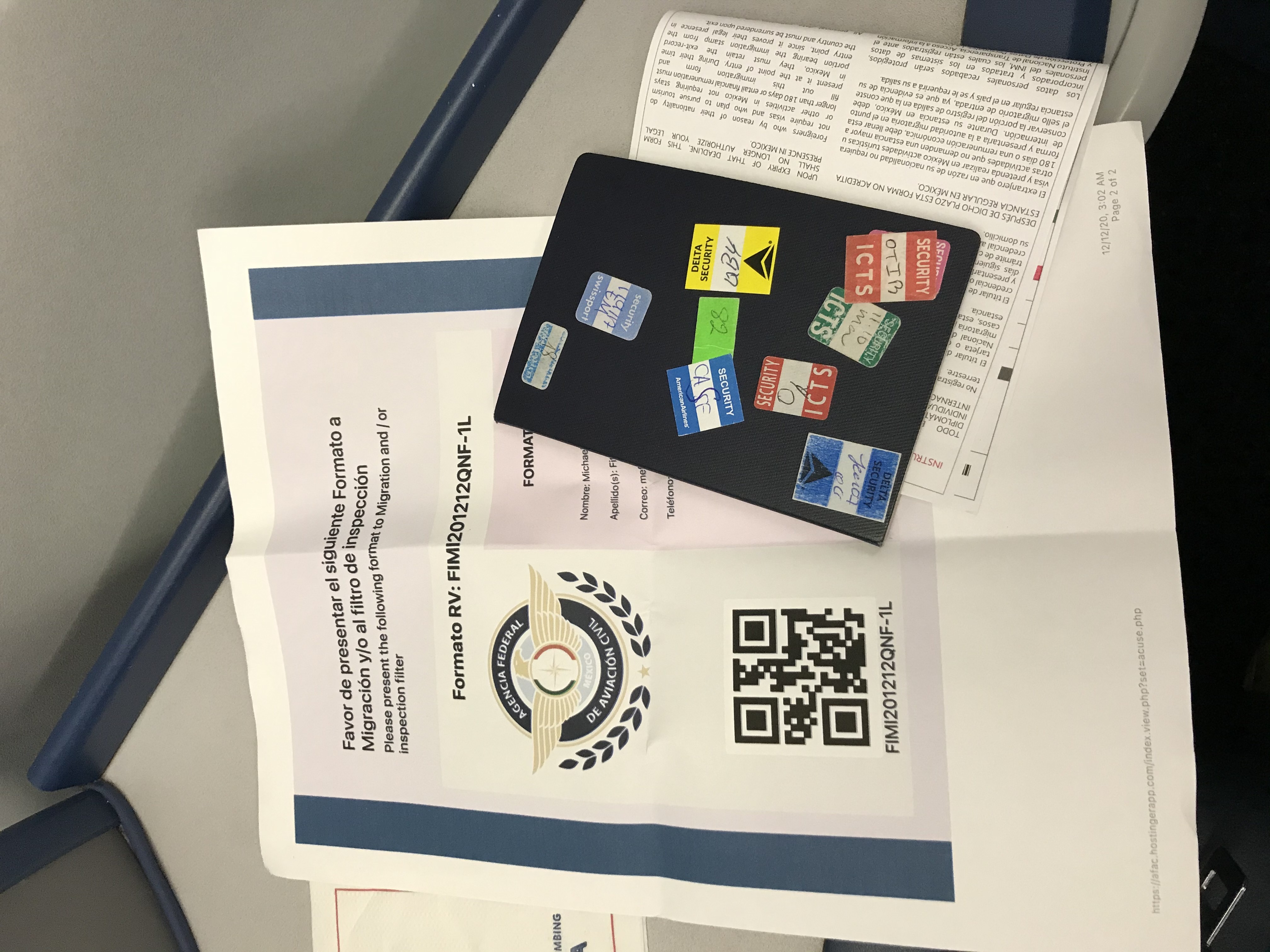 Based on the current safety and cleaning protocols in place at the airports and on planes, I feel quite comfortable getting on an aircraft in this current pandemic environment. Frankly, I have felt more exposed in grocery stores and other businesses—especially through the holiday season. I frequently fly on Delta and chose that carrier to Cancun. Delta is one of the few remaining airlines that is continuing to keep middle seats blocked through March. The plane is essentially at 50% capacity in First Class and 60% capacity in the main cabins. I appreciated the extra social distancing.  
Currently, the number of travelers passing through US airports is a little less than 50% compared to last year. Essentially, the airports are a lot emptier. Security screening times are reduced, and social distancing is easier to achieve with fewer people in most airports. Virtually all of the passengers are adhering to all of the FAA and CDC requirements for travel…hand sanitizer is readily available. Everyone is wearing masks in the airport and on the planes. Everything is a lot cleaner. The only negative to traveling right now is the fact that a lot of the airlines, with fewer planes in the air, have lots of schedule changes. If you book your flights many weeks and/or months in advance of your departure, do not be surprised if your flight schedule changes several times.  
I had an on-time departure from Pittsburgh and connected through Atlanta. Both airports were not crowded, and the check-in, security, and connecting process were simple. I did have a layover in Atlanta. I am a Sky Club member, and in Concourse F, guests can enjoy the Sky Deck, a lovely outside terrace at the airport terminal accessed from the Club. Non-members can pay a day fee to have access too. It's money well spent. It was nice to get some fresh air between flights. In the Sky Club, it was interesting listening to a variety of conversations. Everyone seemed to be thrilled having the opportunity to travel—as much a "need" to get away as a "want" to getaway. I am sure that those vacations were enjoyed tremendously.  
I would also like to point out that the airline staff, including check-in personnel, the pilots, and flight attendants, all seem genuinely appreciative of having passengers during the current market environment. They seemed to go out of their way to make sure that you have a very positive travel experience. On my flight to Atlanta, I received a handwritten note from the flight attendant letting me know my connecting gate in Atlanta, including a "thanks" for traveling.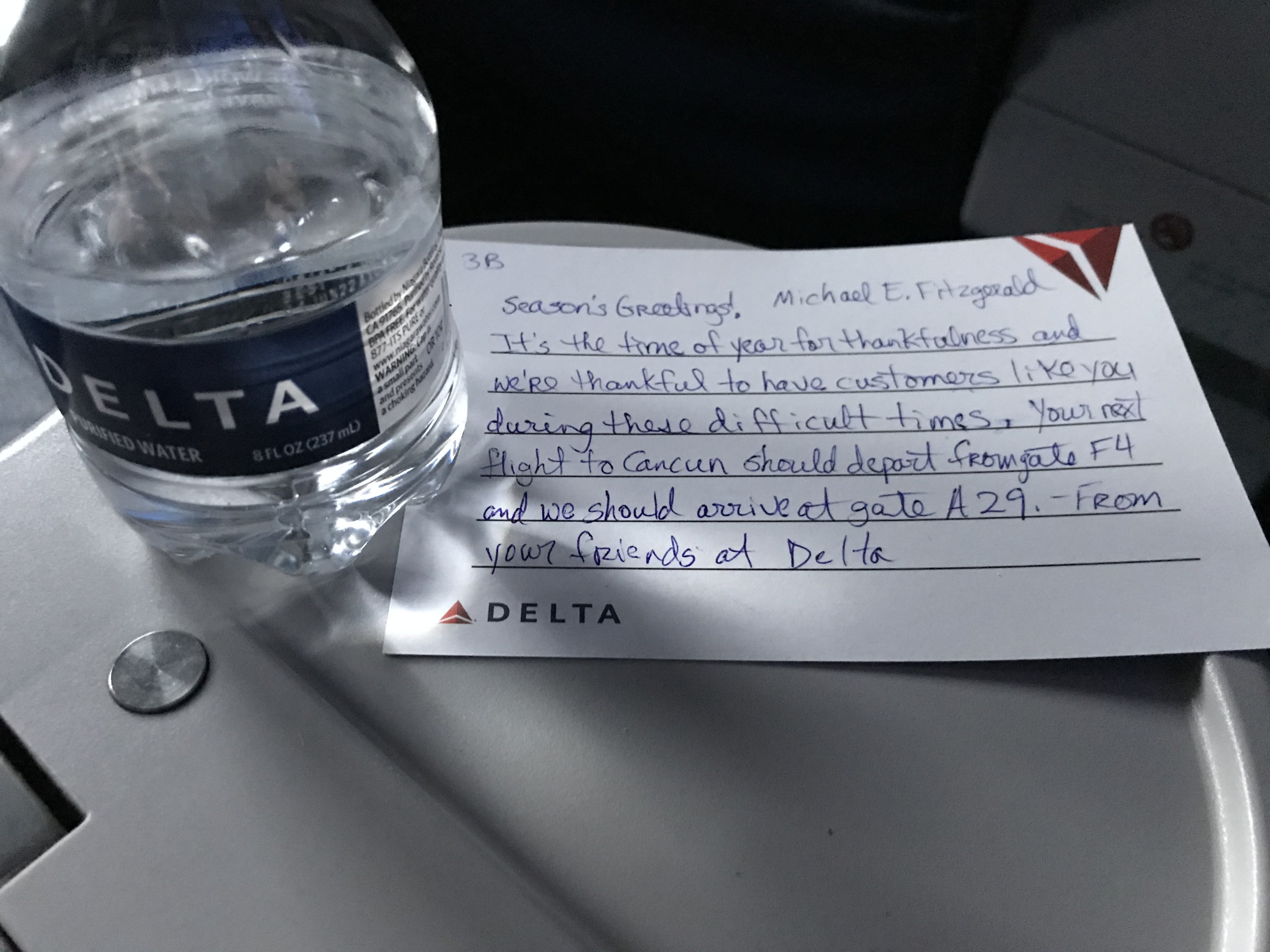 The flight to Cancun was on time. When getting off the aircraft, it was immediately apparent that Cancun was well prepared for tourists traveling in from abroad. There are several new protocols, constant cleaning, sanitizing actions, and temperature checks through AI Technology. The airport and customs staff also all had a variety of quality protective equipment—all part of the mitigation measures developed by the Cancun Airport to protect travelers from COVID-19.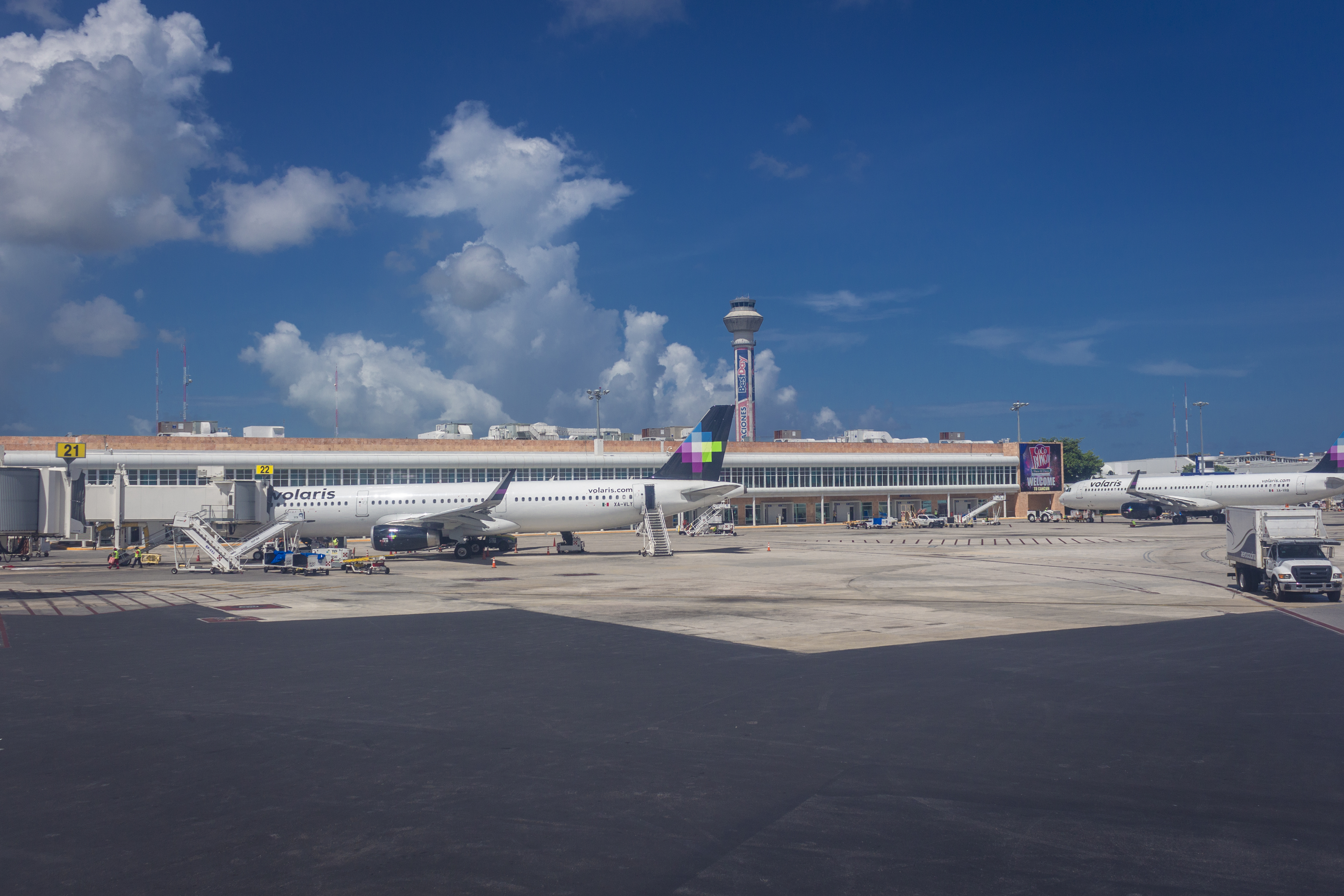 A number of flights landed in our terminal at the same time. The line at Passport Control was longer than I anticipated. However, the majority of the passengers did adhere to 6 feet of social distancing, and everyone was wearing masks. I've been in that Passport Hall many times over the last 20 years and have often stood in line for well over an hour before getting through the Passport Control. I will say that Cancun was very well staffed. They had a Customs Official at every single booth, and we got through the line in about 20 minutes. My bags were already on the carousel, and from the time I stepped off of the plane to the time I was in my transfer vehicle was about 25 minutes—the fasted I can ever remember traveling through that airport.  
We had a spectacular trip aboard the Fin Chasers mothership. Mother Nature dealt us a very good hand with nearly perfect flats fishing weather for our stay. We highly recommend this new program. Of course, Miguel's other operation, Tarpon Bay in Campeche, is fully operational, as are a handful of great lodges that we represent south of Cancun.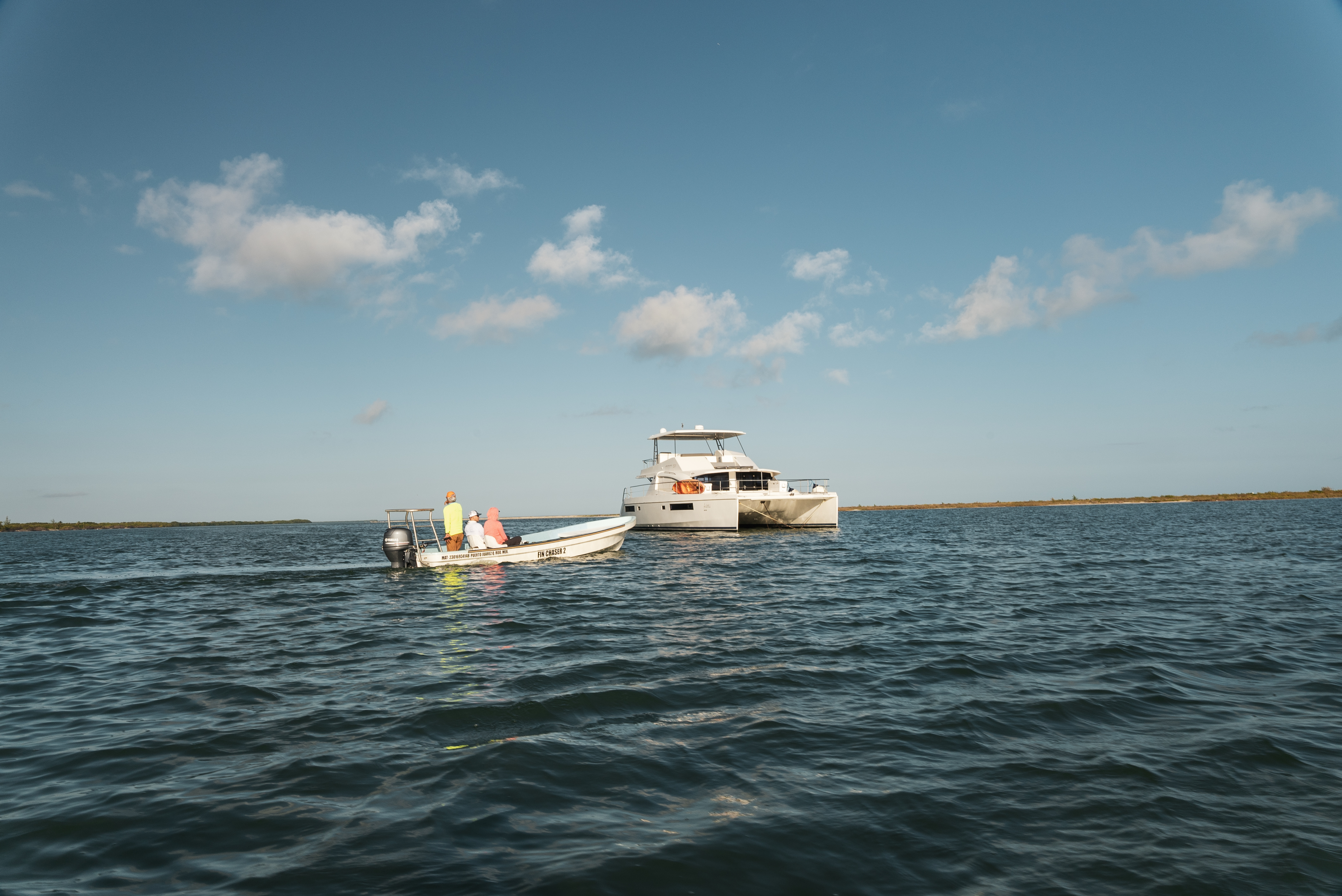 Returning to the States, the check-in process in Cancun was simple. The lines were not long at the Delta Counter, and we did get through Security quickly. As mentioned, the same health form needs to be completed on departure. It is easy to do on your phone or iPad. They also have paper forms if you want to complete them manually with a pen.    
In the Departures Hall, social distancing was practiced. The tables were spread out in all of the restaurants, and the cleaning staff was very observant and prolifically cleaned the tables and chairs as soon as travelers got up to head to their gate. The flight back to Atlanta was simple, and to be honest, I have never seen so few people clearing Atlanta Customs. I proceeded to the Global Entry Kiosk and was through Passport Control in seconds. All of the passengers coming off our flight got through Passport Control quickly and conveniently. I found the whole process to be easier and more efficient than pre-pandemic travel.  
There are several great outdoor destinations to experience. If you are healthy and careful, it is a remarkable time to travel. The flats are very well-rested, and everyone in the hospitality business welcomes you with open arms (and 6 feet of social distance!). Please think of Frontiers if you want to escape to someplace very special over the next several months.