Driven Shooting in Spain (March 2022)
The lore, tradition, and history of driven shoots combined with the distinction of Spain at Ventosilla and Los Melonares.
March, 2022 – Kristene and I were recently in Spain with two shooting groups – one at Ventosilla near Toledo and the other at Los Melonares, near Seville.  We had two exceptional experiences and already miss the country after being back at the desk for a couple of weeks. I love driven shoots.  The lore, tradition and history of the sport cannot be well replicated in other parts of the world.  To me, Spain is special for a number of reasons…
We find the country to be exceedingly welcoming to US and international travelers.
The red-legged partridge is one of the most awesome gamebirds – fast, fun and beautiful.
While there is an understated formality, Spain is much more casual than certain other shoots in Europe.
It's tough to beat the winter weather in the Spanish shooting areas.

Add in impeccable service, great cuisine, and delicious wines… and the shoots are tough to beat!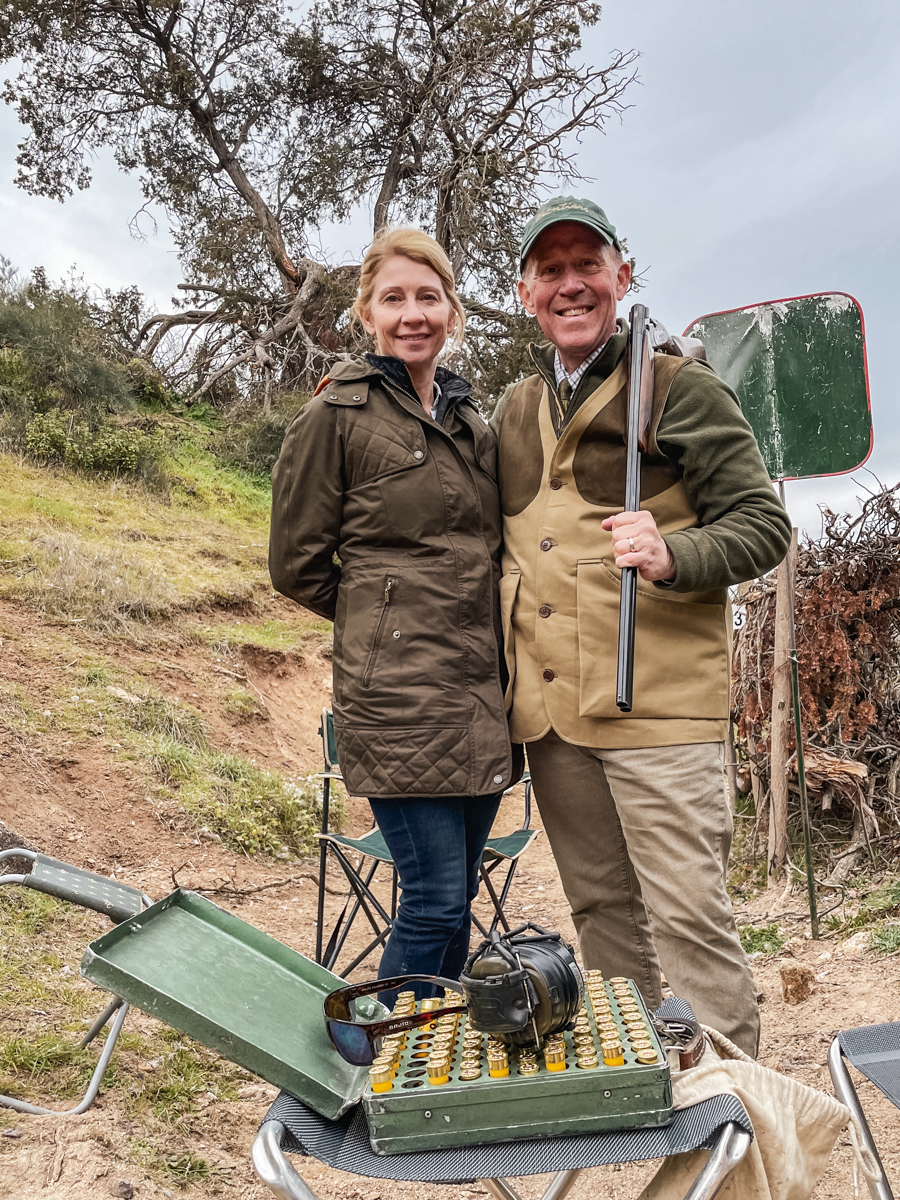 Ventosilla is one of the famous Spanish shoots and its reputation is rightly earned. Home to the first ever driven partridge shoot in Spain held in 1884, it does not get more traditional than this. The Palace was built in the 15th century by the wealthily and powerful cardinals of Toledo as their private hunting estate and their descendants still own and run the estate to this day. With over 60 drives covering many thousands of acres, guests are able to decide what type of birds and shooting they would like to experience.
The Palace can accommodate up to 10-12 guns along with their non-shooting partners, in historic but tastefully modernized en-suite bedrooms. A typical shooting day is made up of four to five drives which are broken up with a break for tapas and lunch. Each drive will last about 25 minutes and there will be plenty of action across the line. Ventosilla can offer some good high challenging birds or some more classical Spanish style shooting.
It was fun for Kristene and I to return to Ventosilla. It's always such a classic, wonderful experience.  It was a pleasure to see our friends and meet new clients.
Los Melonares reminds us the most of a UK shoot with the thicker bush, greener hues and more acute valleys. The shooting is excellent, and one cannot help but feel at home at the wonderful house with its orange tree-lined courtyards, large outside sitting areas and display of trophies from times gone by.  It's collection that our host's father shot, the first ever Weatherby Trophy to be won by a Spaniard. The family are very hands on beginning with owner, Pachi, a keen shot herself and a bundle of energy for whom nothing is too much trouble. Her charming, relaxed No 2 is the Hunting and Field Manager, Jerónimo.  They are quite a team.
Los Melonares shows excellent high birds driven from distance — thus having time to lift across the valleys.  Kristene and I were anxious to get back to this friendly estate and the shooting and hospitality were incredible.  We had two lines at Los Melonares this season and both had exceptional reports.
The shooting season in Spain is typically from late September well into March.  Most shoots are two-days, but we have a number of lines who request a 3-day experience.  Both estates have excellent guns to borrow/rent, which we highly recommend over bringing your own. From the US, both estates are best accessed via Madrid.  To me, the best size for a private line is 6-10 guns.  If you do not have a private group, both estates have "Open Lines" where you can book in as a single gun or as a small group.
Our Team at Frontiers is uniquely capable in handling all of your travel arrangements.  Most of our clients confirm other travels in conjunction with their Spanish shoot.  There is so much to see and experience in Spain.  Madrid and Barcelona are great, but we like our clients to get out of the big cities.  Historical towns like Toledo, Cordoba and Seville are easily accessible from the shooting areas.  Spending time on the Atlantic and Mediterranean Coasts for a few days is also spectacular.  How about trout fishing in the Pyrenees and visits to incredible wine regions?  We know Spain incredibly well and look forward to introducing this incredible country to more of our clients.
We are just concluding an excellent shooting season in Europe.  We had private lines of guns in the United Kingdom, Denmark, France and in Spain.  The reports from returning clients were excellent and we already have a number of re-bookings for the 2022/2023 season.  Now is the time to book for next season.  Availability is already limited!
~ Mike Fitzgerald