Cordoba Lodge: An Extravagant Dove Shooting Haven!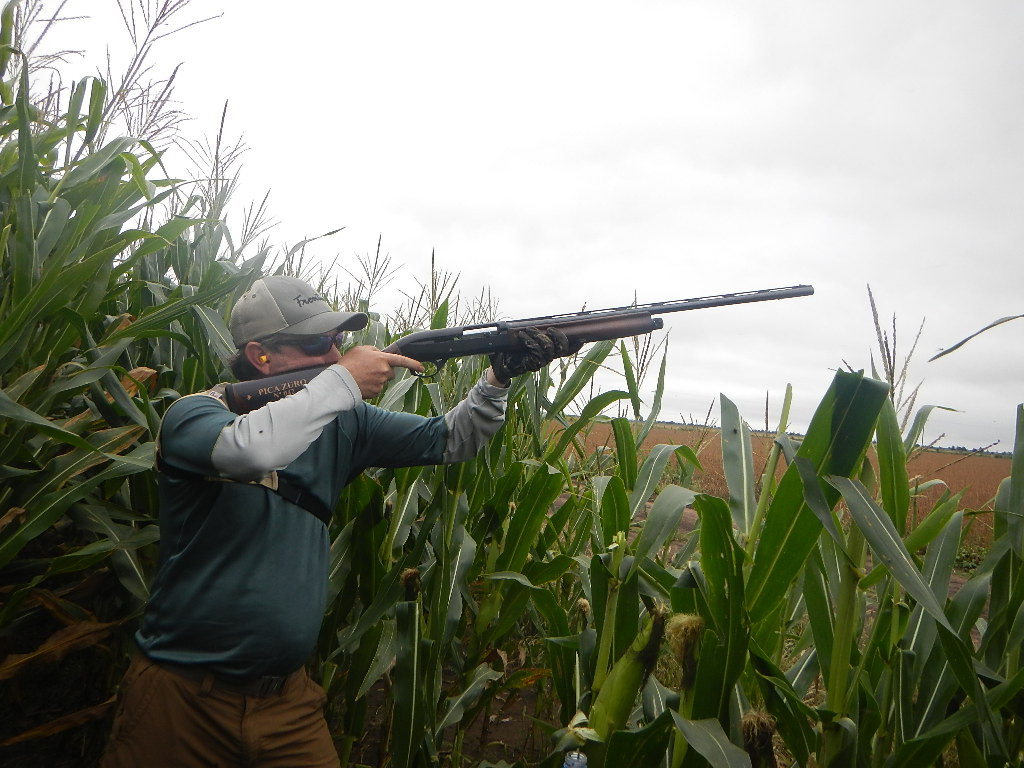 May, 2016: After a wonderful and productive Red Stag hunt at Rincon de Luna, we were off to the Cordoba Airport to meet our transfer to Cordoba Lodge for a brief dove shooting adventure. This was my first dove hunt in Cordoba, although I have shot in plenty of other locations in South America. This trip was, however, our guests' very first experience with a high-volume dove shoot and it seemed fitting to plan a brief extension for that reason alone. As they say, "When in Rome…"
We met the Cordoba Lodge staff in the parking lot and they moved our gear to the large Sprinter van for our trip to the lodge. Rincon de Luna and Cordoba Lodge stay in contact with each other to coordinate these transfers and it was a smooth transfer. We do this combination hunt quite often and it's always been a flawless transfer. We were met by Facunda, a younger Argentine who speaks perfect English. Despite his youthful look, he was a seasoned veteran in the shooting business. After an explanation of our afternoon shooting plan, we departed on Route 9 and headed through the vast flatlands toward the lodge.
This area is akin to our American Midwest. Corn and soybean fields dominate the landscape and some of the fields were incredibly large. We commented on the enormous amount of agriculture in the region and sorghum fields were also planted, but not as prolific as the corn and soybean. This time of year, early April, a majority of the doves are transitioning from the hills to the flats where the crops are nearing harvest. In the flats, you have a high concentration of low flying birds feeding or in temporary roosts. The birds generally follow the combines, which are harvesting sorghum and soybeans. They also concentrate around cattle feedlots and water holes. Rain is most likely to occur this time of the year. True to form, it was raining and overcast, but we were going to make the best of the situation.
After about an hour of driving we arrived at our shooting location for the afternoon. First, we were treated to an asado lunch in the field. Thankfully, we had a break in the rains to enjoy this delicious smorgasbord of meats with tasty salads along with, of course, some fine Argentine wine. Asados are a meat lover's dream and one of my favorite features of Argentina.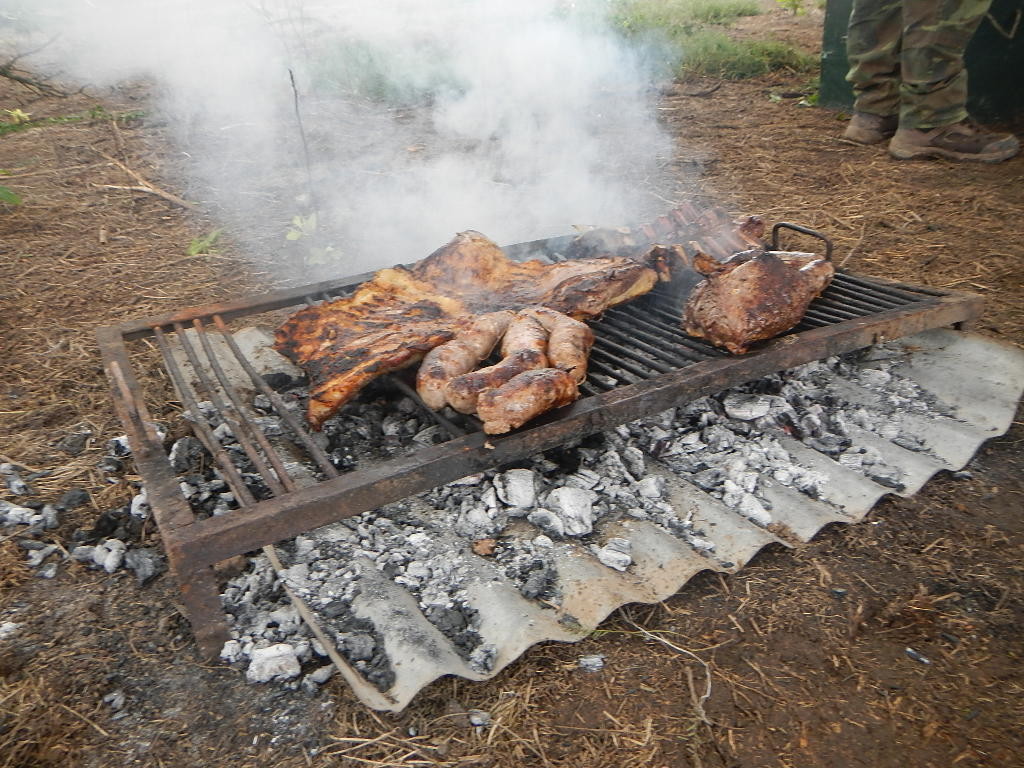 After a hearty lunch, we were introduced to our lodge-provided shotguns, had a brief orientation on safety, how to present the gun to your guide for reloading. After readying our personal gear – PAST shoulder pads, shooting gloves and glasses – we prepared to head to our shooting set up for the afternoon. We drove down a rain slicked dirt road and made our way to the edge of a cornfield where we scaled the low fence and spread out along the perimeter. Cases of shells, stools, and personal coolers followed us to our spots and we got dug in and prepped for the shoot.
It wasn't long before the doves started to fly and we had just a slight drizzle of rain, but it didn't seem to affect the flight.  The report of the Beretta semi-auto's soon filled the afternoon silence and we all had our first taste of a Cordoba dove shoot. Although the action was slower than typical, we still managed to put a nice dent in our personal case of shells. After a few hundred rounds each, we packed up our belongings and made our way back to the van.
We recounted our shooting escapades with wide-brimmed smiles with stories of doubles and triples. Our group had some good shooters, so the practice shooting clays before they left the states really paid off.
Before long, we turned off the paved highway and made our way toward Cordoba Lodge. The lodge sits in a quiet and secluded area shielded from traffic noises. The setting is a really beautiful. The only noises we heard were grouchy parakeets squawking in the trees surrounding the lodge. They are very pretty but loud.
Upon arrival, we were greeted by our host at the lodge, Guillermo Magnani. His staff treated us to a welcoming glass of champagne and a warm reception. We were all a little damp and eager to get out of our clothes, so we were shown to our rooms to get a hot shower and freshen up for dinner.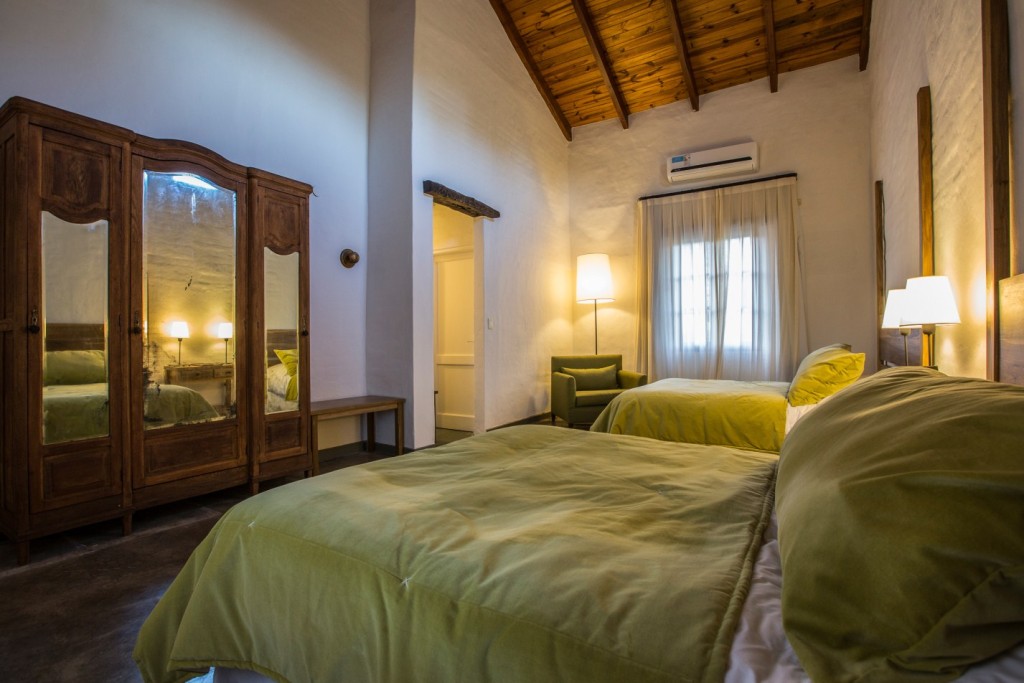 The lodge's four bedrooms are lined down a covered walkway and the last room sits adjacent to the hot tub. I was determined to find the opportunity to relax my sore muscles and it looked really inviting. Maybe later….
The bedrooms are extremely large and comfortable, and I truly looked forward to trying out the bed sooner rather than later. A large armoire was perfect for stowing your belongings and benches on both sides were conveniently located for getting into your boots to ready for your shooting. The smooth polished concrete floor was perfect so you didn't have to worry too much about tracking a little mud into the room. I found it to be a very well thought out design for a shooting lodge with everything in the just the right place.
We gathered around the bar before dinner for cocktails and appetizers of tasty prosciutto and other local meats, delicious olives, cheeses, and I had a nice glass of Malbec. These moments never get old and we had some good conversation about our stag hunt with Guillermo and Facunda. It's a very relaxed atmosphere at the lodge and it has a wonderful feel and ambiance.
We retired to the dining room shortly after for one of the best Argentine steaks I have ever tasted. We all agreed it was a great meal.  The deserts they serve at the lodge are out of this world. A creamy peach sorbet was perfectly blended and melted in your mouth. Fully satisfied, our tired bones were finally getting the best of us. It wasn't long after that we tucked into our rooms for a good night's rest.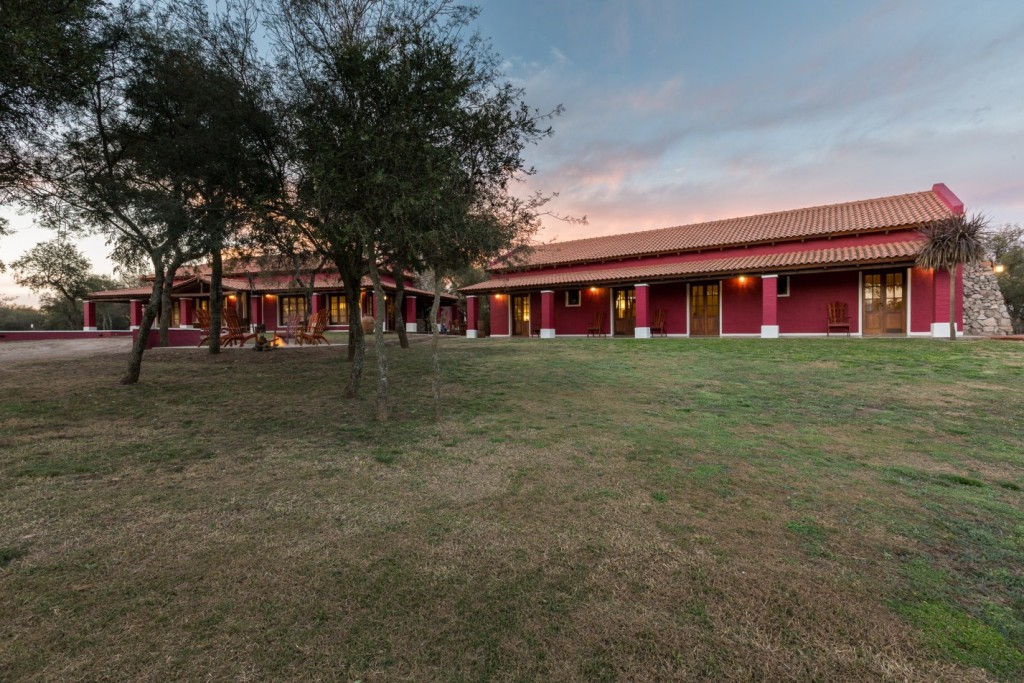 The following morning came quickly and it was raining at a pretty good pace. My experiences with dove shooting in South America are that the birds don't fly well in the rain. I was anticipating a less than average shoot. We gathered for coffee and breakfast and Facunda outlined our plan for the morning. We were heading to shoot a feedlot so we packed our rain gear and piled into the van for the 40 minute drive to this location.
Once we arrived, I was literally stunned. Having lived in the U.S. Midwest for several years, I've seen plenty of feedlots but nothing of this proportion. This was MASSIVE! It stretched as far as the eye could see and the doves were flying around it like gnats. We all looked at each other in amazement and our doubts were dispelled about it being a slow morning. Wrong!
We trudged back to a thin treeline bordering a cornfield to our pre-made blinds. They were perfectly crafted from natural branches to provide good cover but did not get in the way of your swing. Before long the familiar pop-pop-pop was announcing itself at a quick pace. We all shot our fill that morning with shots of all types: high birds, low screamers, left to right, right to left, straight away, and with the occasional pigeon mixed in. Most of us polished off a case of shells without a problem. I just sat and watched in amazement for a while to fully absorb the volume of doves that filled the sky. It's truly an incredible sight to behold. So many targets to focus on and it was dizzying trying to pick just one.
Did I mention it was raining? Not just a little, it was coming down pretty steady. I was soaked from the waist down and the cool rainwater dripped into my boots. I was wet, though the birds were still flying even as we packed our gear and headed back to the van. A short while later, we were enjoying a hot shower and getting our belongings packed for the ride to the airport.
One last superb piece of Argentine beef for lunch and we were saying our goodbyes. The trip by all accounts was successful and I was very impressed by the lodge and the professionalism of the operation. If you've never been on a high volume dove shoot, it's something you really have to experience to believe.
Gear list for dove shooting.
These items are considered essential for volume dove shooting. It's a fairly short list, so you don't need to bring much.
Ear Protection: Foam earplugs will suffice. Ear muffs will do an even better job.
Eye Protection: Safety glasses are a must. Clear lenses work best for all conditions.
Shooting Gloves: Protect against blisters and your barrel will be hot from shooting.
Neutral Colored Clothing: You just need to blend in, full camouflage is not necessary.
Light Waterproof Jacket: One that will allow your arms to move freely.
Boots or Shoes with Heavy Soles: Thorns are ever present.
Hat or Shooting Cap: Something to keep the sun out of your eyes.
Recoil Reduction Device: Some shooting vests incorporate this feature.
Insect Repellant: Keep the bugs away.
Sunscreen: The sun can be dangerous even in overcast conditions.
Pain Relievers: For sore muscles after a day of shooting.
By: Tom Gilliland