April, 2016: After a couple of great stag rifle hunting trips in the Patagonia region of Argentina, my next ambition was a bow hunting trip after these incredibly tough animals. I'd been within bow range to several decent stags on previous hunts and actually attempted simulated stalks on previous trips after we had harvested our animals. I knew I could get close enough for a shot opportunity if the conditions were right.
This trip idea was hatched after a chat I had with my brother's farrier. Bob and his steady group of hunters are well-traveled big game enthusiasts that have various international hunting experiences, including Africa. Luckily, a red stag was on their short list and the decision was made to plan an Argentine trip to Rincon de Luna in the Cordoba province.
I found myself a couple of months later sitting in Bob's living room in Shelocta, PA discussing the trip with a handful of interested hunters. The gathering ended on a positive note and our trip schedule was cemented and the planning was to begin. Creeping closer and closer to our hunt date, the excitement began to mount and the realization of my task at hand had me shooting my bow daily. I certainly wanted to show up prepared for whatever scenario would unfold. I practiced shooting from every position possible – kneeling, sitting, and standing until I was satisfied that I could make a lethal and accurate shot on one of these majestic beauties.
The Speranza family, owners of the Rincon de Luna, operates a fair chase ranch in the rugged hills of the Calamuchita Valley, which is about 90 miles from Cordoba City and at an elevation of roughly 5,000 ft. The hunting area consists of roughly 7,500 acres of rocky terrain covered in wire tough pampas grasses with ravines, house-sized boulders, ledges, and passes worthy of providing great hides for red deer. The topography is unique and unquestionably rugged. Despite the lack of vegetative cover, the stag blends in perfectly to their surroundings, and executing a good stalk is no easy task. The ranch is absolutely game rich with stags that are spectacularly beautiful. The property also offers a handful of exotics like blackbuck antelope, multi horn sheep, and water buffalo just to name a few. The family operates a small cattle holding with about 300 head, give or take. They mainly sell the calves for breed stock in the local area.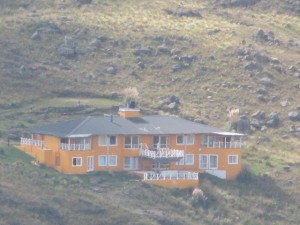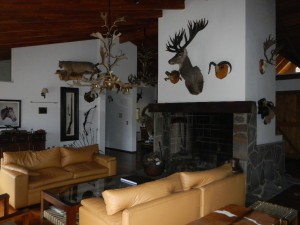 We were met at the Cordoba airport by Jesus (their young English-speaking business manager) and our drive to the ranch was ready to begin. As the crow flies, the ranch is not far from Cordoba City, but the winding road to the ranch gate only goes as quickly as the vehicle in front of you. Unfortunately, the trip was slow due to some vintage trucks hauling bricks….at 15 miles per hour! Once you get closer to the ranch entrance, you switch over from the club van to four-wheel-drive trucks and the last hour is in four-wheel-drive "low" to access the lodge. You start to get a sense of what you're in for as you wind your way up and down through massive boulder fields.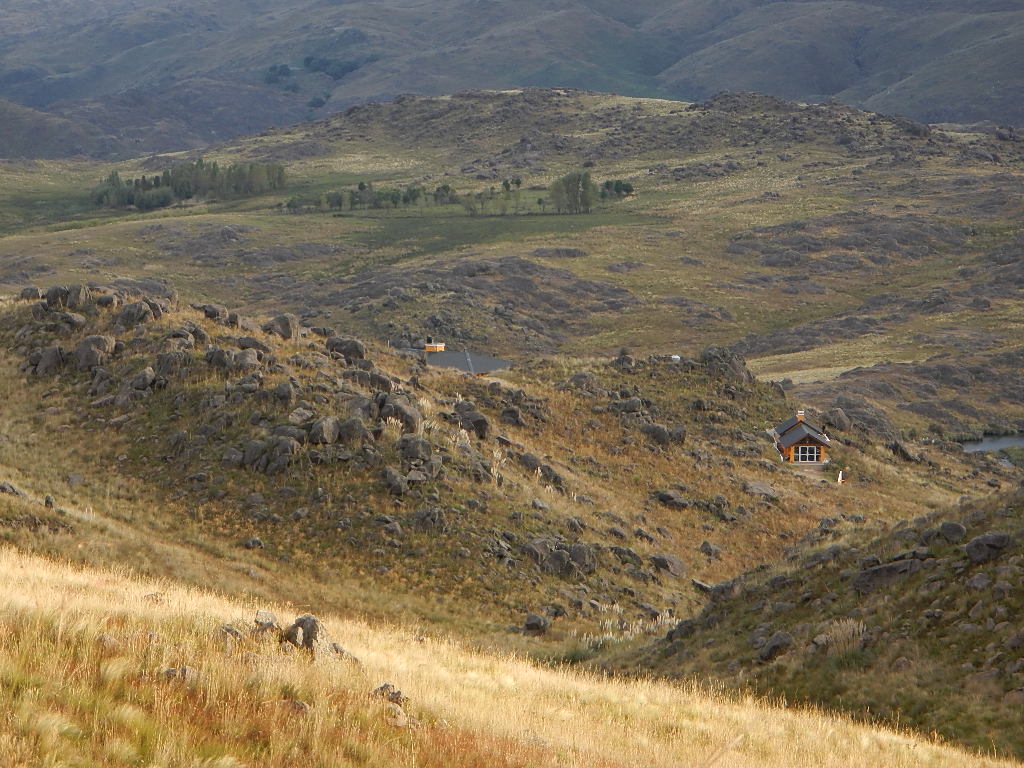 We were a little concerned that the unseasonably warm temperatures might be affecting the "roar" – which is what the peak of the red deer's breeding season is called. All fears were dispelled, however, when we exited the trucks to hear our first booming roar. The stag's "roar" resonates just like that of a bull elk and the surrounding area is engulfed with this guttural bellow.
After meeting the lodge staff and stowing our gear, we drove to their target range for our guests to shoot their chosen rifles, and me to sling a few test arrows. The gun hunters were all excellent shots and the confidence level was sky high after everyone fired a few rounds. I saw the guides smile as they knew their job would now be a little easier. We retired to the lodge for a welcoming dinner and discussed the plans for the first hunting expedition the following morning. Wake up times were established and we were up before daylight for a great made-to-order breakfast and some strong coffee to get us jumpstarted.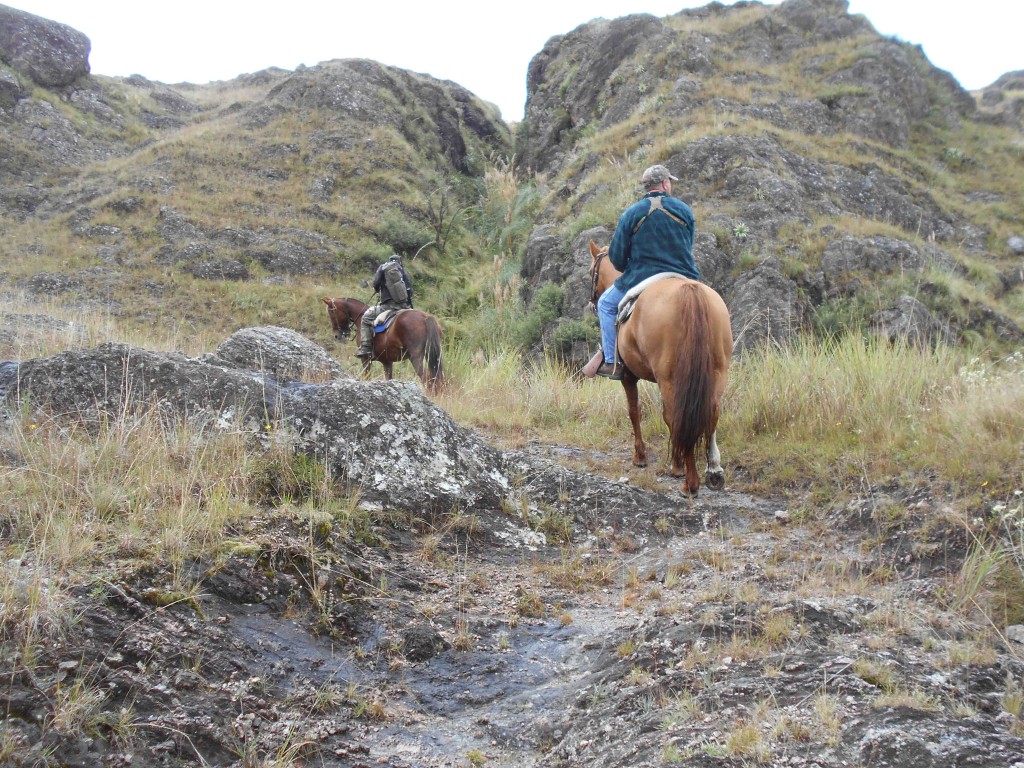 The best method of moving about the ranch is on horseback. For those uncomfortable on a horse, the truck serves as a suitable substitute for gaining prime access to the ranch's interior. We left at first light and before long; we started to hear the bawling roars of a rutting stag. In an area where spotting a 400-pound, screaming antlered brute shouldn't be hard, it still takes a good while to spot the first stag. Finally, I spotted the first one as if it appeared out of nowhere. You really just need to focus your eyes on exactly what you're supposed to see. Wide-open terrain has a way of playing tricks on your eyes and the scale in this type of environment needs synchronizing inside of your brain. Before long we were glassing every draw, wallow, and creek bottom several hundred yards below and spotting deer without a problem.
The first day was surprising with the amount of stag that filled our binoculars. Stopping to glass valleys and ridges proved to show a healthy number of quality animals. The protocol has you returning to the ranch for lunch each day. This hunt is somewhat physically demanding and you can be in a heart-pounding stalk at any moment of the day. The first stag was taken this morning by Beverly R. and I must say my jaw dropped when I first saw this beauty. An incredible trophy of 352 inches SCI was dropped with a well-placed single shot from the 300 Win Mag. Her guide, Oscar, moves like a mountain goat and possesses every key element you want to see in a big game guide. He breathes, eats, and sleeps stag hunting and he is one of the finest guides I've had to pleasure to hunt with. Ultimately, Oscar would be personally involved in every successful animal taken on the ranch during our hunt.
On the second day, two more trophies were brought home by our group. Bob H. gunned an incredible 330-inch SCI trophy on the southern portion on the ranch during the morning hunt. A well-executed stalk got Bob within comfortable range to knock down another Rincon de Luna giant. Although our group's distance shooting skills were excellent, the closer is always better! These animals are TOUGH! The guides really like to be within 150 yards.
We returned to the lodge for lunch and I had walked several miles that morning with Oswaldo but with no prospect for a shot. We had a young stag at about 75 yards, outside of my comfort level with the bow, and I was beginning to wonder if I would get an opportunity as my hunt progressed. That thought was just a fleeting moment in hindsight. After returning to the ranch and admiring Bob's stag, Oscar tapped me on the shoulder and said he had spotted a good trophy bedded with some hinds (females) not far from the lodge. It was in a good situation for a bow shot so we quickly gathered our gear and were back on the hunt.
Oscar moves like a gazelle through this difficult terrain with effortless ease. My goal was to just stay on his tail without injuring myself. We scaled the side of a steep ridge in a sweltering noon heat – it had to be near 80 degrees. My heart pounded like a drum in my head and I regretted the fact I didn't arrive in a little better shape. I found that adrenaline is a great motivator and I continued to mimic Oscar's every move with my last reserves of energy. The unseasonable heat only aggravated the lack of shape and the sweat literally dripped off my nose. To put the property in perspective; we hiked up, skidded down, serpentined, used the occasional rock for cover, balanced our way along sidehills, snaked through creek bottoms, and belly-crawled our way to within bow range of this resting stag. We hid behind a large rock and after getting a steady kneeling position and taking several long slow breaths, I gave away my position to the hind staring at me and the whole herd came to its feet. The stag had no indication of danger, but followed suit and stood giving me a perfect quartering away shot at 35 yards. The arrow flew true and the heavy thud confirmed a solid hit. The arrow pivoted deep into his vitals and I knew immediately the shot was a good one. Surprisingly, he ran just a few yards and stopped, allowing me to string a second arrow and deliver a nearly identical shot at 50 yards. We ended this difficult stalk with an unbelievable result, and I had just arrowed my largest stag to date and the most memorable and satisfying for sure. The feeling I had at that moment is hard to put into words. On one level it's a sense of accomplishment, and on another, a deep reverence for this beautiful animal whose life I have just taken. I say "thank you"—very quietly, under my breath —to the mountain I'm on and to this honorable animal.
In the following days, our hunters Carl and John took their trophies. John's stag ended up being the largest of the trip at an amazing score of 368 inches SCI. The stalk led to an incredible scenario that had this hefty animal trotting by John, who was hidden by a boulder, at a mere 7 yards! Incredible….John was able to deliver a lethal shot with the rifle at close quarters and sealed the deal on a stag that was simply incredible.
Carl's hunt ended quite differently after wounding an animal on the second day. As stated, these deer are incredibly tough and even with three solid rifle hits, the stag still managed to go over a mile in rough and steep terrain. Due to a determined effort by everyone, the animal was finally found in a small drainage by Carl and guide, Santiago. It was a true sense of relief to recover the stag and a real sense of accomplishment in the determination to never give up the hunt.
The ranch property is also home to two crystal clear rivers that flow inside the ranch. The Las Canas and Los Machos Rivers are stunningly beautiful and full of smaller rainbow and brook trout. You will crisscross these rivers at some point every day and the horses surely appreciate a long pull on this cold, clean water. It also provides a great option for those who fill their tags early in the trip. We had a great day of fishing with fly rods and spinning gear and just relaxing and taking in the sights.
My deepest appreciation goes out to Bob, Bev, John, and Carl for joining me, and to Rodrigo Speranza and his family along with the wonderful staff at Rincon de Luna. A special thanks to Oswaldo and Jesus for their hospitality and professionalism during our hunt and to our guides Oscar, Santiago, and Carlos who coordinated our daily hunts, and young Alex for taking care of our trophies after the hunt. A big thanks to Chef Alex for his wonderfully prepared culinary delights and to Cynthia and Luna for attending to our personal needs at the lodge. I can honestly say without question that it was one of the finest hunting experiences of my life, and I can recommend this ranch with confidence.
For those interested in a red stag hunt in Cordoba, I am presently keeping a waitlist for two prime 2017 roar weeks at Rincon de Luna. Please call me at 724-935-1577 if you have an interest in this or any other of our excellent red stag properties in Argentina. Our offerings continue to expand and we have a great property for everyone.
Written by: Tom Gilliland, Big Game Destination Specialist