Flying B's Bucks and Birds Program in the Heart of Idaho's Nez Perce Territory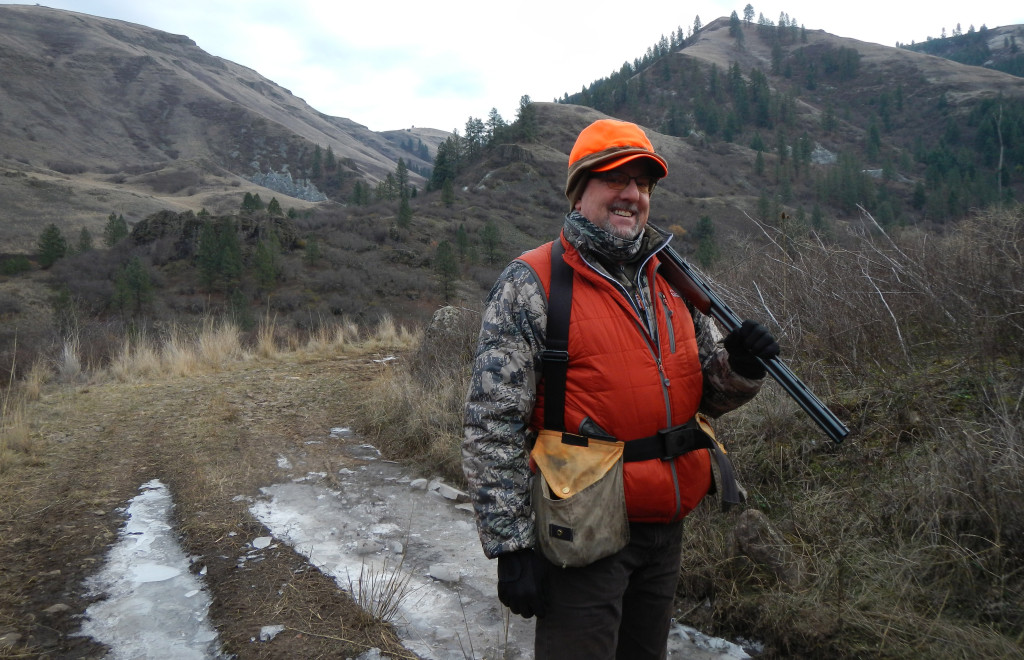 Dec, 2015: Portland Maine to Newark; Newark to Pittsburgh, a quick Thanksgiving dinner with extended family, then Pittsburgh to Spokane and a sweet drive along the Clearwater River over to Kamiah, Idaho. What's not to love about adventure travel?
Arriving a bit road weary, Joe Linscott and I unpacked our gear and settled into our rooms at the Flying B Ranch, our home for the next five nights. The purpose of the trip was to acquaint ourselves with the finer points of the ranch prior to the arrival of one of our best corporate client groups next spring for their bird shooting bonanza. As Program Manager of our North America wing shooting program, Joe L. spent the majority of his time familiarizing himself with the ranch's upland bird hunting program. I focused on their whitetail deer program, spending my time with the ranch's big game director and guide, Jeremi Syron. I also managed to sneak in a few hours of bird shooting to better understand the guides, the dogs and the daily itineraries that the corporate group would experience.
The ranch encompasses over 5,000 acres in an area known as Lawyer Creek Canyon. The canyon meanders its way back through about five miles of gorgeous open grassy bowls, rimrock bluffs, and brush-choked saddles and draws – home to mule deer, whitetail deer, mountain lion, and a ton of upland birds, primarily ringneck pheasant, chukar, and Hungarian partridge.
Day one started off before first light with a balmy 17 degree reading on the thermometer and zero wind. Perfect. With barely enough light to see, our first stop was the bottom of a large basin where we had views for miles in all directions. As we glassed the hillsides for deer a lone coyote greeted us with barks and howls; simply an awesome way to start a day of hunting in the American West. Throughout the course of the morning, we spotted several does and a surprising number of small 4 x 4 bucks and spikes. Considering it was day one, we were looking for something bigger if we were going to pull the trigger. All in all, we spotted close to 50 or 60 deer on the sunlit canyon hillsides that day, briefly getting a glimpse of one wide-antlered 5 x 4 buck that we could never catch up to for a shot.
On the second day, we awoke to similar temperatures and a rather chilling five mile per hour breeze. Added to the mix was a dark gray sky that ultimately never did give way to sunshine. At first light, we stopped at the bottom of a small basin known as Stillman, glassing the hillsides above. No sooner had we gotten out of the truck we saw a very nice chocolate-horned and heavy-bodied buck crossing the top of the brush choked bowl, clearly bothered by something he'd left behind. Jeremi said that he was a mainframe 5 x 5 with a split brow tine on his left side; a really cool set of antlers. Moments later, one of the ranch's bird buggies appeared in the back of a long draw, bouncing along a woods road after an early-morning bird release. That's what it was that the old buck wanted no part of, but I did find it ironic that he was running from a benign vehicle into the crosshairs of a whitetail hunter! Unfortunately, the distance was a bit too far to take a shot. We watched the buck circle back up and over the rim of the basin and back into the same series of draws that it had originally come out of. For me, it was a good lesson on deer behavior. Specifically how they react to pressure within their home range. Even after being spooked out, he was headed right back to where he wanted to be; a place that provided him with good cover and an easy and quick escape route from predators.
We worked our way back into the area where the buck was headed, a sequence of three symmetrical draws on a hillside choked with buckbrush and lodgepole pines. As soon as we started glassing, we picked up on the same 5 x 4 buck we had spotted the day before. He was slipping in and out of open areas among the pines and brush, unbothered by the fact that our truck had just pulled into the ravine below him. I ranged him at 206 yards, a chipshot for the Weatherby 240 I was carrying. I placed the crosshairs between his shoulder blades as he angled down the hill towards a doe he was with, and I clicked the safety off.
My mind was blitzed by so many thoughts . . . man that was a really nice 5 x 5 we just followed back in here, definitely bigger than this one . . . this is only morning #2 of a four-day hunt; what's tomorrow going to bring? Will I see another deer this nice? Where did that 5 x 5 go? He couldn't be far, could he? Is he in this same draw? I'm not even halfway through my allotted hunt days . . . and on and on. Somewhat reluctantly I pushed the safety back and stood up, telling Jeremi I was going to pass on him. This was definitely one of the best bucks I've ever had the chance to shoot, but as they say, if you shoot the little ones, you'll never have the chance to shoot the big ones. And so it goes. After a few more hours of driving and glassing the canyon, it was clear that the deer were going to spend the day hunkered down and chilling out in an effort to conserve their post-rut energy. Winter was clearly just around the corner and it appeared as though the deer were picking and choosing their spots when it came to being on their feet and fattening up for the coming winter.
The remainder of day two and all of day three was more of the same. We saw a good number of decent 4 x 4 bucks, but none that really floated my boat. With each passing hour and after repeated visits to Stillman to see if we could catch a glimpse of either one of those two bucks, I was having a shooter's remorse and plenty of it.
We were glassing hillsides on the last morning (strangely enough, very close to Stillman) when I picked out two bucks across the valley on a grass-covered slope. We had not seen either of these bucks prior to today, and one was a tall-antlered white-tined 4 x4 that was pretty interesting. By this point in my shooter's remorse, I had decided that the next good buck would meet with much less discretion on my part. We left Stillman, glancing over our shoulders several times, and headed across the valley for some closer inspection of the newly found buck. After putting the spotting scope on him for a few minutes it was clear that I was going to settle on a not-so-bad buck after all. I liked his frame and tall rack. He was a fully mature buck, likely three and a half years of age, and he was offering a nice clear shot. Good enough for me. I thought to myself "perhaps I'll get some bird shooting this afternoon!" Note to self:. . . . stay in the moment. Do not get ahead of yourself . . .
A steady rest, a ranged 227 yard uphill shot and breathe slow – squeeze the trigger slowly – bang! "You missed!" What???? I racked another round, steadied and squeezed – bang! "You're shooting just over him." A third shot and the buck trotted over the hilltop unscathed. I simply could not believe it. Everything felt right. Jeremi asked what power the scope was set on . . . It was on 5 power, half the magnification it should have been dialed in to for a shot of this distance. With forty-plus years of hunting experience, I'm still learning lessons the hard way. We had changed guns mid-hunt and I never bothered to check the scope setting. Ugh. With a torn meniscus in my left knee and a partially ruptured hamstring tendon on the right, I was hunting on a pretty timid basis. I was trying to avoid scrambling up steep hillsides or sliding down rocky embankments. I'd been hunting low and slow for the better part of four days, but now it was time to see if I couldn't make up for that last mistake. The buck had gone over the crest of the hill but returned to nearly the same place he had been when we first saw him. We decided that we'd walk the steeper spine of the ridge up to a point where he'd no doubt be within 50 yards of us on one side or the other. Close quarters. When we eased over the first bump on the hilltop, he wasn't there. He must have gone one rise further. Sneaking along we were almost on the steepest drop-off the peak when I spotted the buck about 175 yards below us sneaking into a nasty brushy gully, where he would likely never be seen by us again. We got the shooting sticks in place and I put the crosshairs on the deer below (cranked up to 10 power this time). As I did, he looked directly back up at us, and turned around as if to say "What the hell? Where did those guys come from?" We had a standoff lasting what seemed to be an eternity while he stomped and head bobbed trying to figure out what was up. Tempting as it was to take a head-on shot, it was just a bit too risky for the situation. The deer spun after several minutes and ran off. We both whistled and bleated at him to try and get him to stop for a second or two. It worked perfectly, and when he paused he offered me a classic broadside shot, bringing a great hunt to a memorable conclusion.
As luck would have it, I actually did get to bird hunt that last afternoon and it was every bit as spectacular as the deer hunt was. Fast flying roosters and sporty huns and chukars were pointed flawlessly by the ranch's dogs. BJ, our bird hunting guide and dog trainer extraordinaire, was a great company, and he and the dogs showed us what a great resource the Ranch offers to its bird hunting guests.
I would be remiss to not mention Chef Ryan. Ridiculous meals were served at every turn, and walking down the hallway to the breakfast nook each morning brought a smile to my face while listening to pans clanging and Ryan belting out some favorite outlaw country tune accompanied by a great XM playlist. Ray the bartender… thanks for everything, especially your haste in providing "the usual" as we returned each evening. Carol and Janna, you two are the best. Thanks for making our stay so fun and comfortable.
By: Joe Codd, North American Big Game Specialist