Doves in Cordoba: A Quick Visit to La Dormida Lodge, Argentina
April, 2015: This is part three of Joe Codd's three part journey to South America. Read part one here and part two here.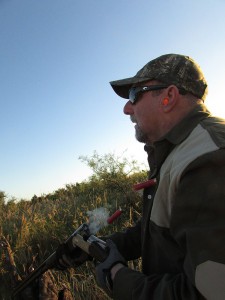 After wrapping up things at Limay River Lodge, Nico and I departed for Bariloche. It was there that Nico met up with his wife to continue on with the rest of their vacation in Argentina and Chile. I moved on to Cordoba to try my hand at high-volume dove shooting, something I had only read about but never experienced firsthand.
I was promptly picked up at the Cordoba airport and driven two hours to the lodge. The transfer usually only takes a little over an hour, however, several bridges were washed out due to heavy rains in the region. A nice cold cervesa and a nap made the trip seem like about ten minutes, so I really wasn't inconvenienced much by the change in plans.
After my arrival, I was introduced to the on-site manager and host at La Dormida, Joaquin Dartiguelongue, and shown to my room. He mentioned that I would be joining a group from Louisiana that had arrived the day prior. Proper introductions were made over cocktails when they returned from their afternoon shoot and we all enjoyed a fantastic dinner and retired early so that we could start well-rested for shooting the next day. All of the rooms at La Dormida are quite comfortable, with plenty of space to store clothing and gear.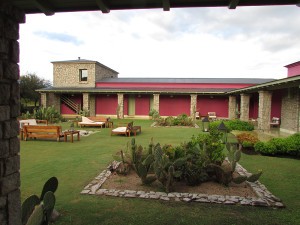 The lodge has a courtyard that is adjacent to all the rooms and there is a nice firepit with benches as a centerpiece. It's a perfect area where guests can enjoy a cigar and a nightcap before retiring for the evening. There is also a small heated dipping pool for relaxing after the day's shooting, and several of the guests took advantage of a post-shoot massage prior to cocktails and the evening meal.
I have to admit that I really didn't know what to expect in terms of how the shoots were typically conducted. The shoots are actually a pretty straightforward affair. The group assembles after a hearty breakfast and jumps in a spacious mini-bus to head to the dove fields, located a half hour away from the lodge. Shooters are positioned along various field edges, tucked into makeshift blinds along the fence rows to help conceal their silhouettes. The doves are already flying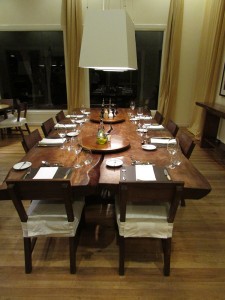 pretty well by the time you arrive, so shooting begins quite literally within seconds of loading your shotgun. I was shooting one of my favorite guns, a 28-gauge Berretta Silver Pidgeon, which made me quite happy. After knocking down the first three birds that zipped past me, I settled into a nice rhythm of missing, just like old times. I'm not quite sure what happens, but this is par for the course with me and shooting. Too much thinking? Overthinking? Who knows? Either way I was having some good fun, and by the time I'd shot my way through half a paycheck in shells, it was time to head to the lunch area (thank God). We devoured a fantastic authentic Argentine asado of pork brisket, beef, sausages, and ribs (fear not vegetarians, there was salad too) complimented by some nice Malbec wines and a siesta. What's not to love about dove shooting!
The next day, I had a flight to catch later in the afternoon, so I bid my farewell to the group later in the evening during yet another fantastic dinner. No one loses weight on these trips, so plan accordingly by hitting the gym before you get here, perhaps afterwards as well!
I had prearranged a side tour to see another one of the David Denies properties, Pica Zuro, which is an older estancia that has been impeccably restored. It was very reminiscent of a southern plantation one might find down in Georgia. The lodge features a cigar / game room with a full bar and billiard table, a large swimming pool situated on a beautifully manicured lawn, massage rooms and a grand dining area and sitting room inside the main lodge.
After touring the property, it was off to the airport for the long journey home. This gave me plenty of time to reminisce about a truly epic adventure on my first journey to South America. I cannot wait to return next year. Nico and Jordi are both returning and bringing along a friend to join us on this amazing adventure.
By: Joe Codd