An Exploratory Adventure in Bariloche, Patagonia
April, 2015: This is part one of Joe Codd's three part journey to South America. Read part two here and part three here.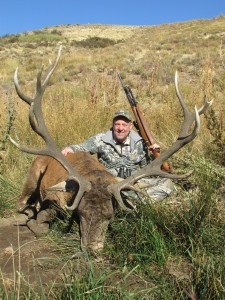 Hunting red stag is one of the things that I have wanted to cross off my bucket list for quite some time. Stags are found on several continents and are hunted under a variety of conditions and terrains. As is typical of me, this trip wasn't so much planned as it was pieced together by an odd variety of circumstances and good fortune. Last year, I was on a trip to Mexico's Yucatan, inspecting the building site for a new tarpon lodge being built along the northernmost Yucatan coast. Nothing says red stag quite like a saltwater fishing trip to Mexico, right? I met the owners of this new operation in the city of Merida, at a sporting goods retailer called TanKab Outfitters (a mini-Cabelas, if you will). The moment I walked through the front door, I saw wildlife mounts from across the globe adorning every inch of wall space. Ahhh, it felt like home.
Jordi Gene (ja-nay), the owner of TanKab, was there to greet me and show me around. He mentioned that his true passion was not actually fishing but big game hunting with a bow. I asked if he had ever been stag hunting. With a look of surprise, he said, "that's exactly the next hunt I want to go on!" I mentioned that I was considering a hunt sometime in 2015 and he immediately said "please book it for me too." A friend, client, and outfitter of mine by the name of Nico Dorion from Guatemala also came to mind. Nico runs a mothership operation in southern Belize, and he and his brother have both saltwater fished with Frontiers on several occasions. He is also a four-time visitor to big game Nirvana Three Forks Ranch in Colorado. With one phone call, we were a group of three like-minded guys headed to Argentina to hunt a red stag. I explained to both of them that we were looking at a new outfitter to round out Frontiers' menu of stag offerings in South America and that this would be a reconnaissance trip that was sort of "exploratory" in nature. They were in.
Andres Kempel is the owner of AK Hunts near Bariloche in the Rio Negro Region of Patagonia. Andres operates a fair chase (no fence) red stag hunt on a working sheep ranch (30,000 heads) comprised of over 110,000 acres of prime stag habitat. The habitat is, as we were to learn, absolutely game-rich and staggeringly beautiful (no pun intended). We arrived into Bariloche by way of Buenos Aires on an Aerolineas Argentina flight in time to settle into our suites, have a bite to eat, and gather our hunting gear for an evening of what was supposed to simply be "getting acquainted with the landscape." Our second guide, Heinrich (Heini), was assigned to hunt with Nico, while Jordi and I hunted with Andres. Soon after arriving on the ranch, we found ourselves on a high vantage point, glassing vast areas of bottomland, meadows, and pasturelands. We were a little concerned that the unseasonably warm temperatures in the high 70's might be delaying the "roar" – which is what the peak of the red deer's breeding season is termed. All fears were allayed, however, when we exited the trucks to hear what sounded like the savannahs of Africa. The stag's "roar" echoes just like that of a lion and it sounded like we had a dozen prides below us in the valley!
In an area where spotting a 600-pound screaming antlered beast just shouldn't be difficult, I scoured every inch of bush and creek bottom several hundred yards below me with my binoculars. I swear it still took me over 20 minutes to spot the first stag. Finally, I noticed the first one – then quickly the second, third, and fourth animals. I just needed to tune my eyes to exactly what I was supposed to see. Wide-open terrain has a way of playing tricks on your eyes and the scale of everything in this type of environment needs some synchronizing inside of your brain. Before long we had separated into our respective groups and implemented the first of many stalks.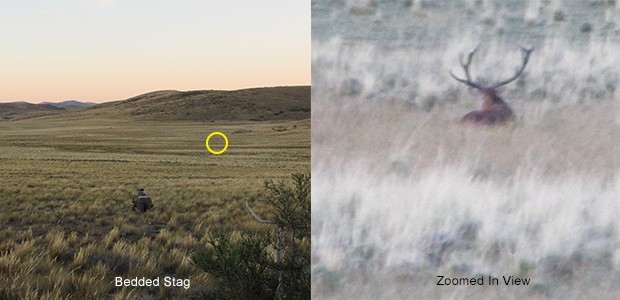 While Jordi really wanted to bow hunt, our first opportunity on a true trophy stag was before us. The problem was that the stag had bedded down smack dab in the middle of a meadow that was roughly 100 acres in size, with nary a bush or sticks within a quarter of a mile of him. No chances for a bow stalk, but luckily, he had bedded facing straight away from us. Long story short, the three of us watched from a hilltop as Andres and Jordi literally belly-crawled over about 300 yards of undulating prairie grass terrain to get within rifle range of the resting stag. At about 225 yards the stag stood up and Jordi pulled the trigger on what turned out to be the best stag taken during our week. What a fantastic start to an epic week of big game hunting!
On day two, Nico hunted with Heini and Andres guided Jordi and me. Jordi, with a bow in hand, and me as the backup guy with a rifle slung over my shoulder. The morning was spent glassing from another high vantage point, planning a stalk on animals mingling below us in a brushy draw and creek bottom. The problem was that there was so much animal movement that it was difficult to decide whether to stalk for bow or gun. As a host on this adventure, I wanted Jordi to get a crack at a good stag with his bow before I stepped up. Too many decisions left us with no shooting opportunities at an animal that either of us liked enough to put a stalk on, so we decided to rest the area for another day and meet up with Nico for lunch.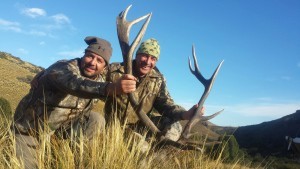 That same afternoon, Nico and I both tagged out on nice stags. Mine was a massive old stag whose antlers clearly showed that he had passed his prime, at least antler-wise. I passed on a beautiful young 8 x 8 with a 4-point crown on both sides. Both animals offered me a great side-by-side comparison, showing that the 8 x 8 was about 150 pounds lighter in body size to the one I ended up taking. Tempting as the opportunity was, it was best to pass on the smaller stag; he'll be in his prime for next year's hunt. The stag I took was clearly still the boss of the meadows with battle scars everywhere and broken tines from numerous fights; a really good stag to harvest from the herd.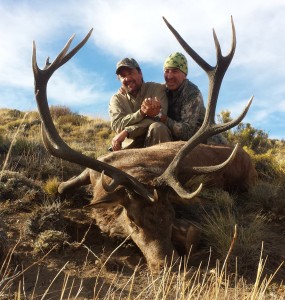 After a lengthy mile-long stalk, Nico knew he was getting close to being within shouting distance of the stag they had targeted. Little did he know the stag was actually very, very close. In heavy cover, and at a whopping ten paces, the stag walked out of the brush in front of Nico! It was hard to tell who was more surprised. At the end of our first full day, we had three beautiful stags on the ground. Andres allows successful hunters to hunt one additional stag, so both Nico and I opted in and tried to best our first stags of the trip.
On the third day, Nico ended up taking another beautiful animal at the top of a steep canyon, closing the deal at a mere 40 yards! Nico should have been carrying a bow, not Jordi! On that same evening, I played the waiting game just a little too long, allowing the sun to set before deciding on which of three stags to take. We simply ran out of daylight and determined that we would return the next morning to see if we could find them again. As luck would have it, the same three stags had stayed in the same stretch of canyon, and we were able to locate them within an hour of sunrise.
All three stags were located in a meadow about three-quarters of a mile back in a canyon where three hillsides converged. As was par for the course, rather than taking the direct route, we opted for the one hour, two-mile stalk to secure the proper winds and terrain cover that we needed to make things "concrete" as Heini liked to say. At six-foot-five inches tall, and with beanpole physique, Heini the mountain guide/ski instructor always seemed to like taking a long way around. Our stride ratio was something like one of his vs. two of mine, not to mention that he was in far better shape at the age of 62 than I am at 55. If you decide to book this hunt, don't let the images of the seemingly gently rolling terrain fool you, because you're going to see all of it. At the very least, show up with a moderate level of fitness.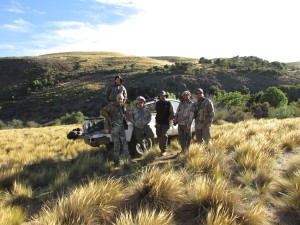 Here's some perspective. We hiked up, slid down, serpentined, used the occasional bush for cover, balanced our way along sidehills, scurried through creek bottoms, and belly-crawled our way to within 127 yards of what was now a sleeping goliath. After securing a steady seated position and taking several long slow breaths, I ended the stalk successfully, taking my second great stag of the trip.
Our special thanks go to Andres Kempel and his counterpart Heinrich for their hospitality and professionalism during our hunt. I can honestly say without question that it was one of the finest hunting experiences of my life, and I definitely plan on returning.
For those interested in a red stag hunt Patagonia, I am presently keeping a waitlist for the 2016 roar weeks at AK Hunts (no longer an "exploratory" destination). March 20 – 25 is presently full, and March 27 – April 1 (Easter week) is on hold pending confirmation for two guns. Please call if you have an interest in this or any other of our excellent red stag properties in Argentina.
Gear to Bring:
As well as the usual "layering system" for clothing, the following list of items is what we consider to be a necessity to enjoy the hunt to the fullest, and we suggest not leaving home without them.
Mandatory Gear:
The best optics you can afford. Without them, you'll be lost, and you might as well leave your bullets home with them. Much of your time is spent selecting which animal it is that you choose to stalk, and a lot of precious time and energy will be wasted if you don't have the tools necessary to distinguish subtle differences in antler structure. Great binoculars are a must, and a spotting scope and tripod is a good bet too.
Open country pattern camouflage clothing: muted tan and olive drab colors in varying fabric weights.
Shooting Sticks:
Good shooting gloves with padded backsides, used for crawling over rocks and thorns that are oftentimes required to get within range in open terrain. I recommend the Sitka brand "Shooter Glove".
Hunting pants with removable kneepads – either Sitka or Kryptek are good bets. Remember, we consider this as a mandatory piece of hunting gear to best enjoy and maximize your hunt opportunities. At the very minimum, bring a pair of slip-on soft-sided kneepads, available at most hardware stores.
Properly fitted, lightweight uninsulated hunting boots; While the majority of the terrain would be considered mild by Rocky Mountain standards, you'll put in a lot of miles. There are a good amount of rocks, grass hummocks, and "loose- footing" sandy soil areas to contend with. A well-broken-in boot with good ankle support is still a must.
Small to mid-sized day pack.
Buff or Hoorag brand headwear in camo or drab colors; helps keep the sun off and minimizes the use of smelly sunscreens.
First aid kit: a compact First aid kit complete with alcohol swabs, band-aids, antibiotic ointment, ibuprofen, and moleskin can keep you going in the field.
Leatherman tool.
Nalgene water bottle.
Duct tape; a small roll of duct tape is always a good idea and can aid in making simple field repairs. Making several wraps of tape around a re-usable water bottle saves space and weight.
By: Joe Codd, Big Game Destination Specialist