Scotland: Home to Incredible Driven Shooting!
Nov, 2014: We have represented Wilson Young in Scotland as the premier driven shooting specialist in Scotland for over 30 years. All of our clients have thoroughly enjoyed the services provided by his company, Eskdale Shooting Services. I have always wanted to shoot in Scotland where enthusiasts claim it provides the very best driven birds in the world.
Through a mutual friend and business associate, I have hunted quail in South Carolina with Wilson for a couple of days the last two seasons. He suggested I put together a group and head over to experience his world-class field operation. I jumped at the opportunity and designed a 3-day shoot for pheasants and partridges. Most of the group was new to driven shooting and we were super excited to experience Scottish shooting!
At Frontiers, we can customize itineraries with Eskdale to include driven shoots, walk-up hunting with pointers and flushers, decoyed pigeon and even deer stalking. You do not need to travel as an intact line of guns. We can book very small parties and even individuals.
In terms of accommodations, the options run from extremely comfortable small inns in delightful villages to luxury, full-service hotels and incredible estate venues. I chose the Townhouse Hotel in the town of Melrose for my group. This family-run, 9-bedroom hotel and its sister property, Burt's Hotel across the street were perfect for our line. The service and food quality were exceptional at both locations. The town has neat shops, pubs and interesting sights to see, including a very historic abbey.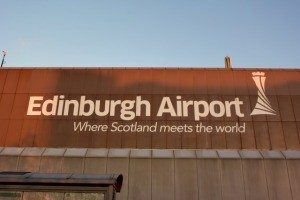 Some of our clients also like the Roxburghe Hotel & Golf Course, which is lovely… but, we preferred to be in a town. Some of our larger intact groups also stay at the new absolutely gorgeous Lylestane House. The point is that we have lots of options for our clients based on their budget and interests.
Our first day in the field was perfect. I was kicking myself for not heading to the gun club prior to the trip to work on some tower shoots. Those high incoming birds are tough to hit without a bit of practice. This trip, I decided to bring my Beretta 20-ga guns instead of my 12's. Once I locked in on the leads, I was impressed with how well the 20's performed. Wilson and his field staff were at the top of their game, as were the dog handlers and the retrievers. The first day was pheasants only and the trip is off to a great start!
By: Mike Fitzgerald, Jr.