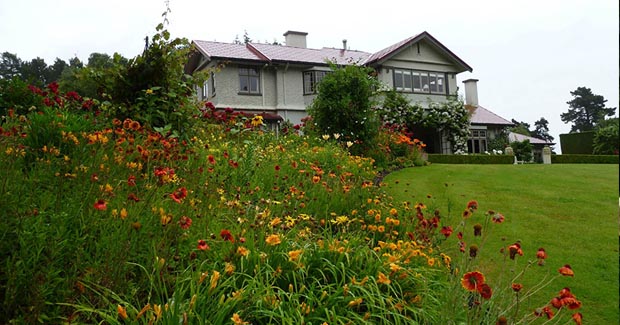 Welcome to the South Island: Lake Timara Lodge
[wzslider height="450″ lightbox="true"]
We had a pleasant journey south and made our way to Blenheim in Marlborough, the heart of New Zealand's largest wine producing region. The area is home to many of the best Sauvignon Blancs and Pinot Noirs in the country. For those who enjoy wine and gardens, Marlborough is a great place to spend a few days while in New Zealand.
Lake Timara Lodge is the best place to stay. This boutique four-bedroom luxury lodge is in a peaceful setting with more than 25 aces of lovingly manicured English-style gardens. This exclusive retreat has spacious rooms, an incredibly attentive staff and a master chef preparing breakfast and dinner. That leaves a lunch excursion and there is no shortage of options. Nicola, the head gardener for 10-plus years, guided us on a two-hour tour of the property educating us on the many trees, plants and flowers.
The wineries in New Zealand are tiny on the world stage. There are 17 countries that produce more wine than New Zealand. If you took all of the wineries in the country and put them together, they would only be the sixth largest in the U.S.. Having said this, there is a passion and desire to be an international contender. The wine makers love their art and there must have been the same enthusiasm in Napa many years ago. Many of the wineries have quaint cafés and bistros only open for lunch offering an ideal getaway while staying at Timara.
Allan Scott Family Winemakers was one of the first wineries in Marlborough and their Twelve Trees Restaurant features a seasonal menu with fresh, local cuisine prepared by Head Chef, Matt Gibson. We enjoyed a wild boar terrine with pear chutney and a special Asian chicken salad matched with appropriate wines from the Prestige Collection — a great Wallops Chardonnay and a smooth Hounds Pinot Noir.
On the second day, we visited Hans Herzog Winery which has received a "Best of Award of Excellence" from Wine Spectator magazine. The restaurant here is best known for a wonderful degustation menu that is three- or five-courses. We were preparing for a huge dinner, so we had a couple of small plates that were delicious and matched with excellent wines. The bistro has an amazing Mediterranean garden with views of the vineyard. Due to inclement weather, we enjoyed a fireside lunch inside.
Off to the fishing country tomorrow . . . hoping to find some nice big brownies!
By: Mike Jr. and Kristene Fitzgerald