June, 2021: Everyone at Frontiers would like to wish a Happy Father's Day to all the dads out in nature streamside. With Father's Day closing in, the sporting team at Frontiers wants to give a gift guide for dad. All of the items featured below are recommendations from our sporting staff who has either used or personally own these items. If you see an item that you know your dad would love, contact our gear partner, Pat Ehlers at The Fly Fishers. Pat and his team can make sure dad gets the best gift this Father's Day. 
Frontiers Destination Specialist, Joe Linscott  

Fishpond Jackalope Rod Tube: An item I always travel with on any fishing trip includes a multi rod carry-on case. I like the security of having my rods and reels on my person throughout the journey.  
Travel can be stressful enough these days, and not having to worry if your valued rods and reels are following along alleviates one of those troubles. There are a number of brands on the market these days, and a couple of my favorites are from Fishpond and can be obtained from our gear provider, The Fly Fishers. Your Dad will thank you later! 
Simms Flyweight Shell Jacket: Another item accompanying me on all my travels, be it fishing, hunting, or leisure, is a high-quality waterproof breathable rain jacket and pants. The latter is as important as the jacket. Based in Bozeman, Montana, Simms Fishing is regarded as one of the finest fishing apparel providers the world over. Many of our top lodges outfit their guides, head to toe, in Simms wear. For the traveling angler, their new flyweight shell jacket is their lightest waterproof/breathable shell coming in at only 3.2 ounces. It weighs next to nothing, packs smaller than a loaf of bread, and can easily fit in most carry-on pieces of luggage. Forget your raincoat, and you're in trouble; wearing a high-quality lightweight garment like this one is a trip saver. Dad will not only stay dry and comfortable donning this jacket but also look good in the process! 
Frontiers Destination Specialist Ben Hoffman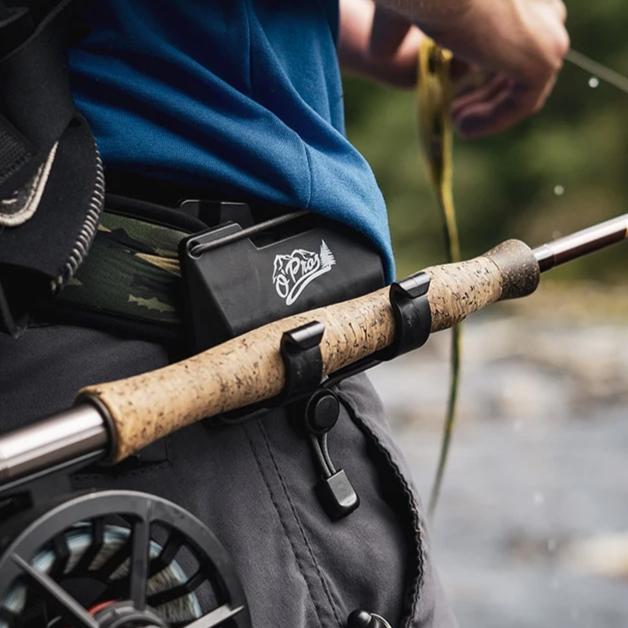 3rd Hand Rod holder by O'Pros: I met these guys at the Denver Fly Fishing Show and saw their product and had to buy one. I am glad that I did. The 3rd hand rod holder attaches to your wading belt via two clips and allows you to put your fly rod securely into a cradle freeing up your hands to tie on flies or mend leaders—and it rotates 360-degrees. When you use it, you don't have to worry about dropping your rod in the river or leaving the water to tend your line.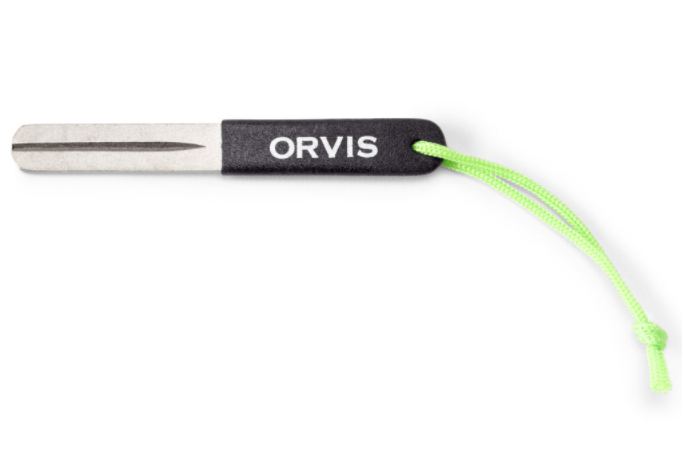 Orvis Comfy Grip Hook Sharpener: I keep one on my fishing pack, and when I change flies, I run the hook across it, and I am good to go. It makes the hooks sharp in only a couple of strokes. It's a well-made product, and I have not been disappointed with it at all.  
Frontiers Co-Owner, Mike Fitzgerald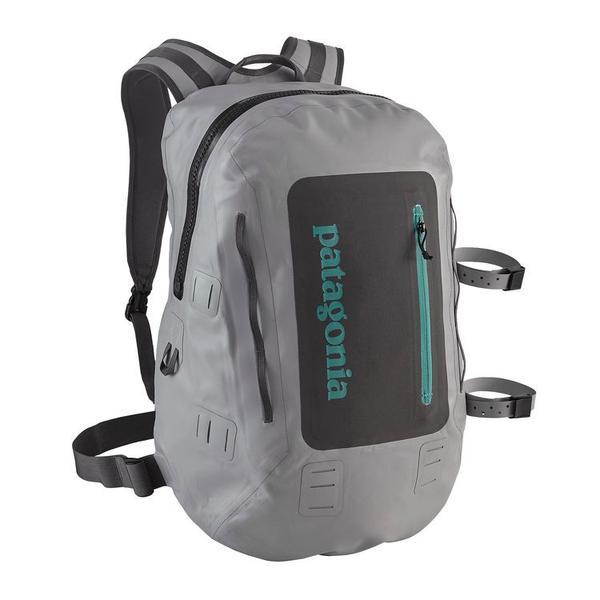 Patagonia Stormsurge Pack 30L: I use this pack on every fishing trip and doubles my carry-on bag. It's super waterproof and an ideal size to store rain gear, extra layers, my camera, fly boxes, and extra reels. It has been on the floor of many rafts, drift boats, and flats skiffs in very inclement weather and has always kept everything super dry. I use a simple backpack organizer to keep my travel documents, files, laptop, and other gear secure on planes.  I never leave home without it!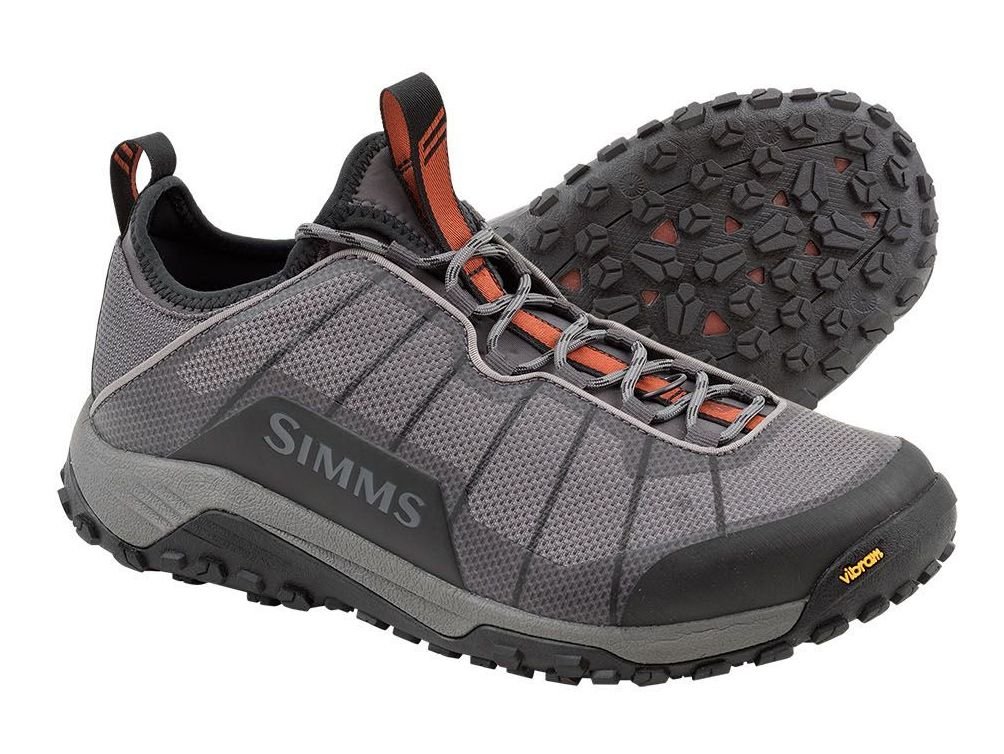 Simms Flyweight Wet Wading Shoe – Vibram: When it's warm, I wet wade when I am trout fishing. Whether on a walk and wade day up a small mountain stream or fishing from a drift boat, I love an ankle-high wading shoe with good support and super grip. The Simms wading shoe is my favorite. From New Zealand to Patagonia to Montana, these comfortable shoes are ideal for fishing. Combining lightweight abrasion resistance with superb comfort and a Vibram rubber sole — both in and out of the water, these new shoes are ready for all of your warm-weather adventures. I also wear them as shoes to/from the river! 
Frontiers Destination Specialist, Tom Gilliland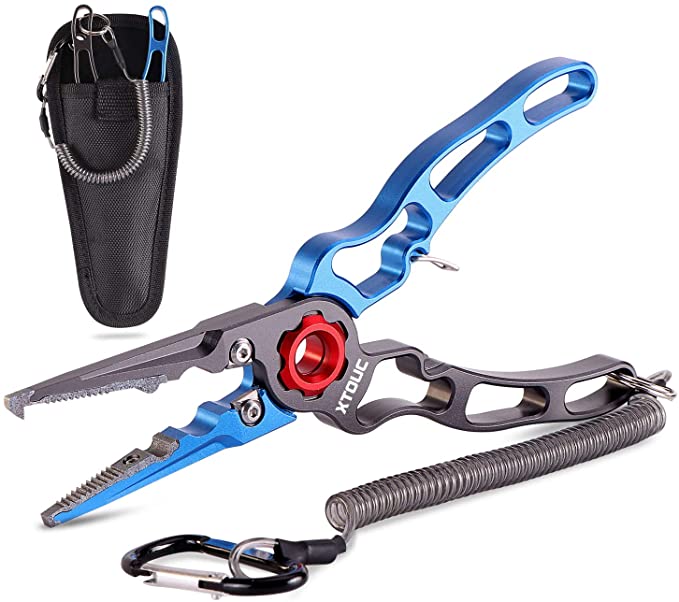 XTOUC Titanium Fishing Pliers: These pliers are made for serious fishermen and can be used in just about any environment whether salt or freshwater. Innovative light grip unlocking function, and super easy to use with one hand. It has a hollow handle so it's lighter than other fishing pliers I've used. These will cut mono, fluorocarbon, braided fishing lines, fly lines, backing, and wire with ease. A spring-loaded handle keeps it open freely when ready for use. I fish Alaska frequently and when the action is hot, double hookups are very common. Having the ability to safely release your own fish is a huge relief to your guide. They stay securely in the sheath and are light enough to be virtually unnoticeable when carrying.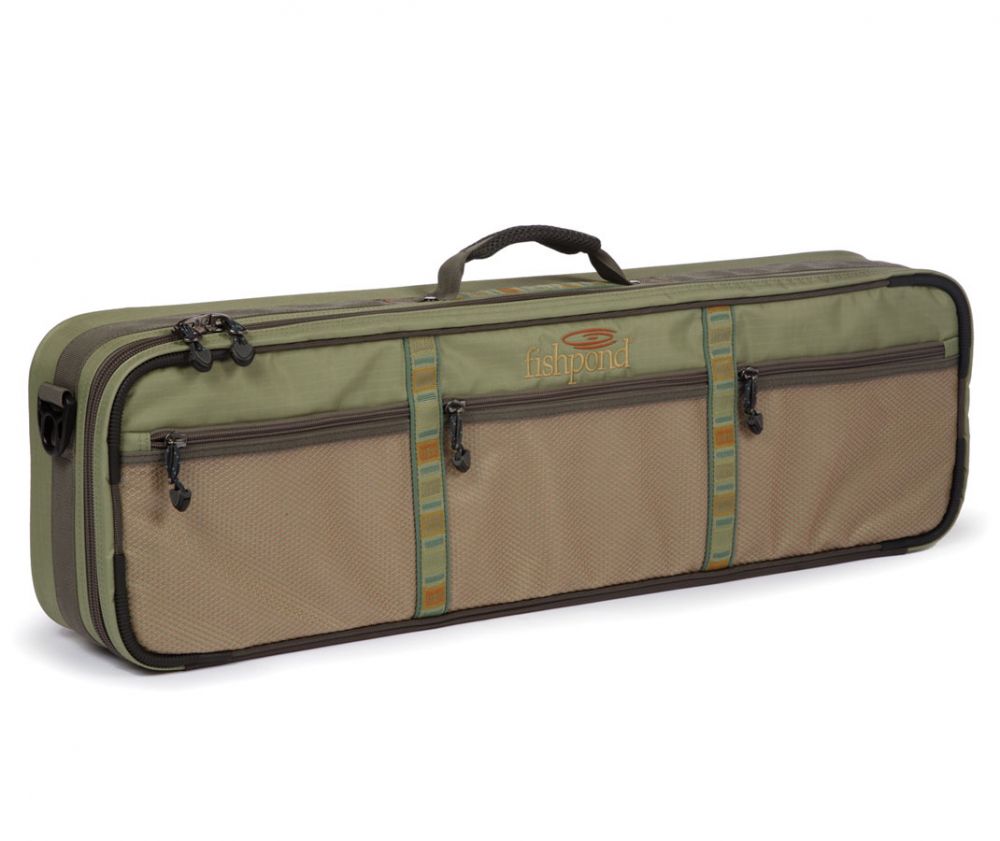 Fishpond Dakota Carry-on Rod and Reel Case: The 31-inch Fishpond Dakota Carry-on Rod and Reel Case is the perfect way to travel with multiple nine-foot rods and all the associated tackle. It fits up to 4 9′ fly rods, plus 4 reels with ease. The interior mesh pockets are perfect for storing fishing licenses, leader material, tippets, you name it. It's ideal for destinations where multiple species are available. A 5 wt. for grayling, check. A 6 weight for trout, check. A 7 weight for salmon, check. A 10 weight for Kings, check. I call it the "Grand Slam" case to cover those certain Alaska weeks where just about every fish is on the docket. The sturdy shoulder strap won't fail you while transiting airports or climbing in and out of floatplanes. Toss it in the boat, and your set for whatever comes your way. It has a waterproof bottom and a thick nylon cover construction and holds up well over time. 
Frontiers Sporting Manager, Hank Ingram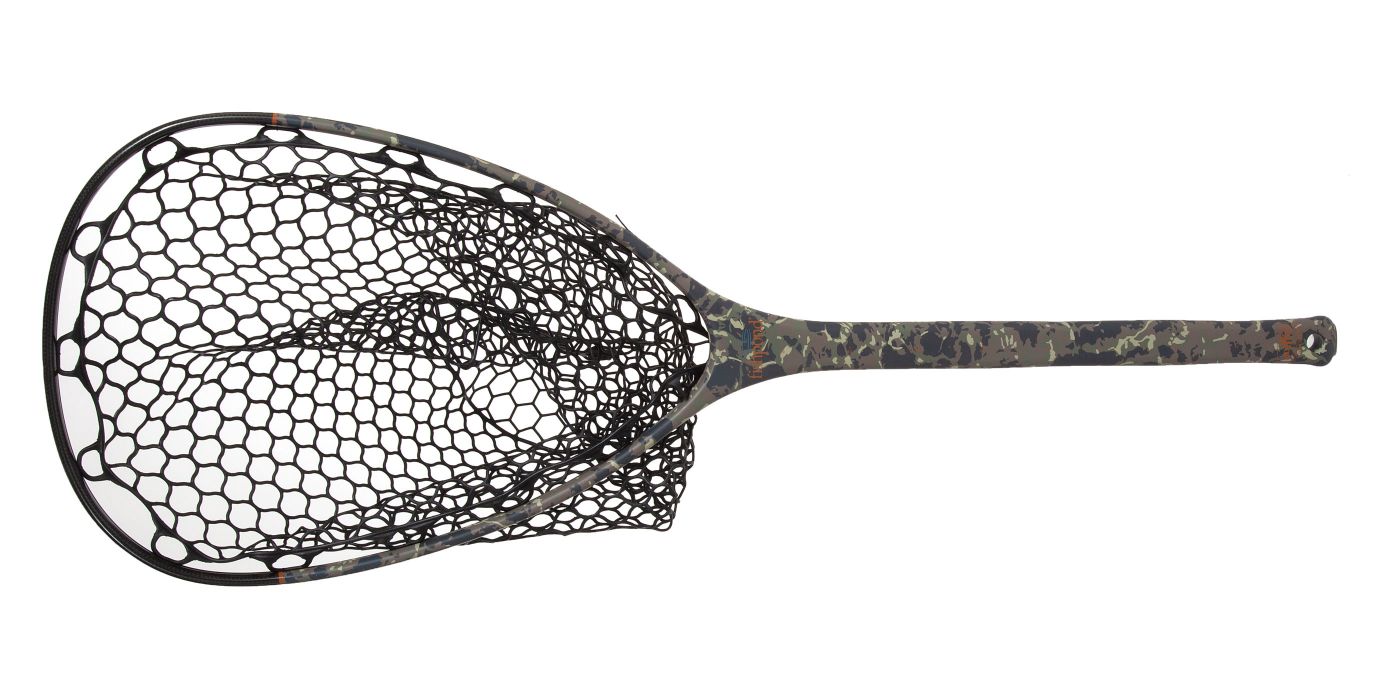 Nomad Mid-Length Net: I actually use two different net sizes for two different wading scenarios. If fishing by myself or in easier wading conditions, I will use my shorter handled Fishpond Nomad Emerger Net. The net is quick to hand, well-shaped, and both trout and flies release easily from the rubber bag. However, I have just added the Fishpond Nomad Mid-Length Net to my growing stock of nets and love it. I find when fishing with friends or in water where I "need more reach," the 37" length can make all the difference. Plus, it suffices as a great wading staff in a pinch when I forget mine, which I often do. The net is buoyant and has a mat finish pleasing to the hand and offering a sure grip. It's one of my new favorite additions to my growing pile of fishing gear.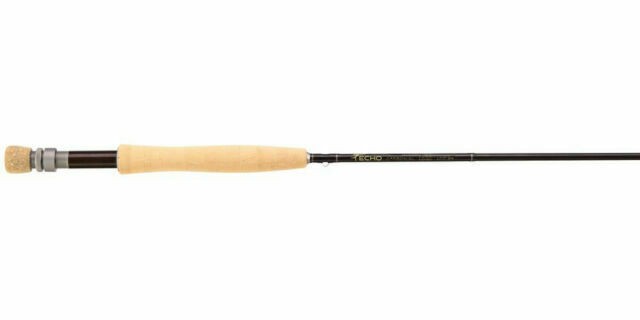 Echo Carbon XL Euro Nymph 10ft 3 weight: Yeah, ok I know, but I did it and love it. I went fishing with a fellow Frontiers staffer and pro guide on a northwest Pennsylvania river and after he had caught 6 fish to my every single trout/smallmouth he looked at me and said "want to learn to Euro Nymph?"  Well after a bit of instruction – trust me I need much more – I started hooking fish and landed 16 on the day having a lot of fun learning something new. On the stream bank, we discussed rods and if I "really needed" a Euro Nymph rod.  His response was " well I tell clients you "could" drive a nail with a wrench but would you not rather have the proper tool and use a hammer?" So I stepped up to an Echo Carbon XL 10 foot 3 weight rod and he was right. The line control, accuracy, and efficiency far outweighed the traditional 8'6" 3-weight I normally use and the process became even that much more enjoyable. Fly fishing is an ever-expanding learning experience and this is just another fun way to spend your day on the water and broaden your fishing horizons. 
Frontiers Destination Specialist, Elaine Wissolik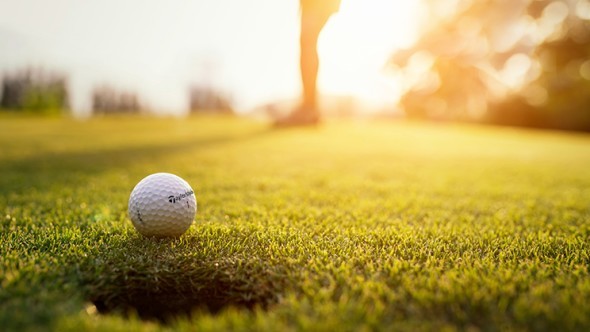 Golf Pass Golf Packages: Why just a golf game at home?  A golf pass package will offer new golf courses and destinations that will incorporate a vacation of your choice anywhere in the country. Vacation to include hiking, biking, fishing, or just relaxing. Contact Frontiers to learn more about Golf Pass packages.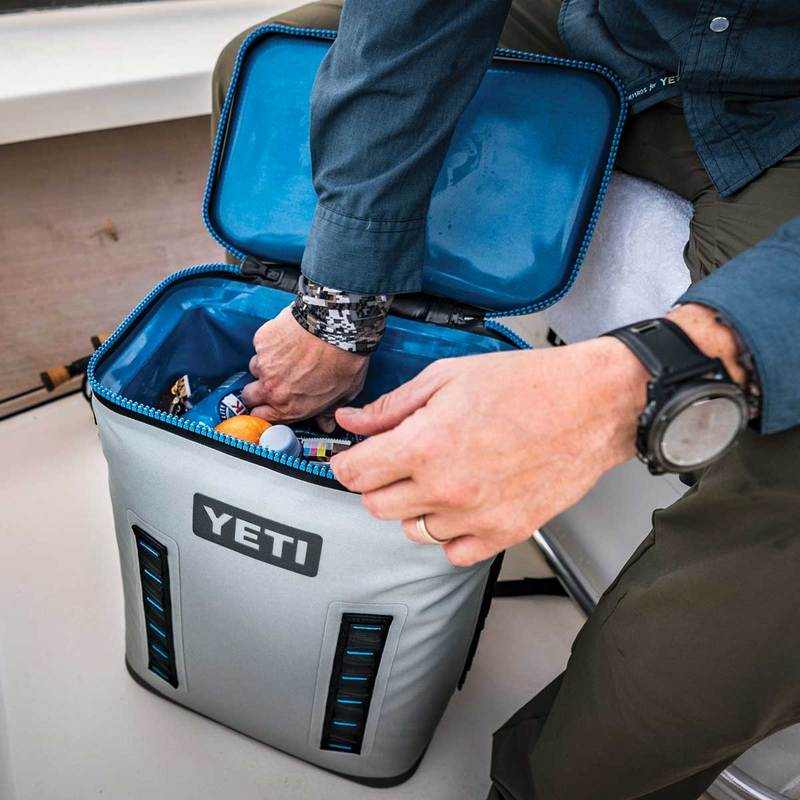 Yeti Backpack Cooler: Whether you're going boating, fishing, or to the park for a picnic, you normally have your hands filled. Soft-sided, smaller, trendy, durable, and hands-free is ideal.  
Frontiers Destination Specialist, Denise Schreiber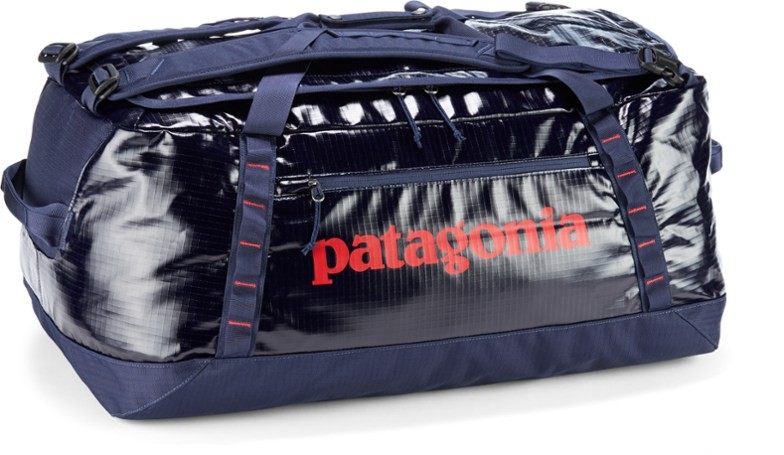 Patagonia Black Hole Dufflebag: Often, when traveling out west, it is just for a few days, and most of my lodges have top-end gear and tackle, which facilitates traveling light, and in this day and age, that is a huge bonus. Often my Patagonia 40 Liter Black Hole Bag is just the ticket for 3 or four-night in Wyoming or Utah or wherever my Frontiers travels might take me. This bag has become one of my favorites and stands up to the rigors of stuffing it in an overhead compartment or tossing it in the back of a dusty pickup bed.  
Frontiers Destination Specialist, Kristene Fitzgerald

Orvis Ripcord Wading Staff: The staff is lightweight with a comfortable grip, collapsible, and easy to stow in your waist pack or your wading belt. I could've used it on the Big Hole a few years back when I was fishing on my own and Mike turned around just in time to see me take a swim… Thankfully it was warm enough to be wet wading but made for a soggy afternoon. The ripcord design is easy to assemble and collapses down to 18 ½" inches.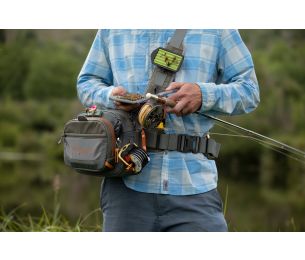 Fishpond Switchback Pro Wading System: The Fishpond Switchback Pro Wading System is a great waist pack. I especially like the padded shoulder strap for added security, which also features a tool and fly pad attachment for easy access. The pockets are spacious enough for a days' worth of gear without feeling cumbersome when you are on the river. With lots of lash tabs and a net holder on the belt, you can easily attach everything to need right at your fingertips.