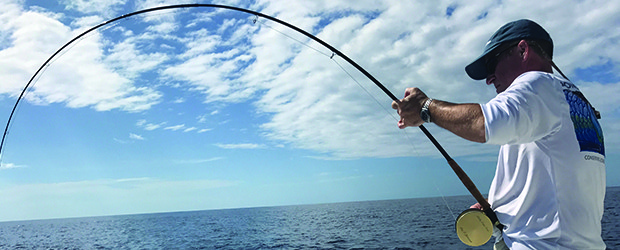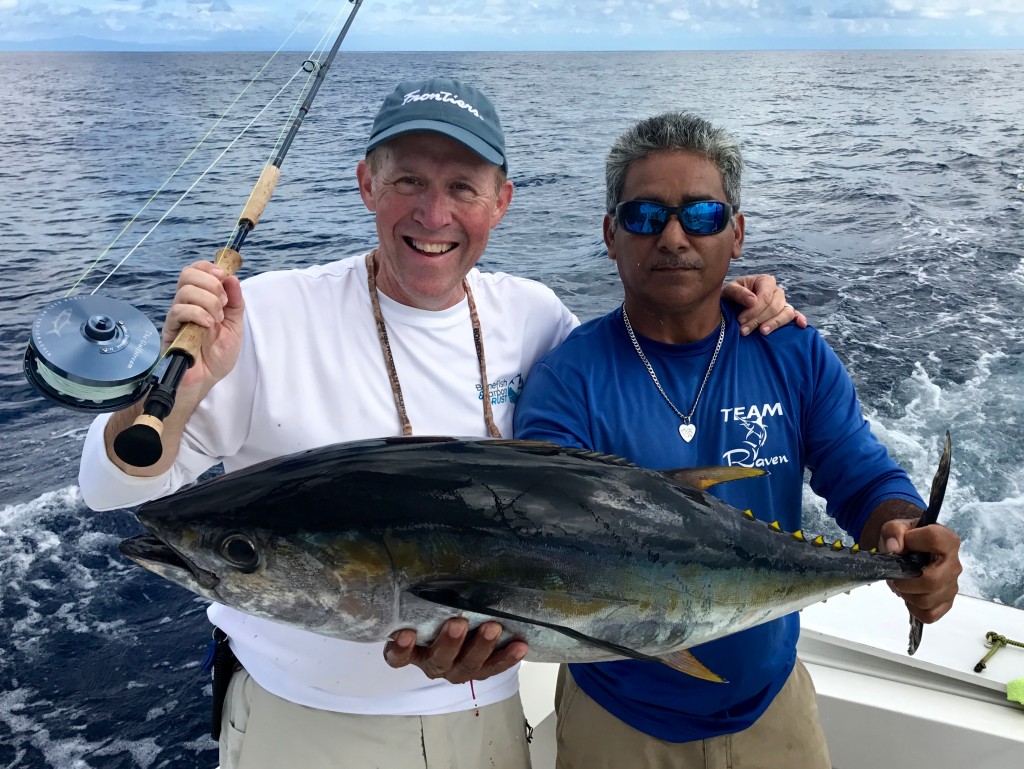 After some wonderful eco-tourism in the Tortuguero National Park from Tortuga Lodge (and an incredible day of tarpon fishing!), we departed the east coast of Costa Rica with a comfortable connection back through San José on Sansa Airlines. We then headed south to the west coast of the country to visit some friends in the Uvita and Ojochal area.
This is a remarkable and very friendly part of Costa Rica where the mountains literally drop to incredible beaches where it is tough to find a tourist. There are some wonderful boutique hotels in the region and some of Costa Rica's best restaurants. If anyone finds themselves in this part of the country, we highly recommend Restaurante Terraba (the garlic shrimp were extraordinary washed down with a couple of local microbrews) and Citrus, where we enjoyed one of our best meals in Costa Rica. Please visit our Elegant Journeys in the Field blog for more information about this really great area of the country surrounded by national parks and wildlife reserves.
This region of Costa Rica is also equidistant between Golfito and Quepos—arguably two of the best billfish towns on the west side of Central America. We represent a couple of great lodges in the Golfito region; and in Quepos, we have nearly thirty years of experience helping our clients discover this incredible offshore resource.
It was wonderful to end our trip in Quepos, which was a pleasant drive up the coast through Uvita and Dominical—one of the best surfing communities in Costa Rica. We had plenty of time to experience zip lining and surfing before settling into our hotel.
While a handful of our Saltwater Team have been to Quepos recently, it was more years than I want to count since my last visit. It was great to see that little has changed in this funky seaside sport fishing community, other than the incredible new marina for offshore boats. The old days of having to climb off of the pier or taking a tiny skiff out to your anchored boat in the bay are long gone. Without question, this marina is one of the nicest in the world. There are also a handful of really good restaurants and shops if you want to relax and have a beer after fishing.
I was very pleased to see that some of our favorite hotels are still doing very well in Quepos and are still considered the top accommodation options in the area. One of the nice things about Quepos is the fact that we can help you find perfect accommodations for your party. If you are a group of serious sport fishermen, there are some clean and comfortable hotels in the village within easy walking distance to the marina. For couples and/or families who want nicer accommodations with incredible Pacific views and easy access to Manual Antonio National Park, there are four or five excellent properties to consider still in close proximity to town.
We checked into Arenas del Mar Beachfront & Rainforest Resort. It is ideally located with sweeping Pacific views and a private beach in walking distance to Manual Antonio National Park. It's also only about a 12 – 15 minute drive to the marina. The staff worked tirelessly to make sure that we were having a great experience. The cuisine at the hotel was also top notch by international standards. I had a wild caught grilled snook with a coconut cream sauce that literally was one of the best fish dishes I have ever had internationally. We can highly recommend this hotel to our clientele.
On our first evening, we enjoyed dinner with Lupita Rojas, her son and the fishing manager, Raul. Lupita is a dear friend of Frontiers. Her company, Flamingo Bay, started as a charter operation in 1985 and we have worked with her for almost 30 years. They are uniquely capable of arranging all of the fishing arrangements, as well as your hotel, transfers, internal flights, dinner reservations, and, of course, any nonfishing activities the group might want to consider.
Depending on the season, they operate in two different areas of the company. In Quepos, the prime season for sailfish and marlin tends to be from the second half of December through to the end of April. They also operate out of Flamingo in the Guanacaste Province in the northwest part of the country. The prime time there is from June to October. The yellowfin tuna fishing is exceptional and there is a good chance for sails and marlin. Both areas also offer inshore fishing for roosterfish, Spanish mackerel, snapper, grouper, amberjack and many other species. What we really like about Lupita's company is that they provide a fully inclusive experience. Their boats are exceptional with high quality tackle (including fly rods). The crews are very experienced!
Again, we could not resist the temptation to book a day of fishing from Quepos. While Kristene and Emily had a great guided hike in Manual Antonio National Park, Jeremy and I took the arranged transfer down to the marina to board "Three Brothers," a 33' Luhrs. The boat was very stable and dry—with a large cockpit, ideal for fly fishing. After proper crew introductions, we headed out of the marina. The best fishing in recent days was 25-40 miles out from the marina. This gave us a bit of time to rig our fly rods. We put billfish poppers on two of the rods. Pink has always been a proven color for sailfish. On the third rod, we used a small anchovy pattern in the event that we might find tuna, dorado or other gamefish on balled bait. The Three Brothers is a fast boat and we were to the fishing grounds quickly.
When fly fishing from an offshore boat, we generally keep one of the outriggers in next to the flybridge so that we don't hook it on our backcast. Since we are both right handed, we kept the left outrigger in. Before we knew it, the crew had hookless teasers out on conventional rods with two lines from the boat and another two coming off the right outrigger. We barely had the teasers in the water when we noticed birds and fish working a gigantic ball of bait less than a mile away. As we approached, we were the first boat arriving and we saw a huge school of dolphins crashing baits. Of course, there were lots of other gamefish around and our hearts started pumping and the adrenaline was rushing. The crew yelled "tuna!" I grabbed my Sage 12-weight to get ready to make a few casts while the crew brought in all of the other teasers.
Fly fishing from an offshore boat for sailfish, marlin, tuna and other gamefish is definitely a team sport. It's a group effort and a lot of fun!  The captain pulled the engines to idle and we drifted slowly into this incredible school of crashing fish. I was using a Comb's Sea Habit, one of my favorite baitfish flies. I had a hookup on the third cast to a very large yellowfin, which screamed line off of my reel faster than any other fish I have ever hooked. It did break me off after a couple of minutes…I was literally shaking after feeling the power of that fish.
The captain then maneuvered the boat back into position—again killing the motors. Before I knew it, I was hooked up with my second tuna, which again ended in a break off. Jeremy and I were hoping for fresh sushi this evening and we were a little depressed after losing our second fish. After two break offs from the same leader, somewhere deep down my fishing intuition said, "Mike, maybe you should consider changing the leader!"  After re-rigging, I was hooked up again; and after a long battle, was able to land a beautiful yellowfin, well over 20 lbs. The crew was very excited. I reached into their giant cooler and enjoyed an Imperial, the cerveza of choice in Costa Rica.
We wanted to spend the rest of the day looking for sailfish. They had not yet showed up in these waters in big numbers. Some of the other boats were having some action, and a few had hooked up and landed marlin. Unfortunately, we did not get to experience the acrobatic sails on this trip, but we still had a wonderful day at sea. The crew on the Three Brothers was exceptional. The boat is very clean. They served fresh sandwiches, tortilla chips and salsa, fresh cut pineapple and mangos; and as I said, there is a giant cooler with bottled water, soft drinks and enough beer to last us a week.
We returned to the marina a bit early so that we could enjoy a little beach time with Kristene and Emily on our last full day in Costa Rica. Yellowfin tuna is considered a sustainable species and we brought some fresh steaks back to the hotel. They did an excellent job preparing our farewell dinner with incredible sushi, sashimi and grilled tuna steaks served a perfect medium rare.
As I mentioned in my last blog, Costa Rica is one of the best locations where hardcore anglers can enjoy an exceptional fishing experience, while their nonfishing companions can take delight in a wide range of outdoor activities. We enjoyed surfing, zip lining and guided tours in the National Parks and Nature Reserves where we saw incredible plants, birdlife and other animals. Frontiers can customize a trip based on your specific travel objectives. The country is also great value. Look for additional posts about our trip on the Elegant Journeys side of our business. Derek Hathazy, one of our Central America Specialists, will also be traveling to Costa Rica in a couple of weeks and will have more fishing posts.
By: Mike Fitzgerald
[justified_image_grid preset=3 caption=off mobile_caption=off ng_gallery=135]