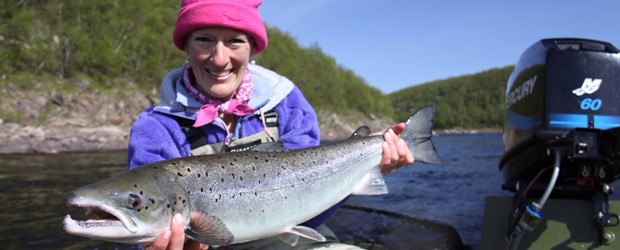 The Ponoi River, Ryabaga Camp
Although I've been to Ponoi many times, it has been over three years since my last visit and thus it was with great anticipation that I came out for the opening week this year.  I invited my godson, William, who had just graduated from Georgetown five days earlier, to join me; he was not only new to salmon fishing but new to fly fishing altogether. I was so excited for him to have this unique wilderness experience and to see it through his eyes.
Saturday morning brought an early start and Marjaliisa Bjorkbom, our long-standing Helsinki representative, helped us navigate the chaos of Helsinki's Vantaa Airport which has grown exponentially in the past few years. There is a whole new international wing to keep up with Finnair's tremendous expansion into Asian routes.  We have a new charter service this year and this was the first week with the bigger plane so I was more than a little nervous hoping that it would accommodate all of the fishermen's luggage—which it thankfully did in the final analysis! It was a short 1 hour, 45-minute flight due north, and whoosh, we were in Murmansk!  The inefficiencies of Murmansk Airport's Russian Passport Control have not changed one iota and I took advantage of the long wait to pop into the lady's room and swap my turtle neck for a tee shirt due to unseasonably warm temperatures. Who would have guessed we'd be in short sleeves above the Arctic Circle in early spring?
Reunited with luggage, we passed through customs easily and the familiar faces of Sasha, Julia, and Steve who escorted us to the "VIP Room," a private lounge reserved for the exclusive use of Ponoi guests. To my surprise, they had a nice spread of snacks, well upgraded since my prior visit, and the bar even had a Chilean Sauvignon Blanc on offer.  While the bags were weighed and the helicopter loaded, we became well acquainted with our fellow anglers who were all characters of note!!
The helicopter journey was uneventful—non-stop at 1 hour, 45 minutes across a vast tundra wilderness—and we arrived atop "Helicopter Hill" to the smiling faces of Ryabaga Camp manager, Joaquin and his international team of guides. We paused at the "Stairway to Heaven," a lengthy staircase built to help guests navigate the steep descent, for a quick photo on this balmy day. William and I were staying in a duplex cabin # 4 & 5 which afforded awesome views of the river. The addition of single occupancy cabins with ensuite bathrooms, replacing the canvas tents, is the biggest capital improvement to the camp! Having seen the footprint of the cabins and stud-walls of the structures in my last visit three years ago, it was fantastic to now be staying in one!  It is spacious and has a queen bed, chest of drawers, a small desk, and several useful hooks.
One of the senior guides, Juan, appeared at our cabin to issue fishing licenses, and help us organize and rig our tackle, much of which we were borrowing from the camp. He explained each step to William who soaked it in like a sponge. We went for a walk around camp and I was filled with nostalgia for the many memories that came flooding back. I've spent many weeks in this camp wearing different hats in various roles from kitchen helper to hostess, so was looking through a lens with a well-trained eye. I was so impressed by the new ventilation system in the kitchen, and the Ponoi Museum which documents the history of this special place. Under the stewardship of Russian owner, Ilya Sherbovich, Ryabaga has truly matured!
My Five TOP great upgrades at Ponoi:
The cabins- Even though the tents of "yesteryear" were supremely comfortable, the cabins have raised the game to a new level, and having the private bathroom was awesome on chilly nights and mornings. They were warm and snug and kept very tidy throughout the week.
Breakfast now cooked to order – eggs the way you like them and delivered hot – a triumph for the kitchen (which I know is under a lot of stress at that time of day).
The gym- as if days spent wading, pulling anchor ropes and wrangling big fish were not enough, this is a welcome addition for guests and staff alike
Wi-Fi – although a bit sketchy from the more distant cabins, the option is there for those who need to be connected.
The hovercraft- used for speedy, warm delivery to the bottom beats.
My Five TOP things at Ponoi that have not changed:
The Big Tent – the convivial vibe to this gathering spot where guests and staff connect is just as effervescent as always and the "hook game" is still there!
The amazing international guide team who coped with my hundreds of questions and poor casting in windy conditions with eternal optimism (and they produced amazing shore lunches!).
Catch & Release – the focus on conservation of and education about the Atlantic salmon.
The Home Pool – this continues to produce astonishing results for those who cannot resist fishing "after hours" under the Midnight Sun—surely one of the best home pools in the world.
The culinary tradition—always an anchor point of the camp, the kitchen team has moved from strength to strength and each meal surpassed the prior one.
It was a record-breaking opening week with over 1200 fish—more than many rivers produce in a whole season. The guest list spanned from age 22 to 80+ and everyone caught fish, including William, who had 28 to his rod for the week!  Where else in the world could such a result be possible?  The Ponoi team continues to inspire me with their innovation, the easy camaraderie between guests and staff, and their infectious passion and enthusiasm for this amazing river.  I can't wait to go back!
By: Mollie Fitzgerald