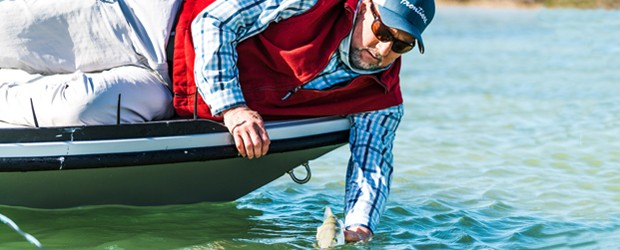 The Other Side of Andros – A Luxury Live-Aboard Program Smack Dab in The Middle of a Remarkable Fishery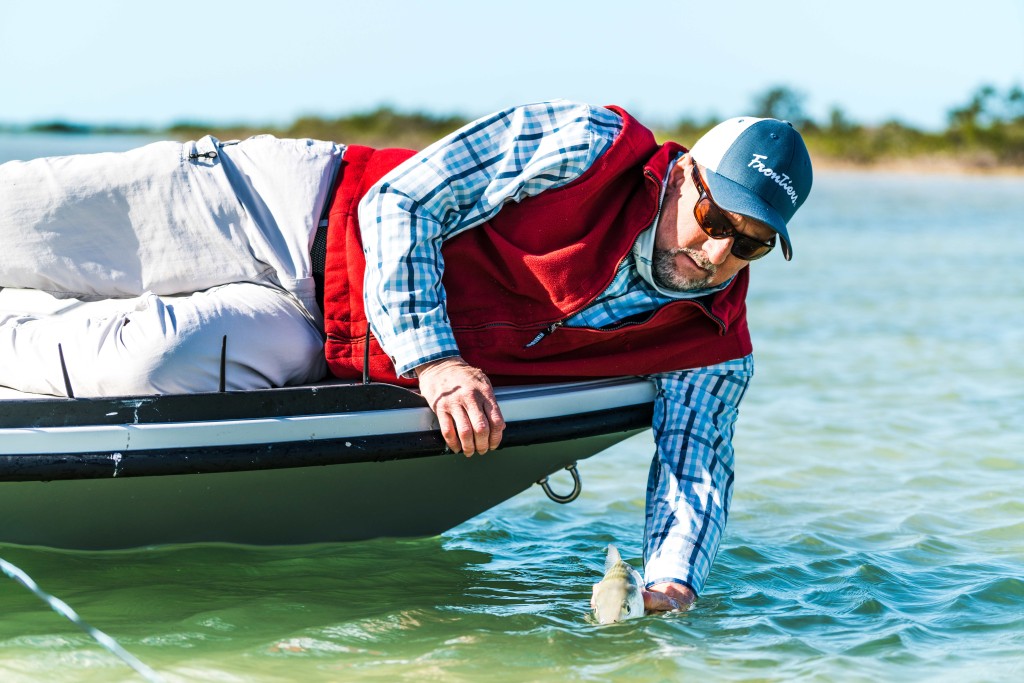 Eleven Experience is a provider of over-the-top travel experiences around the world, ranging from Heli-skiing in Canada's Rockies to lux and exclusive Atlantic Salmon venues in Iceland. You can now add saltwater flats to their line of exceptional experiences being offered to Frontiers clients. We decided to have an up-close look . . .
Our live-aboard, the Eleven moored itself a mere quarter mile inside of Miller Creek, just inside Andros' South Bight, and quite literally a one-minute skiff ride to the famed and remote west side of Andros. That's a pretty short commute to some of the best bonefish and tarpon water on earth. What this means for the fly fisherman is early to bed, early to rise, and fish all day until your heart's content — sunup to sundown, if you can take it. While fishermen at other lodges are finishing up an early breakfast and double checking the weather, you'll have been fishing for a full hour or more, and when they're departing for their home lodge at around 3 p.m. and you'll be waving goodbye to them and looking for tailing bones or rolling tarpon amongst the west side's vast array of flats, creeks and channels. Now mind you, that's if you ever see another boat while you're out.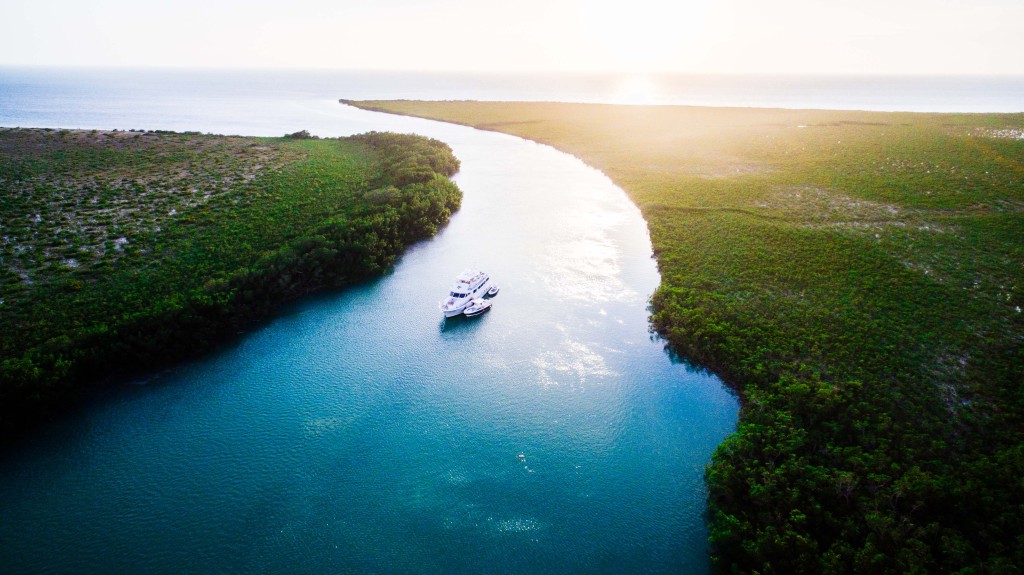 Heading Southward
I live an hour and a half north of Portland, Maine. The temperatures during the last week of December and the first week in January ranged from a low of minus 28 to a high of 26. To say that I was looking forward to a Bahamas trip would be a massive understatement and it could not come soon enough. In the meantime I'd spend my evenings tying flies, shoveling snow, stoking the wood stove and tying more flies. The closer to departure we got, the uglier my fly patterns looked; something to do with seasonal affective disorder I suppose.
The first leg of the journey got me to Nassau and into the fine company of my co-workers Joe and Anthony, and our Frontiers' tackle partner Pat Ehlers. The next leg of the journey put us into rainy Congo Town airport, then a quick 10 minute van transfer to Driggs Hill where we met our Eleven Experience boat, a 36' Regulator, for the half hour transfer over to the west side of Andros Island, our home for the next four days aboard the mothership Eleven, a 74 foot luxury Hatteras.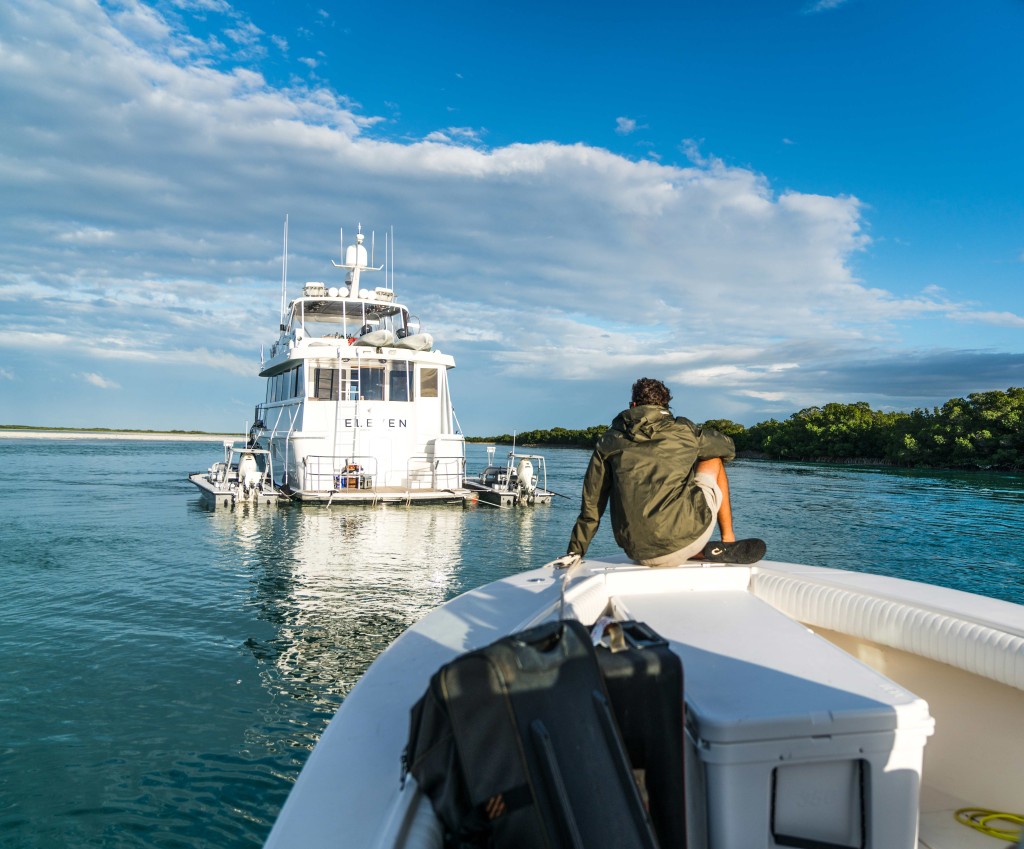 Booking a trip in January anywhere in the Bahamas, for any reason, is always a roll of the dice when it comes to what you're going to get for weather. When the sun is shining it's usually quite comfortable with temps in the high 70's or low 80's (put into comparative perspective that's roughly an 80 to 100-degree swing in temperatures from back home). For fly fishermen, catching a sunny stretch of weather, and one free from strong winds, almost always means that you're going to be in for an epic flats trip.
On day one, we awoke to clouds and some strong gusts. It wasn't a blowout by any means, but we did find ourselves chasing sunshine most of the day so we could spot fish, managing to bring to hand a half dozen or so under less than optimal conditions. While we caught some respectable fish, we weren't able to break into the trophy category, mostly landing fish around three pounds.
Then on day two, the weather gods blessed us with sunshine and much calmer conditions, allowing us to start the day casting to some nice fish and landing a number of good ones well before we ever started thinking about lunch. Again, when thinking of the Bahamas in the winter months, good weather pretty much equals good bonefishing, and this day supported that theory to a T. Days three and four offered much the same pattern with identical results and we ended up with a 50 / 50 trip weather-wise.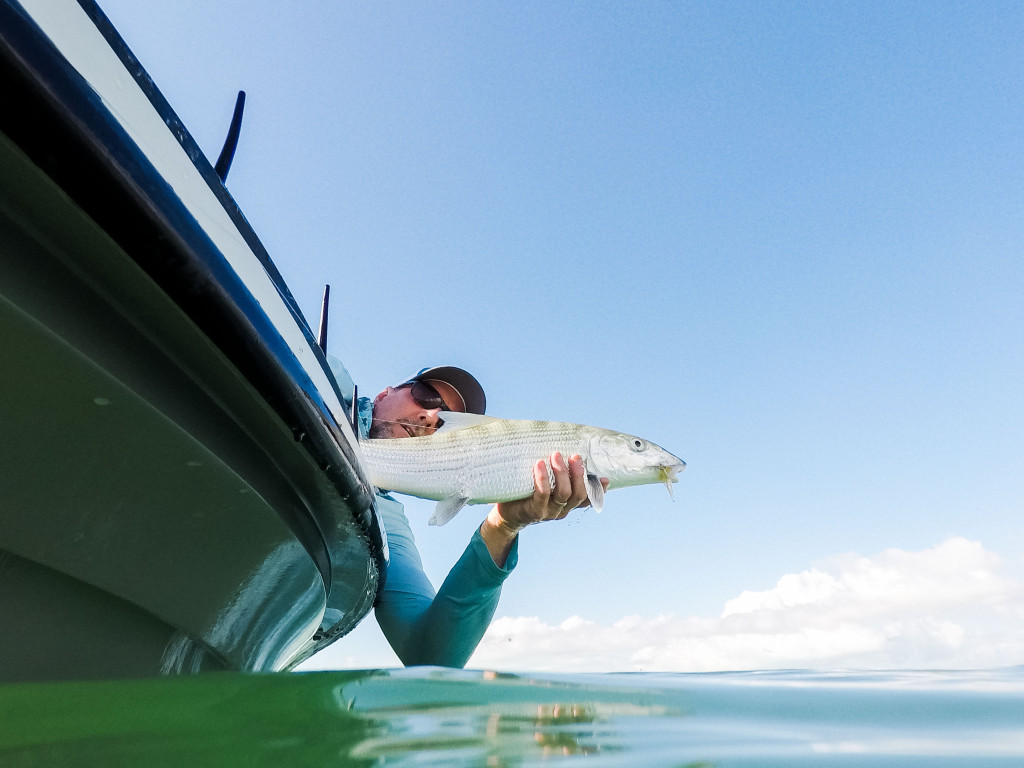 One of the biggest advantages to the mothership operation is that if the weather was completely uncooperative, it was a relatively short run to head back and take a break to regroup until things turned around, which was exactly how we spent day three. When I think back, when the weather turned lousy mid-afternoon like it did on our third day, most other boats would call it quits and start their long journey back to the lodge, but riding it out for an hour on the Eleven with an afternoon cocktail gave us the opportunity to add two more hours of quality flats time to the end of the day.
The Mothership
The boat itself was extremely spacious and comfortable with a massive air-conditioned salon that featured a large flat screen television with Direct T.V. There was always plenty of hot water, A/C throughout, an expansive bow-area seating section and an upper deck dining area with open bar. They even had an iPad loaded with several thousand music titles programmed to area-specific speakers throughout the boat. I'd be remiss if I did not mention the food. Miss Penny is the chef aboard Eleven. She's also a live-aboard chef specialist, meaning she has spent the past seven years honing the art of delivering heavenly cuisine prepared within the tight quarters of a very small galley kitchen. The results were so amazing that it left us shaking our head with each passing meal. The menu was diverse and fresh, and the delivery was outstanding. Given the option, I would return just for the food!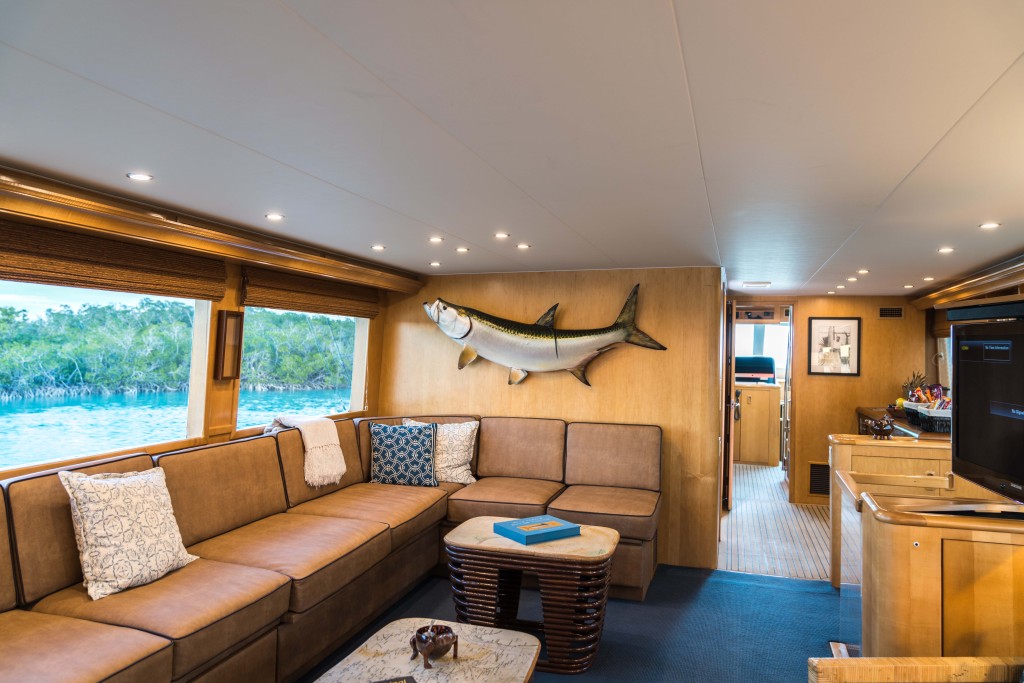 Rooms aboard the Eleven featured a spacious VIP Master Stateroom which can be configured as either a king or two twins. The Master has two very roomy private bath areas with a shared shower module between them. There is a ton of storage in this room for both gear and clothing. One bow room features bunk style twins with an en-suite bathroom. Also, if your group wants to grow from a party of four up to six, there is another bunked room that can be utilized in the bow area that has a bathroom just across the hall. Both bow accommodations are smaller than the Master Stateroom and are priced accordingly.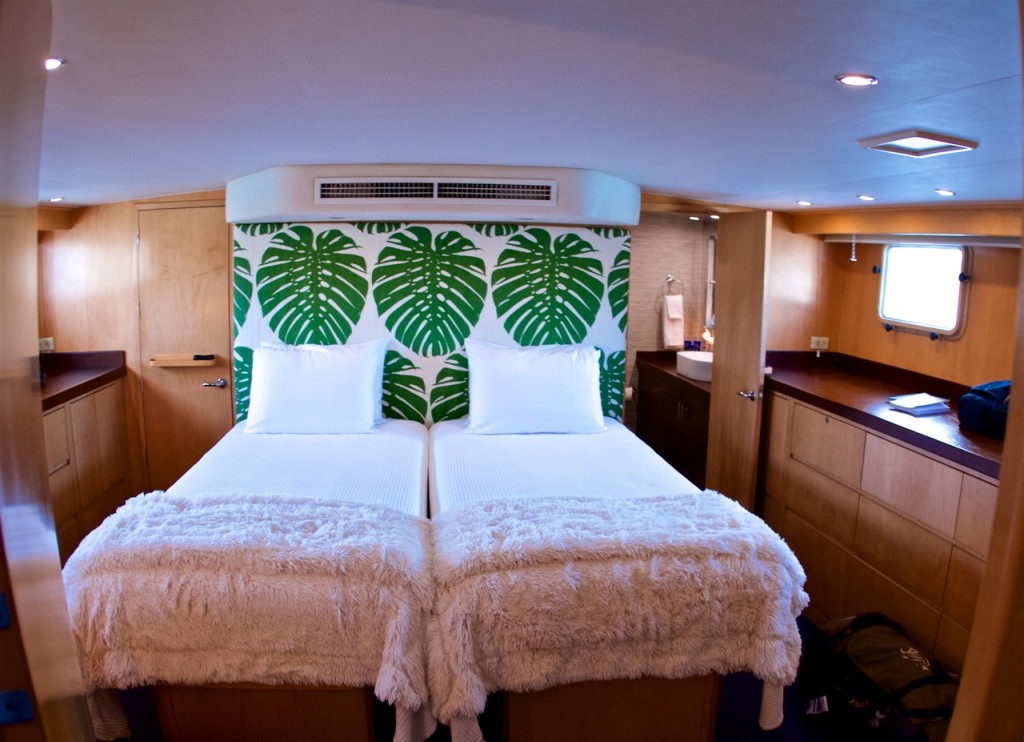 The skiffs are some of the absolute best I've ever fished out of, made by Beavertail and produced in Bradenton, Florida. Their super shallow draft allows you to run in about 6" of water and poled into areas so skinny that most others would never be able to access. They're also super dry, rock solid from the standpoint of stability, and are as quiet a hull as you'll find on the market today; tricked out with Seadek padding on the entirety of the bow as well as full deck rails outfitted with "stripping fingers" every 10 inches or so that keep your fly line out of the water behind you and on the deck where it belongs. I had my doubts about their effectiveness, but after my first session on the deck with 20 mph winds, I was a believer.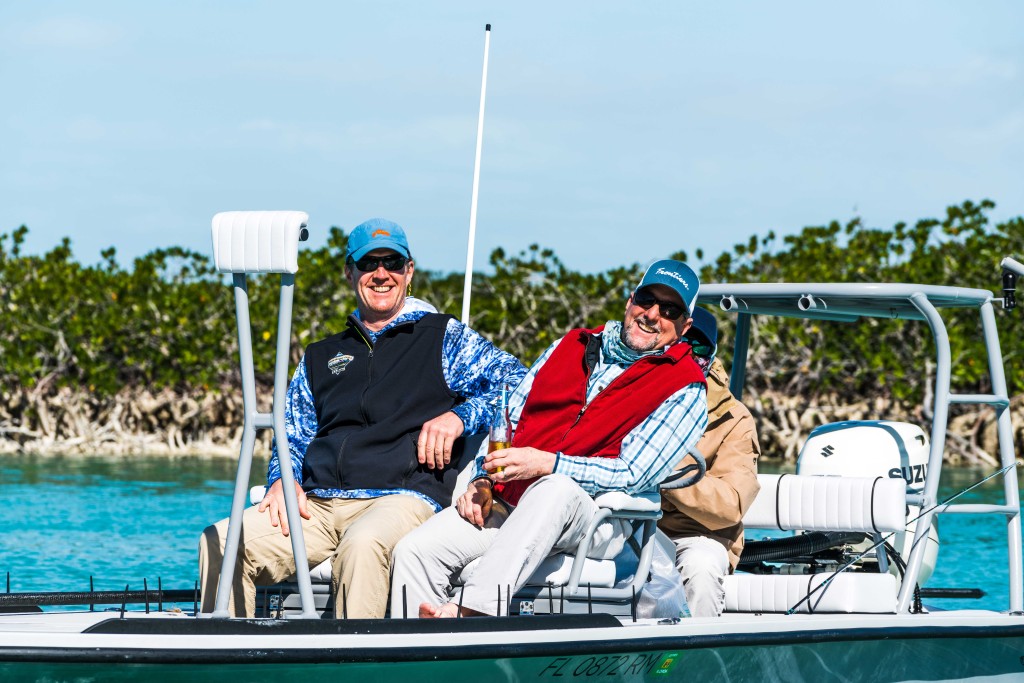 The Eleven Mothership utilizes local Bahamian guides that grew up on Andros, and they are intimately familiar with the bights, creeks, and all that the west side of the island has to offer the adventurous fly fisherman.
Bottom Line
If you're a group of like-minded anglers looking for a flats experience that promises a little adventure, access to a resource with very limited pressure, a chance at some truly large bonefish and tarpon, top guides, great food, and a unique comfortable place to relax with your friends each night, Eleven is just the ticket. Best of all, there is still time to get in on the action before the Eleven hoists the anchor in June. Call Joe Linscott or myself for availability.
By: Joe Codd
[justified_image_grid ng_gallery=136]