[justified_image_grid ng_gallery=77]
From Nelson, Kristene and I made our way south to Queenstown. The flight in was spectacular with clear conditions and lots of snow already in the Remarkables, arguably one of the most scenic mountain ranges in the world above the Southern Lakes. We made our way into town and had lunch at one of our favorite restaurants, Botswana Butchery. We shared a plate of lightly battered bluff oysters and a delicious version of Kiwi-style Peking duck. After a walk through town to stretch our legs, we continued our journey south to Nokomai Station – about an hour's drive from Queenstown.
Accommodation options in New Zealand range from 5-star luxury lodges and inns to remote mountain huts in the backcountry. At Frontiers, we strive to match the vacation experience to the objectives of our clients. We love to give our customers the opportunity to visit locally owned and operated properties to discover a true Kiwi way of life and the warm hospitality that comes with it. Nokomai is an excellent option to consider in Southland!
Nokomai Station is a working high-country 96,000 acre sheep and cattle station positioned between the Garvie Mountains and the Slate Range of Northern Southland. Its location is well described by the original name, "Glenfalloch," meaning "Hidden Valley," given to the area by its first settler. During Nokomai Station's 150 years, it had only two owners, including the Hore family who owns it today. Our hostess, Ann Hore, is a delight. The clients we have sent love this experience and we wanted to take a firsthand look at the operation.
[justified_image_grid ng_gallery=78]
Accommodations are in four cottages – fully equipped with kitchenettes, living rooms, bedrooms, full bathrooms and even laundry. This is also provides quality wireless internet far away from civilization. One cottage has two bedrooms and two bathrooms, one has two bedrooms and one bath and the remaining two have one bedroom and one bath. Hearty meals are served in the Stone Homestead, just steps away, and the fully-stocked honor bar has some of the best Central Otago wines at very reasonable rates!
This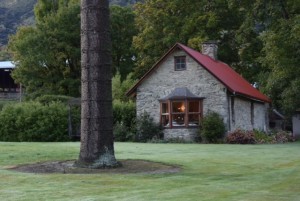 program gives visitors the opportunity to come and experience Station life while also taking advantage of the activities available that range from hiking to mountain biking and farm tours. Guests can travel off property to see the many great sights in the region including Fiordland National Park. The property also has a helicopter on-site for fly-outs to Milford Sound or for backcountry fly fishing.
This station is also a delight for fly fishers with twenty kilometers of the prolific Mataura River flowing through the station. In addition, there are 25 other rivers and streams within an hour's drive, including the Mararoa, Whitestone, Aparima, Waikaia and the Nevis outside the other end of the station. The guides work closely with Nokomai and all are members of the New Zealand Fishing Guides Association.
[justified_image_grid ng_gallery=79]
Daryl Paskell is the Head Guide and has an intimate knowledge of the waters in this region. Unfortunately, there was an early winter snow prior to our arrival and Mother Nature brought us almost an inch of rain today. With the cloud cover, precipitation and snow melt, the rivers were up and a little off color. We fished the Mataura in the morning and still had casts at five or six nice trout, but they were not on the feed. We then went to the Brightwater Spring Creek and we found a handful of trophies feeding on small dries. With #18 & 20 tiny mayflies, we had two dramatic takes, but we could not get the hook set. Despite the weather, we had a delightful day.
On the return to the lodge, we stopped to say hello to Len Prentice, who guided me in this region 20+ years ago. Over a Speights Ale, it was fun to reminisce about the early days of guiding in New Zealand and spend time with an old friend.
By: Mike Fitzgerald