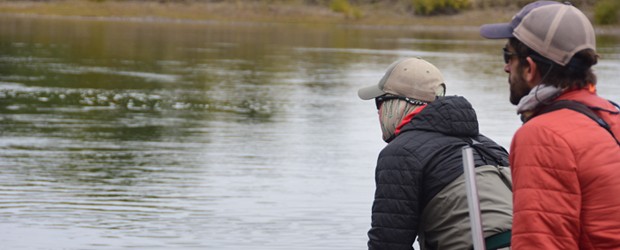 I have a condition that greatly affects my trout fishing. It was evidently contracted as a young guide and trout enthusiast in Ketchum, Idaho while stalking McLeod rainbows and German brown trout on the fabled Silver Creek. This condition has stayed with me for nearly two decades, and goes into remission at the office, on the salt flats, in marshes and lakes. Then it flairs up whenever I approach a river with sipping trout. The condition is not debilitating. Quite to the contrary, it is in fact invigorating.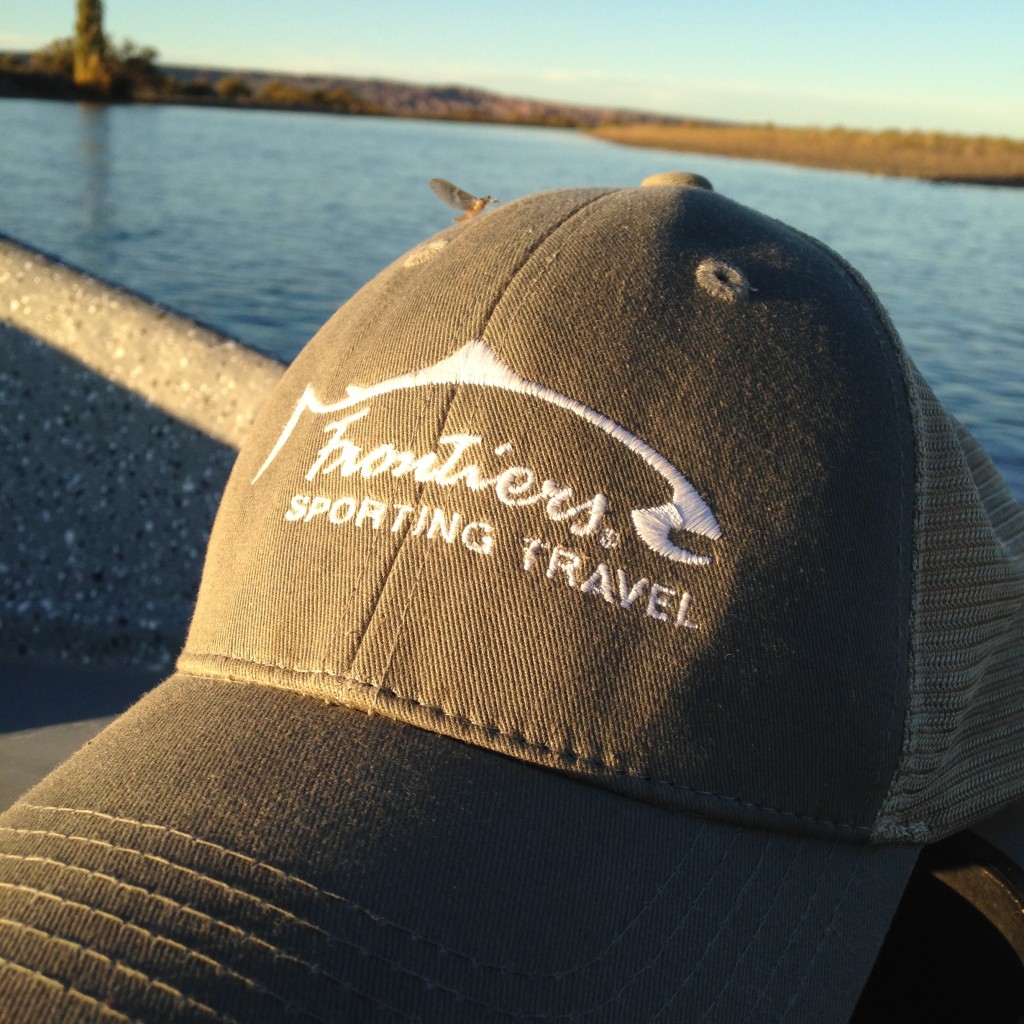 When honing our trout fishing skills in Idaho, my friends would cast wantonly to random dimples on the water as large pods of trout came to the surface to feed on the "dun" of the day. Trico's, BWO'S, PMD's, Callibaetis, green and brown Drake, Sulfur's, Mahogany's, and the list goes on and on. Even as a novice trout angler I found myself taking the road less traveled. I would often hunker down among the grass and willows along the riverside during a blanket hatch studying one single fish. Learning the fish's feeding pattern and its preferred lane, the river current, wind, overhanging obstacles and everything that would be necessary to present that fish with one or two meditated casts. Sometimes it took 15 minutes, other times it took an hour. Time passed like the emerging duns in the western breeze and in this pursuit, I experienced some of the most exhilarating and satisfying fishing of my life.
Now, jump forward to the Limay River Lodge in mid-April 2016. It's a crisp cool and remarkably calm morning on the river with longtime friends, Jorge Trucco of Patagonia Outfitters and Limay's head guide, Pablo Vinaras. A blanket hatch of #16 BWO's and a mystery #14 brown dun moving like an armada on the glass flat river as it was still too chilly for them to take flight. It was on this morning at the launch, the sun cresting the red cliffs of the Rio Negro Province, which I confided in my condition to Pablo. At that moment, he stopped prepping the drift boat, stowed the oars, smiled broadly, and said "let's take a walk." Jorge moved downstream to a deep glide and began methodically dredging for the monster migratory browns with a fly so large it resembled a small chicken. Meanwhile, Pablo and I tied a fresh 3x leader tagged and 5x fluorocarbon tippet (a favorite pattern of mine) on, and a #16 CDC Betis cripple that has served me well on two continents over the years. This cripple is particularly visible in low light such as dawn and dusk.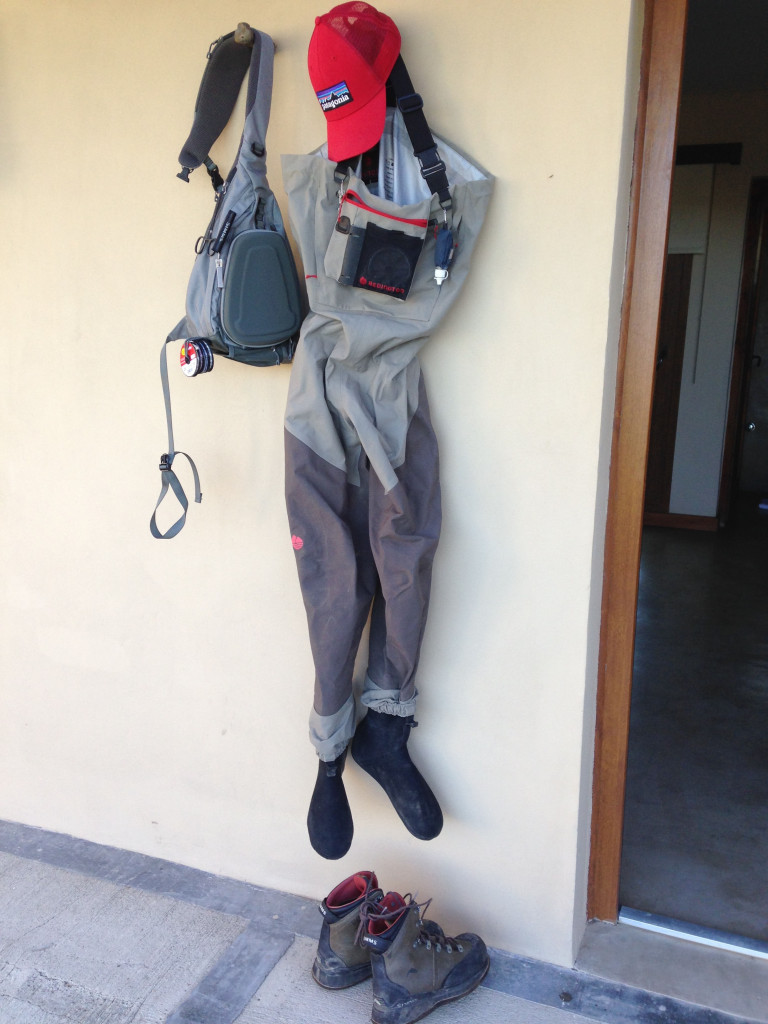 On a technical tackle note, I was throwing the new Sage Method 9ft 5-wt loaned to me on a trial basis by friend, photographer and fellow Frontiers staff member, Barry Beck. The rod was over-weighted by one line with a Rio InTouch Gold #6 which tossed beautifully. Balanced with a Sage 6060 reel, I loved the rod when drifting, chucking a big foam attractor and particularly when the wind finally kicked up. My style of casting is conducive to the speed and flex of this rod and it did the job nicely – most of the time. However, because I have fished for steelhead, dorado, and have saltwater fished lately, I don't need so much delicate presentation and light-handed hook sets. I found myself breaking off the first 3 or 4 fish that took on a 5x tippet. The problem was exaggerated by the "agro" nature of Limay rainbows once hooked and their affection for heading straight at you and shooting under the many overhanging subsurface ledges. That said after some alteration of my mindset and softening of my heavy hand it was game on.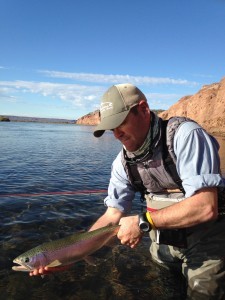 Over the next hour, pods fed on the duns meandering down current and affixed to the glassy surface as if glued there – it was too chilly to take flight just yet. Pablo and I walked the bank and studied the water. I managed to make multiple successful presentations and then snapped off the aforementioned bows with my heavy-handed tactics. Finally, as we reached the top of the pod, I got my nerves about me. We spotted on particularly large head working with persistent regularity. The trick with this fish was that he was working up to one side of a back eddy then would cross current and work back down to the starting point, looking away from us and then, alternatively, directly at us. After a stealthy "sneak" along the bank and an anxious twenty minutes of watching the feeding pattern, I felt I was ready for my presentation. I waited until he turned upstream away from me and a lull in the breeze that had just begun to waft and made my presentation in anticipation of his turn in the eddy. Pablo and I were hunkering so low that we were nearly laying on the shore when the fish turned in the current to begin his downstream buffet drift. I had placed my cast on the top of the eddy and – "slurp" – the cripple disappeared, the second to be selected by this cautious Limay rainbow.
For me, the landing of a fish is somewhat anti-climactic as it is the pursuit that I enjoy so much. This battle though was definitely respectable and like so many big river fish world-wide the Limay rainbows are extremely powerful for their size and cagey. I was on eggshells after my previous break-offs until I did get the fish to the net. Once netted, I snapped a few photos and sent him back to task just as Jorge finished the bottom of his pool and was heading back to the boat to "get the day started."
This rainbow was one of over a dozen in my 2.5 days of fishing and not my biggest by far and definitely set the stage for my trip. The fish was bested by three browns ranging from 21 to 25 inches with the biggest fish of the trip, which came a few moments before taking out on the last day on the "Reservoir Drift" on a tan articulated Double Bunny. That fish was one of the larger more torpedo-shaped migratory trout that come up from the massive reservoir and have put the Limay River as a legitimate champion producing some of the biggest big brown trout in Argentine Patagonia on the map.
What's my takeaway from the trip? The Limay is many rivers in one and can offer anglers of all disciplines and desires an adventure well worth traveling the globe to experience. Prolific hatches, ample walk and wade opportunities working a few inches from the banks for opportunistic fish on bulky terrestrials or stalking cautious pods sipping a blanket hatch of mayflies, and 10 beats accessed from the Limay River Lodge deliver daily are a few reasons why the Limay River is a must-fish destination.
By: Hank Ingram, South America Department Manager