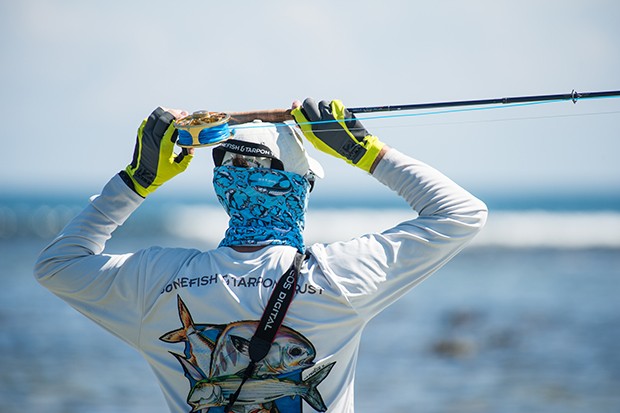 Dec, 2015: There are so many cool things to see and do at Belcampo Lodge. For fly fishers, this wonderful lodge is in close proximity to some of the finest permit flats in the world. Southern Belize has emerged as one of the most consistent permit fisheries in the Atlantic and Caribbean, and we were looking forward to experiencing this renowned resource.
Belcampo has aligned the lodge with an excellent guiding crew based in Punta Gorda. The Garbutt Brothers are world famous permit hunters, as are the remainder of their team. We were pleased to have a handful of these veterans show up the first evening to give the party a formal orientation about the fishery, an opportunity to ask questions and time to discuss any special request during their stay. This is a really nice added touch that is unique among the saltwater lodges we represent worldwide. We fished with seven different guides rotating through the group. All were exceptional—with warm personalities, a thorough knowledge of the fisheries and a wealth of information about birdlife and all of the other wildlife we experienced while fishing.
Virtually all of the guides come from a commercial fishing background. They continually saw declines in fish populations and they soon realized that they needed to change career paths in a hurry. It really is a remarkable story and is incredibly interesting to listen to them talk about becoming recreational fly fishing guides and their work in establishing protected marine reserves in the Toledo region—covering approximately 140,000 acres in the Port Honduras and Sapodilla Cayes areas. With a very committed conservation ethic, these guides worked with national authorities in establishing catch and release policies for bonefish, permit and tarpon while at the same time working closely with Bonefish & Tarpon Trust through extensive tagging and genetic research studies. Through their efforts, the guide crew has seen consistently growing numbers of game fish—more and more bonefish in the costal lagoons and an ongoing, thriving permit resource.
The Sapodilla Cayes have a couple of great permit flats. It is also an excellent bonefish destination. It is a 30-40 mile run from the marina, but it is well worth the trip on calm days. Because the guides operate on some larger, open water, all of the boats are 23-foot super-pangas, ideal for both pulling the flats and running in blue water. All of the boats have spacious poling platforms, newly installed lean bars and very clean interiors. Most also have a small bimini canvas top to provide some shade and sun protection on bright, sunny days (wish we had more of those!). We have fished with guides all over the world and we found this crew to be truly exceptional.
Coffee is delivered to each guest suite at Belcampo at the guest's designated time. The home-grown blend is exceptional and it is a great way to start the day! Breakfast is served starting at 6:00 am. In most cases, the fishermen depart the lodge between 6:45 am and 7:00 am. While the guides are willing to pick up the guests at the lodge dock, it is a bit more convenient and a shorter run to the fishing grounds if you make the short drive in the open-air Land Rovers to the small, private marina in Punta Gorda. The marina has a small shop, clean bathrooms and super convenient access to the Caribbean.
Each evening, the guides remove the rods and reels from the boat, provide a through freshwater rinse and have them waiting in the rod rack for your arrival the next morning. At least one day during the stay, we do recommend that the guides drop guests off at the lodge dock. The run up the Rio Grande River is beautiful, with abundant birdlife. Of course, there is also fishing for tarpon and snook!
One of my favorite times to fish in the Atlantic and Caribbean is between Thanksgiving and Christmas. 1) Generally, it is well after the summer and autumn storm season, 2) it's generally before the winter cold fronts start dipping well south into the Tropics, 3) the flats have generally been pretty well rested since June and 4) it is generally a great time of the year to escape some early winter chills in Western Pennsylvania.
At the office, my nickname is, "Captain Cloud Cover." While I thought that I had shaken that evil wrath from Mother Nature with some decent trips in recent years, she unfortunately dealt our group a bad hand during our stay. Unfortunately, it's a strong El Niño season, which generally brings a lot more precipitation on the Caribbean Coast of Central America. November had a tremendous amount of rain in Southern Belize, and this certainly impacted our fishing success.
In addition, a cold front moved through just as we were arriving in Belize, which was followed by cloudy conditions with a few afternoon storms. Obviously, this made visibility difficult in a pristine sight fishing environment. Having said this, however, every boat had good shots at permit. There were a couple of hookups and some other takes. We did not though get any to the boat. Most of us had decent bonefishing and there were several shots at tarpon – even to some nice 50+ pounders. On the second day, we had sunny conditions. One of the boats headed to the Sapodilla Keyes, and they had an excellent day fishing for bonefish and triggerfish.
The Director of Science and Research for Bonefish & Tarpon Trust, Aaron Adams, joined our group. He gave a wonderful presentation about BTT and all of the wonderful research and studies the organization conducts to protect flats fishing resources for generations in the future. While we were unable to tag any permit, Aaron was able to measure and fin-clip a number of bonefish—returning with several specimens.
All of us look forward to returning to Belcampo with more favorable weather conditions to stalk the ever illusive and psychotic permit. I am in the process of contacting the lodge about a return trip at the same time in 2016. If any of our friends and clients would like to join me on the departure, please drop us an email. In addition, BTT operates a number of Traveling Angler Trips, a lot of which Frontiers handles for the organization. If you want to learn more about Bonefish & Tarpon Trust, get involved with conservation initiatives and research while enjoying a great fishing experience at a wonderful lodge, let us know and we will get an invitation out to you!
By: Mike and Kristene Fitzgerald