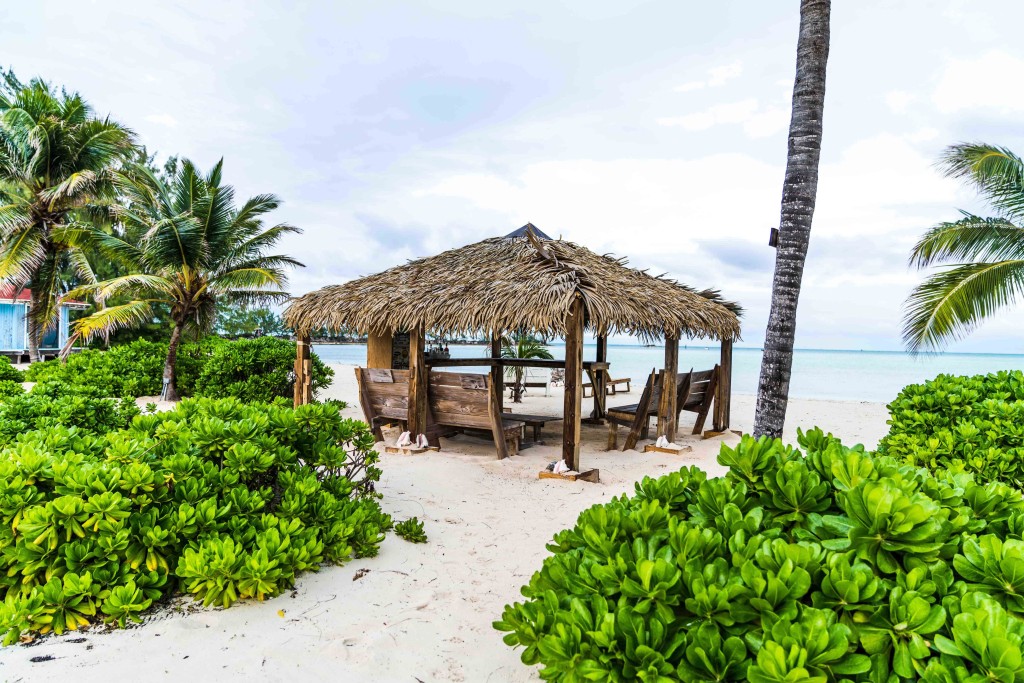 Last month Saltwater Manager Joe Codd, Marketing Manager Anthony Conti and myself visited Andros Island and paid a short visit to Andros South Lodge. Andros South is a relative newcomer to Frontiers Bahamas portfolio and this was our inaugural visit. Our gear provider, Pat Ehlers, of the Fly Fishers has hosted groups to Andros South the last couple of years and the feedback from him, his fellow travelers and other Frontiers clients who have visited the lodge has all been positive. My dealings behind the scenes with Andros South have been an absolute pleasure since our relationship commenced in 2015. I was excited to experience the Andros South program and see it for myself.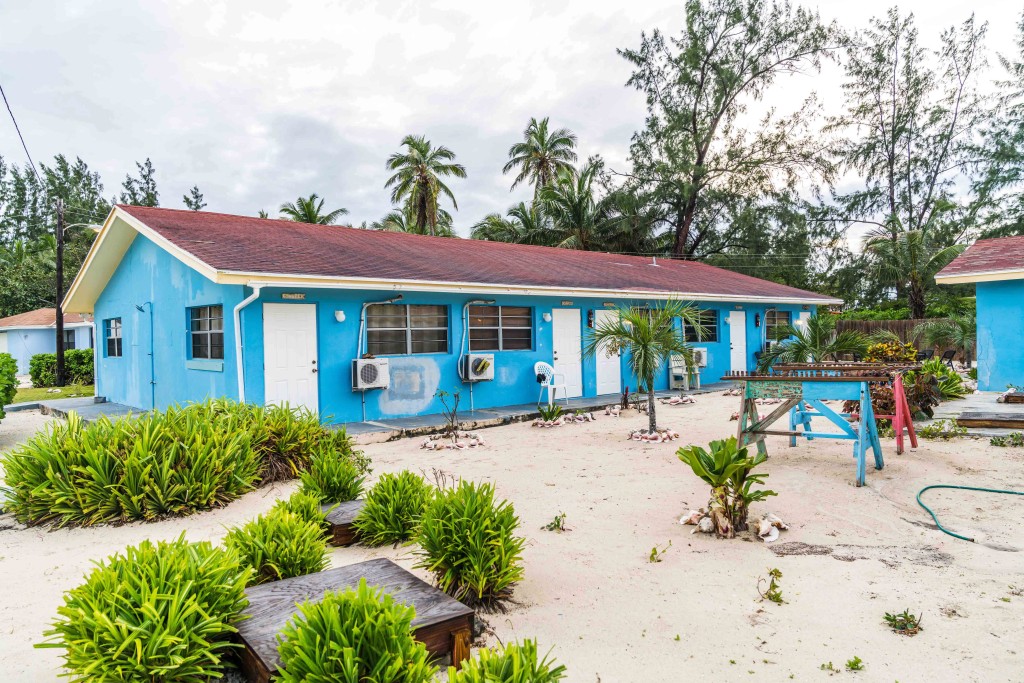 The three of us were met in Congo Town by staff driver Kermit who assisted us with our luggage and gear. A fast approaching rain shower accelerated this process and once on board, we were offered our choice of beverages to enjoy during the 20-minute ride to the Lodge. The Lodge's transfer vehicle is easily one of the newest and nicest I've ridden in the Bahamas. It's more of a bus than a van and can easily accommodate a group of 8 – 10 anglers. Comfortable seats, air conditioning and a cooling beverage made for a most favorable first impression.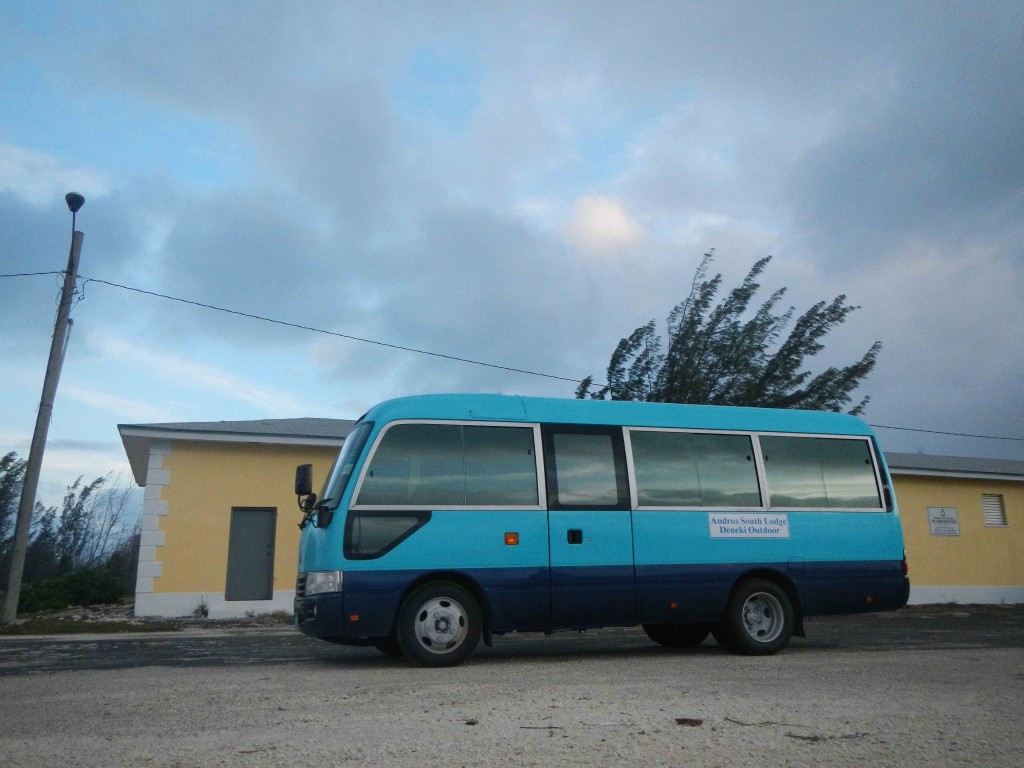 Upon arrival, we're immediately welcomed by on-site manager Jason Whiting and shown to our rooms. Andros South is a bit unique in the Bahamas in that each angler has their own room. The rooms are basic but roomy and with ample space to store and hang one's belongings. An en-suite bathroom with walk-in shower, air conditioning, ceiling fan and in-room Wi-Fi puts the finishing touches on my quarters for the next three nights. After settling in and sorting some gear, Chef Karen treats us to a tasty home-style meal featuring rib eye steak, cracked conch and a side of corn on the cob and potatoes. Dessert is a delicious key lime pie.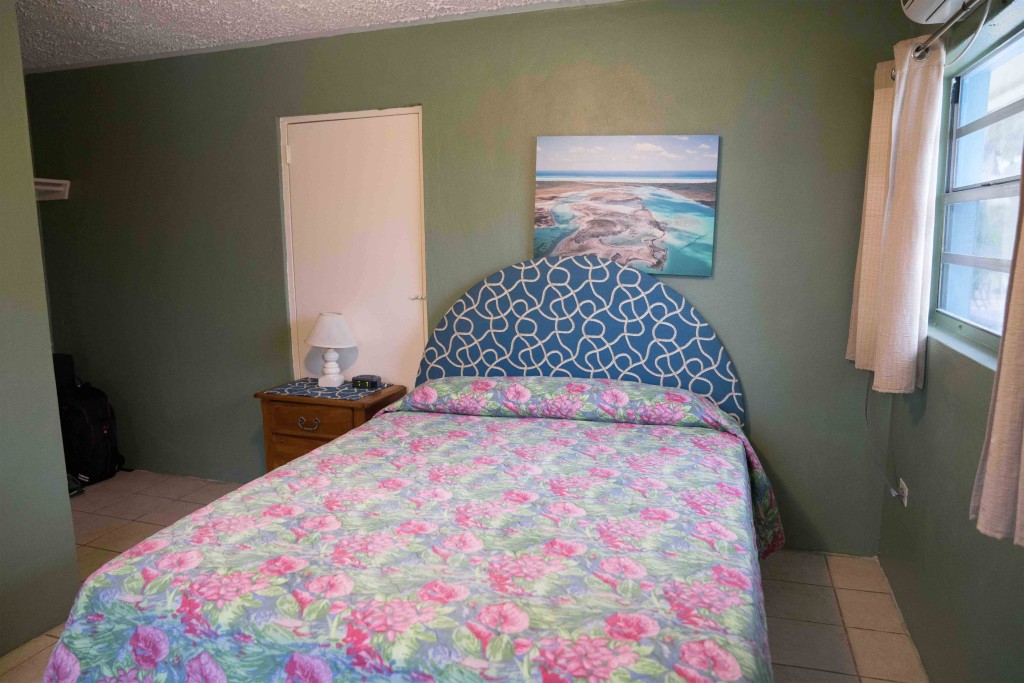 The drill after dinner is to fill out your lunch menu for the following day of fishing. You can choose from an assortment of deli meats, bread types, salads, snacks and beverages. The breakfast staff, led by Gloria, Rosalie and Buna, makes your lunches fresh in the morning and they're placed in your guide's cooler for the day. Posted in the corner of the dining hall is the Guide / Angler roster for the next day too. Andros South, as do most lodges in the Bahamas, rotate their guides daily. This eliminates any confusion at the dock as to who is fishing with whom.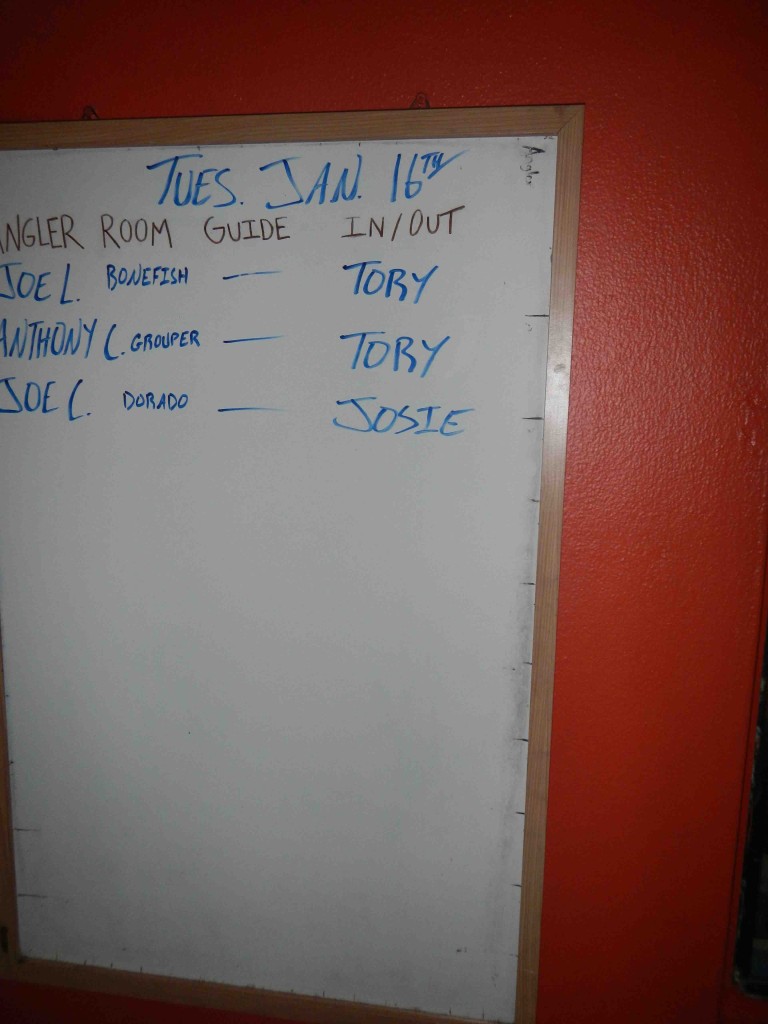 For the first time in all of my saltwater travels, I decided to not bring my own fly rods and rather rely on the Lodge's equipment. Andros South encourages any of their guests to do this if they prefer. I did bring my favorite bonefish reel in the event I wasn't comfortable with the lodge set up but my reel never left my carry on. The Lodge loaner rod was a Sage Motive 9' 8wt paired with a matching Ross reel and it was enjoyable to fish with.
The daily routine is to have your rod(s) assembled and placed on the communal rod rack. Anglers are then transported to various boat ramps / put-ins, dependent upon weather conditions, tides, guide preference etc. while the Lodge staff transfers all the rods and gear in a separate vehicle. We were driven 15 minutes south to Little Creek and our weather, as we would have it for our two days of fishing was not ideal — no it was downright awful! One of those dreaded January cold fronts coincided with our first day of fishing and the outlook for the day, for our short stay, was not too optimistic. 20 – 30 mph winds with higher gusts and persistent rain were what we were facing. It was not exactly optimal conditions for a day on the flats. However, when your guide is Tory Bevans and he's enthusiastic about finding you a bonefish it's easy for one's outlook to stay positive. It's evident that Tory knows these South Andros waters as intimately as any guide and if we weren't finding fish on a certain flat he wouldn't hesitate to move. Complete cloud cover and at times white caps on the flats made for nearly impossible sight fishing conditions, but we gave it all we had until finally calling it quits around 2:30. We never did get that bonefish to hand however it wasn't for a lack of effort. Having a beer at Josie's Bar finally won out. I was so impressed with Tory. You know you've been on the water with a special guide, when you don't catch any fish, under adverse conditions, but you still have a blast trying. I can't wait to see my name lined up with Tory Bevans on my next Andros South visit.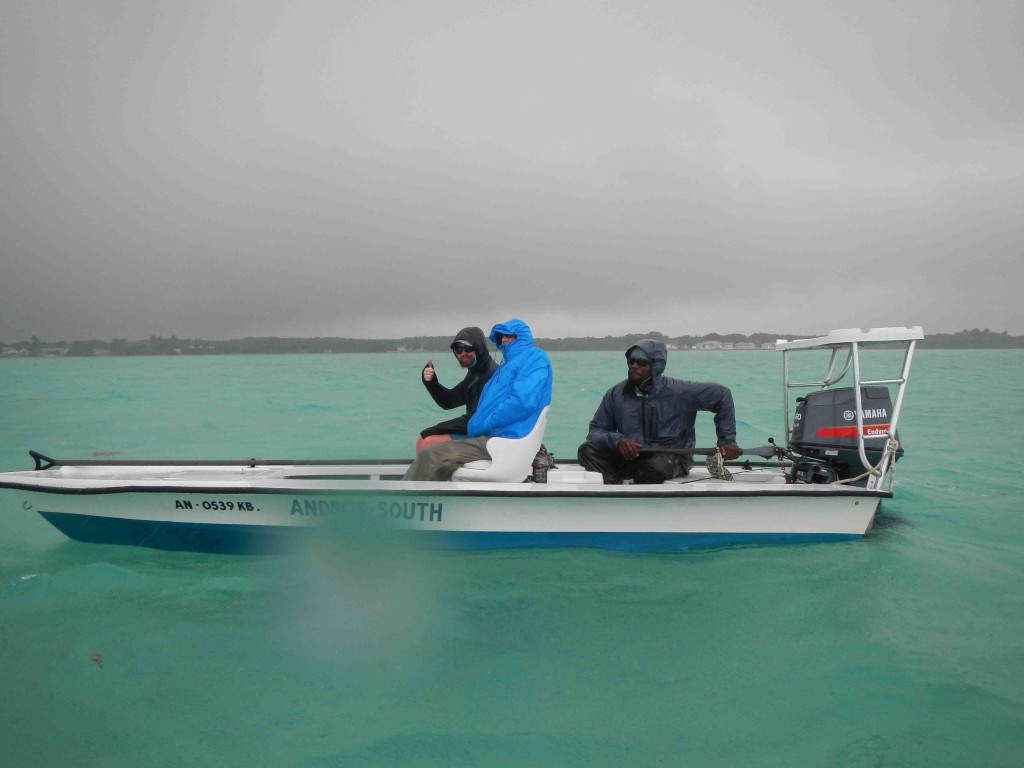 The second and last day of fishing I'm paired with guide Charlie Sweeting. Charlie is one of the veteran Andros South staff guides and has been guiding on Andros for 30 odd years. Today's weather is better in the sense that it's not nearly as windy, but it is raining harder than the previous day so I'm not sure "better" is apropos. I'm wearing flats pants, rain pants, performance t-shirt, performance flats hoody, windbloc fleece vest and a gore-tex raincoat. I'm dressed to go steelhead fishing, not flats fishing. Again, we put in at Little Creek and this time we head Oceanside and south. The tide is high and we pretty much are just killing time while waiting for the tide to start falling. After poling around the south side of High Rock and not finding any bones, we strike off in the pouring rain further south. It's the kind of rain that has my hood cinched to its max and the circulation in my wrists is being cut off in order to keep the rain out…But I have a feeling that Charlie is not going to subject me or him to this near monsoon if there's not a payoff in sight.
The welcoming cut of the engine is music to my ears and in no time, the skiff is anchored and Charlie and I are off on a wade "to warm up" a bit. The flats of South Andros are some of the finest on the phenomenal fishery that is Andros Island. These flats are primarily firm white sand, easy to wade, and from past trips just loaded with bonefish. When there's complete cloud cover and next to zero visibility, white sand bottom flats are your friend. 10 minutes into our wade and Charlie spots a small pod of bones feeding into the current. We move quickly, but quietly into casting position and I finally get rewarded with a nice average three pounder. It's full-on high five-time! Charlie's devotion pays off and the two of us are absolutely jubilant. I don't recall being this thrilled to catch an average size bonefish in my life.The next couple of hours play out in a similar fashion. Six more bones are brought to hand, several others are missed and a few are broken off. It turned out to be a day that will always stand out in my memory. Spending time on the water with a guide that wants to catch a fish as much as you do and conquering the elements is a highly rewarding experience. I'll always have a different outlook now when I'm in the tropics and the sun isn't shining.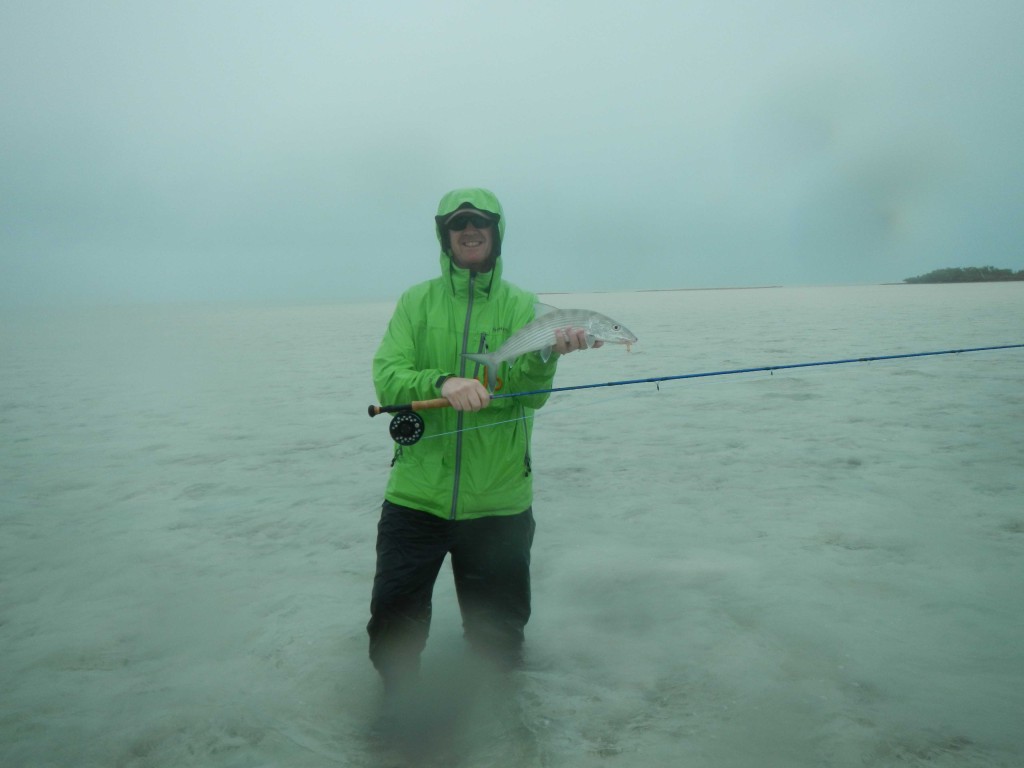 Even though our visit was a quick one, it's readily apparent that Andros South lodge runs as a well-oiled machine. Transfers were timely, guides were awaiting our arrival at the dock, breakfasts and dinners were served on time and the house staff does a nice job of keeping your room made and orderly. The beachside Tiki Hut is surely an obvious gathering spot for après fishing cocktails and stories, and the bonfire on the beach is always an enjoyable occasion. Frontiers is fortunate to work with so many quality lodges in the Bahamas. Andros South is a fine addition to that portfolio. Contact Joe Linscott to learn more and to book your trip to Andros South.
By: Joe Linscott