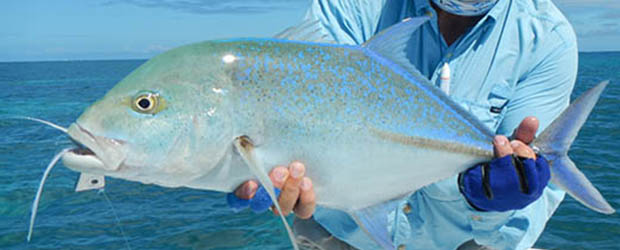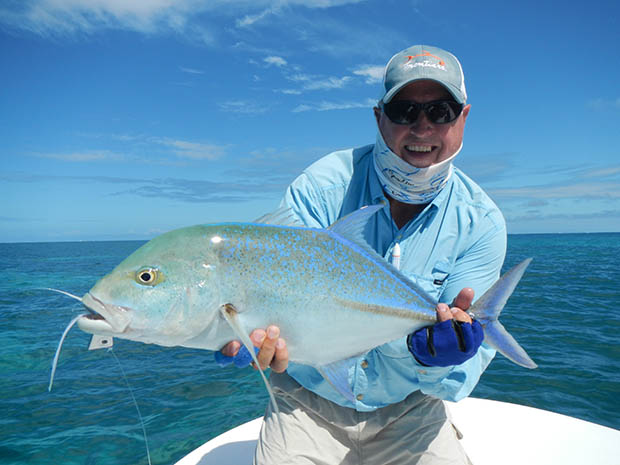 During my recent trip to the Seychelles, I spent four days fishing on Alphonse Island. As our clients can attest, Alphonse continues to be one of the world's premier saltwater destinations. Offering outstanding fishing, service and facilities, every avid saltwater angler should visit Alphonse Island at least once in his lifetime.
On my first day at Alphonse, I awoke to brilliant sunshine and clear blue skies. My fishing partner for the week was a guest from the UK named Richard. Since he was booked for a half day of sailfishing, I had a private guide for the morning. As luck would have it, I was assigned Wayne Haselau, the senior most guide on the island, whom I had the pleasure of fishing with during my last visit. He is not only a great guide, but also a wealth of information on the history, ecology and fishing at Alphonse and St. Francois.
Wayne and I started off looking for milkfish in the channels. However, they haven't been very cooperative so far this season and they continued to prove difficult. With the tide just starting to push onto the finger flats inside the lagoon, it was triggerfish time. Anchoring the boat on the edge of the channel, we got out and started to wade the coral, sand and grass covered flats. Within minutes of walking, Wayne pointed out a fish to my right at the same time I saw a fish directly at 12 o'clock about 50 feet away. My cast landed just to the left, the trigger immediately saw it and was interested. I gave the line a short slow strip and the trigger came over to investigate. With another short slowwww strip, he bounced on the fly. I stripped set and….nothing. Wayne and I couldn't believe it. We could tell this fish was hot and hungry, as he quickly started looking for the food that got away. I did another short slow strip and stopped. He was all over it again…but, still nothing.
This game of eat, set and nothing went on for another 10 feet or so until the fly snagged a small piece of coral. I was just about ready to cuss my misfortune when Wayne said, "leave it there." We watched as the trigger approached the coral, turned sideways and went down and dug the fly from the coral. The game of wits continue, the trigger would eat and I'd set the hook and nothing. Finally with both Wayne and I on our knees, the fish got within five feet of my rod tip and spooked. Wayne and I looked at each other and starting laughing. That fish is one I will always remember!
We got a call on the radio from the sailfish boat saying the rolling seas and Richard's stomach did not agree with each other. They decided to head in early, which meant I had Wayne all to myself for the day.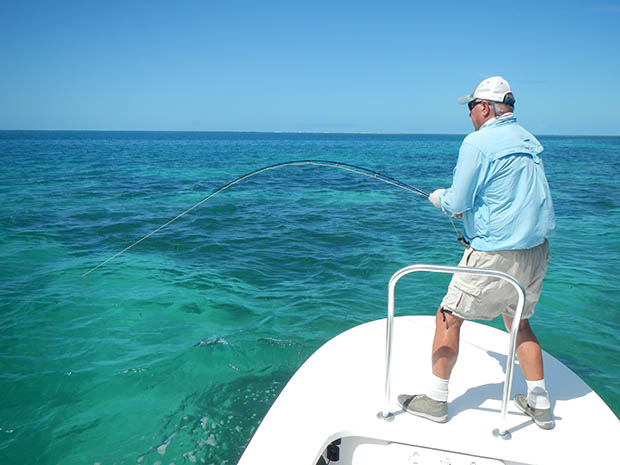 As the tide continued to fill the flats, it was time to move and chase some bonefish. That's one of the best features at Alphonse! The lodge offers so many different fishing options during the course of the day. After some good success on the bonefish, we decided to eat lunch and chase some GT's in the afternoon. After eating and meeting Wayne's pet bonefish (who last season were eating out of his hand) we were off to the Bijoutier Flats to try to call up some GT's using top water poppers. The most popular and famous popper at Alphonse is the NYAP (Not Your Average Popper) designed by ex-Alphonse guide, James Christmas. GT's are attracted to sound and this fly makes a lot of noise if fished correctly. My first cast – bloop, bloop, bloop, bloop – calling all GT's. Blind casting this fly with a 12-weight will make a man out of you very quickly. Forty-five tiring minutes later my bloop, bloop, bloop finally was rewarded with a nice bluefin trevally followed shortly by a crushing hit by a bohar snapper. Bluefin trevally fight hard and are without a doubt one of the most beautiful fish on the flats.
Renewed hope and with some adrenaline kicking in, we move up the shoal to a spot which had us both exclaiming, "This looks fishy." Wayne proclaimed several minutes later, "It's going to happen." I'm not sure if it was meant to keep me on top of my game or he really felt it, but I made a cast over a white sandy bottom on the edge of a dark patch. Moments later, a missile came out of nowhere and crushed my fly. I quickly yelled to Wayne "like that?" and I watched in amazement as my fly line disappeared from my reel and was well into my backing even with my drag on my reel tightened all the way. Knowing you can put a lot of pressure on a fish using straight 100 lb. fluorocarbon tippet, I slowly regained all of my backing and had the fly line back on the reel. A couple of minutes later there were high fives all around when Wayne was able to tail my first Alphonse GT.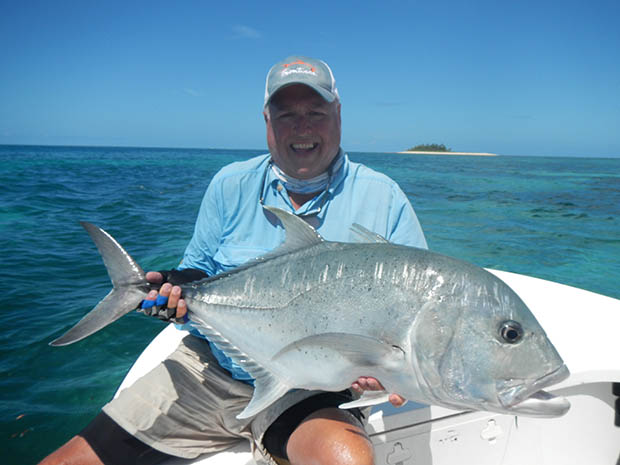 After a short break, Wayne asked me if I wanted to see something amazing, though he couldn't promise me they would be there. We headed to the shores of St. Francois to the largest school of bonefish I've ever seen with thousands upon thousands of bonefish in a school twenty yards wide and roughly 200 yards long. Wayne wanted to film it, so I made a few casts and quickly caught a few fish, but this type of fishing isn't for me. Soon we were off on another adventure. As the day sadly came to an end and we heading back to Alphonse Island, I sat and enjoyed an ice cold beer while reflecting on my memorable day and enjoying the fishing stories of my fellow anglers.
Once back on Alphonse I jumped on my bicycle and headed back to my bungalow for a shower. The private outdoor shower is an experience most everyone enjoys. I was taking three showers a day: morning, after fishing and late night under the stars. The resort itself is wonderful. Consisting of 15 privately spaced air-conditioned bungalows and four one bedroom villas, they offer all the comforts of home and more. The food revolves around fresh fish, but there are other options for those who preferred turf over surf. The chef was new as well. Hired two weeks prior to my arrival, he will be a good addition to the resort as he has experience in restaurants in South Africa and NYC on his resume. He won us all over with his magic in the kitchen. Alphonse offers so many superlatives and unfortunately there is not enough space to mention them all.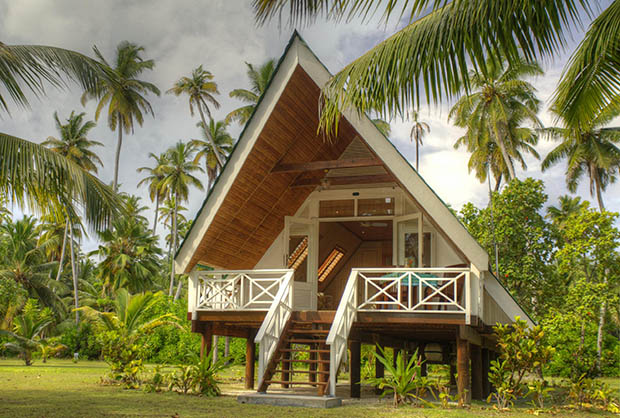 The overall fishing experience at Alphonse continues to amaze. An unmatched population of bonefish both on the shallow flats of the lagoon and outside coral reef, triggerfish, bohar snapper, permit, milkfish, bluefin trevally and GT's all make Alphonse Island one of the premier fly fishing destinations in the world. Due to the retirement or departure of what many considered the finest guide team in the industry, fishing manager Devan van der Merwe has put together a new team of guides (although may not have the same experience like the old team) but they were well trained, highly motivated and determined to be the best. I was impressed with my guides during my time there.
The spring of 2016 season is almost sold out so we are currently taking reservations for the 2016/2017 season. If you want to join in on the fun or would like to talk about the program, please feel free to give me a call.
By: Bob Artzberger