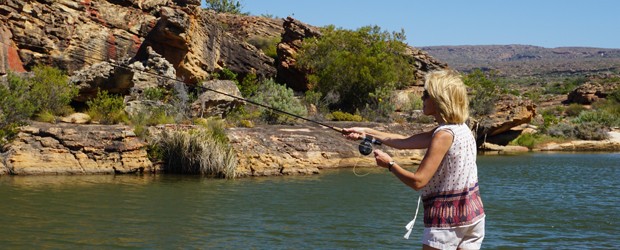 Bushmans Kloof, South Africa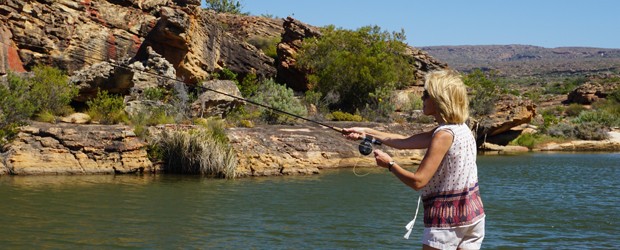 I embarked on a lovely three-hour scenic drive from Cape Town passing sweeping wheat fields and aromatic citrus groves to get to the Cederberg Mountains, part of the UNESCO World Heritage Cape Floral Kingdom. Upon arrival at Bushmans Kloof, I was warmly greeted by their gracious staff and escorted to a spacious, colonial-style guest suite with a cozy fireplace and relaxing lounge area. The lodge has 16 rooms and suites, as well as their private villa, Koro Lodge. They also boast an extensive spa and exceptional cuisine. The Food and Beverage Manager, Michel, had such a passion for service and hospitality, ensuring that every meal was a special experience. I thoroughly enjoyed the seared ostrich fillet prepared medium-rare and accented with buffalo mozzarella and Cape gooseberries. This was paired with a lovely Kanonkop Pinotage, which is one of South Africa's signature vintages and one of my all-time favorite wines.
Think of Bushmans Kloof as the un-safari. Nestled in the northern Cederberg Mountains of South Africa and focusing more on anthropology and botany than on the traditional Big Game viewing safari, Bushmans Kloof is the perfect haven for an unforgettable getaway with guests of all ages. Positioned in a malaria and predator-free nature reserve, Bushmans Kloof offers a multitude of enriching, relaxing, wilderness experiences among open plains and ancient sandstone formations. The private game reserve also includes over 130 documented Bushman rock art sites, some dating back as far as 10,000 years! Recently voted the third top resort in Africa by Condé Nast Traveler Readers' Choice Awards in 2016, Bushmans Kloof is a multi-award-winning lodge and a South African Natural Heritage Site.
Each morning, my charming ranger, Janne, who had a superlative background in botany, archaeology, and zoology led me out on rock art excursions and trips into the flora. His thorough explanations of the history of the paintings along with possible interpretations were absolutely fascinating. In the afternoon, I enjoyed canoeing, fly fishing for the endemic Clanwilliam Yellowfish, archery, and biking. One of the other bonuses of staying at Bushmans Kloof is that you do not have to wake up at the crack of dawn in order to view the animals as you do at most other lodges. Herds of Bontebok and dazzles of endangered Cape Mountain zebras are out grazing throughout the day. In the evening, the clear dark sky provides amazing stargazing. My guide pointed out the remarkable constellations through the state-of-the-art telescope that we don't often get to see living in the northern hemisphere.
The emphasis at Bushmans Kloof is truly on relaxation and intellectual stimulation. My two-night stay here provided welcome diversity in a 15-day jam-packed itinerary. In contrast to the ancient landscape of wind-sculpted rock formations, the lodge offers the ultimate in supreme luxury, comfort, services, and facilities. Bushmans Kloof is purely an oasis surrounded by natural beauty, priceless rock art sites, and an abundance of indigenous flora and fauna.
By: Kathy Schulz
[justified_image_grid ng_gallery=134]