Alaska Pebble Mine Update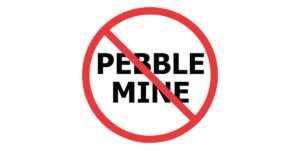 Sept, 2020: We consider ourselves fortunate to plan Alaska fishing trips for our guests to experience the most prolific trout and salmon fishing opportunities the world has to offer. Bristol Bay, Katmai National Park, and the South East's temperate rainforests have a very special place in our hearts at Frontiers.
We are hopeful that the worst of the pandemic is behind us and that when we speak again, it will be exclusively about big fish and plans for upcoming Alaska trips. In the meantime, we cannot lose focus on the threat of the proposed Pebble Mine project that has been a hot button issue for the past several years. It has been a constant back-and-forth struggle, but we are now beginning to see some light at the end of the tunnel. Last week the Army Corps of Engineers sent Northern Dynasty a letter that seemed once again to deal with a deathblow to the potential mining operation. Combined with passionate criticism and a show of support from various national and state-level politicians, we remain hopeful this may be the final chapter in the ongoing opposition to the mine. However, this project has survived several past actions that many thought would bring an end to this potentially environmentally devastating project, only to keep pushing forward. It was grassroots support that has sent it back to the drawing board over and over again, so we must remain vigilant to protect this resource for generations to come.
Pebble isn't gone yet, and we need the strength of the entire fishing community to push hard to ensure it ends right here, right now. We are committed to doing everything in our power to safeguard this incredible resource, and we stand shoulder to shoulder in opposition with our industry partners and the residents of Alaska. Click here to see more information on stopping the Pebble Mine.