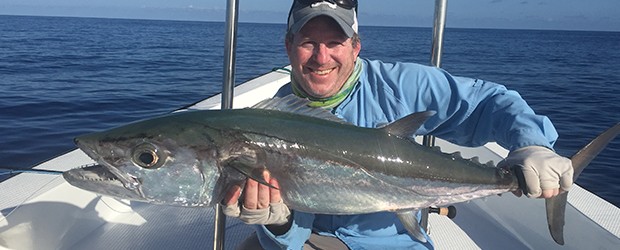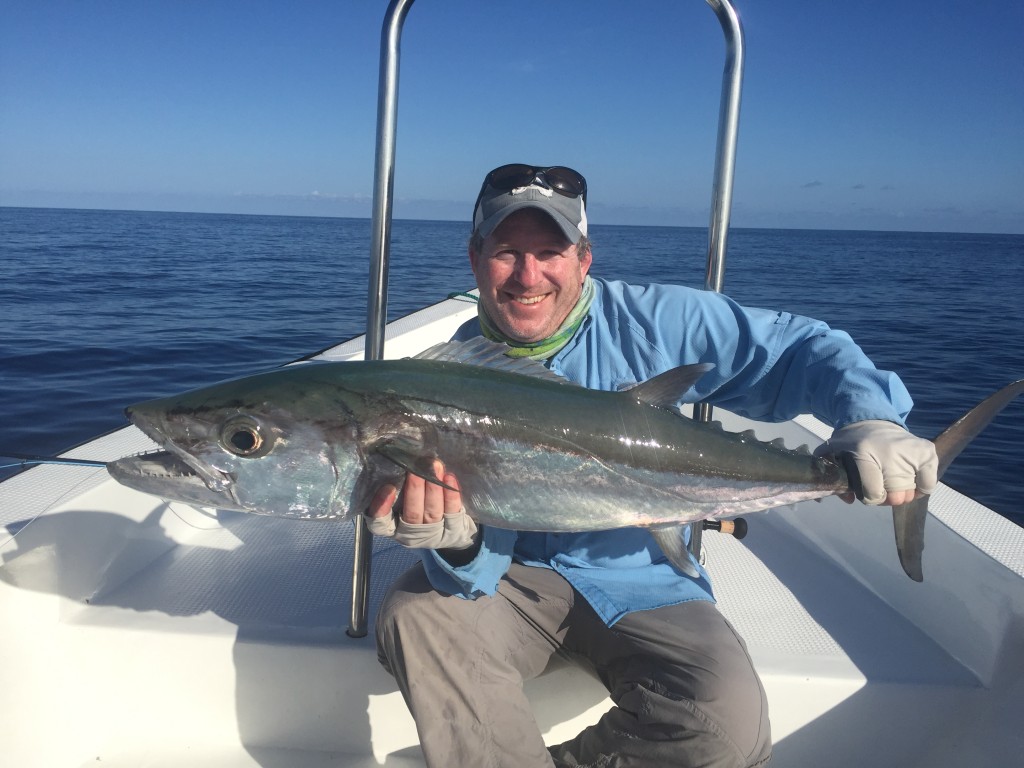 The week belonged to one man, David H. He is well known to the Alphonse family and has had a few cracking weeks on Alphonse, but this was his first time out to Cosmoledo and what a trip it was. His week will probably go down as one of the most memorable fishing weeks Cosmoledo has seen. Dave ended his incredible week with 29 GT (two of them over the magic 100cm mark), numerous bonefish with one of approximately nine lbs., one Moustache Triggerfish, one Yellow Margin Triggerfish, a Dogtooth Tuna and three Permit! His week was made up of two Grand Slams and all the rest in between. This is an awesome achievement that will be spoken about for some time to come. – Keith Rose-Innes
This is my firsthand fishing report from my first and not last trip to Cosmoledo. I have been to the Seychelles the past two years and had excellent fishing. I caught everything the Seychelles had to offer and then some, including a Parrot Fish and a massive Napolean Wrasse. The only fish that had eluded me was the GT. I decided to bite the bullet and go to Cosmo solo in search of the mighty Giant Travelly (much to my wife's dismay).
I had planned this trip for about a year and as time was getting closer I got extremely busy at work, which delayed my mental preparation for the trip. I started packing the day before Thanksgiving for my following Tuesday departure and realized that my passport was expired! Getting a passport renewed on Thanksgiving weekend was going to be a challenge, but somehow I got it renewed by blind faith and a great internet service.
My flight to Dubai from JFK was delayed and I subsequently missed my connection to Mahe. I figured that this was game over, but Emirates put me on a flight that would land in Mahe at 7 AM, just in time to get the charter flight to Astove at 8 AM. At this point, I figured the fish gods were frowning on me and I would be back in NY the following day, but amazingly I made the charter.
From this point forward things started looking up. We landed in Astove, quickly boarded the mother ship and it was very comforting to see many familiar guides' faces from Alphonse Island. The trip to Cosmoledo went quickly and we were all eagerly anticipating the fishing to come. The guides were excited that we would have some clear weather as they had been battling tough rainy conditions for a week or two.
Here is a rundown of the daily fishing:
Day 1
Guide – Cam
We started the morning walking on an island looking for GT's. Within five minutes, head guide Cam, saw a massive GT heading towards us in about two feet of water. I made a cast and it came charging. We ran out of real estate and the fish actually beached itself trying to eat the fly. The fish was around 110cm in size. I figured my GT woes would continue. We spent the rest of the morning wading the flats until we found a very large pod of milkfish. I had excellent shots at these fish and managed to hook one and lose it after a solid 10 – 15 minute battle. We moved to the surf in the afternoon and that's when things got very exciting. Within minutes of the pushing tide, GT's showed up in force. I finally hooked and landed my first GT immediately, which was very exciting. Things only got better from there. I landed seven more GT's in the next hour in the surf, some swimming solo and several on rays. At this point we decided to take a quick boat ride off shore to search for some bigger fish. We caught another GT and a beautiful Dog Tooth Tuna to end the day. What a first day!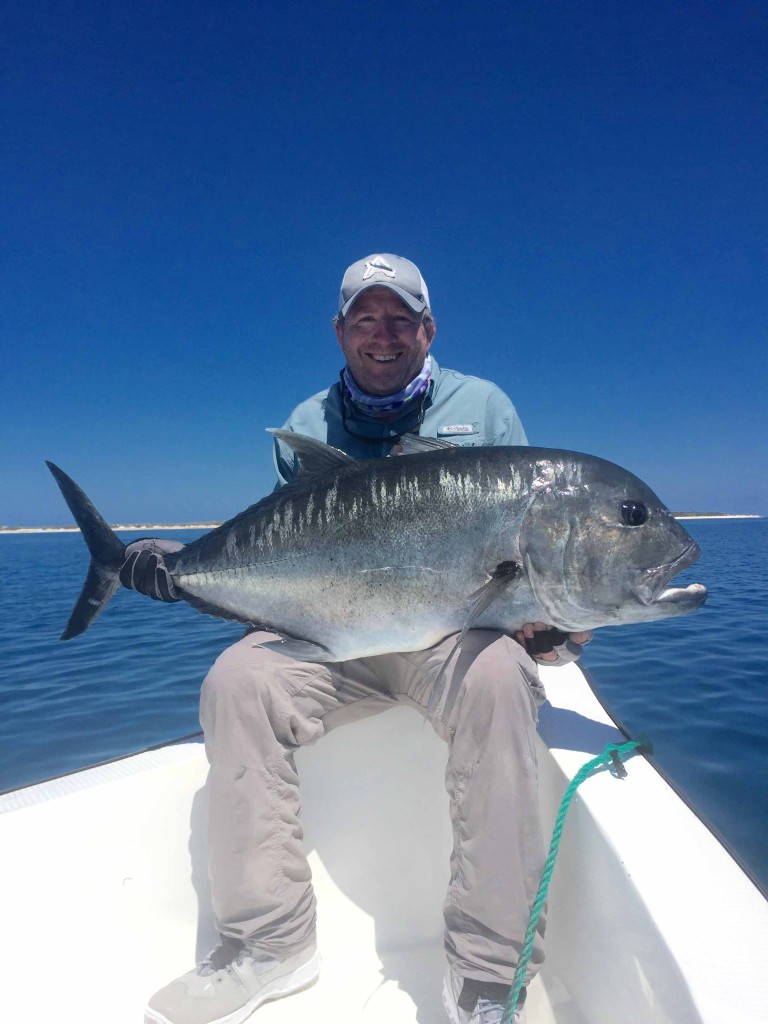 Day 2
Guide – Serge
I was excited to fish with Serge as he is a Seychellen legend. We started off the morning looking for GT's. Within the first five minutes of fishing, we saw one after the other. I looked at my watch at 9:30 AM and we had already seven GTs on the boat! At this point, we decided to do a surf walk. The surf walk looked great, but we ran into a ton of sharks, which made fishing a little dicey so we stopped and had lunch. After lunch the fishing really turned on. We found a spot with cooler water and about every species you could imagine. We started by landing a decent size GT. As I was fighting this fish, two Permit showed up to the same spot. We quickly tried to get the Geet off the line and cast to the Permit. I took one good shot at the Permit and my line went tight! Unfortunately, a large Bohar Snapper beat the charging Permit to the fly. We landed this fish and waited five minutes. Somehow the two Permit returned and after about 10 casts, hooked and landed a beautiful Indo Pacific Permit! As we were landing the Permit, Serge asked if I wanted to catch the Trigger Fish that was 20 feet from us and after another cast we had landed a beautiful giant Trigger Fish! At this point we wanted to finish the grand slam, so we literally turned around to the sand flat behind us and caught a tailing bonefish in the next five minutes — crazy stuff. With about 30 minutes left in the day, I wanted to finish the Golden Slam. We found Milks quickly, but couldn't get one to eat ending an amazing day!
Day 3
Guide – Kyle
The third day started with a little different mission. I wanted to catch a big GT. Kyle is a big fish magnet, so we headed out to some deeper water. We spent the morning looking for big ones and were not disappointed. The first fish to the boat in the morning session was a 100 cm GT. Soon to follow we landed a 110 cm GT, which wore me out. There is an exponential difference in fighting an 80cm vs 100 vs 110 cm GT. After one more GT, we went for lunch. The afternoon session involved looking for GTs on the flats. After about an hour of looking the tide started to push. This brought the Rays, which subsequently brought the GT's. A Ray would come onto the flat and each time it had a nice GT. What was amazing was it seemed like the Rays were waiting for me to land the fish I had on the line before coming onto the flat. I landed eight GTs in a row all off of Rays standing in the same spot! We finished the day landing a total of 11 GT's!
Day 4
Guide – Dave
We started the day looking for GT's. I was prepared for Dave because he likes to walk. I drank a ton of water the night before knowing that he was going to put me through my paces. We started off looking for GT's and saw none. I was fine with that as I couldn't lift my arm from the last three days fishing. He said he knew a nice bone fish area. He was correct, and we landed a 9 lb. bonefish a few minutes after we started looking. He then said he knows a nice Permit spot. He was correct, and after 10 minutes of looking we hooked a beautiful 12 lb. single cruising Permit! We then spent the remainder of the day looking for GT's and Triggers looking for a Grand Slam. Dave definitely put me on the fish, but it was one of those days where I bungled every opportunity. I hooked at least five or six more GTs, but found a way to lose every one. I also hooked a big Yellow Margin Trigger, and he subsequently bent my hook completely flat, I guess that's fishing.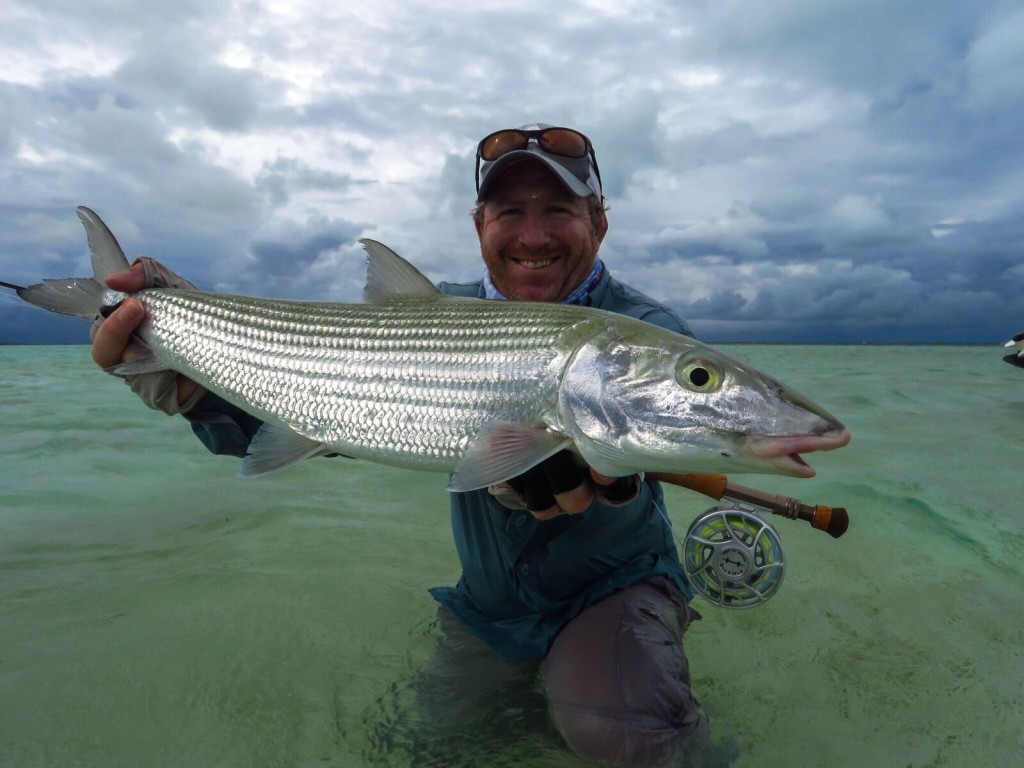 Day 5
Guide – Cam
I was excited to fish with Cam again because he is not only an excellent guide, but he's a great guy as well. The weather turned on day five. A system with rain and wind came in while pushing tides also left leaving us with slower water. This caused the GT fishing to really slow down. We started the morning by seeing one GT and we hooked and landed it. That was the only GT we saw all day. It rained extremely hard so we decided to eat lunch on the boat and wait things out. This was a tough fishing day by Cosmoledo standards. With two hours left in the day, we figured let's just get the rod bent and look for some bones. We found some bones and landed them. We were down to the last five minutes of the day. We had seen multiple milkfish on this flat but Cam said he had seen Permit here as well. After seeing multiple Milk tails, we were almost ready to call it a day. The weather was miserable and suddenly two more tails popped up literally 20 feet away. Cam looked twice and said those don't look like milk tails, they were two nice permits! I jumped out of the boat. Crawled on my knees over to them and after two casts, we were hooked up with a big 15 lb. Permit. After about 20 minutes of anxiety, exhilaration and adrenaline, we landed the third Permit of the week and second Grand Slam. What's amazing is this was a terrible weather day with zero visibility!
Day 6
Guide – Serge
The return of Serge. Flat tides and poor weather started the day again. We searched for GTs, but they were gone. We found one 100cm + GT at mid-day and hooked him and subsequently lost him in the coral. We changed our focus to Bones and Triggers. We landed several good size Bones and then looked for Triggers. The Triggers were very active. I hooked and lost three very quickly. We then came across a nice Yellow Margin and landed him after about a 10 minute fight. This was the last day so we went looking to complete another slam and found a pod of GTs mixed in with some Blue Fin Trevally. My final cast ended by a Blue Fin beating the GT to the fly and subsequently breaking off in a coral head.
This was far and away the greatest week of fishing I have ever had. The Cosmoledo experience was incredible. This is a very professionally run operation. The crew and guides are the finest that I have ever seen. I have taken many trips, but I can say without a doubt that this was a once in a lifetime experience. I guess the fish gods were looking down at me after all.
By: Frontiers Client, David H.