9 Fly Fishing Essentials for Your Next Trout Adventure via FREESKIER
It's officially summer here in Denver, Colorado. We'd be fibbing if we didn't say that we find the summer months to be a little bittersweet here at FREESKIER. But we know there is more to love in this wide world than snow sliding alone, and honestly, we'd be a little boring if we didn't have any summer hobbies. We've been collecting gear for your summer habits—mountain biking gear, fly fishing essentials, and the best camping equipment to keep you in the loop for the things you love.
Based in the heart of the Rocky Mountains, FREESKIER staffers have no shortage of summertime activities to keep us busy—just like many of you reading this right now. It's no secret that during the offseason we spend nearly every spare minute exploring the rivers, trails, and rock faces that neighbor our hometown. For the anglers among us, we've compiled a list of our favorite fly fishing essentials for men and women that keep us and our fishing pals stoked on the river all summer long.
Sage Foundation
Foundation Outlet
When we refer to a "one ski quiver," we're talking about a single pair of skis—one set that can handle powder, groomers, variable snow conditions, and every kind of terrain. That's exactly what the Sage Foundation Outfit offers for anglers. When pursuing trout here in Colorado, the 9-foot rod and "5 weight" line compatibility is the ultimate everyday, everywhere tool.
Simms
G4 Pro Wading Boot
Coming in a hightop boot or a lowtop wading shoe, the G4 Pro combines all-day comfort with traction and stability. This boot will provide season after season of comfortable, sure-footed wading.
Fishpond
Nomad Emerger Net
Nothing fights harder than a fish that's trying to get away? That's why Nomad River Armor edition nets are constructed with a core of carbon fiber and fiberglass, and an outer layer of woven Kevlar fiber and carbon fiber. The result is an extremely strong net with enhanced durability. This composition was designed with the boulder-hopping bushwhackers in mind.
Columbia
Terminal Tackle Hoodie
Something we learned from time spent hiking and climbing in the summers is that a lightweight sun hoodie is essential—nonnegotiable—gear. Protect yourself for years to come, because melanoma is real. This breathable, quick-drying sun hoodie is a great pick for fishing. Do yourself a favor here.
Smith

Guide's Choice Sunglasses
You have your 4D Mags for deep winter days and your Wildcats for skiing and biking, but those are overkill for days on the river. Smith's Guide's Choice sunglasses are fishing essentials due to their wide-ranging protection but light and breezy style. And polarization on is a must to cut the sun's glare on the water.
Simms

Freestone Waders
Simms' Freestone Waders are your go-to companions from first cast to parking lot beers. Durable, breathable 4-layer Toray QuadraLam fabric handles brushy approaches and cold, wet weather, while the articulated fit promotes natural mobility both on the trail and in the water.
Buff
Coolnet UV+
Say it with us: Sun pro. Sun pro! It doesn't matter that you're cool in the stream when your skin is being scorched. This lightweight piece that can be worn 12+ ways on sunny days when UPF 50 recycled REPREVE fabric protection with cooling technology performance is necessary.
Orvis
Bug Out Backpack
When it's time to go, the Orvis Bug-Out fly-fishing backpack lives up to its name. Floatplane, jet plane, truck, drift boat, or your own two feet, this backpack is designed to take what you need and make it easy to find it when you need it. It's a fishing backpack by design, but it easily crosses over to travel as a carry-on or overnighter.
Barnsely Flyies
Fly Box with Flies included
The fly patterns and sizes chosen in this set are the most effective patterns and are a must-have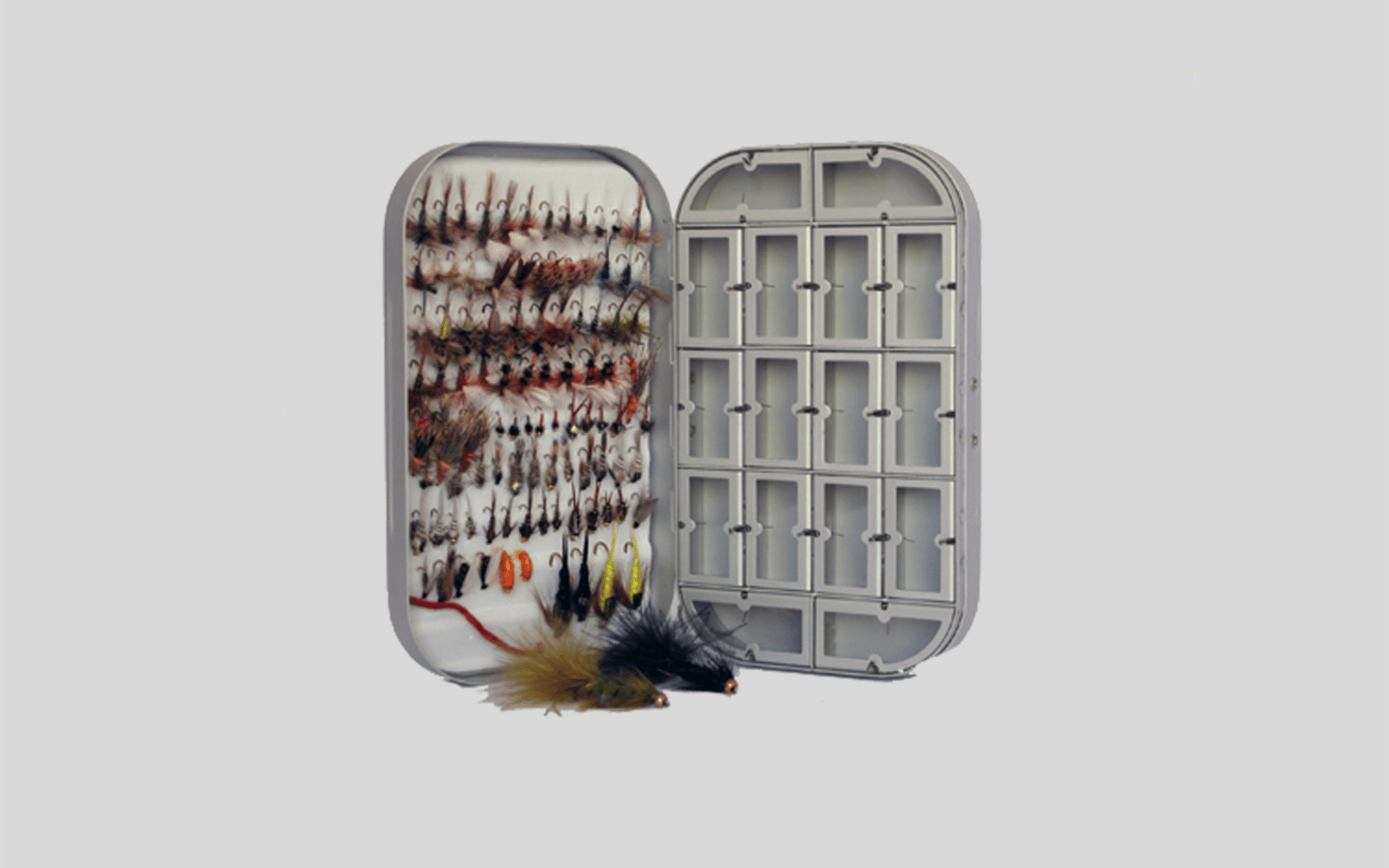 in every fly fisherman's fly box. This selection of flies will allow you to fly fish anywhere in any season with success.
Article via FREESKIER