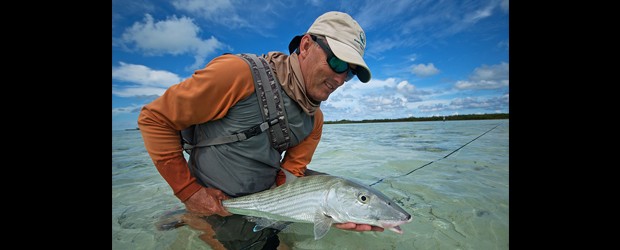 [justified_image_grid lightbox=prettyphoto ng_gallery=29]
The final stop on my tour was a one-hour taxi transfer to the Freeport Lucaya District and H2O Bonefishing. Frontiers and H2O Bonefishing (formerly Pelican Bay Bonefishing) have had a rewarding relationship for nearly 15 years. Owners, Greg Vincent and Jason Franklin, are consummate professionals and have taken great care of Frontiers clients past and present. Sadly however, Greg was not available during my stay. Jason would be, and in addition to being co-owner, is also an often requested guide. He along with Kevin, Ishmael and occasionally Theo, make up the veteran guide staff at H2O. All of these guys know the waters to the north and south of the island exceedingly well. I would learn this first hand from Kevin the next two days.
My accommodations for the next three nights would be at the Pelican Bay at Lucaya Hotel. This property is home for all H2O guests during their stay. Conveniently located next to the Lucaya Marketplace, this hotel is within easy walking distance to numerous restaurants. Packages with H2O include accommodations, breakfasts and a shore lunch when fishing. New for H2O is the opening of their renovated clubhouse called Bones Bar. "Bones" is the former continental breakfast dining area for the hotel. The transformation and renovations of this eatery into a bar/clubhouse for H2O guests is quintessential. It's such a natural progression to the H2O program that I'm sure ownership wondered why it wasn't rolled out years ago. Bones sits on the Bell Channel Bay and is proving to be a natural gathering spot for anglers and non-anglers alike. All H2O guests have reserved seating and the bar features tropical drinks made from fresh squeezed fruits. Coupled with an assortment of top-shelf rums and liqueurs, Bones is a perfect complement to the entire H2O fishing program.
As for the fishing, Jason instructed me to have breakfast early as Kevin would be waiting in the parking lot at 7:30 am. Breakfasts, as mentioned, are included in the packages and the Canal House is a noticeable dining experience upgrade. It opens daily at 6:30 am giving anglers a chance to have an unrushed breakfast before embarking on a day of fishing. Breakfasts are buffet style with standard fare of eggs, bacon, cereals, yogurt, fresh fruit and coffee, tea, and juices. It was quick, easy and good. The views from the top level are a nice bonus too.
Rods rigged and gear in hand; Kevin was awaiting my arrival at 7:30. I had not fished with him previously and was delighted to learn that we'd be having the next two days on the water. Many guests have complimented Kevin on his pleasant demeanor, professionalism, fishing knowledge and desire to get his clients on fish. I would echo those sentiments at the end of day two. A short 15-minute drive to the ramp at Dover Sound and we were underway. Conditions again were flat calm, already steamy and light winds. We were to run a good ways, say 45 minutes, and then fish our way back throughout the day. The ride was so enjoyable. I was somewhat familiar with the region we started out on as I had been here on previous trips. I like this area a lot! The fish are big on average and pressured little. The fishery on the north side of Grand Bahama is known as the Little Bahama Bank. Ironic in that it is so massive. A 15-minute boat ride and one would think they were on Andros' West Side or the Bight of Acklins or any other of the great remote Bahamas fisheries.
The first fish of the day turned out to be my biggest of the tour but it didn't come easy. With a new moon and a rising tide, I started out with a lead eye Foxee clouser – usually money in these parts. The water was glass calm and as delicately as I tried to drop this pattern in front of fish, the "plop" was just too offensive. I changed up to another lighter bead chain pattern of my own design and that also proved too heavy. Change and change again. The fish were consistently being spotted in some ultra-skinny water, so I lengthened my leader and went to a size 6 Veverkas Mantis Shrimp. This fly would qualify in my top five for favorite, consistently good, bonefish patterns. A size six here is really small, but I had confidence this may crack the code. A small pod of six bones were milling around some small mangroves and gradually making their way toward us. I made my first cast to what appeared to be the biggest bone, clearing the mangroves. The fish followed the fly for a couple of strips before tailing on it. The hook was set and the bone immediately retreated to those same mangroves. Kevin instructed me to loosen my drag and hold the rod up high while he went after it. While I tried to not put any pressure on the fish but simultaneously kept a bend in the rod, Kevin would free up the line wrapped in the shoots.
By this time the fish had found the open water on the back side and was free to go. Recognizing this, I was somehow able to slip on my Patagonia Neo Flats Booties, hop in the water and resume fighting the fish on the other side. The fish had yet to give a good account of its stature because it had immediately been interfered by the mangroves. Now it was free to go and made two significant runs well into my backing, it wasn't until then that we realized this fish may have some girth to it. Another good run confirmed our suspicions. I finally subdued the fish and Kevin's initial estimate of five pounds turned to eight to nine when I had it to hand. It was a beauty and a total team effort. Pictures were taken and underwater video shot. The fish swam off effortlessly and seemingly unimpressed with what just went down. Kevin and I exchanged high-fives. It was awesome. The remainder of the day had us in and out fish. I missed several, landed quite a few, made poor casts on others, but none would be as memorable as the first one and the weather was just ideal. It was those precise conditions one envisions when you get a flats trip on the calendar.
[justified_image_grid lightbox=prettyphoto ng_gallery=30]
Day two started off in similar fashion weather wise but already evident were several thunderheads starting to form on the Northside. Kevin thought we would have a couple of hours before we needed to change our plans and likely fish the Southside that afternoon. That was fine by me. Our first stop was a creek type system known to have some tarpon this time of year. They could be big boys too. Kevin rigged up a Sage Xi3 10 Weight with a Tarpon Toad and I had a bonefish rod at my side. Five minutes of poling the Maverick skiff and our first rolling tarpon were spotted off in the distance. Good vibes again. Ten minutes pass and more tarpon are spotted and then a perplexing moment is upon us. A motionless dorsal and or caudal fin (tail) is spotted within 75 feet of the boat. Kevin inches closer and we both agree it's a permit and not a tarpon. Time being of the essence, I opt to cast my bonefish fly at it rather than change up and go with a crab. I made a decent delivery, the fish turned and ate the fly on the drop, and my two handed strip set was just too aggressive. The fish and I immediately parted ways. Fearing I had been that close to my first permit, an expletive or two may have been released by angler and guide. Seconds later, we realized that this permit was actually a nice tarpon leaping three times trying to shake my bonefish fly from its maw. For the next hour or so we poled after sporadically rolling tarpon. These fish would typically roll twice and just as Kevin had positioned me for a shot, they wouldn't roll that third time. The depth and color of the bottom didn't allow for any sight fishing other than seeing nervous water or rolling fish. The tarpon ultimately won out.
Off to the Southside. Weather was now becoming a factor as we were on the outer bands of what eventually became Hurricane Arthur. A quick trailer to a Southside ramp and we were moving east along the gorgeous white sand flats, a popular feature. With the clouds and wind, H2O can often utilize this fishery as bones can still be sighted even with a lot of cloud cover. We didn't see a lot of bones but did play with a school of thirty or so fish off and on for an hour or so. These fish were big too. Kevin thought the smallest in the school was at least eight pounds. I eventually hooked one and knew it was a great fish. It made three big runs and for whatever reason just came undone even though I had kept a nice bend in the rod. Today was tough, but certainly memorable.
A fine dinner that night with Jason at Luciano's Restaurant rounded out my Grand Bahama experience. This island continues to be one of my favorite bonefishing destinations. It's so simple to get to, the lodges we work with are as good as it gets, and the fishing is great regardless of the month. I've been in the spring, summer, fall and winter and can't discern personally which is better. I guess if I only wanted to target big bones, I'd hone in on the November to February timeframe but an 8-9 pounder in late June with possibilities of tarpon and permit are hard to knock. If you've not been, you should; if you've been, you should return. I certainly will.
By: Joe Linscott, Bahamas Senior Program Manager