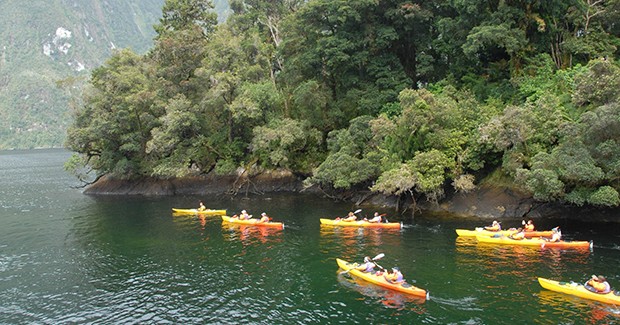 Doubtful Sound and our Last Days in New Zealand
[wzslider height="450″ lightbox="true"]
In planning this trip, we wanted to spend some time in either Doubtful – or the slightly more famous Milford Sound. An overnight cruise was the best way to experience the fiords and their natural beauty…which frankly was even better at sunset or sunrise! Since I had visited Milford on a previous trip… and we saw it on our helicopter trip a few days ago from Queenstown, we decided on Doubtful Sound and it was a wonderful choice. It is also less traveled and there is a better chance to see more wildlife – particularly seals, dolphin, whales and penguins. The launching point was at the harbor in Manapouri, a short 30-minute drive from Fiordland Lodge. Check-in was at noon.
Doubtful Sound was named 'Doubtful Harbour' in 1770 by Captain Cook, who did not enter the inlet as he was uncertain whether it was navigable under sail. It was later renamed Doubtful Sound by whalers and sealers, although it is not technically a sound… but a fiord. The getaway started in Manapouri with a short cruise across the lake. Then we traveled by coach across Wilmot Pass on a sub-alpine road through dense rainforest to Deep Cove where the crew and the Fiordland Navigator awaited. Designed along the lines of a traditional scow, the Fiordland Navigator blends old world charm with modern comforts that include spacious viewing decks, a dining saloon/fully licensed bar and an observation lounge. We were very impressed with how efficiently the transfers operated to the dock, and pleasantly surprised with the ship and the wonderful crew. The food was better than expected and the stateroom, while small, still had all modern conveniences, and was quiet and comfortable. Since it is a one-night journey, we suggest only packing a small bag or backpack. Be sure to include raingear and a sweater. The weather can change quickly and the Park measures their annual rainfall in meters – not inches!
We cruised through some of the fiord's most stunning scenery with magical waterfalls, and our knowledgeable nature guide provided commentary educating us on this magnificent part of New Zealand… be it the pod of resident dolphins, fur seals or rare penguins you might encounter. After dropping anchor in a sheltered cove, guests could choose to explore the shoreline by kayak or tender boat… or to simply relax onboard. For the more adventurous (or very brave), there was even a chance to go swimming! Based on the water temperature and the weather, we chose not to go swimming. The next morning, we sailed into Hall Arm in the southwest corner of the fiord. The Captain turned off the engines, powered down the generators and encouraged us to be silent. We were silent, but there wasn't silence. The soft patters of the raindrops on the water, the gushing waterfalls cascading off the cliffs, the cheerful song of the birds reminded us to take in the present, appreciate the beauty of the nature that surrounds us and enjoy the journey that life offers us.
We returned to Manapouri at about 11:40 am and made our way back to Queenstown for our last night in New Zealand. We stayed at the Sofitel, an excellent modern luxury hotel within walking distance to all of the town's scenic attractions and restaurants. It also had the best men's restroom – demonstrating the Kiwi wit! Check out the photo above. The Sofitel is a top suggestion for our clients who want to stay in town. We ate at Rata, one of the hottest restaurants in town operated by Michelin-star Chef, Josh Emett. We shared three "small dishes," which were:
Wild Otago rabbit terrine with poached loin, spring vegetables and piccalilli
Moko smoked eel with leeks, salt baked potato and horseradish creme fraiche
Northalnd Kingfish al la plancha with cucumber, togaroshi and smoked oyster
It was a delightful dinner highlighted with a nice Central Otago Pinot Noir.
The next morning, we took an early flight from Queenstown to Auckland. Since we were not flying until 10:45 pm, we booked a day room in Auckland and spent the afternoon walking the Harbor. It was a beautiful day and we learned a lot about the city, interesting things to see and do while there and the best places to stay. We were most impressed with the Hilton located on Princes Wharf. The location cannot be beat with sweeping views of the harbor and convenient access to the best that downtown has to offer. We suggest that our clients consider a night or two in Auckland. It is a great way to relax after the long journey to New Zealand.
We headed back to winter in Western Pennsylvania. Our early summer Down Under was an absolutely wonderful experience. New Zealand should be on everyone's trip list. If you have been before, you owe yourself another visit.
By: Mike Jr. and Kristene Fitzgerald