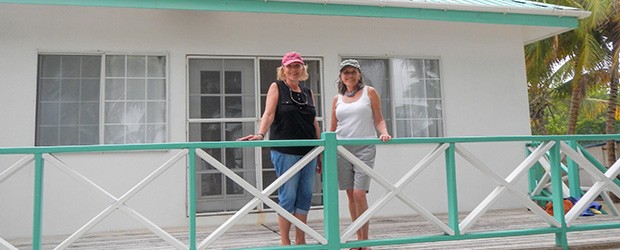 A flats fishing and naturalist's paradise!
Sept, 2015: The last stop on our whirlwind adventure in Belize was a visit to our friends at Belize River Lodge, located on the Old Belize River in the town of Ladyville. My colleague Barbara and I arrived mid-morning after flying up from southern Belize and were met by the ever-smiling Misha, daughter of the one of the owners of the lodge. After a convenient five minute drive from the airport and a two minute boat ride over the "no wake" zone of the Old Belize River, we arrived at one of our favorite spots in Belize.
Greeting us at the dock were lodge owners Mike Heusner and Marguerite Miles, who have been onsite and managing this operation since 1986. It had been five years since Barbara and I had last visited Belize River Lodge. Since then, it has been freshly painted with the addition of new cement walkways and many other enhancements that make this a very place special to newcomers and returning guests alike.
After a delicious lunch of fish tacos, potato salad and lots of laughs with Marguerite and Misha, we met Mike Torres, who would be our guide for the day. His mission was to take us to Long Cay Outpost (sister lodge to Belize River Lodge). Mike is one of the newest additions to the experienced guide pool at both operations. After a pleasant one hour boat ride to Long Cay, we arrived at this private oasis that can accommodate intact groups of up to six anglers (although we feel four anglers is the magic number) in a very cozy and delightfully decorated cottage with a verandah that offers spectacular views of the sparkling waters of the Caribbean.
From a fishing perspective, Long Cay offers some of Belize's best tarpon fishing, and the beauty of staying on this jewel of an island is you can fish early/and/or fish late. The guides and cook also stay on the island with you and work around your desired schedule. It is the perfect venue for a family or group of friends to "unplug" and get away from it all. Nonanglers can choose to relax with a good book and a cold beverage, or they can opt to take a boat ride of less than ten minutes to neighboring islands including Caye Caulker and St. George's Cay.
After a day spent exploring, we returned to the main lodge in time for a well-prepared Snapper dinner, which was excellent. The lodge's famous key lime pie rounded out the meal! Although we were only at the lodge for one night, our stay reconfirms that Belize River Lodge is a terrific property for all. Traveling with non-anglers? No problem. Rest assured that the lodge's experienced, enthusiastic guides will pull out all the stops, be it birding, touring a Mayan ruin, or a number of other eco-activities. Leaving by boat the next morning, our last view of the lodge was a family of howler monkeys in the trees. I believe they were telling us "good bye and come again." And we will!
By: Denise Schreiber
Gallery photos by Barry and Cathy Beck