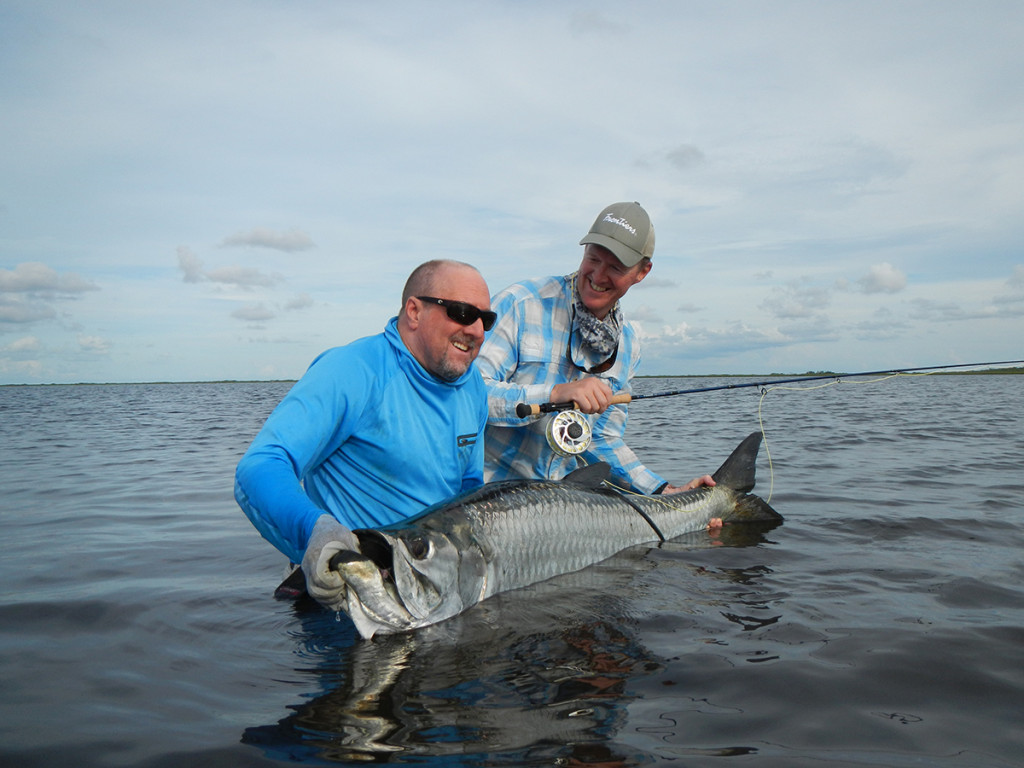 Oct, 2015: Familiarization travel is always fun and one of, if not the best, perks of managing the Bahamas program at Frontiers. We pride ourselves on being able to provide current and unbiased information on all of our properties. The only way to do so is to conduct "FAM" visits regularly. It had been a little over a year since my last visit to Grand Bahama Island and H2O Bonefishing. When owner Greg Vincent extended an invitation for me to visit his property, the wheels to another Bahamas FAM were put in motion. Joining me on this sojourn was a fellow Joe, Saltwater Department Manager, Joe Codd. Joe has traveled on countless destinations through the years and there are few venues in the saltwater world that he's not fished. It's always a treat traveling and fishing with Joe, and this trip was no exception.
My American Airlines flight from Pittsburgh to Miami was on time. Before I knew it, I was landing in Freeport before 10:30 am. Grand Bahama Island is attractive to anglers for a number of reasons, including the ability to maximize your fishing time. Arriving before noon allowed me to "hit the ground fishing" and get a solid half day on the water. Joe Codd was traveling from Maine and didn't have the flight fortune I experienced, so no fishing on arrival for him. After dropping off my luggage and grabbing my favorite 8 and 10 weights, veteran H2O Guide Ishmael and I were headed to the Dover Sound boat launch. Conditions were pretty good with a manageable 10-15mph wind and a mix of sun and clouds.
After a 20 minute run and in short order,  Ish tracked down a number of small pods of bones and I managed to land a few in between poor presentations and inaccurate casts. I tie most all of my bonefish flies. The patterns that worked were Gotcha variations with rubber legs and spawning shrimp with barred craft fur wings, and gold crystal flash. Catching fish on your own flies is quite rewarding and I'd hate to have to choose between tying and fishing. We had a solid afternoon seeing fish on a falling tide. What proved to be my best bone of the trip, a fish of 3-4 pounds, was taken in ultra-skinny water. Single bones in 4 inches of water are always tough, so hooking one is rewarding and memorable.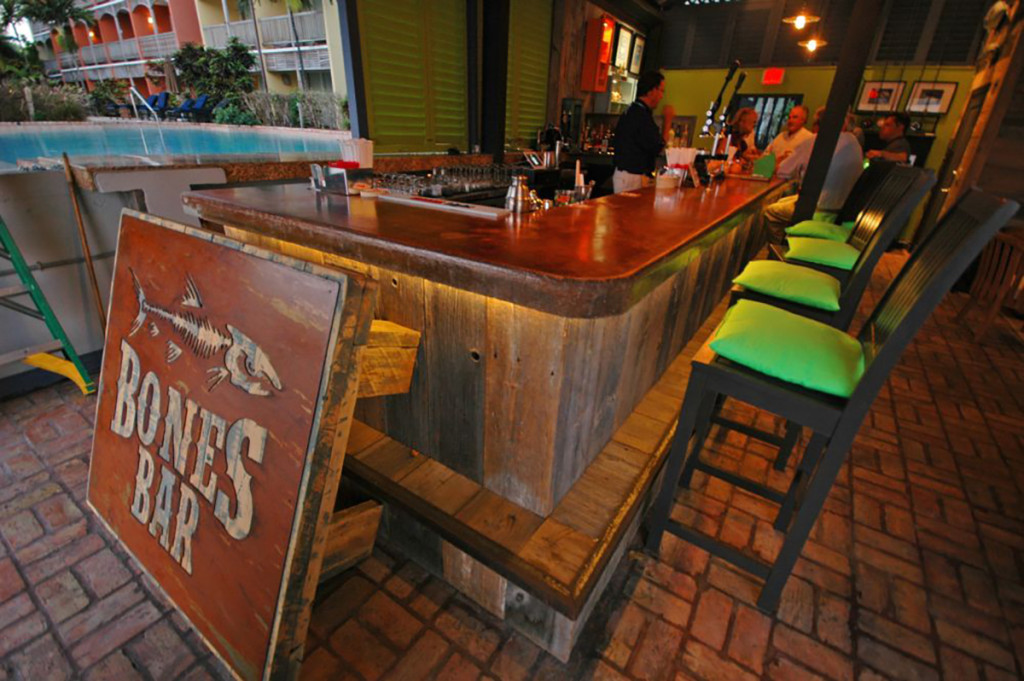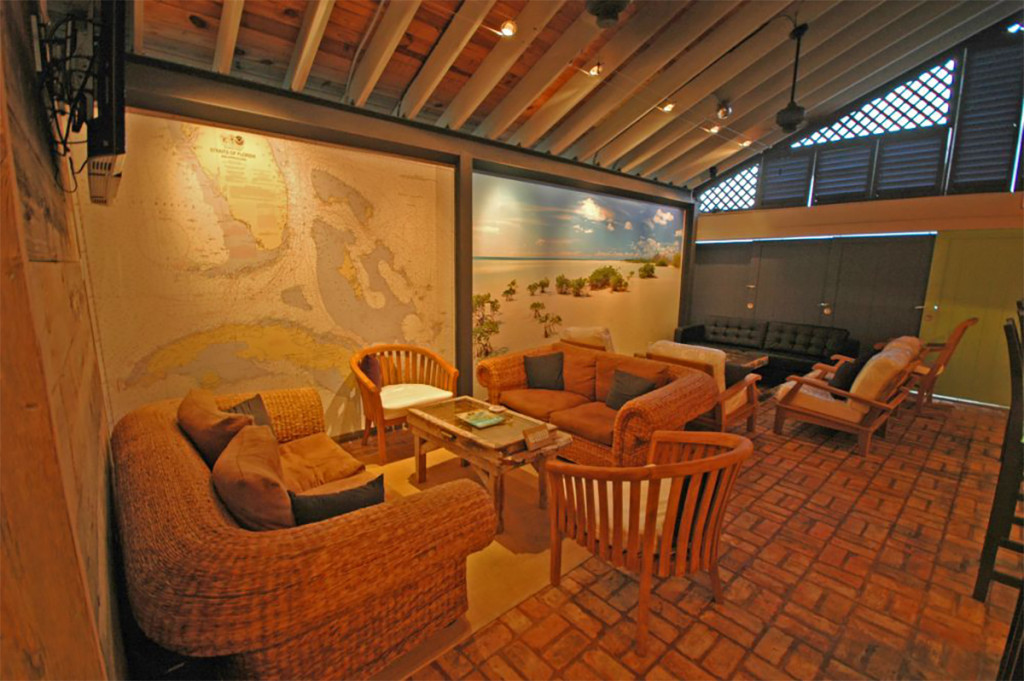 In the past year, H2O has added to their clubhouse known as Bones Bar. Angling guests with H2O have reserved seating at this establishment, which serves as an informal waterfront setting for après fishing stories and cocktails. As anticipated, I found Joe Codd front and center at "Bones" along with owners Greg Vincent and Jason Franklin. Greg and "J" are to be commended on all the work they've done in transforming this former breakfast buffet eatery into what I feel is the Lucaya area's classiest taproom. They specialize in serving fresh squeezed fruit concoctions, various Bahamian beers, and fine rums from throughout the Bahamas and Caribbean. House mojitos, Sands Beer and Papa's Pilar Rum received rave reviews!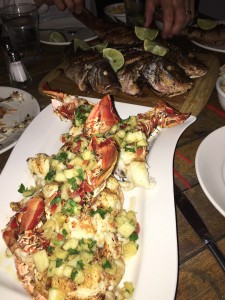 Fishing packages with H2O include buffet-style breakfasts at nearby Pelican Bay Hotel's Canal House, and lunches are served on the skiff. When it comes to choosing a restaurant for dinner, Frontiers can provide a listing of restaurants within easy walking distance of the hotel. Joining Joe, Jason and I at Cappuccino's were friends from the Bonefish Tarpon Trust (BTT) – Justin Lewis, Dan Dow and Karen Murchie. BTT is a global industry leader in the conservation, research, education and advocacy for bonefish, tarpon and permit. We've been partnering with BTT for years now. They're the best at what they do and if you're not familiar with them, I encourage you to learn moreOn the second day, flats fishing proved to be a bit frustrating for "the Joes." We saw fish early that were willing to eat, but by late morning, unseasonably high tides had the bones seeking shelter and food deep in the mangroves. If we did hook one along the edges, it immediately sought the shelter of the mangroves and would ultimately break off. The tides were so high that we went hours without seeing fish. It wasn't until late in the day when the tide flushed out enough that we saw bonefish again in any numbers.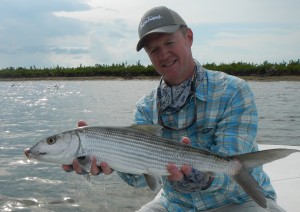 Our last day of fishing with H2O turned out to be an absolute blast. H2O has a 21' Maverick flats boat they use for their "No Boundaries" program. This skiff is big and fast and affords access to flats which seldom get any angling pressure. Although the west winds weren't favorable for a "No Boundaries" day, the skiff easily accommodated the Joes, Greg and Jason for a day of mixed bag fishing. We caught mutton snapper, jack crevalle and barracuda along with numerous sharks and a nice tarpon late in the day. We kept a handful of the pan-sized muttons for dinner that evening and Greg snorkeled up some beautiful lobsters, aka crawfish, to compliment the fresh fish entrée. Sabor, a local restaurant, has long been a favorite of the H2O staff. For a minimal fee, the chef will prepare any fresh caught fish any way you prefer. We labored over blackened, pan fried or grilled options but ultimately chose the highly-recommended deep fried whole fish method. We're glad we did as it was exceptional.
On behalf of Frontiers, I'd like to extend a hearty thank you to Greg, Jason and their staff at H2O Bonefishing for again welcoming us into their world. The conversation was friendly and engaging, the hospitality gracious, the drinks refreshing and the fishing pretty damn good at times. The next FAM visit can't come soon enough!
By: Joe Linscott, Bahamas Destination Specialist